Logan Paul has returned to YouTube after his infamous Suicide Forest controversy.
And his first foray back into the world of vlogging is to make true amends for his past indiscretion.
In a video titled "Suicide: Be Here Tomorrow", Logan tackles his infamous Suicide Forest video head on by having an entire video dedicated to the subject, admitting that he spent the 3 weeks since posting his apology video learning about suicide.
"About 800,000 people worldwide die by suicide every year," is the first caption a viewer sees, followed by more suicide statistics like, "1 person every 40 seconds takes their own life." Such statistics are splashed throughout the video, making it immediately clear that this will not be the usual fare for Logan Paul.
Paul also begins the video with addressing the Suicide Forest for which he received intense public backlash. "I know I've made mistakes," Logan says. "I know I've let people down. But what happens when you're given the opportunity to make a difference in the world?"
Earlier this month Paul posted a video on YouTube where he traveled to Japan's Suicide Forest and came face to face with a victim of suicide. The video showed graphic images of the man's corpse and Logan's raw reaction to being confronted with such a horrible event.
Public retribution for the video was swift and terrible. YouTube pulled Logan from all his upcoming projects and kicked him off Google Preferred, his main source of income, while other YouTubers posted innumerable videos condemning Logan's actions.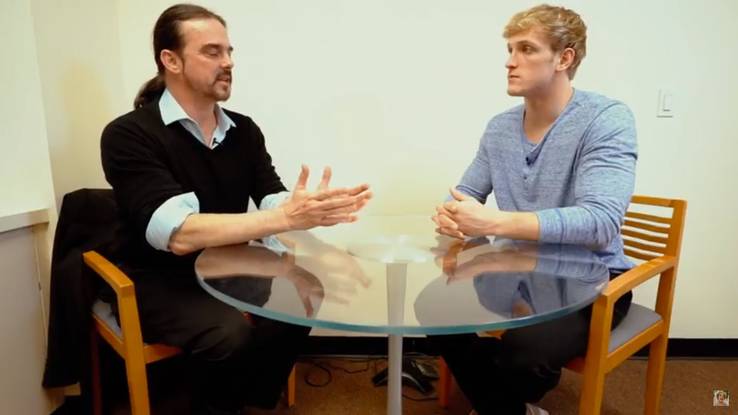 Logan soon retracted the video and replaced it with an apology.
Since then Logan has laid low for weeks, only recently admitting that he would return to YouTube "soon".
And while it's certainly not a triumphant return, it is one that is appropriately humble while simultaneous uses his pulpit to advocate for a serious issue, one that he did not take seriously enough the first time around.
During the video, Logan interviews the Bob Forrest, the founder of Alo House Recovery Center, Dr. John Draper, Director of the National Suicide Prevention Lifeline, as well as Kevin Hines, who survived his own brush with suicide after leaping off the Golden Gate Bridge at the age of 19.
Each interview is filled with sobering facts and figures, as well as what everyone can do to stop the threat of suicide.
"From this point on I want to make an effort to contribute and immerse myself in the conversation," Logan said before announcing that he would pledge $1 million to suicide prevention causes. "I am humbled and thankful to say, this is just the beginning."
The video has already been viewed nearly 500,000 times.
Source: Read Full Article