Before Meghan Markle was a royal and had to delete all of her social media accounts, the actress had a lifestyle blog called The Tig where she wrote candidly about things like how hard her twenties were and how being biracial affected her growing up.
The site is obviously now-defunct, but luckily, since-deleted posts keep resurfacing, and this week one such post reveals Meghan's many nicknames.
Express reports that on Meg's birthday in 2016, she wrote, "My team and I thought it may be fun to turn the tables on me and have yours truly answer the very Tig Talk I crafted when I first started this site." (Tig Talk being the section of the site where Meghan would interview other celebrities.)
In response to the question "My nickname is…" Meghan replied with "My nickname is Meg, MM, M&M, and Flower (which my mum has called me since I was little)." Aw, Flower! Such a cute nickname!
We also already know that Harry's nickname for Meghan is "Meg" and that she calls Harry "my love," so the major takeaway from all of this is that Meghan will likely have an equally adorably nickname for her royal baby—can't wait to hear what it is!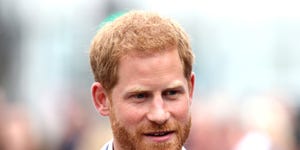 Source: Read Full Article