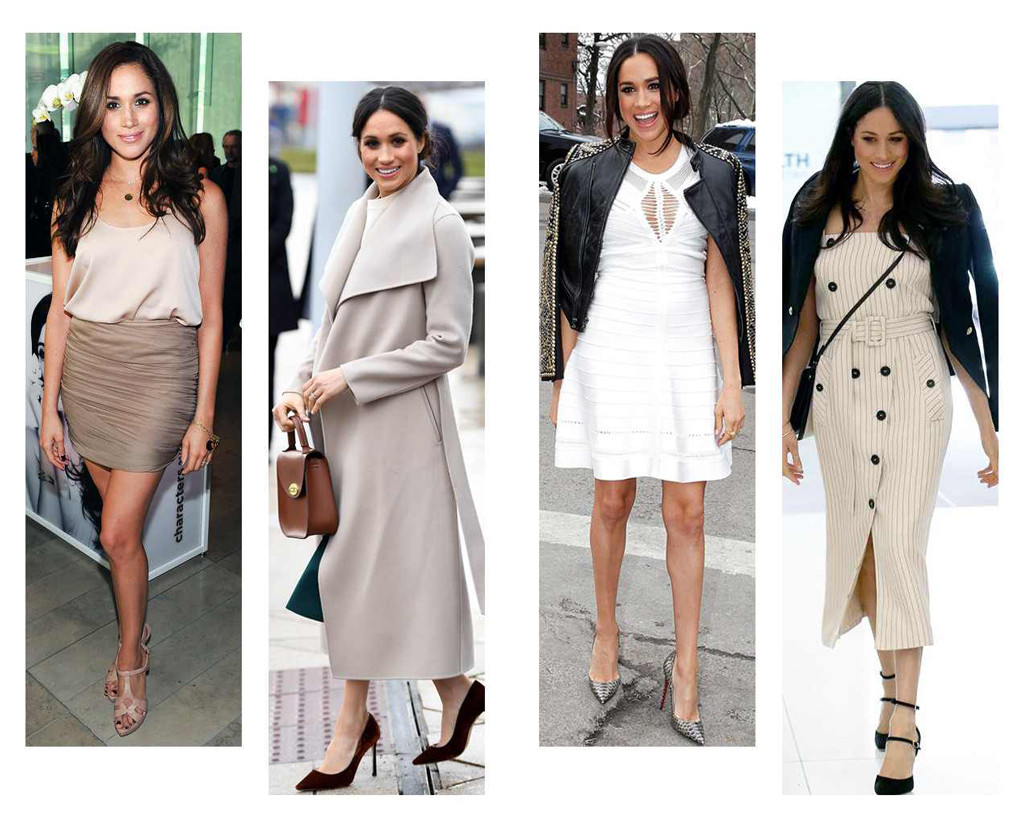 Getty Images/AP/REX/Shutterstock
Would you give up all of your open-toe shoes and strapless silhouettes to be a princess?
Of course, you would! But, it wouldn't be easy.
Since Meghan Markle found her prince charming, better known as Prince Harry, she's shifted her style to mirror the sophistication of Kate Middleton and other royals. In our minds, we imagine the former American actress being greeted by an etiquette coach at the palace who carefully yet sternly went through the dos and don'ts of royal fashion—"When walking in a crowd, one is under scrutiny all the time," the coach would say.
OK, that's actually quote from Princess Diaries, but Meghan's experience has to be similar, right?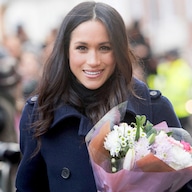 Photos
Meghan Markle's Best Looks
While the royals have kept their princess-in-training procedures behind closed doors, we seen an evident shift in the California native's style. The woman who loved mini skirts in now a big fan of the midi dress.
What's better her style before or after her royal romance began? Keep scrolling to find out!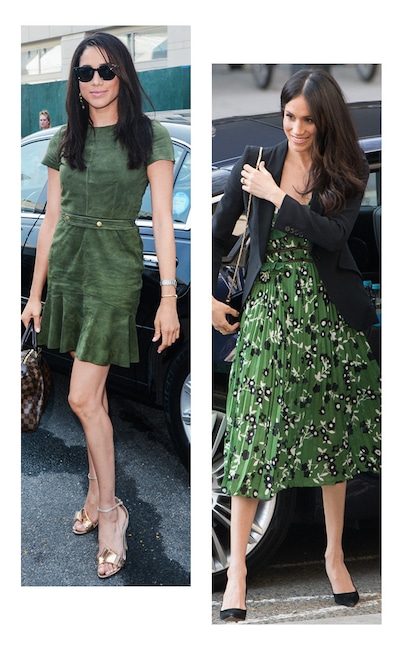 Getty Images
Minis to Midis

Once Meghan Markle became Prince Harry's significant other, things changed, including the hemline of her dresses. You won't typically catch a royal in above-the-knee fashion, so the former American actress has found equally stunning mid-length dresses like this Self Portrait floral garment.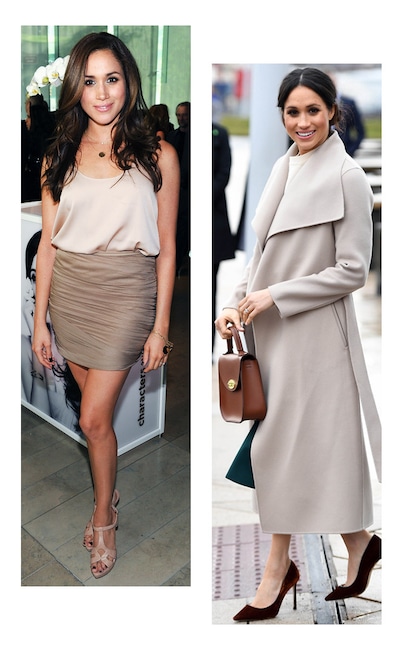 Getty Images
Open-Toe Sandals to Closed-Toe Pumps

Has Meghan said good bye to her YSL platform heels? Since she's arrived in the UK, the philanthropist has consistently opted for closed-toes shoes.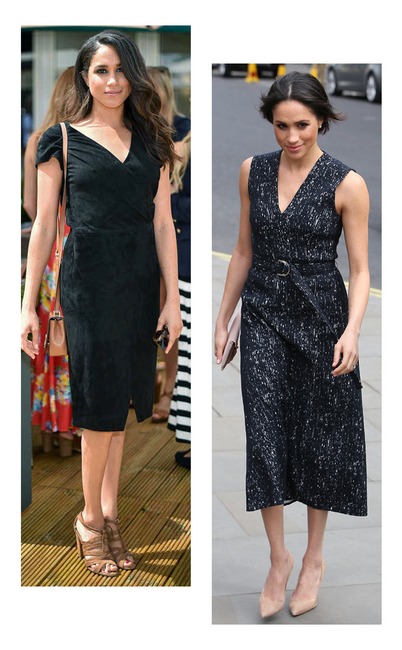 Getty Images/REX/Shutterstock
Crossbody Bags to In-Hand Purses

While her style has become more conservative, Meghan has used accessories to add a little something extra to her ensembles. Now, all eyes are on the star purses, which are typically clutches or satchels.
Article continues below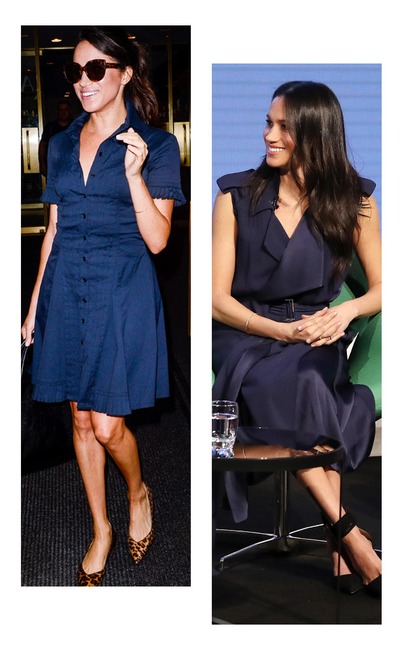 Getty Images
Shirt Dresses to Coat Dresses

While we love the princess-to-be's button-down dress, her trench coat-inspired dress is an elevated version of the style.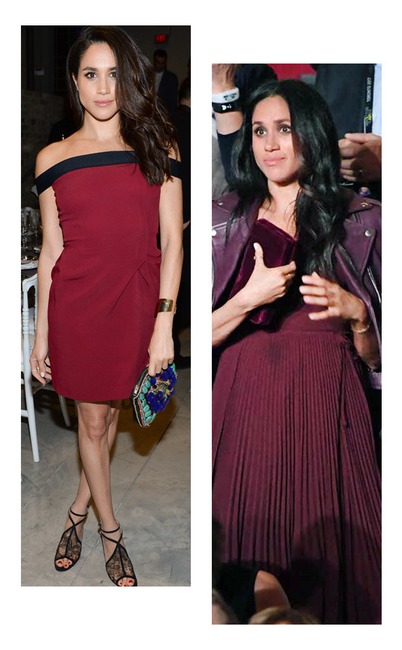 Getty Images
Off-Shoulder Pieces to Over-the-Shoulder Outerwear

On occasion, you may see Meghan in a sleeveless dress. However, off-shoulder silhouettes are typically avoided by royals. You're more likely to clothing draped over the shoulders, than to see them bare.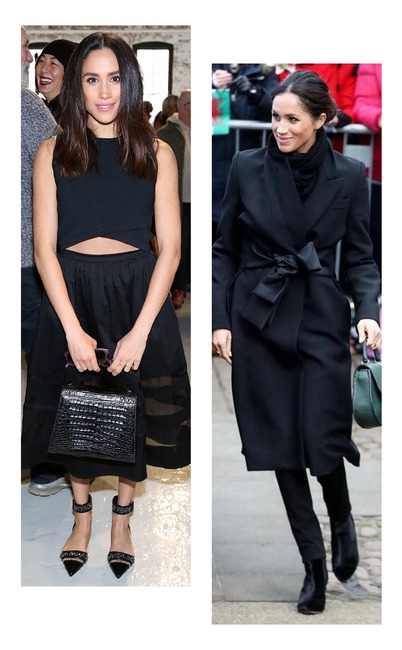 Getty Images
Cutouts to Belts

It's always a good idea to accentuate your waist. Now, however, Meghan using accessories to do so, rather than cutouts.
Article continues below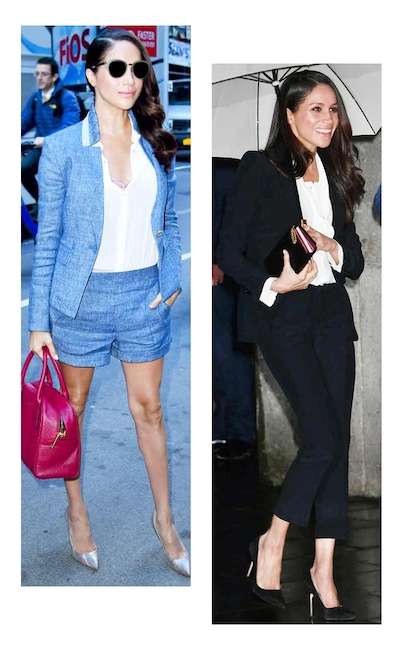 Getty Images
Shorts to Pants

The California-raised soon-to-be-royal has legs for days, but has covered them up for the most part.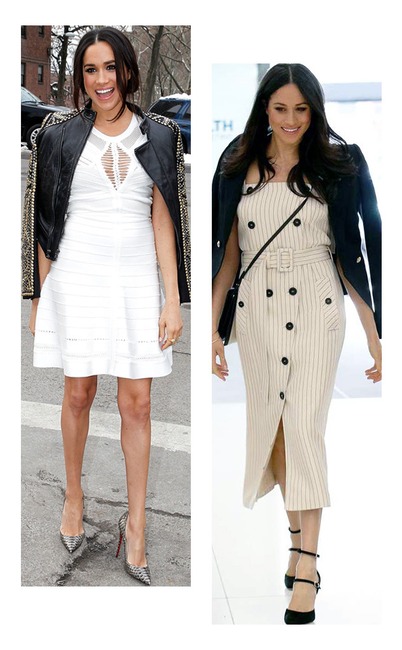 Getty Images/AP/REX/Shutterstock
Sparkles to Stripes

Being a princess is certainly glamorous, yet we haven't seen Meghan in many embellished items since she accepted her royal proposal. Now, stripes and floral prints are her go-to choices.
Watch E!'s five-hour Live From the Royal Wedding coverage Saturday, May 19, starting at 5 a.m. ET/2 a.m. PT for wall-to-wall coverage of Meghan Markle and Prince Harry's big day! Also, catch E! News every night at 7 and 11 the week prior for everything you need to know.
RELATED ARTICLE: 6 Things the World Is Buying Because of Meghan Markle
Source: Read Full Article