Why All Men Should Watch 'The Handmaid's Tale' — Even If It Makes Them Uncomfortable
Spoilers ahead for Season 2 Episode 5 of The Handmaid's Tale.
For those who felt rather uncomfortable watching Nick get married on this week's Handmaid's Tale episode, don't worry, you're not alone. Max Minghella, who plays Nick on the Hulu series, was just as freaked out while filming that wedding scene in which he pulls away his mystery bride's veil to discover she's just a teenager.
"Well, it is naturally very uncomfortable," Minghella says over the phone about the age gap between Nick and Eden (Sydney Sweeney, who looks much younger than her 20 years here). "There is something physically strange about playing those scenes."
But Minghella thinks that the uncomfortableness of everything happening this season is one of the reasons why men should watch The Handmaid's Tale. In fact, it might even inspire them to join the resistance. "I don't think this is a show that advertises laziness," Minghella says. "It's a show that really encourages being brave and having a voice and overcoming difficult circumstances. And that's something I find deeply inspiring."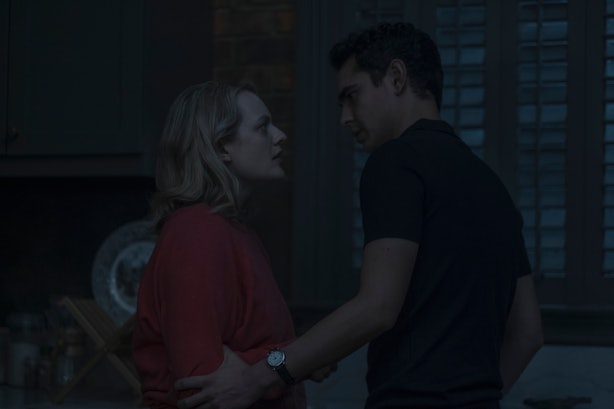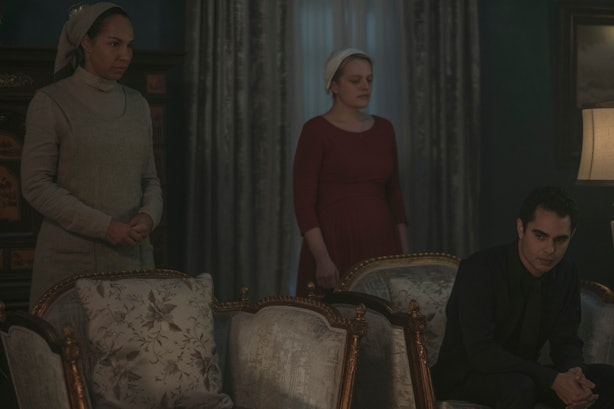 Throughout the series, Nick — the chauffeur for Commander Waterford, an Eye, and June's lover — has been hard to read, and that's the point. "I think it's a such a fun challenge to play this character that is a spy on a spy on a spy," he says. "[Nick] has to wear a mask to conceal a lot of emotionality."
But Minghella thinks this arranged marriage is cracking Nick's once-steely facade. "I feel strongly that Nick is in no way somebody who endorses this regime," he explains, but adds that this forced union with Eden is "just sort of a sickening onion peel of yet another aspect of how this society functions."
In Season 1, Nick tells June that "there's no point in trying to be tough or brave. Everybody breaks." It seems it might be Nick's time, which doesn't surprise Minghella. "I think he's heroic in the sense that he ultimately always wants to do the right thing," he says. "I think he has a child to protect and a woman he loves and this is not a world where you want to have emotional investments, so it's almost to his detriment now that he has something to fight for." But Nick is not like June, "who is in many ways ahead of Nick in terms of integrity and certainly how brave she is."
That's another reason he says men should watch The Handmaid's Tale: To see women who don't need saving, but rather support. It's something that's become even more obvious in the #MeToo era, where women can't be the only ones speaking out about systemic sexism.
"I'm deeply proud to be affiliated with something that I believe is on the right side of this conversation and is pushing this conversation forward," Minghella says. "I believe that film and television has the power to change perception and change people and inspire in this case, a resistance." Now, Minghella's just hoping he can encourage other men to join him.
Source: Read Full Article