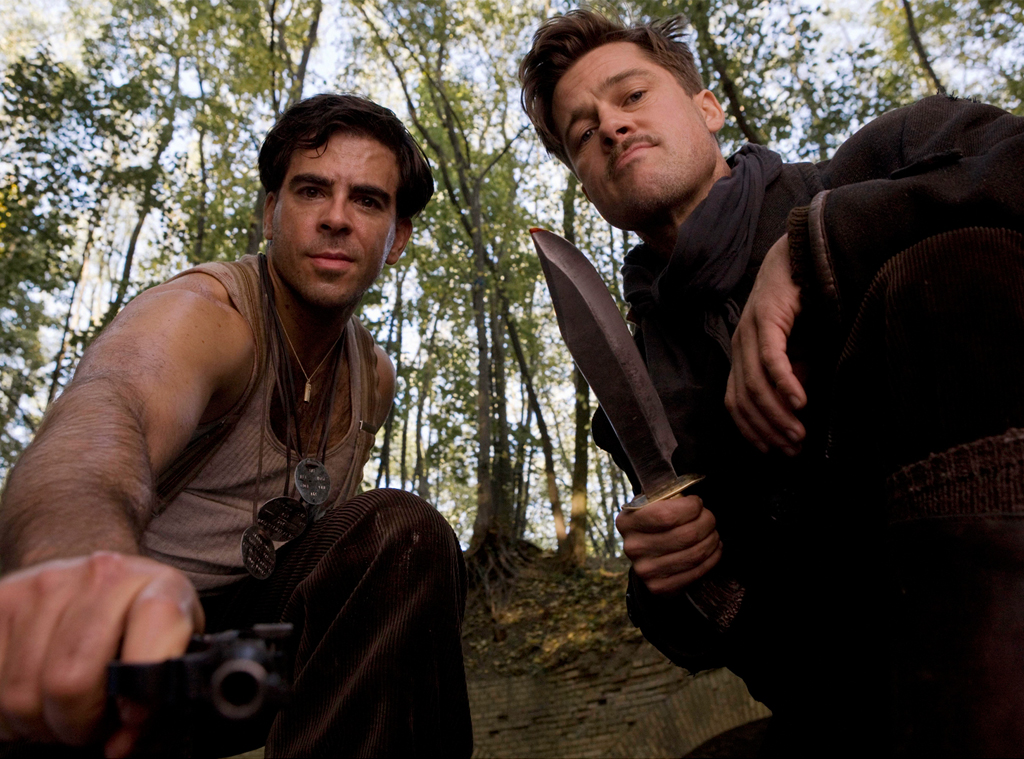 Francois Duhamel/ TWC 2009
Quentin Tarantino has never made a film that doesn't involve vengeance or settling scores—and from Reservoir Dogs and Pulp Fiction to Django Unchained and The Hateful Eight, nothing ever turns out quite as planned for the main characters as they put their schemes in action.
Well, Tarantino has planned it, down to the last word and drop of blood. And coming off his latest, Once Upon a Time…in Hollywood, when inspired-by-true events go spectacularly awry, we're once again left thinking… if only.
Though the physical settings couldn't be more different, the writer-director's ninth film is a natural successor to his sixth, Inglourious Basterds, which came out 10 years ago in a blaze of history-rewriting glory, also starring Brad Pitt as a magnetic, enigmatic and violent hero who's got a lot of issues, but who also gets it right.
And that can't be a coincidence.
"If for some reason I couldn't have used the title Inglourious Basterds, I probably would have called the movie 'Once Upon A Time in Nazi-Occupied France," Tarantino told Rotten Tomatoes in 2009. The original trailer for the film and its first "chapter" do indeed open with those words, and it's not hard to envision Tarantino filing that nugget away, making a little deal with himself to use "once upon a time" in another film down the road.
What you see in either case is hardly a fairy tale, but both gory fantasias improve upon reality.
Tarantino's Basterds don't stop years of Nazi atrocities from taking place, and the Germans are already losing the war by the time they arrive in France, but they do get to personally play a role in bringing down Hitler and his henchmen, not knowing they're being helped in their cause by a Jewish woman who's been hiding in plain sight in Paris as a theater owner and who hatches her own plan to set literal fire to the Nazi effort.
In this case, Tarantino—who spent 10 years working on the script on and off—sat down to write not knowing entirely where his story was going. But the explosive climax ultimately seemed like the likely progression of events to him, as seen through the eyes of his characters, who, had they existed, in theory could have pulled off what Hitler's real-life would-be assassins failed to do.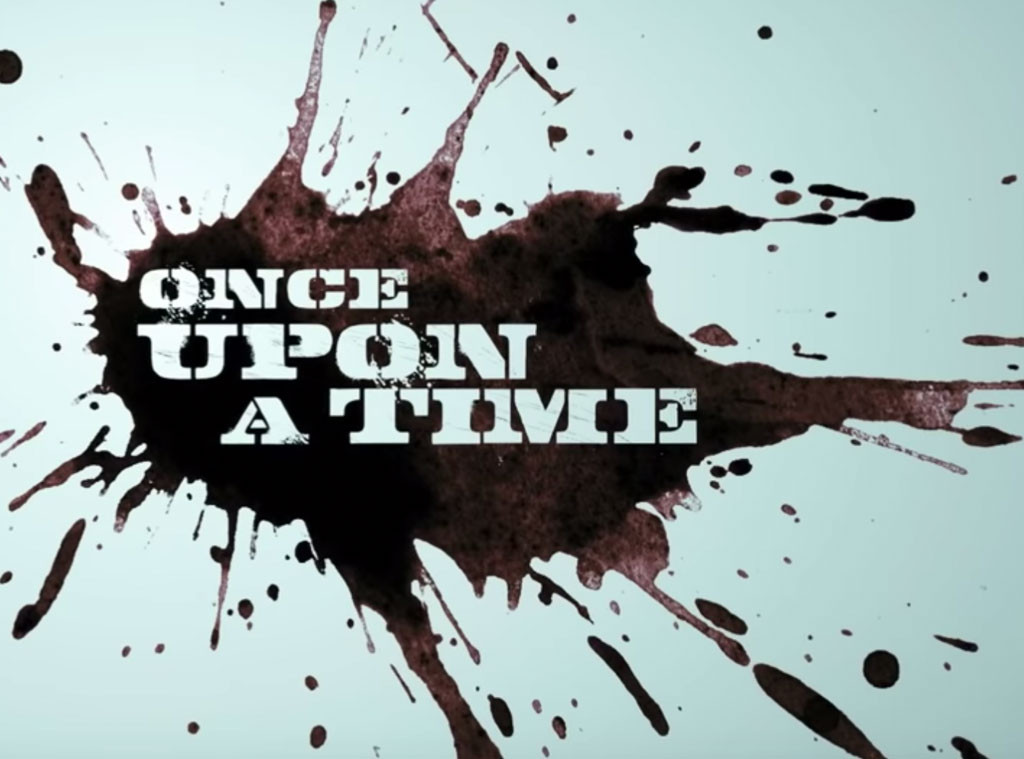 Universal Pictures
"When you start writing," he explained to Rotten Tomatoes, "you have your characters on a metaphorical paved road, and as they go down it, all these other roads become available that they can go down. And a lot of writers have roadblocks in front of those roads: they won't allow their characters to go down those roads. For whatever reason—usually movie conventions. Well, I've never put any roadblocks on any of these paths. My characters can go wherever they would naturally go, and I'll follow them."
Here are at least 10 things on Inglourious Basterds' 10th anniversary that you totally forgot about, or perhaps never even knew: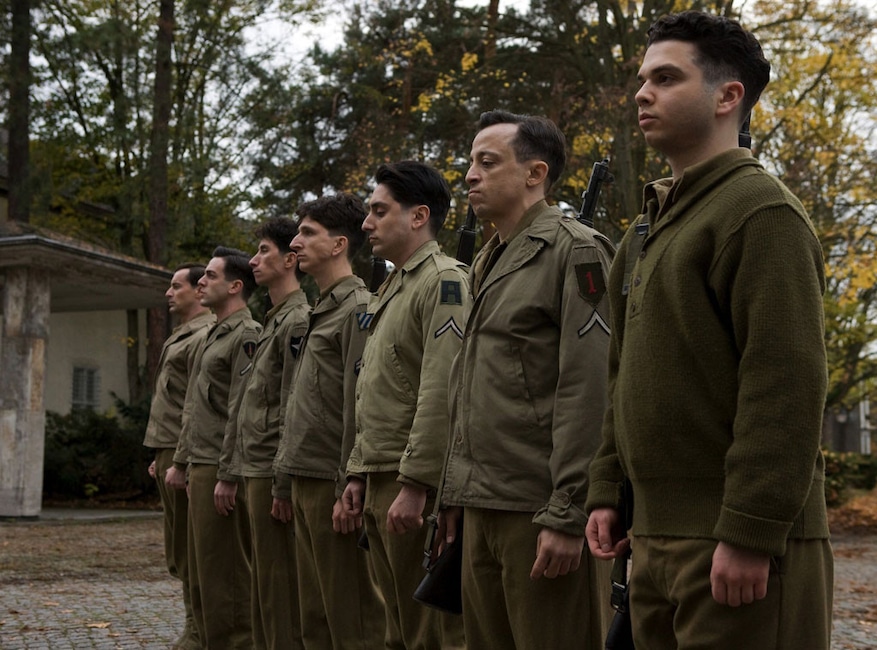 Universal/Kobal/Shutterstock
There Were Real Inglorious Bastards
Jewish-American soldiers really did sign up for Nazi-killing duties with the U.S. Army.
"We were dedicated to killing Nazis, and doing it behind enemy lines," Fred Mayer, leader of the team behind Operation Greenup in 1943, said in the documentary The Real Inglorious Bastards. "That's what we trained for, and that's what we volunteered for…It wasn't interesting enough just to be another number."
So if they were real…
Tarantino would never reveal why both words in his title are misspelled.
"I'm never going to explain that," he defiantly said at a press conference at the 2009 Cannes Film Festival. "When you do an artistic flourish like that, to describe it, to explain it, would just … invalidate the whole stroke in the first place." He added, "Basquiat takes the letter 'L' from a hotel room door and sticks it in his painting.If he describes why he did it, he might as well not have done it at all."
He did note that, as far as he was concerned, the "Basterds" part looked right to him, because that's how the word is pronounced, and he later told David Letterman it was the "Tarantino way of spelling it."
The cinephile was also, naturally, a fan of the 1978 Italian film The Inglorious Bastards, about a group of American POWs who escape and, while crossing France en route to Switzerland, take a detour to steal a German rocket warhead to deliver to the Allies. Perhaps he was just putting his Basquiatesque twist on one of the countless movies he admired.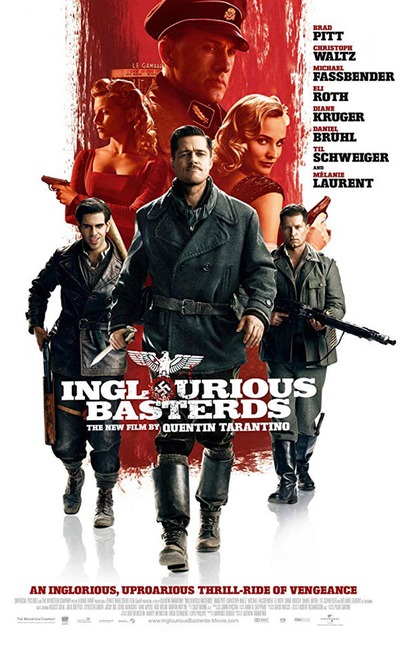 Universal/Kobal/Shutterstock
Let It Raine
Pitt "loved that character so much, he would stay in character for the most part during the day," Tarantino recalled about the actor's embrace of Lt. Aldo Raine, the fearless, sardonic leader of the Basterds whose pronounced Tennessee twang makes their mission sound almost folksy in its divine purpose. "It wasn't some method-y, psychotic kind of thing, or some unnerving kind of thing. He could always respond as Brad, but there was always a little Aldo in there. And I loved the character of Aldo, so to be able to hang out with him all day long was a joy!"
As he was writing, Tarantino envisioned Pitt in the role—first a little, and then by the end, he had to have him. So, he went to Pitt's chateau in the south of France to pitch him the role.
"All I know is we talked about backstory and we talked about movies into the wee hours," Pitt told reporters at Cannes. "I got up the next morning and I saw five empty bottles of wine on the floor. Five. And something that resembled smoking apparatus, I don't know what that was. Apparently I had agreed to do the movie and six weeks later I was in a uniform."
Pitt later told MTV News, "This thing was a gift. It landed in my lap and six weeks later we were shooting; you don't want to change a thing. I compare it to working with a Coen brothers script, because the dialogue is so spot on. And there's a music to it—if you take one step off the trail, you just muck up the whole thing. And so you stay on course. It was really so defined and laid-out—I'm gonna get a lot more credit for this one than I should."
Tarantino complimented that Pitt understood the character so well, that every time he wondered whether Raine would do this or that, Pitt trusted his gut and was always right.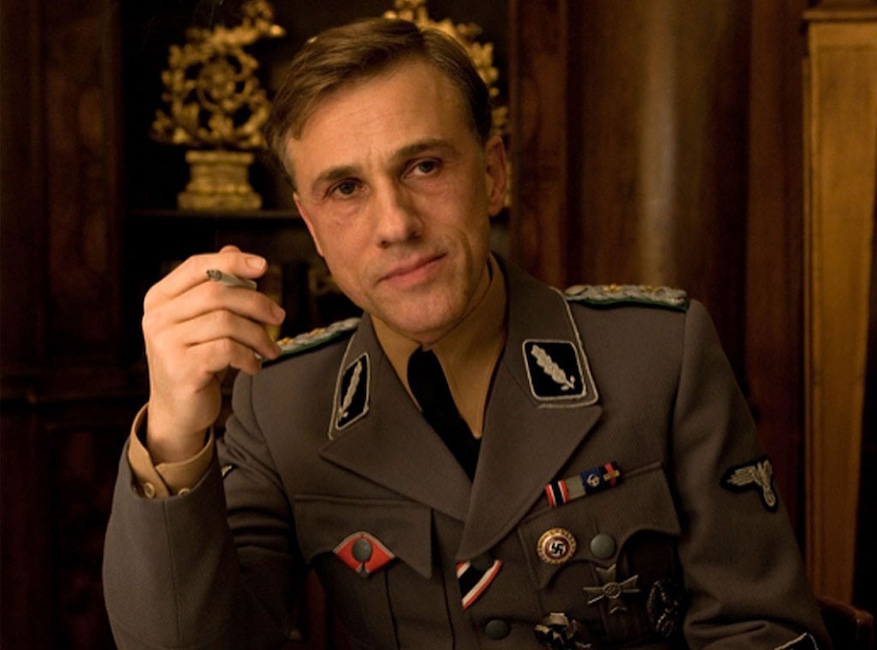 Francois Duhamel/The Weinstein Company
Waltz Time
Where did Christoph Waltz come from?! The Austrian-born actor was a veteran of German productions and spent a career reluctant to play the much-offered role of Nazi—until he read Tarantino's script and knew he couldn't pass it up. (The same went for German actor Til Schweiger, who avoided wearing the uniform on film but jumped at the role of German Nazi assassin Hugo Stiglitz.)
In the meantime, Waltz had been grappling with the looming possibility that he just may never get his big break in American films.
When he got Inglourious Basterds, he didn't stop to worry that it was his one shot. "I wasn't aware of it, but that's always because I was very busy trying to wrap my mind around that part, around that story, around all the implications—about Quentin, really, because yeah, on the surface, you can grasp him right away, but there's a very, very deep—let's call it, sometimes even almost scary—darkness," Waltz said on MTV's Happy Sad Confused podcast with Josh Horowitz in early 2019.
Or at least a depth, he added, if not darkness. "The further the depth reaches, the darker of course it gets for us, standing out here," the actor mused. "So I knew that if I can contribute at all, it would be via understanding the man." And as always, he paid utmost tribute to the words Tarantino put in his mouth.
"I can do whatever and take classes with Thespis herself," Waltz continued. "If I don't have the opportunity—meaning, if I don't have that script that defined and encircled the actual point and focus and topic for me—meaning if I'm not [connecting] with what's on that page, and if what's on that page is banal and flat and silly and dispensable, then I have no chance."
Sharing a chuckle over the growing trend of having actors improvise, Waltz said it's a wonderful thing to behold if you set out to watch improv. But in this case, "no-no-no-no," he asserted. "If we have a script, you know, that's it. And if you have a script like Quentin's, you'd be really stupid to start improvising."
After scooping up every other honor, starting with Best Actor at Cannes almost a year beforehand, Waltz inevitably won the Oscar for Best Supporting Actor for his hypnotic turn as the gentlemanly monster Col. Hans Landa—and he won another three years later after playing another jolly killer, albeit one you're rooting for, in Django Unchained.
Article continues below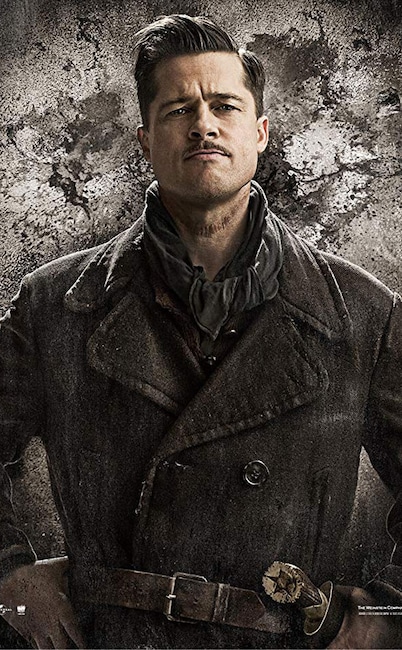 Universal/Kobal/Shutterstock
Leaving a Mark
Aldo Raine has a noticeable scar that loops around his neck, as if he survived either an attempted hanging or other form of execution. He tells Landa in the film that he used to be a bootlegger, so that would explain past brushes with violence or the short rope of the law.
Obviously, Tarantino has left that for the untold back story as well, just as he only provides some intriguing but almost entirely unexamined details about Cliff Booth, the stuntman Pitt plays in Once Upon a Time…in Hollywood who proves particularly adept at hand-to-hand combat.
"[Tarantino] said it would never be explained in [Inglourious Basterds] and if he ever does what he called a prequel-slash-sequel, then we'll reveal it then," Pitt said on NPR's Fresh Air in 2011. "He talks about [a sequel], but he's got several things percolating at once."
Tarantino indeed told Vulture in 2009 that he had 40 pages of an Inglourious Basterds prequel written. Which is a lot of effort to go through to explain Aldo Raine's scar, but if that's lying around somewhere…
"I've got the storyline," Tarantino also acknowledged to Variety that summer. "Then again, I was going to do all these animated prequels to Kill Bill. I didn't end up doing any of those."
Tarantino, who famously claimed in 2015 that he's "planning on stopping at 10," may currently be working on an addition to the Star Trek canon or a Kill Bill installment… or maybe both, because vowing to retire is such a cliché.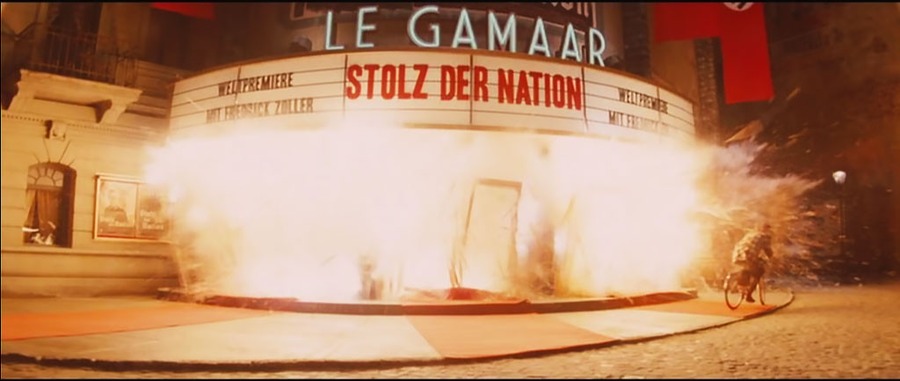 Universal Pictures
Feeling the Heat
Eli Roth had acted before, but he was most known then as a director of gory contemporary horror films like Cabin Fever and Hostel when Tarantino—who produced Hostel and was a longtime champion of Roth's—tapped him to play Sgt. Donny Donowitz, the bat-wielding "Bear Jew" who ultimately has the honor of riddling Hitler with bullets.
And his pal Quentin threw him right into the fire—almost literally.
"We almost got incinerated," Roth told the Los Angeles Times about the movie's climactic conflagration at Shoshanna's cinema. "The fire comes up. They thought it was going to burn at 400 degrees centigrade and it burned at 1,200. That's like 2,000 degrees Fahrenheit! You see the swastika fall. It was not supposed to. It was fastened with steel cables; the steel liquefied."
Omar Doom, who played Pfc. Omar Ulmer, who along with Donny is picked to sit among the Nazis and blow them up at the big Fuhrer-attended premiere of a propaganda film, had to go to the hospital, Roth said.
"I was on the ground, my feet were up, I had ice packs all over me," he recalled. "The fire department said another 10 or 15 seconds, the structure would have collapsed."
"I almost died shooting [Basterds]. But it's one of the most satisfying, orgasmic things I've done in my life," Roth told the Times. "It's kosher porn."
Not to mention, Roth asked and finally convinced the ever-exacting Tarantino to let him direct the scenes of Nation's Pride, the German propaganda movie-within-the-movie that's being screened for Hitler and all his top-ranked goons. Roth's parents are also extras in the audience at the Nation's Pride premiere, despite a previously expressed vow to never set foot in Germany because of its history.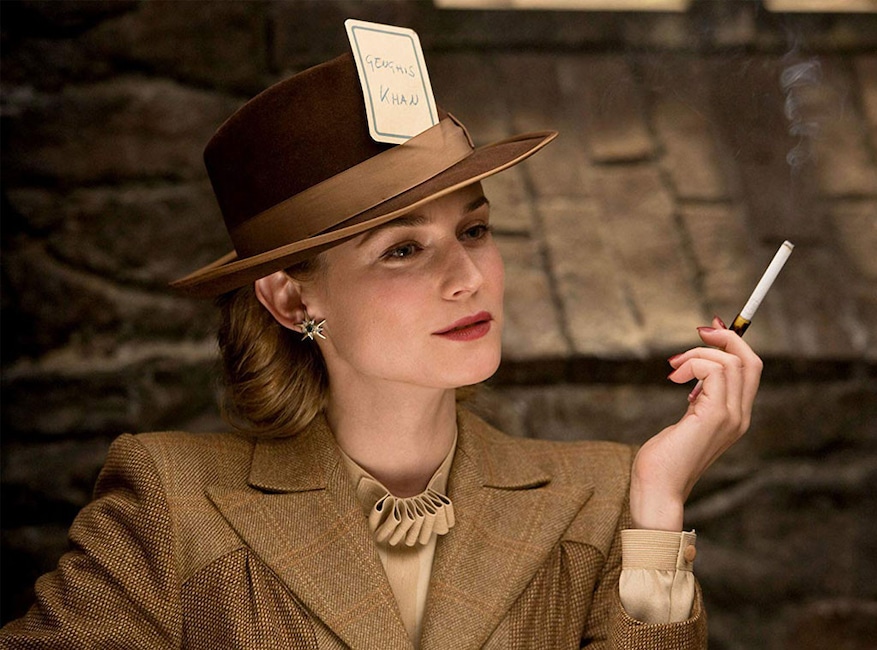 Universal/Kobal/Shutterstock
Oh, Mein Herr
Tarantino didn't know Diane Kruger was actually German, having only seen her play Americans onscreen.
"When I first started out six years ago, I'd go to auditions and people would say, 'You're great but you have to lose the accent,' and so I did," Kruger told Parade in 2009. "Then, Inglourious Basterds comes along and he goes, 'Sorry, she's too American.' I was like, 'What?'"
The misunderstanding was soon remedied. "I think Quentin's female characters are just so smart and so fierce," the actress also said. "They're impossibly glamorous yet they're as tough as nails. It's such a pleasure to play that kind of role. You're actually given the opportunity to work with dialogue that is intelligent, that you have to think about. I also get his wicked sense of humor. I knew my lines so well, I could have said them in my sleep."
As for Bridget Von Hammersmark's violent ending, "I've never died in a movie before. I get strangled, which was especially weird because you feel it when someone is choking you, so it was an interesting day at the office. The funny part is that Quentin's hands are in the close-up. I won't give away the name of the actor who kills me, but Quentin said, 'He's not going to do it right, it'll either be too much or too little. I know exactly what I need and I think I should just do it.' I have to say it was very strange being strangled by the director."
Shooting the Kill Bill films, Tarantino stepped in for Michael Madsen when he's supposed to spit on Uma Thurman, again because Tarantino knew exactly how he wanted the scene to play out; in another, the director held a chain around Thurman's neck (per her request, he said) in lieu of having the villain in the scene do it herself.
When Thurman opened up in 2018 about being a target of producer Harvey Weinstein's unwanted advances in the wake of the slew of sexual misconduct allegations made against the mogul, she also said that she was injured while making Kill Bill when Tarantino insisted she do her own driving in a scene where she wanted to use a stunt double. By then Tarantino had admitted to knowing "enough to do more than [he] did" about Weinstein's history of mistreating women, and he helped procure the long-lost footage of Thurman's accident to bolster her account.
After Thurman's account came out, Kruger reiterated that her experience working with Tarantino was "pure joy. He treated me with utter respect and never abused his power or forced me to do anything I wasn't comfortable with."
Article continues below
Universal Pictures
What-If Women
Maggie Cheung played Ada Mimieux, who Mélanie Laurent's Shoshanna (posing as Emanuelle Mimieux) references as the aunt who left her the theater she's now running in Paris.
But Shoshanna is obviously already in charge when you first see her—four years after she escaped the Landa-ordered massacre of her family in the French countryside—and that's because Ada ended up on the cutting-room floor.
"Maggie was fantastic," Tarantino told Rotten Tomatoes. "She was terrific in the movie—she's one of the best actresses on the planet and she doesn't need me to defend her. But it was literally a situation where we did the scene, and she was wonderful in the scene, but when we were cutting the movie together we realized we didn't need the scene. Not only wasn't it essential to chronicle Shosanna's first years in Paris before we see her again, it was kinda the opposite of what I would normally do. To describe how Shosanna survived is a movie unto itself. So I'd rather leave that to the viewer, for them to make that movie in their head."
Cheung, who stepped in after talks with Isabelle Huppert fell through, reportedly confirmed to Chinese media that Tarantino had called her from Cannes to let her know that they had cut her part and it was "no big deal."
And to tie it all up with a bow, Huppert was the jury president at Cannes in 2009.
"It just didn't work out because of scheduling and timing-wise and deal stuff," Tarantino told reporters as the festival got under way. "There was no thing, no thing at all. I don't think twice about it because I adore her and she likes me and I'm sure that we will eventually work together and I can't wait for that day to happen. There's no acrimony between us that I'm aware of at all. I'm still her biggest fan and I hope one day to work with her."
Michael Haneke's German-language World War I-era film The White Ribbon won the Palme d'Or that year.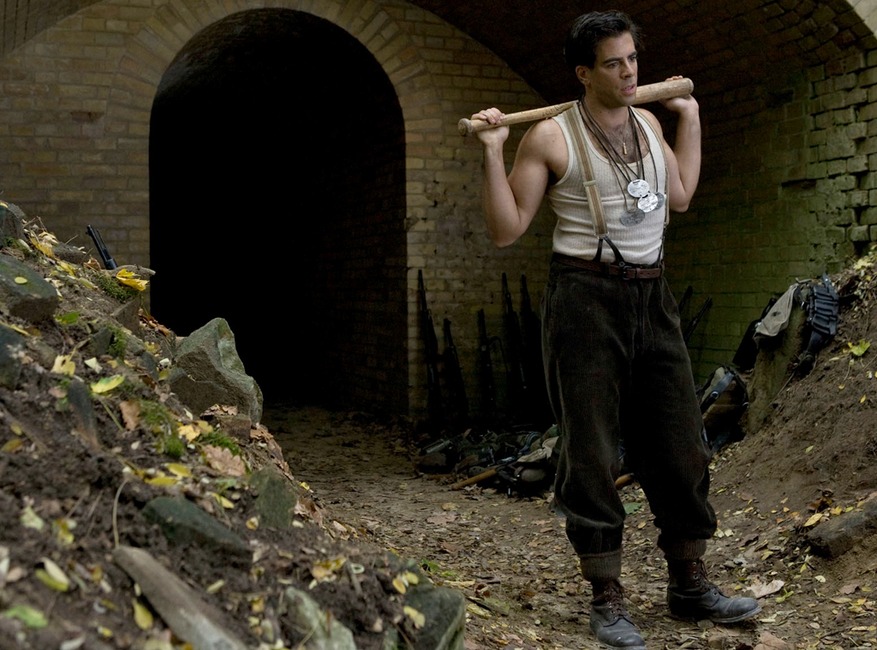 Universal Pictures
The Bear's Back Story
Cloris Leachman also shot a deleted scene, shot in Berlin but set in Boston, in which Donny Donowitz shows up at her door, inquires if her family has been affected by the Nazis and asks her to write her European relatives' names on his soon-to-be infamous baseball bat—which is also carved with the name "Anne Frank." Then she has him in for tea.
Asked before the film premiered if the rumor that her part was cut out was true, Leachman told Vulture, "I have heard that, and I would suspect that that's true, because it's very long and my thing isn't woven into the plot. It would be a very good scene to cut, in the sense that it wouldn't hurt the picture. It's a wonderful little scene. I loved doing it and he loved it, too, but it's not going to make or break the film."
More prequel fodder, of course.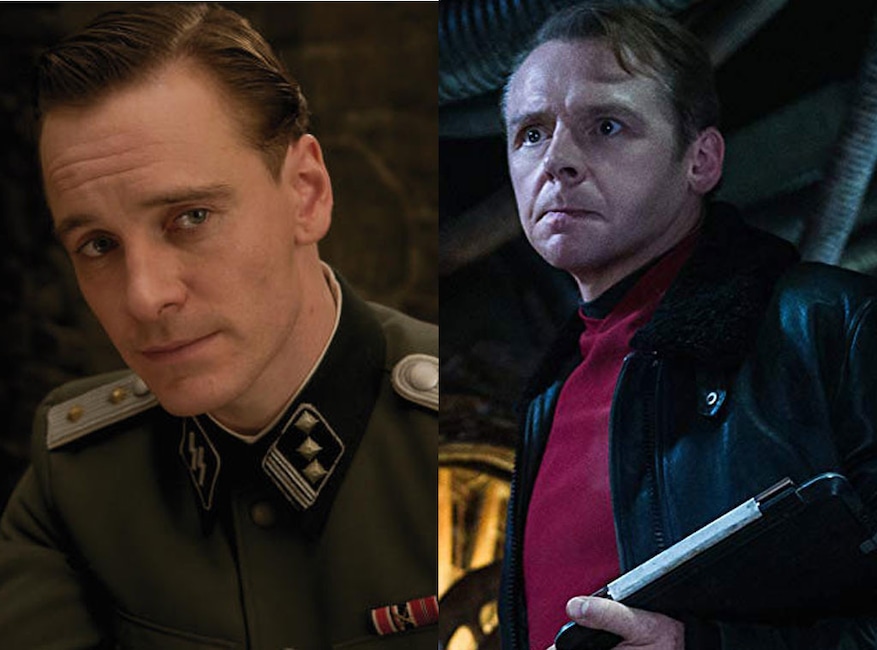 Moviestore/Shutterstock; Paramount Pictures/Bad Robot/Kobal/Shutterstock
He Just Couldn't Do It!
Simon Pegg was going to play British spy Lt. Archie Hicox, the role that eventually went to Michael Fassbender because Pegg had a scheduling conflict—supposedly over Steven Spielberg's The Adventures of Tintin.
But at least in 2009 the English actor was Scotty in Star Trek, so he still had a pretty good year.
Article continues below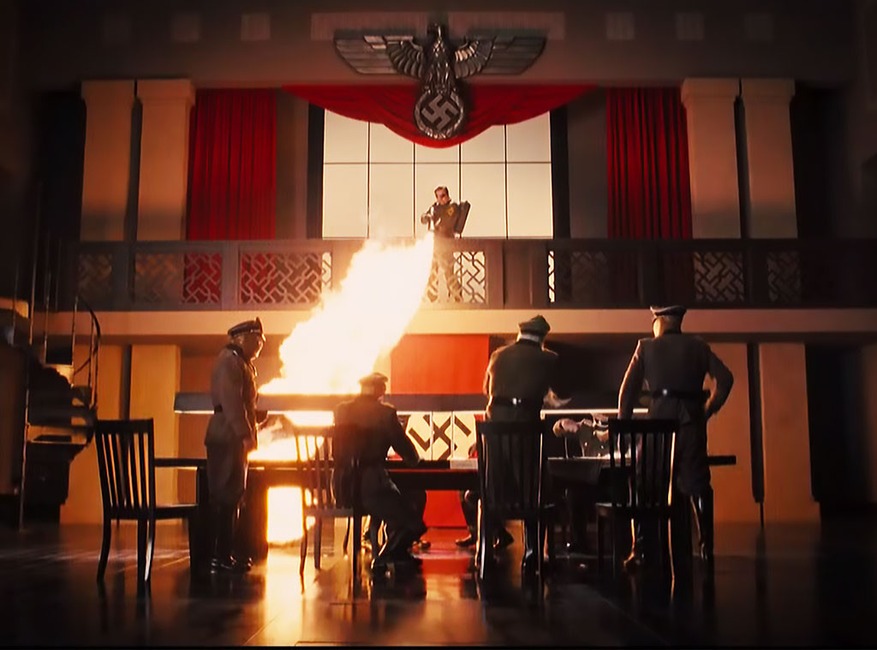 Sony Pictures Releasing
Easter Egg Hunt
Aside from the wishful revisionism that concludes both Inglourious Basterds and Once Upon a Time…in Hollywood, it's unmissable in the latter that one of the biggest hits that Leonardo DiCaprio's Rick Dalton starred in was a WWII-era picture that ends with him blasting Nazis with a flame thrower—a souvenir he keeps from the set that comes in handy later when he gets a visit from the Manson Family.
Tarantino originally had Leo in mind to play Hans Landa before deciding that a native German speaker should have the role, instead recruiting DiCaprio to play sadistic plantation owner Calvin Candy in his next movie, Django Unchained.
Also, on the night of the Nation's Pride premiere, Aldo Raine is introduced to Hans Landa as Italian stuntman Enzo Gorlomi. Pitt plays an actual stuntman in Once Upon a Time, and Enzo sounds like a tribute to The Inglorious Bastards director Enzo Castellari.
Tarantino said a decade ago that he initially planned to honor the "roadblock" that was true events. That plots to assassinate Hitler failed and the Nazi leader eventually killed himself on April 30, 1945.
"But then at some point, deep, deep, deep into writing it, it hit me," he told Rotten Tomatoes. "I thought, Wait a minute: my characters don't know they're part of history. They're in the immediate, they're in the here, they're in the now, this is happening. Any minute, they're dead. And you know what? What happens in this movie didn't happen in real life because my characters didn't exist. But if they had, this could have happened in real life. And from that point on, it simply had to be plausible, and I had to be able to pull it off."
Inglourious Basterds was nominated for eight Oscars, with Waltz winning for Best Supporting Actor, and the ensemble took the SAG Award for best cast performance.
Asked at Cannes if he made a Jewish revenge fantasy, Tarantino said, "That wouldn't be how I would define it 100 percent. You could definitely say that and it works completely in that way. That wouldn't be the section in the video store I would maybe put it in." Ultimately, "there are aspects of that but to me, more than anything else, it is that my characters change the outcome of the war."
Once upon a time, it happened.
Source: Read Full Article