OMG K-Pop Group BTS Just Made History and It'll Make Your Heart Melt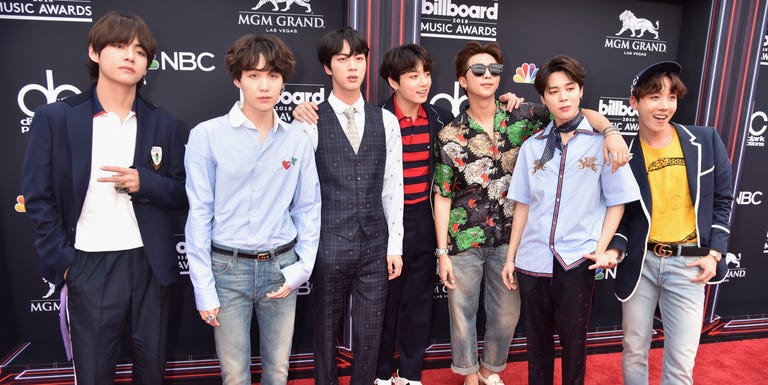 If you're a member of the BTS Army (what they call their fans), then prepare to die of excitement. BTS just made history with their latest album, Love Yourself: Tear, and it was no easy feat.
As all fans know, the K-pop group has been trying to break into the American market for years now and just recently became mainstream in the U.S. As it turns out, all their hard work has paid off and their success is now solidified as they just became the first K-pop artists to reach number one on the Billboard 200 chart, thanks to the new album.
This is so huge and the best news my BTS-loving heart has ever received! They even beat big-time artists like Cardi B and Post Malone!
After listening to one song on Love Yourself: Tear (might I suggest "Fake Love?"), you'll understand why it's such a success and be singing "love you so bad, love you so bad" all day.
BTS just performed the song at the Billboard Music Awards last week where they danced while their singing was pretty much drowned out by adoring fans. Go Army!
Reaching the top spot isn't the only record the boys have set. Love Yourself: Tear is also the first album that's mostly sung in a foreign language to top the Billboard 200 in more than 12 years. And along with the new album, their previous one, Love Yourself: Her, are the only two K-pop albums to reach the top 10 of the Billboard 200.
Even the president of South Korea is excited for them!
Congratulations to the Seven Music-loving Boys and Their Wings, 'ARMY'!
The songs, dance, dreams and enthusiasm of BTS energized and gave strength to young people around the world. https://t.co/6ZL4XdrZVv
Strong power Thank you
?? pic.twitter.com/vxVGzyKAeW
Now go play their Love Yourself albums on repeat until it becomes embedded in your DNA!
Source: Read Full Article