Now that Prince Harry, Duke of Sussex, and Meghan Markle, Duchess of Sussex, are officially married, fans are eager to know what the future has in store for the royal couple. And based on a report from Us Weekly, it sounds like moving into a new weekend home is next for Prince Harry and Meghan Markle.
According to the magazine, the royal couple has signed a two-year lease on a weekend house called WestfieldLarge. The property is apparently part of the Great Tew Estate, a location in the Cotswolds. There's no word on how much the lease is costing the royal family, but it's safe to guess the estate is quite luxurious.
"Meghan loves the Cotswolds and fell in love with the estate the first time she went," an unnamed source told Us Weekly. "They recently had security cameras installed around the perimeter."
For fans who aren't in the U.K., Us Weekly explains that the estate is about an hour and a half from London by car. That means it's perfect for weekends away, when they won't need to be around the city's hustle and bustle.
The Cotswolds also boast some impressive neighbors for the royal couple. Us Weekly points out that David and Victoria Beckham's country home is near the estate where Harry and Markle will be staying. The Beckhams recently renovated their own Cotswolds home, which features a pool, too. So, if the royal couple wants to spend time with the Beckhams, there are a lot of luxurious places where they can do just that.
Us Weekly also notes that Harry and Markle will stay at the new residence while Nottingham Cottage at Kensington Palace is being renovated. And based on the magazine's report, it sounds like the couple will start spending time in the Cotswolds after their honeymoon. Though fans thought Harry and Markle's honeymoon would be in Namibia, TMZ recently reported that the couple may honeymoon in Canada instead.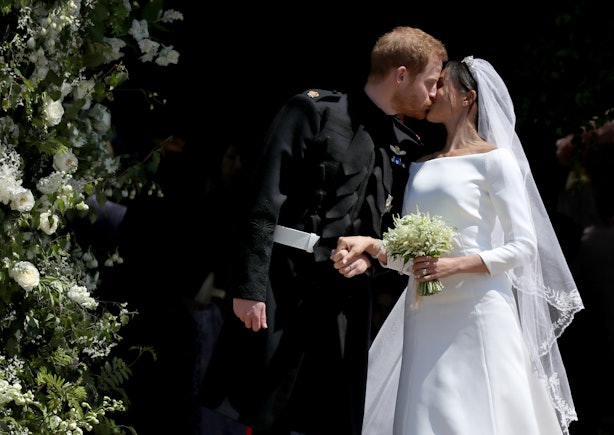 Back when they got engaged, the palace announced that Harry and Markle would be living at the two-bedroom Nottingham Cottage. The couple is in good royal company: Prince William, Duke of Cambridge, and Catherine, Duchess of Cambridge, have previously lived there, as did Lady Jane Fellowes, sister to Diana, Princess of Wales. For his part, Prince Harry has already lived at the cottage since 2013. Markle, meanwhile, moved in after their engagement.
As Town & Country pointed out, the royal wedding also included a hidden clue that Prince Harry and Markle are enjoying their new life together at Nottingham Cottage. Markle's veil apparently included embroidery featuring wintersweet, a flower that grows in front of the cottage. The same flower is also featured in Markle's royal coat of arms.
Don't let the sound of two bedrooms fool you, either. In addition to the bedrooms, Nottingham Cottage also has a garden, as well as two "reception rooms," according to The Telegraph. And aside from the gorgeous cottage's amenities, having Prince William and Kate Middleton as neighbors on the palace estate isn't bad, either.
Still, while the newlyweds appear to be enjoying their cozy cottage life for now, there's always the possibility that they'll move into a larger space within Kensington Palace in the future. If Prince Harry and Meghan do have children, they might want more than two bedrooms for their family.
For now, though, it seems like they're perfectly happy at Nottingham Cottage. And based on Us Weekly's report, they will be very happy spending their weekends in the Cotswolds for at least the next couple of years, too.
Source: Read Full Article