New reports claim that Prince Harry and Prince William are feuding and that The Queen is working "incredibly hard" to end it.
Sources say Meghan Markle and Kate Middleton never even had issues—it was their husbands this entire time.
Good morning! Time to dust off everyone's favorite probably imaginary drama, aka ThE RoYaL FeUd, because there's an intriguing update! Royal filmmaker Nick Bullen, who's worked closely with Prince Charles, just told Fox News that it's not Meghan Markle and Kate Middleton who are feuding…it's Prince William and Prince Harry.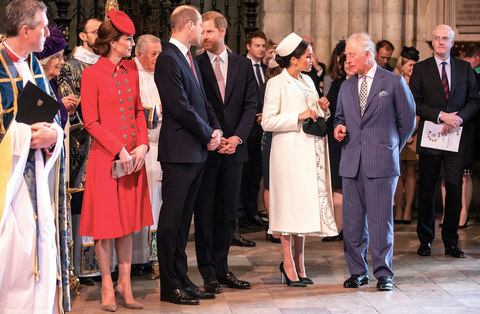 Harry and William at their last appearance together, on March 11, 2019.

Getty Images
"It's actually that William and Harry have had a rift," Bullen said. "All brothers fall out. All families fall out. Their fallout at the moment is becoming public."
Bullen said his intel comes from a "well-placed" source, and adds that Prince Charles and Queen Elizabeth II "are working incredibly hard to try and make sure everybody reunites."
Kay cool, but then why did everyone spend MONTHS thinking Meghan and Kate were at odds? According to Bullen, because it's "a much sexier story to have two duchesses at war. 'Let's have these two super glamorous women—one British, one American. One an actress, one sort of an English rose. Let's put them against each other.'"
Harry and William have certainly seemed somewhat tense around each other in recent public hangs, but wouldn't you be tense if a million cameras were photographing you at all times?
Follow Mehera on Instagram.
From: Cosmopolitan US
Source: Read Full Article