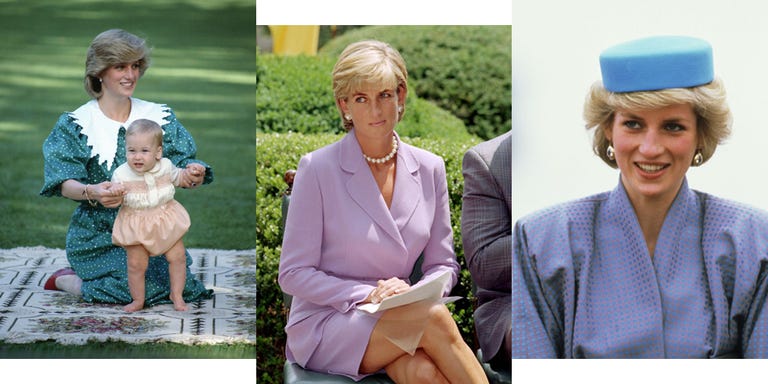 One of the many reasons Princess Diana will forever be cemented as a royal favorite is her reputation as a total fashion plate. While it's fair to say she grew into her sense of style as she grew into the spotlight, Diana consistently showed off a quintessentially genteel British woman's wardrobe — and, I mean, this was the '80s, so there was a lot of shoulder pad action. It should be embraced! Click through for a collection of her most memorable, and most chic, fashion moments.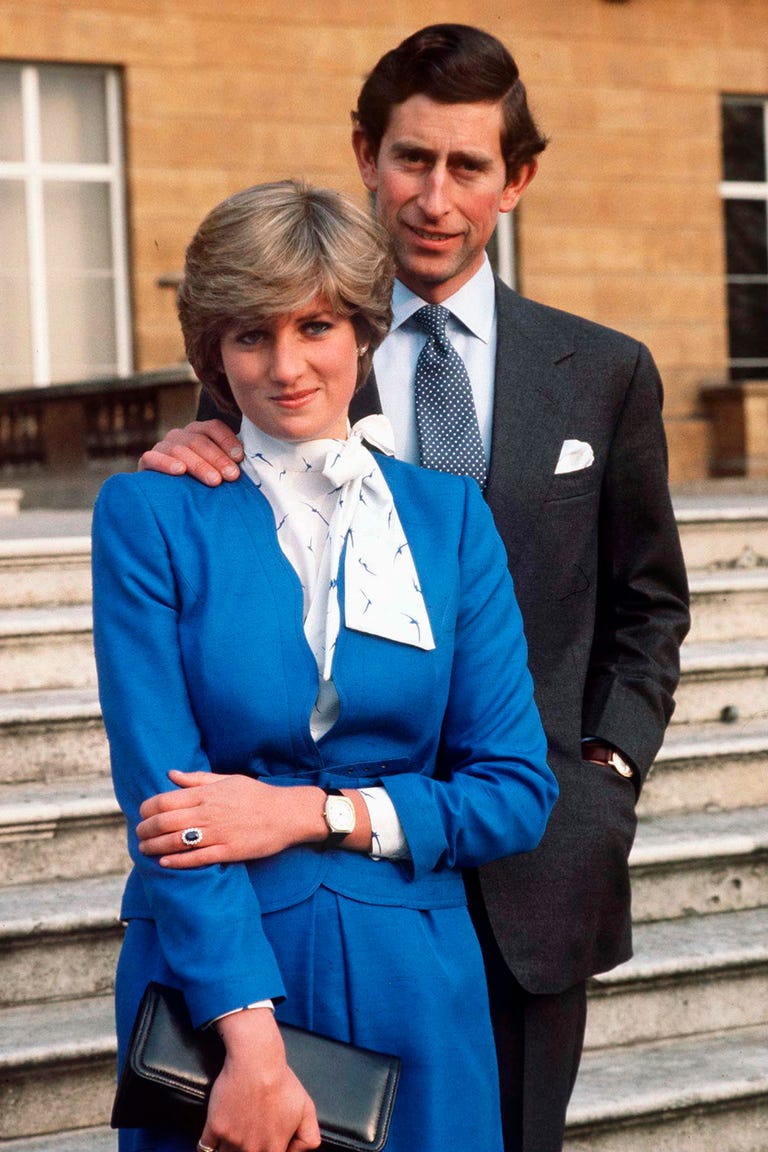 Posing for photos in a pussy-bow blouse and cobalt blue skirt set (and showing off her new bling, naturally) as she and Prince Charles announced their engagement.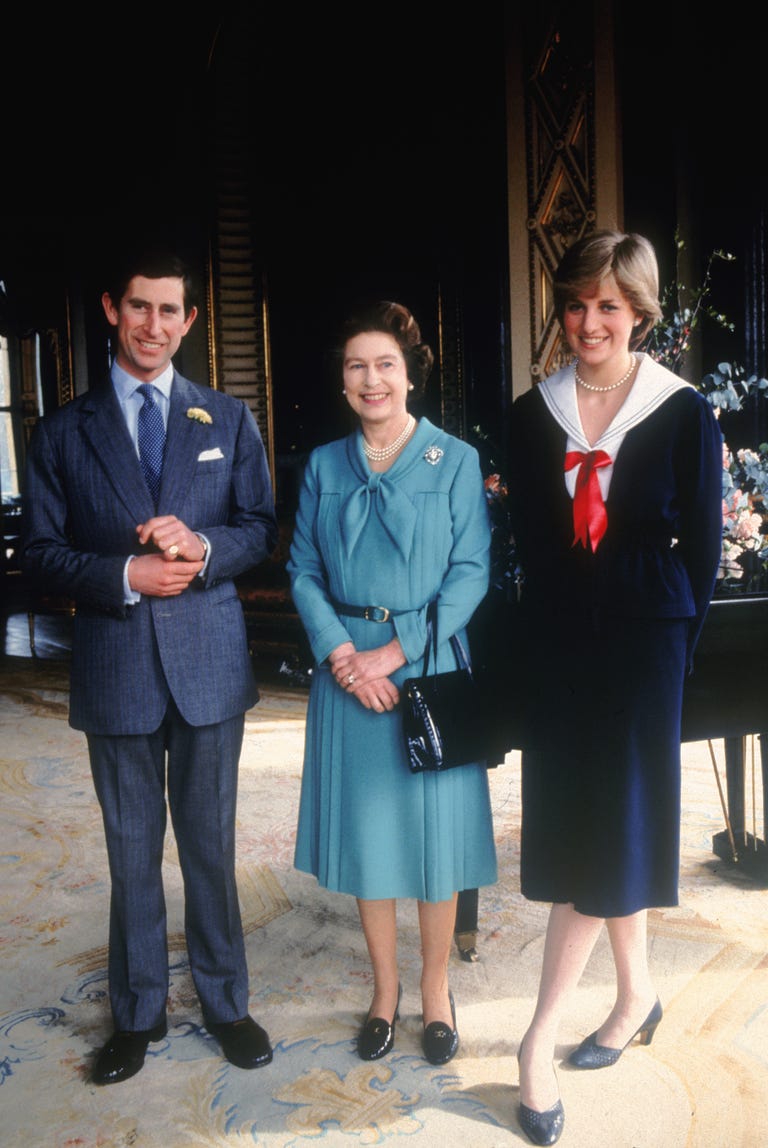 Posing again with her future husband and mother-in-law (AKA two generation's worth of the British monarchy, nbd). Here, Diana wears a nautical-inspired skirt suit with a twee lil ribbon.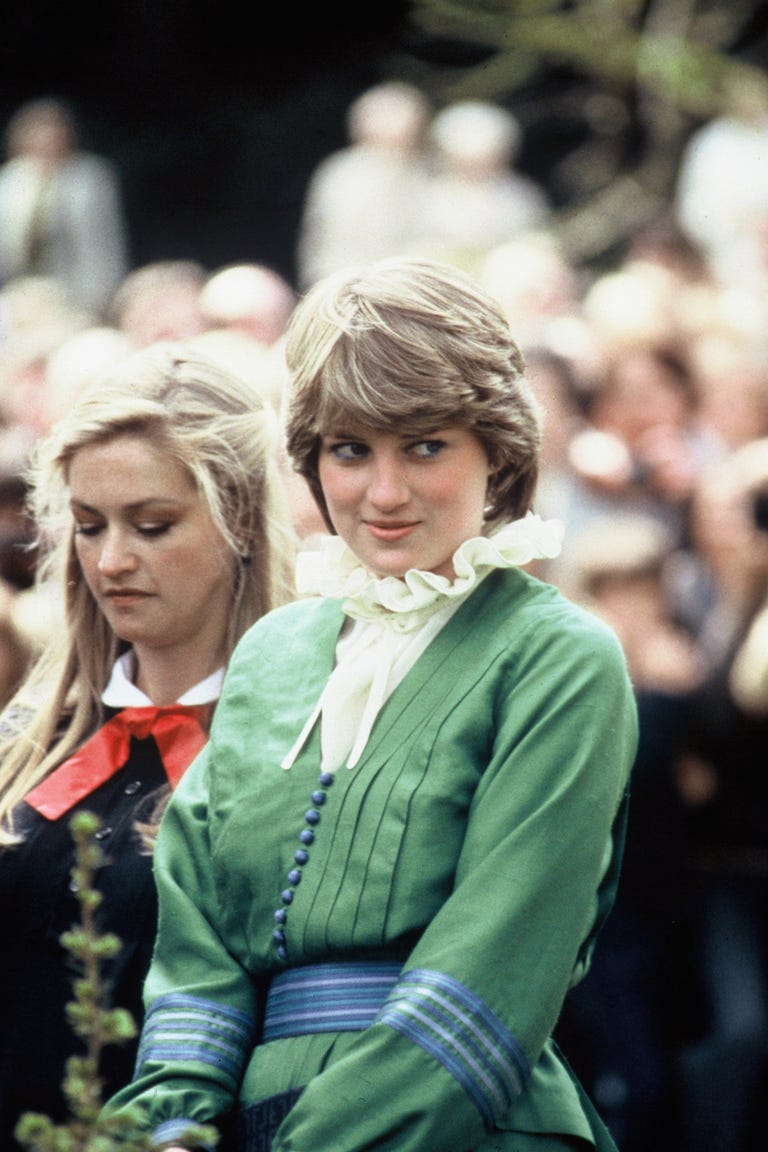 Wearing a pleated green blouse with a cream ruffled collar during a visit to the Broadlands estate in Romsey, England, where she and Prince Charles honeymooned a few months later.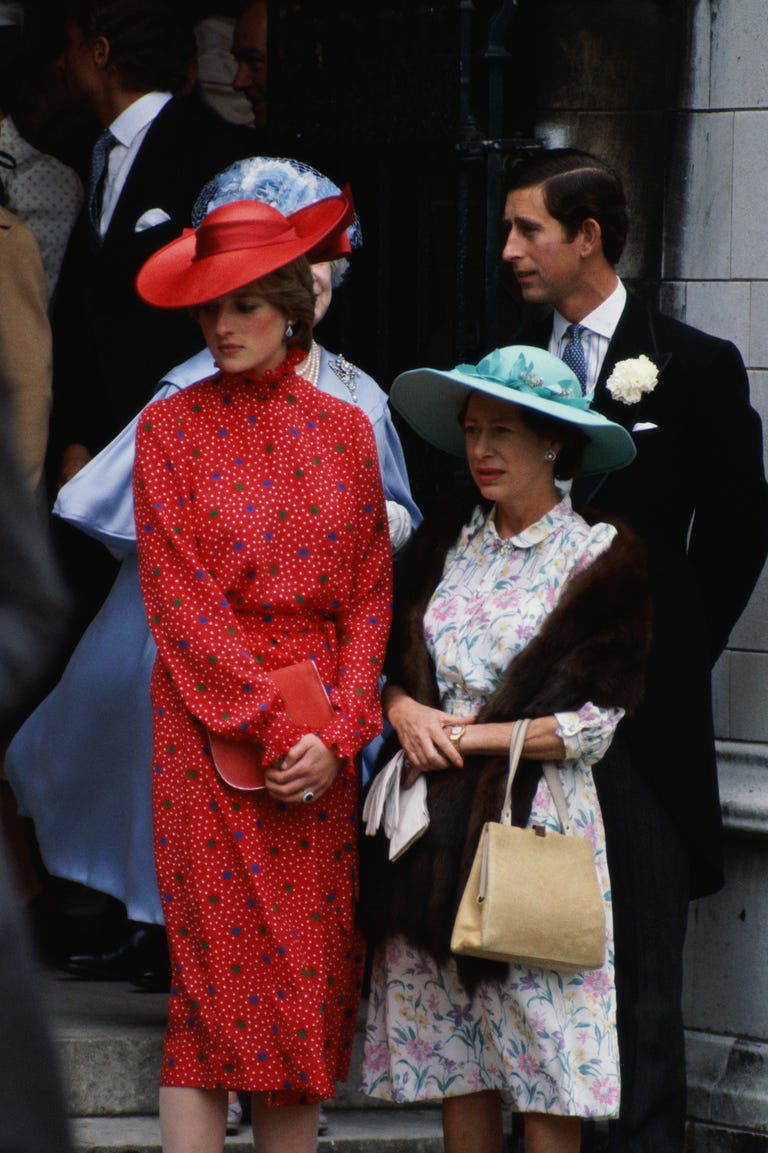 Attending a wedding at St. Margaret's Church in Westminster, London, in a bold red polka-dot dress and matching hat. Diana is pictured here with Prince Charles and Princess Margaret.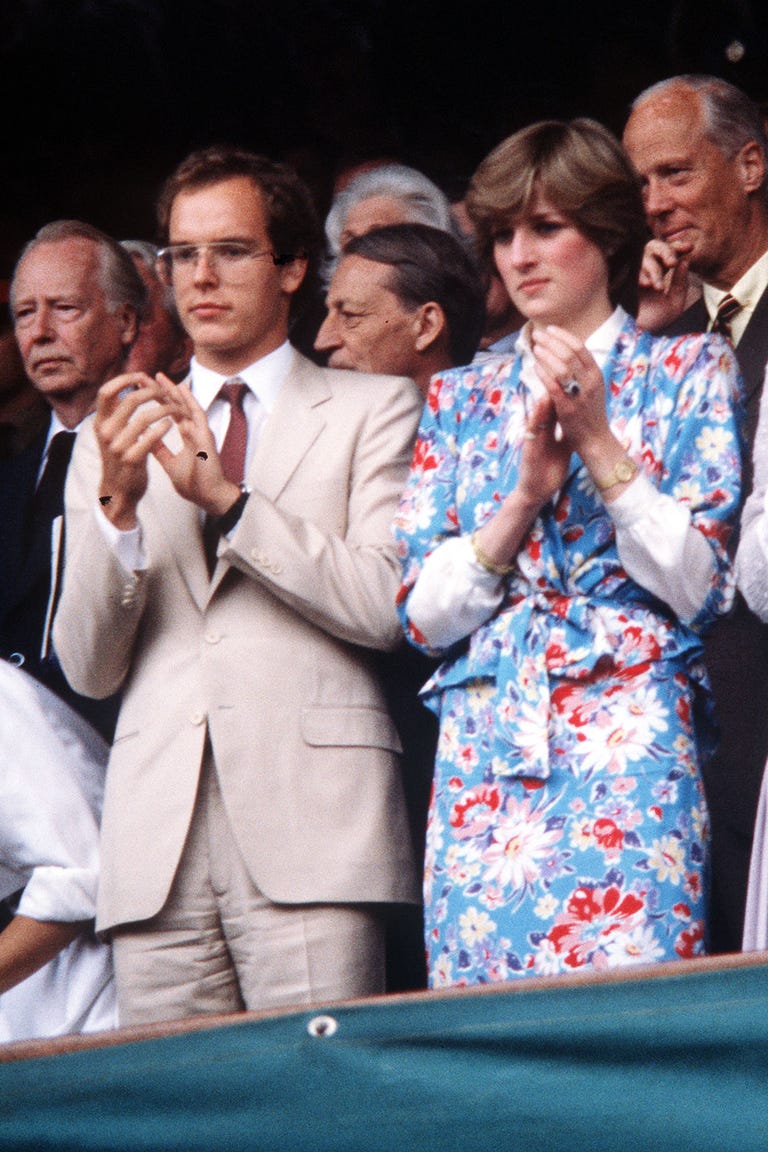 Wearing a bold floral pattern to Wimbledon — you'll notice this skirt pop up again a few years later (in slide 20). After all, the royals do like a good fashion do-over.
P.S. The guy in the hipster glasses next to Diana? That's Prince Albert of Monaco (Grace Kelly's son).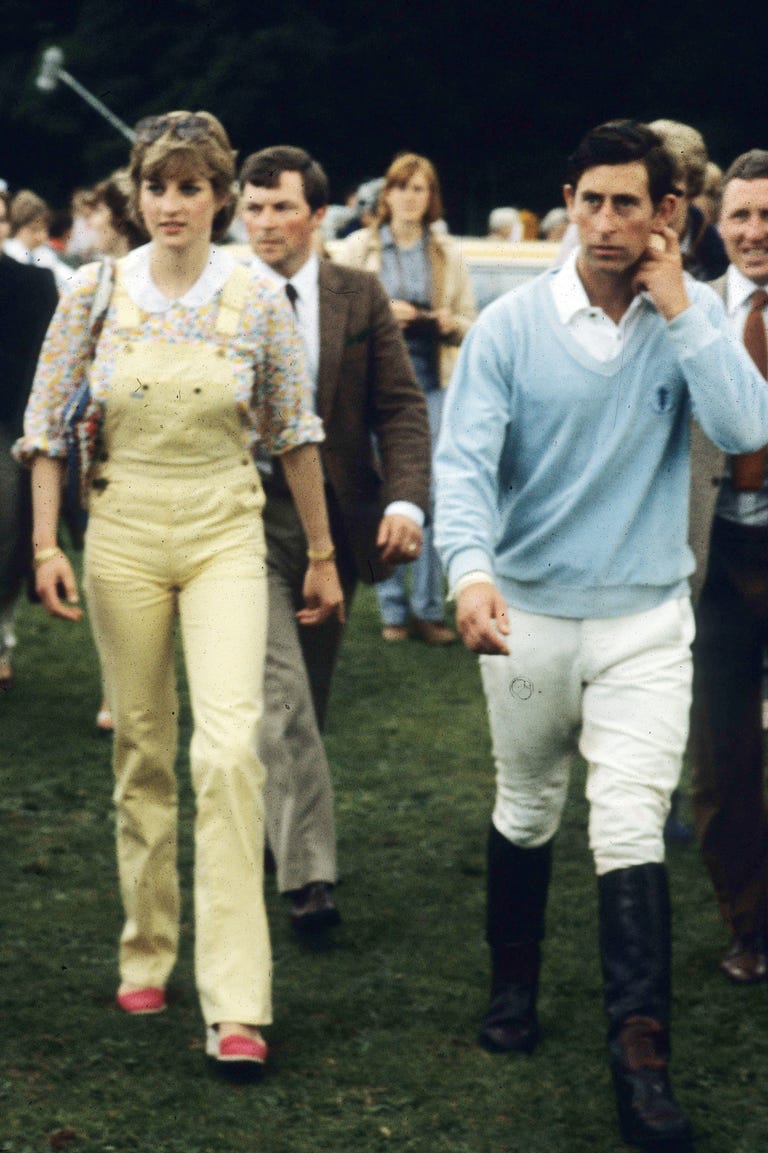 Wearing Generation Z yellow overalls to a polo match in Windsor with Prince Charles just a few days before they got married. Yes! Overalls!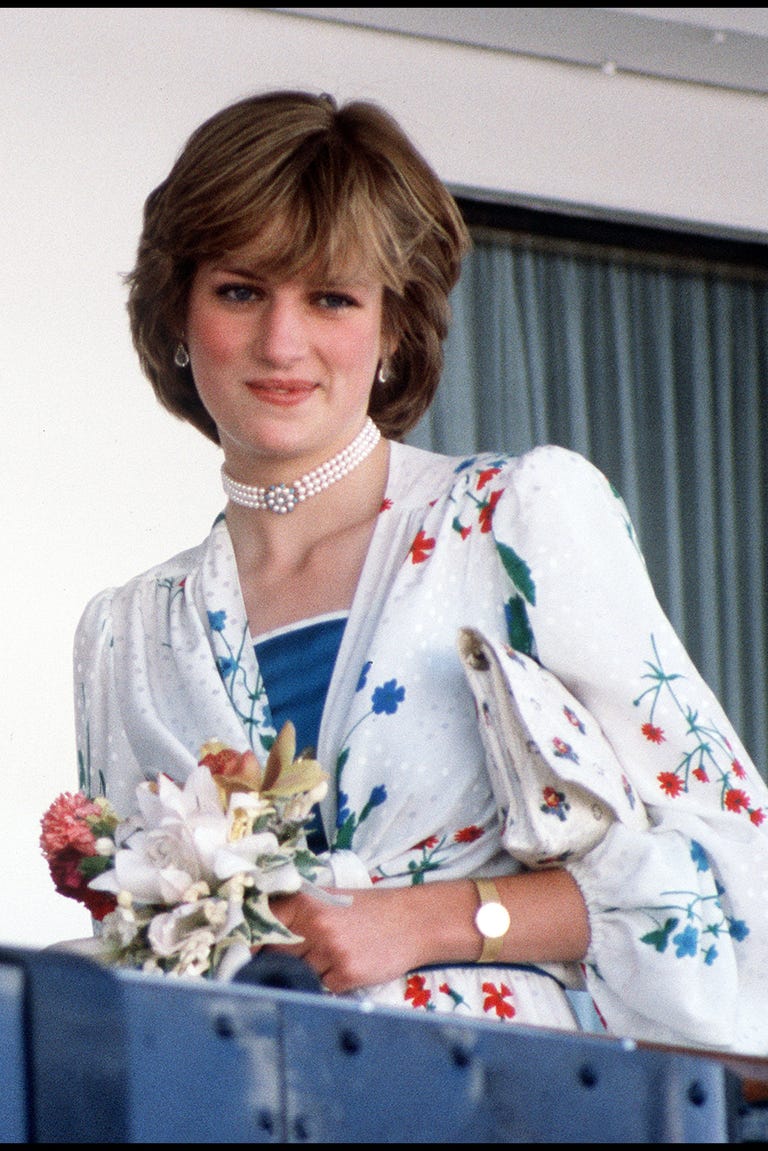 Wearing a floral Donald Campbell dress — and a chunky pearl choker —while boarding the Royal Yacht Britannia for her honeymoon cruise.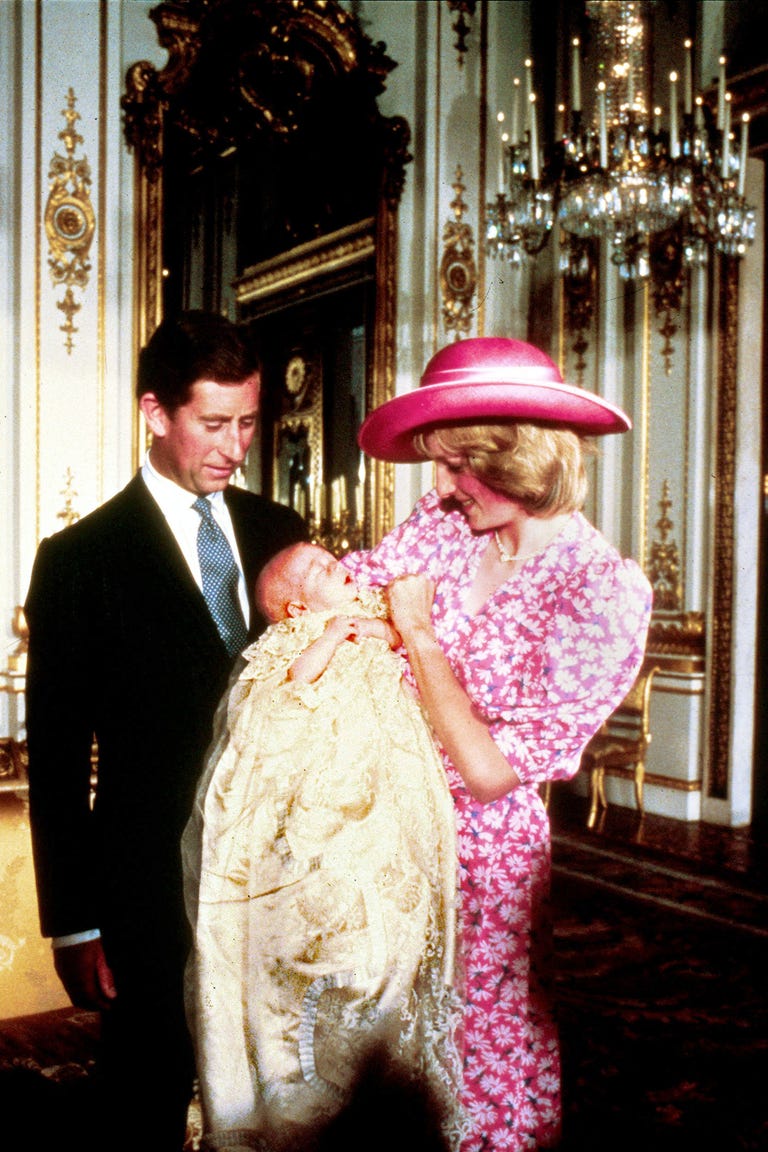 Posing with Charles and her newborn son, Prince William, for his christening at Buckingham Palace. Adorable all around.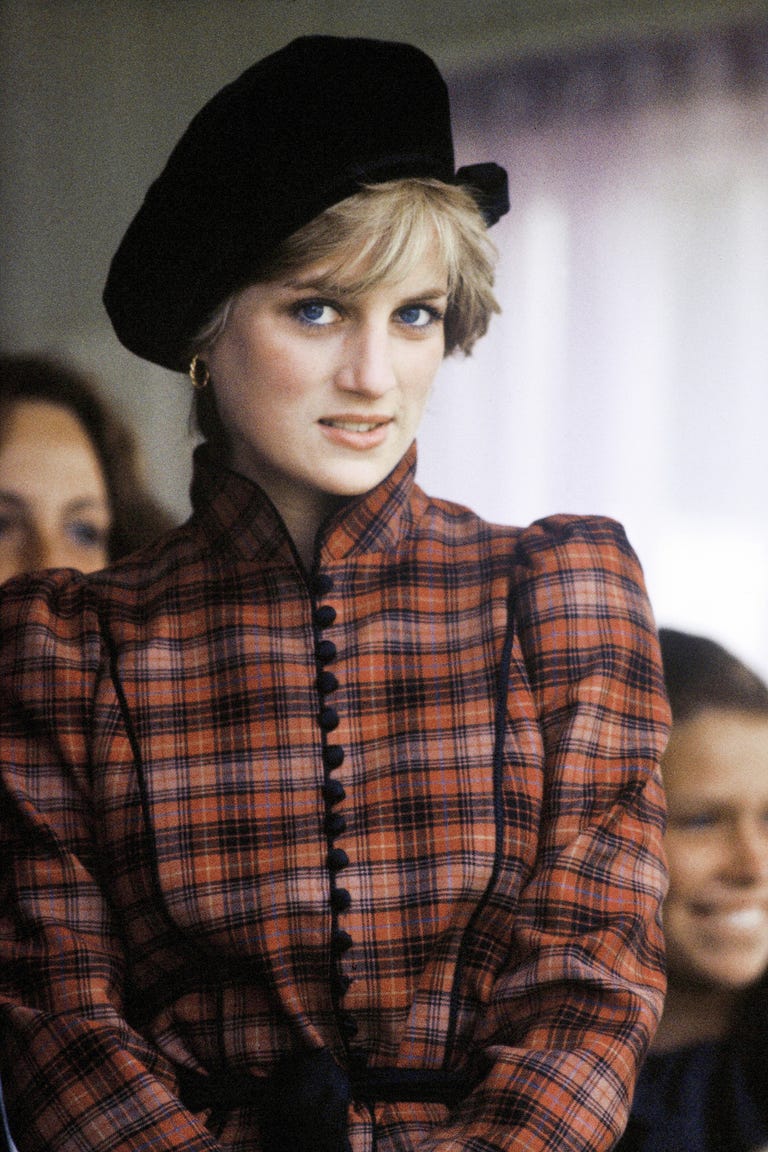 Wearing a tartan jacket and beret to the Braemar Highland Games in Scotland.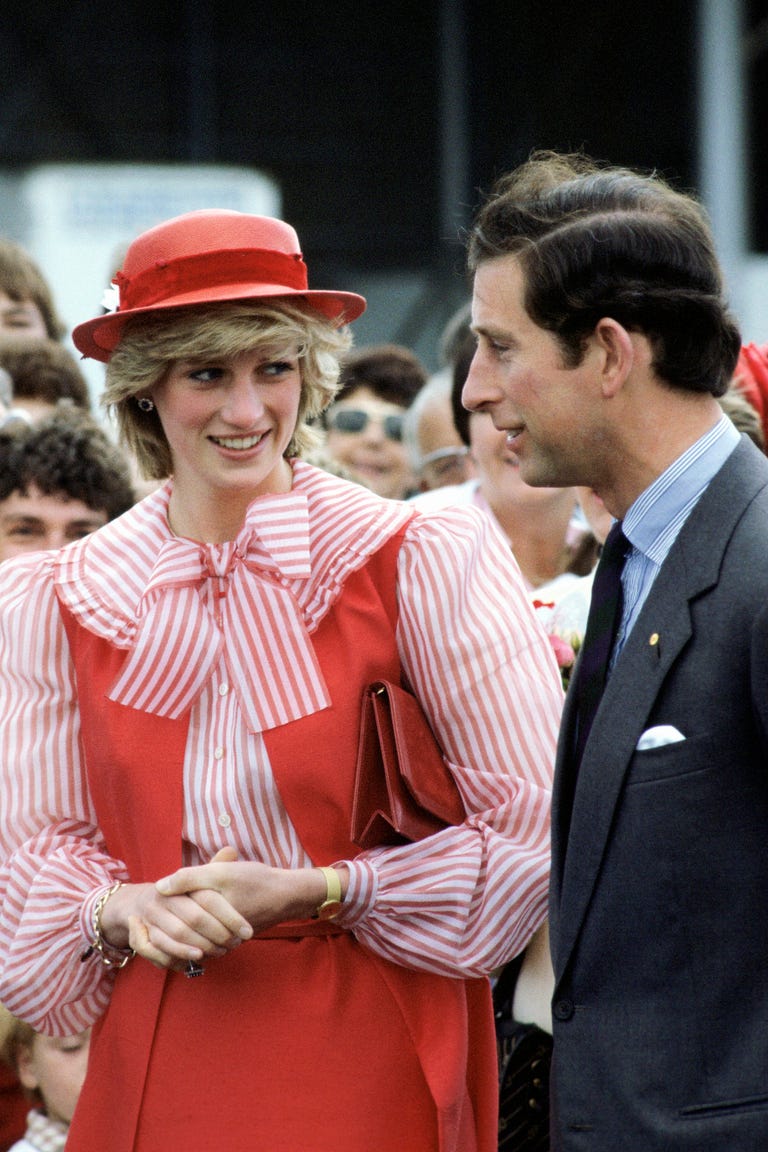 Wearing a red striped pussy-bow blouse with a red vest, skirt, and hat while on a royal tour of Australia.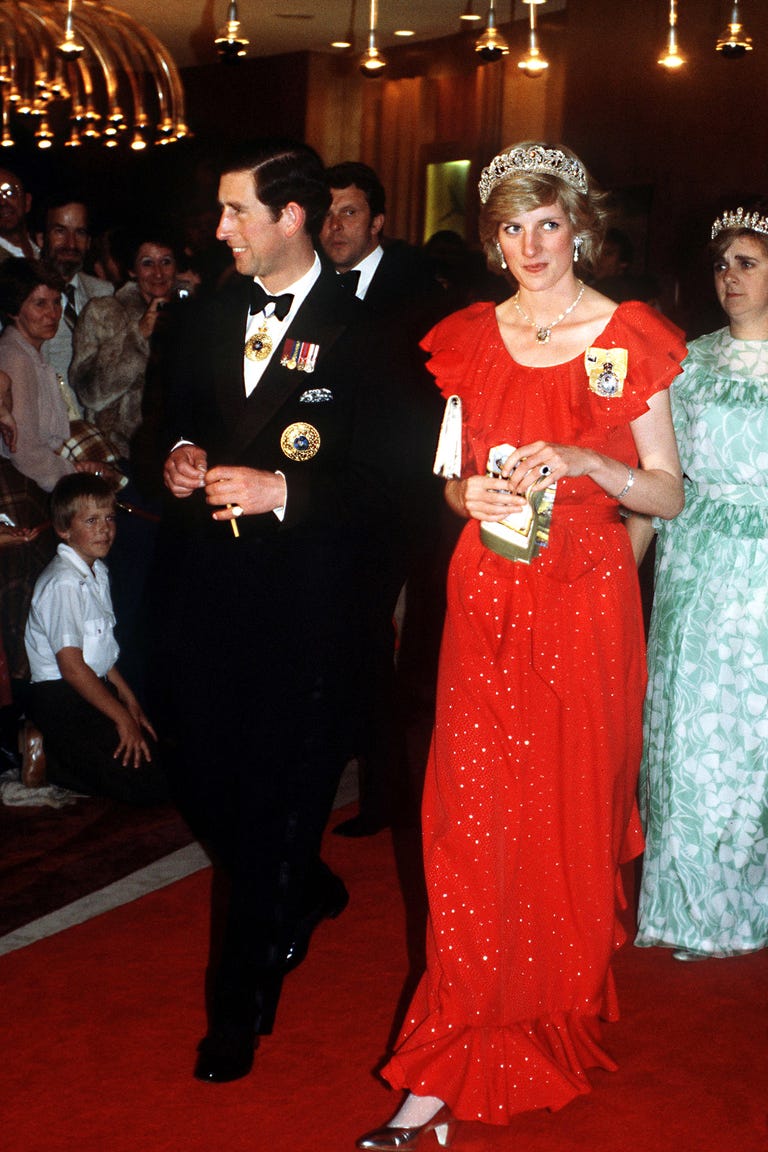 Wearing the Spencer family tiara (which belongs to Diana's family and dates back to the Tudor period) at a state reception in Hobart, Tasmania. The tiara has diamonds that are shaped like tulips and stars — Diana wore it on many occasions, perhaps most famously during her wedding.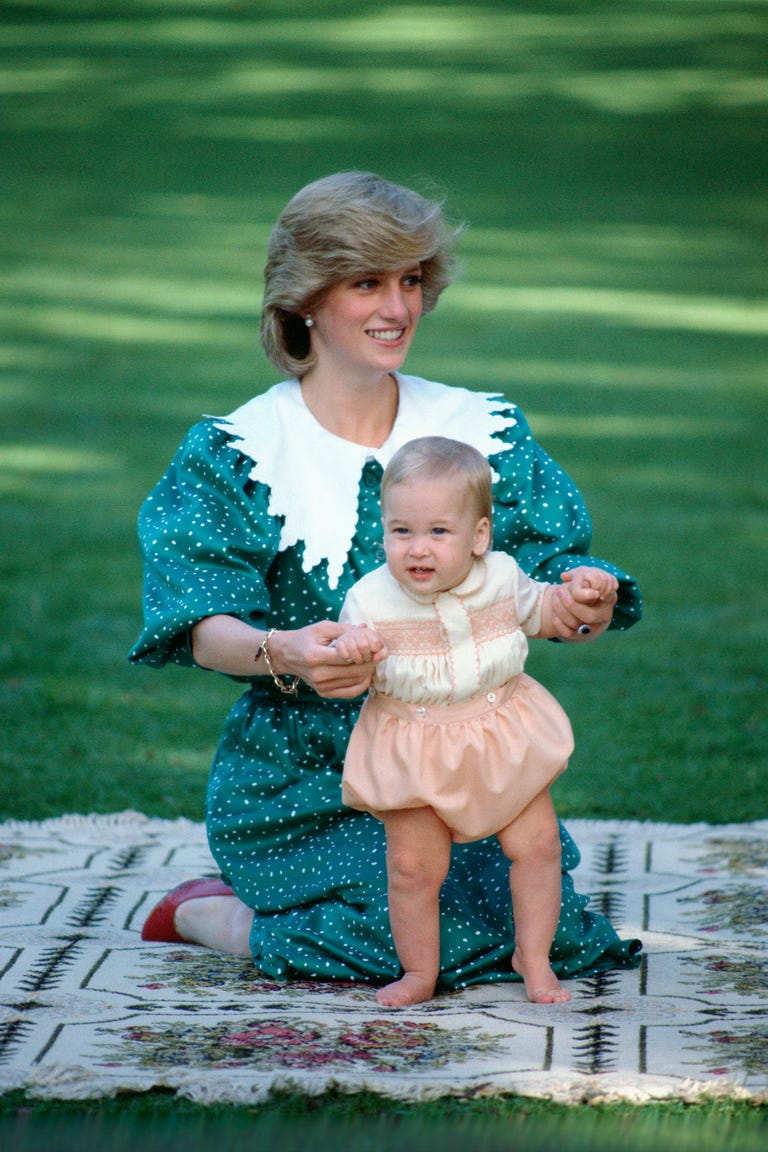 Holding William while he takes his first public steps during a tour of New Zealand. So yes, technically Diana is being upstaged by Will and his bloomers, but it's still a (fashion) moment for her too!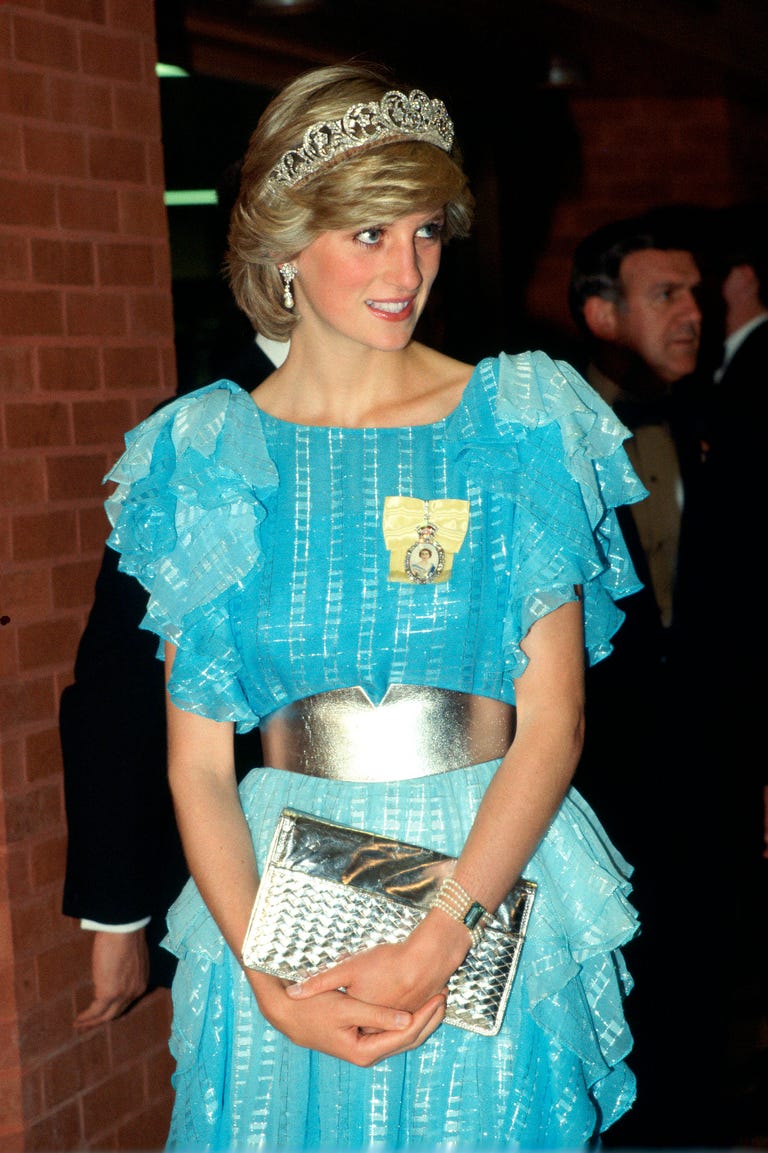 Wearing a ruffly baby blue gown with a chunky silver belt and matching clutch for a dinner reception in New Brunswick, Canada.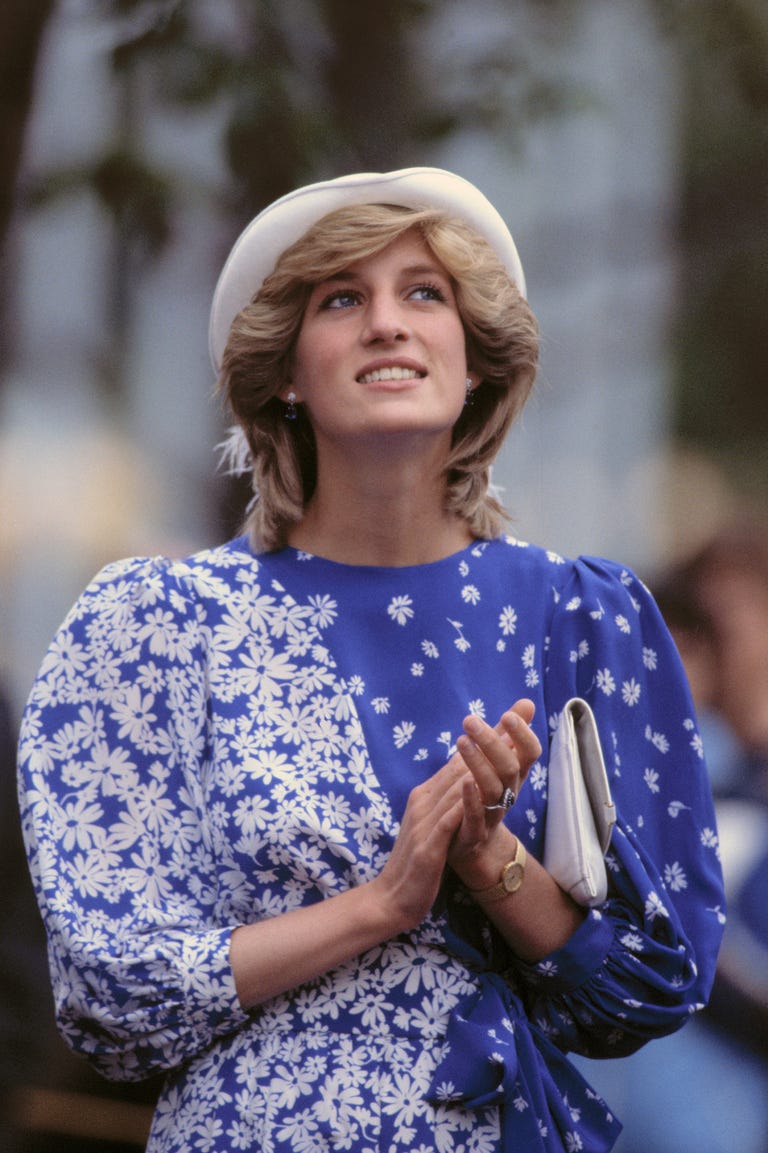 Wearing a floral-printed blouse with oversize sleeves and a feathered white fascinator.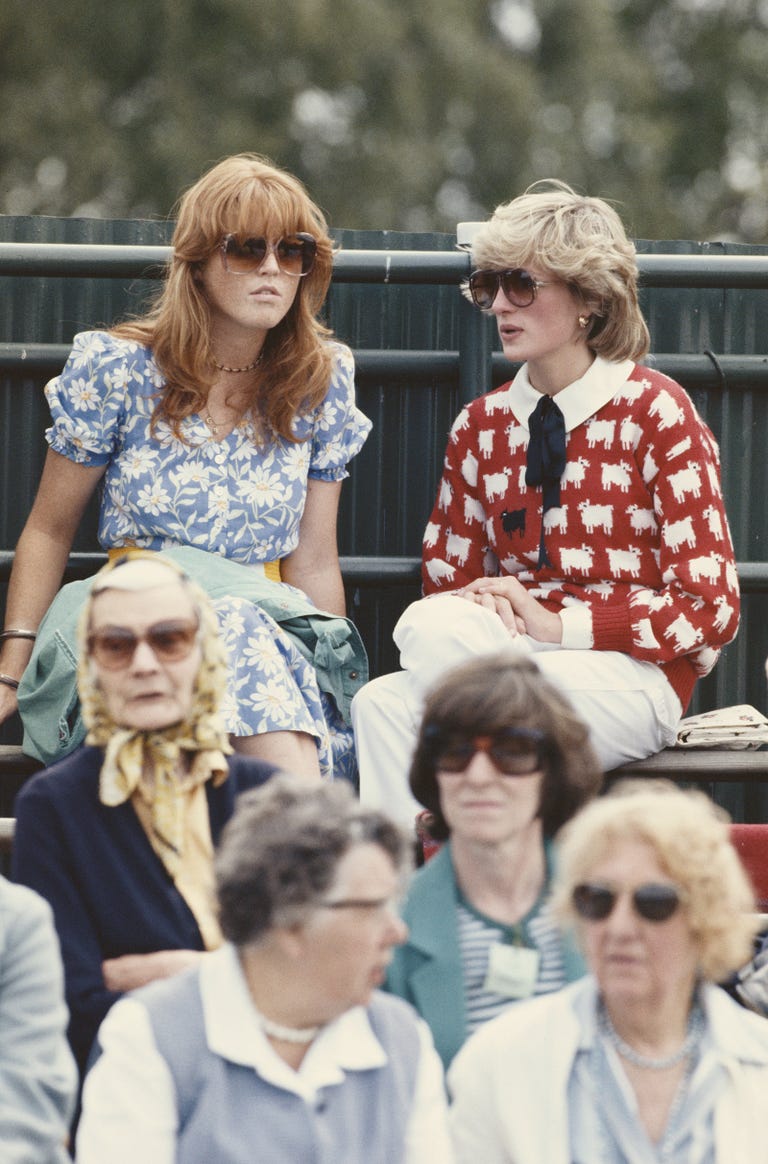 Wearing a sheep-patterned knit sweater and — let's be honest — hangover sunglasses to a polo match with Sarah Ferguson, the Duchess of York.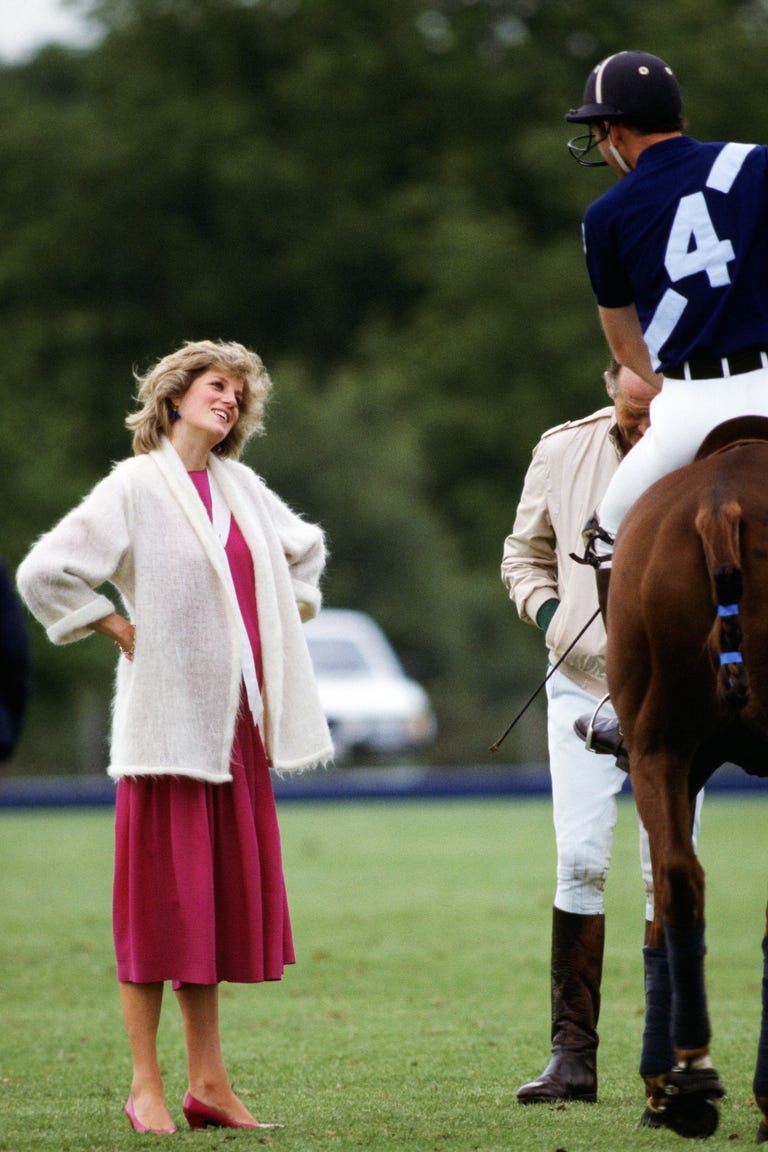 Wearing a light wool cardigan and magenta maternity dress while talking to Prince Charles as he rides his polo horse at the Guards Polo Club in Windsor.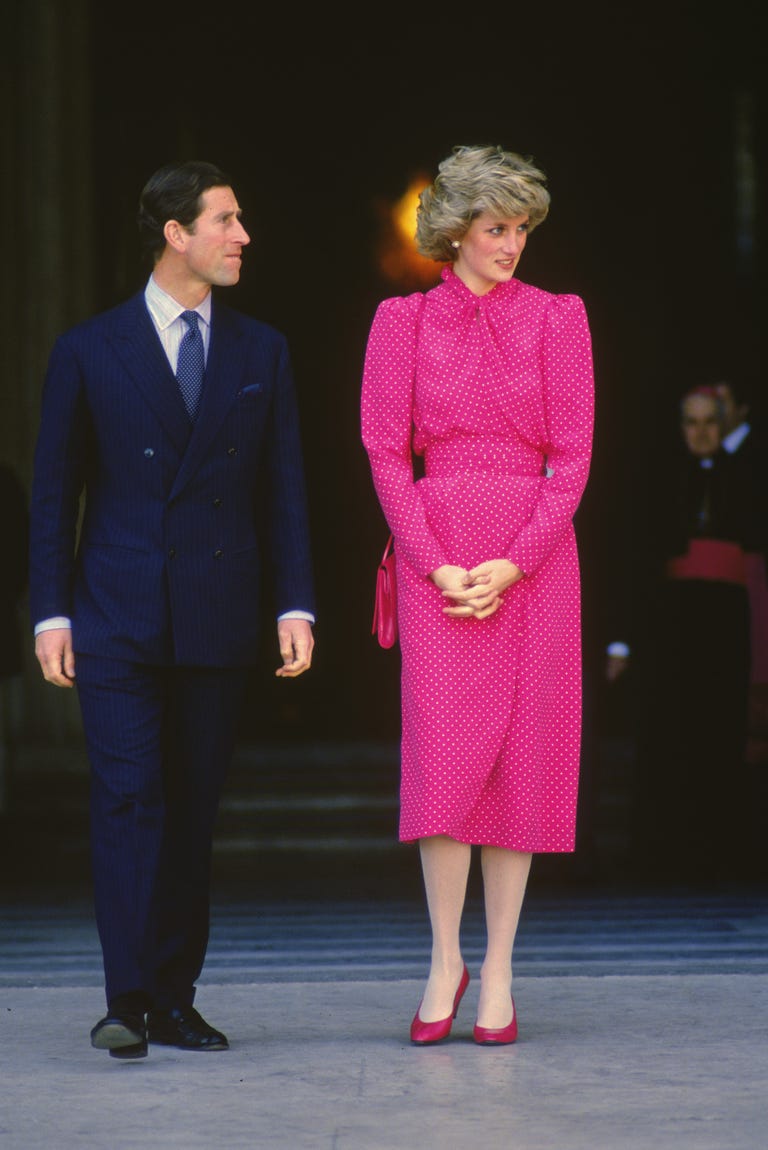 Wearing a bold pink polka dot-patterned dress designed by Donald Campbell, one of her favorite designers, for a tour of St. Peter's Basilica in Rome.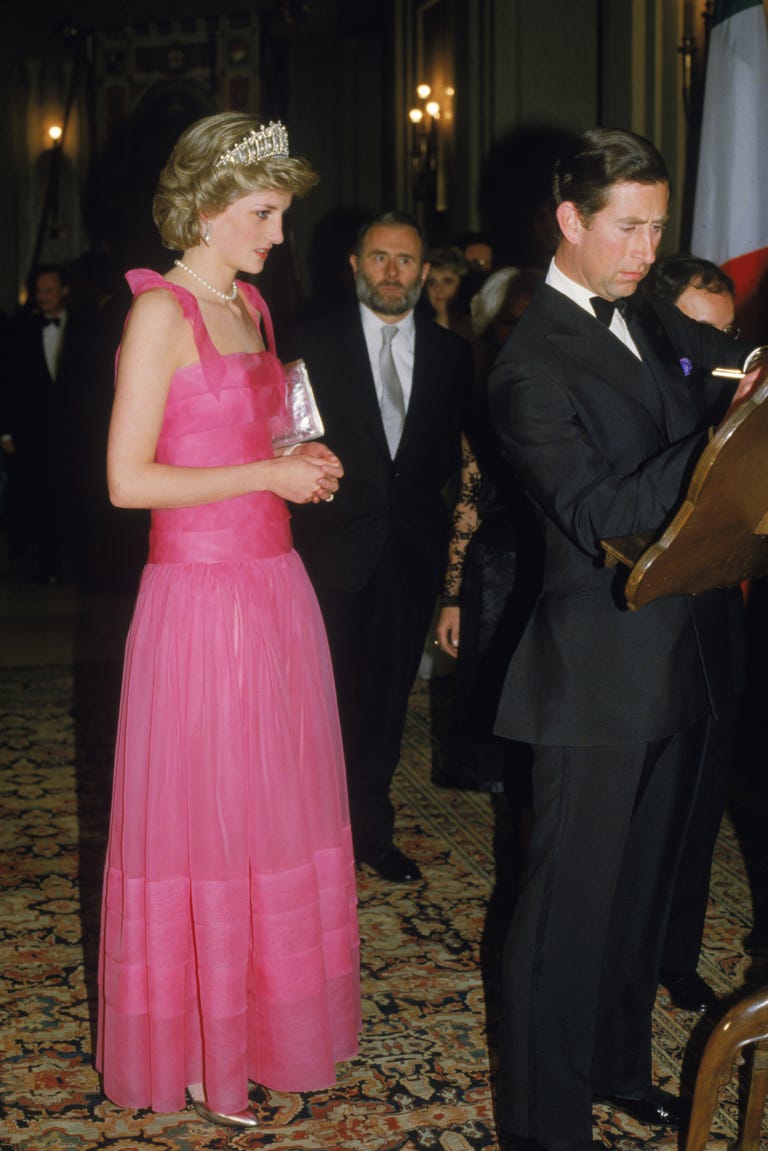 Again, pretty in pink (and also that tiara)! Wearing a dress designed by Victor Edelstein while attending an opera in Milan.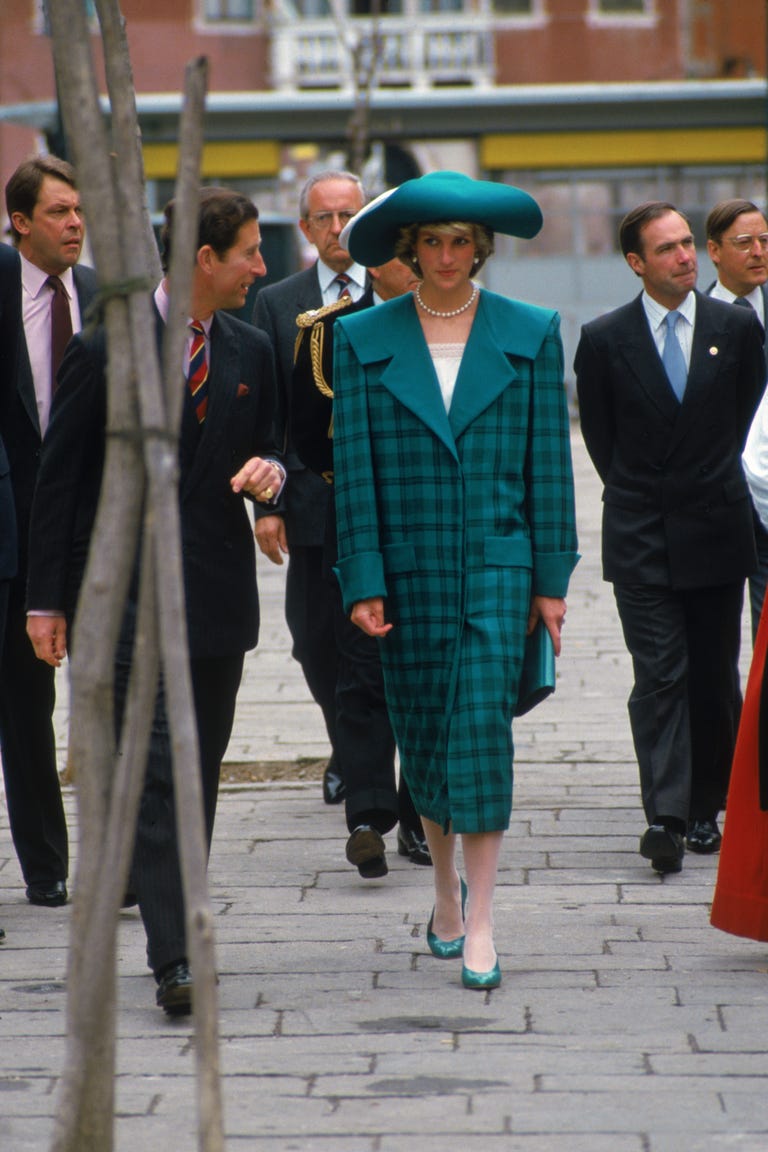 Wearing a mid-length teal plaid coat with some major shoulderpads (seriously, they're wider than her hat's brim and it's already a wide hat) during a visit to Venice.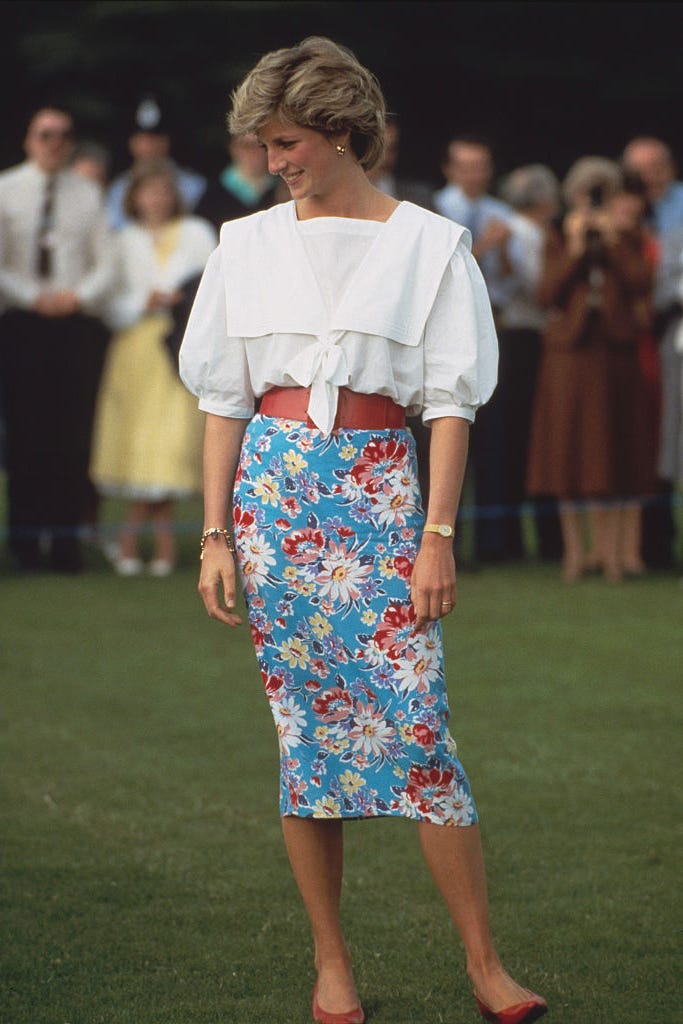 Striking perfect balance of comfortable and chic in a loose sailor blouse and midi skirt at a summer polo match in Cirencester, England.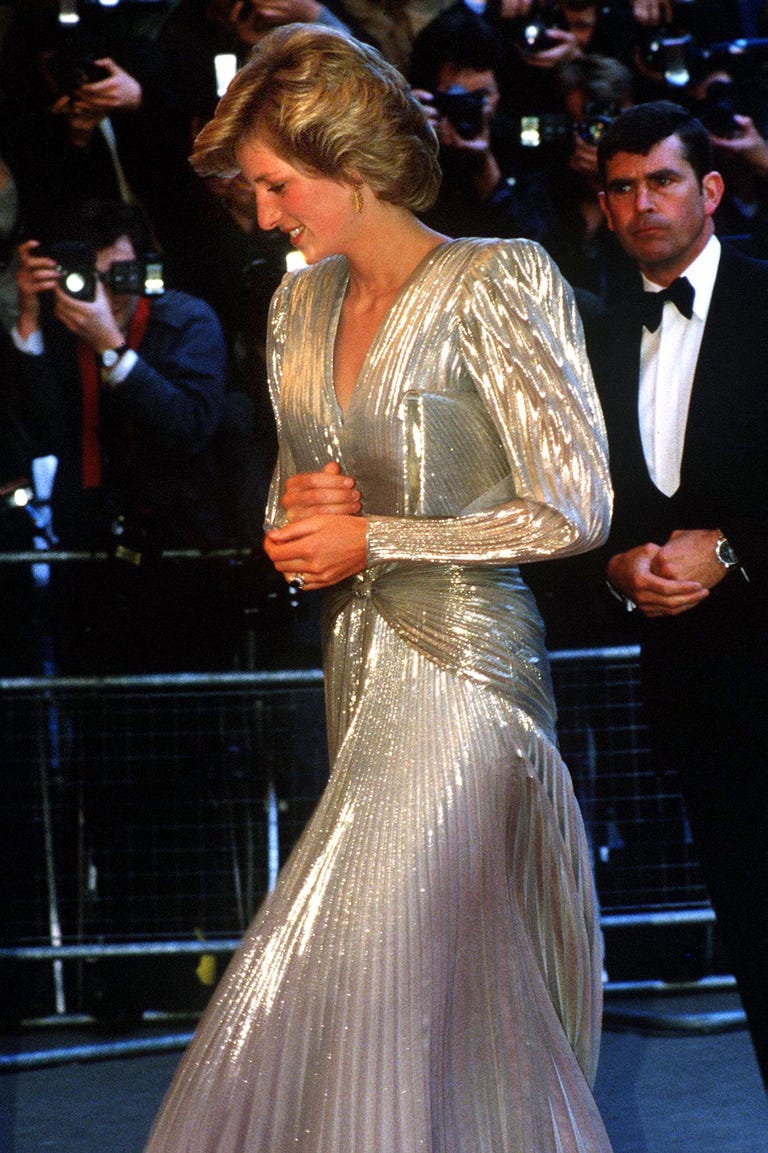 Wearing a gold lamé gown designed by Bruce Oldfield at the London premiere of the Bond movie A View to Kill.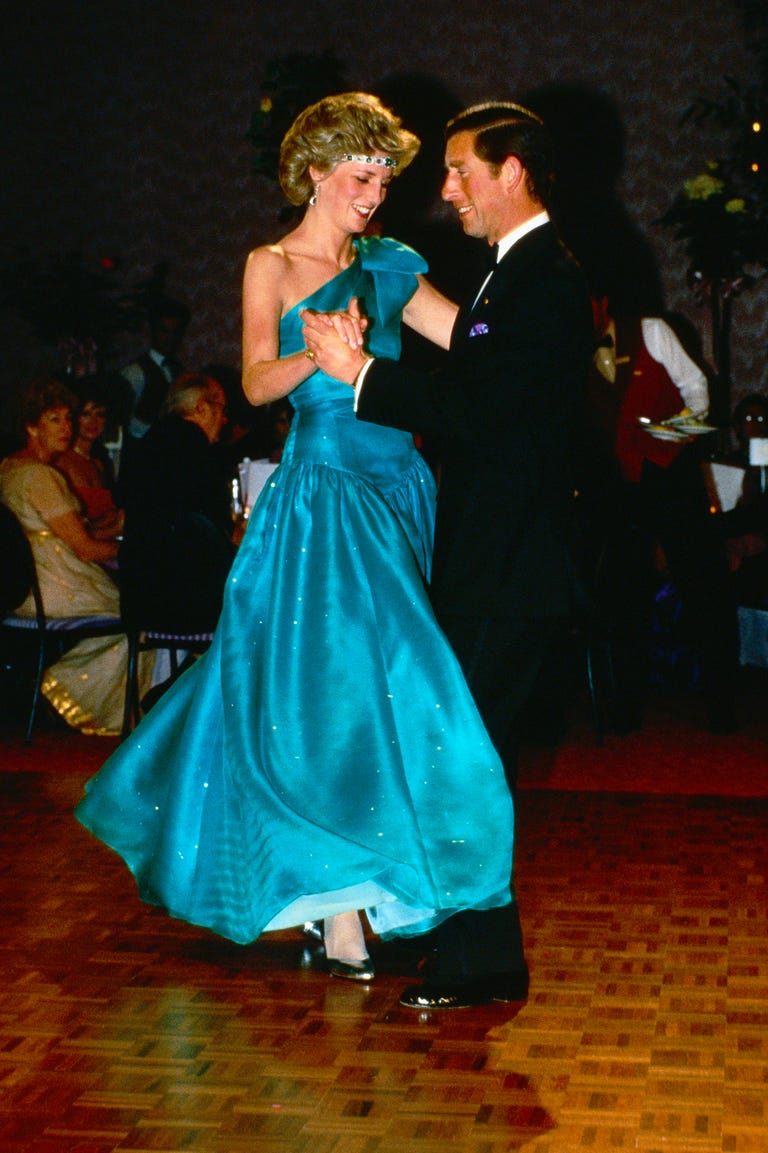 Wearing a teal ballgown and bejeweled headband at a ball during a royal tour of Australia.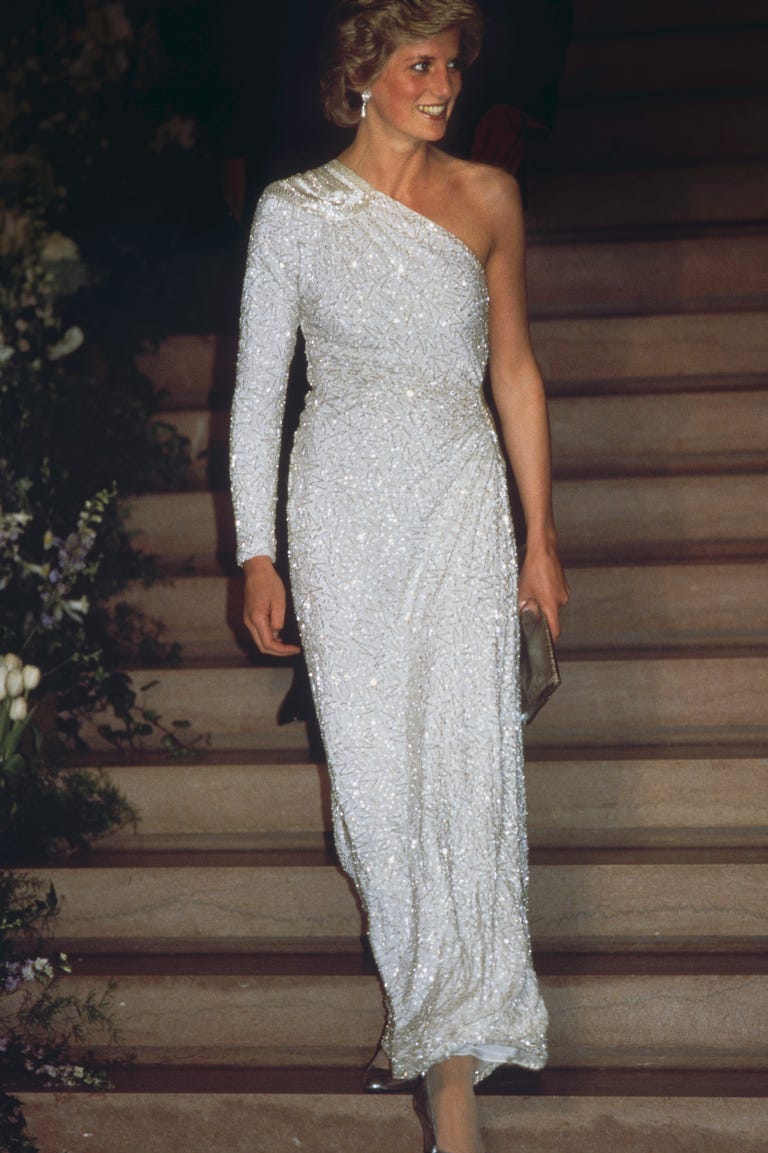 Wearing a sparkling, one-shoulder evening gown to a gala at the National Gallery in Washington D.C.
Diana wore the dress, which was designed by Japanese designer Hachi, on multiple occasions, and it later sold for $75,100 when it went up for auction in New York City.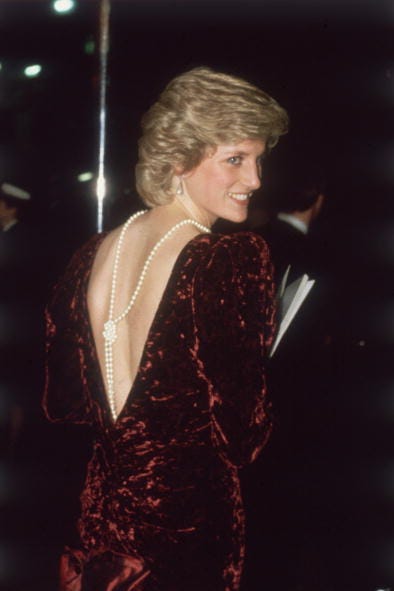 Attending the Back to the Future London premiere in a red crushed velvet dress with a … plunging back. She accessorized with a back-draped pearl necklace to accentuate the daring cut.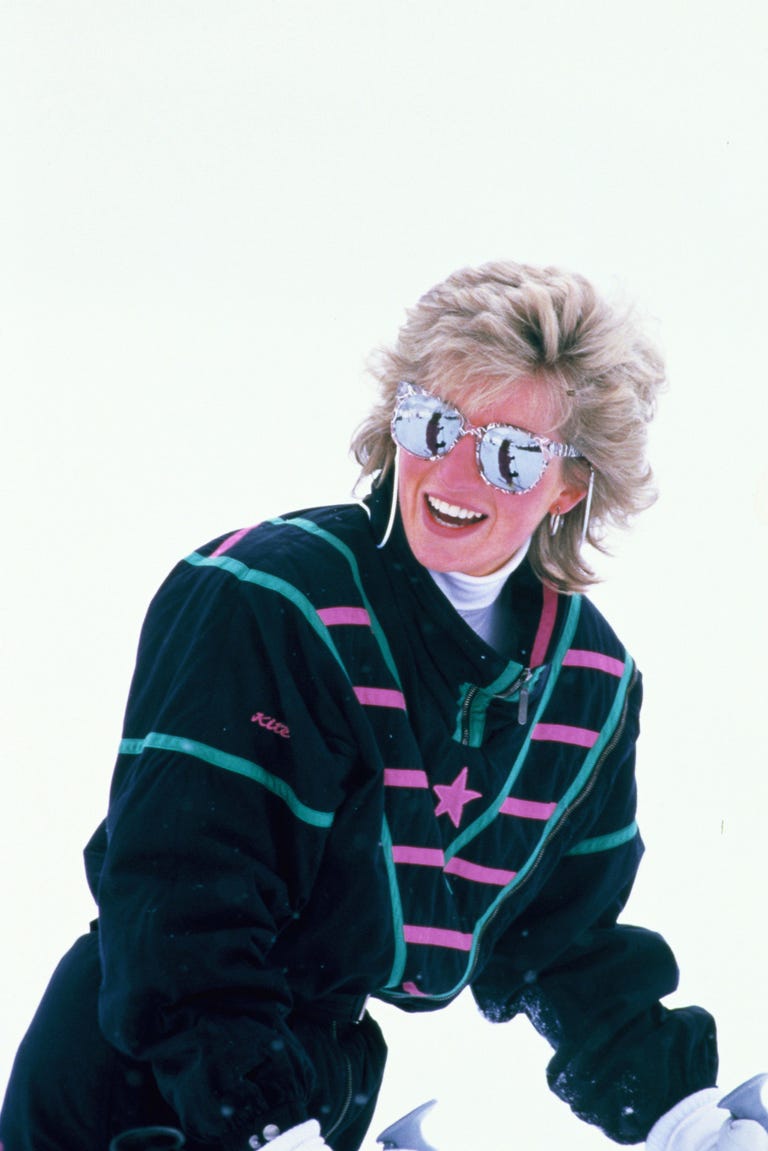 Many of the royal family's ski trips yielded iconic photos of Prince William and Harry on vacation, as well as of Diana — here, she's wearing mirrored sunglasses and a very '80s ski suit during a vacation to Klosters, Switzerland.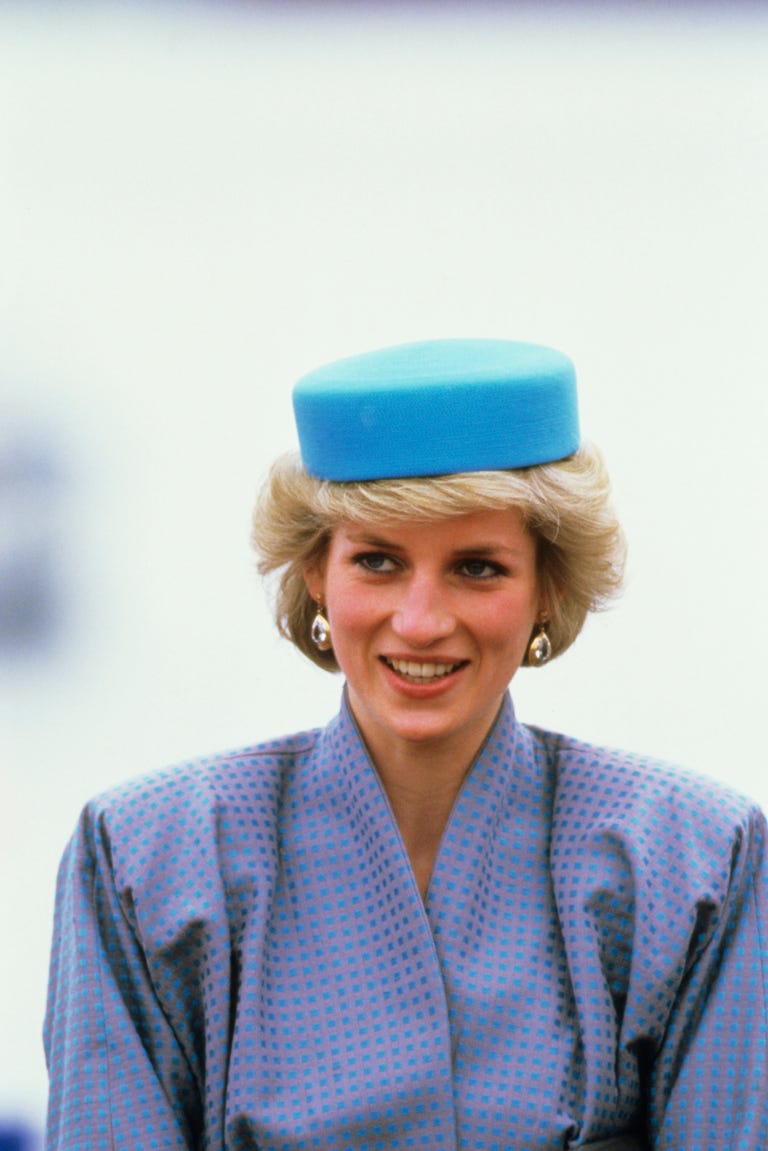 Wearing a pill-box hat and a check jacket with some maj shoulder pads in Vancouver, Canada.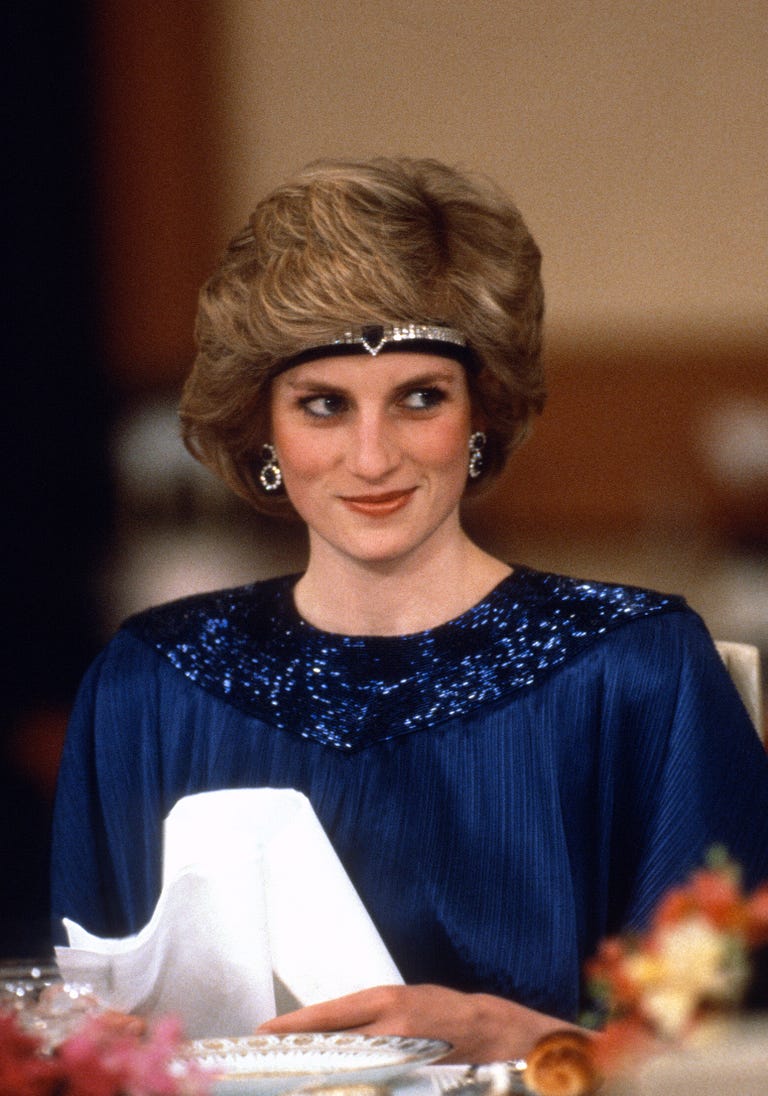 Wearing a silk pleated navy blue blouse with a glittery yoke and another jeweled headband to a state dinner in Tokyo, Japan.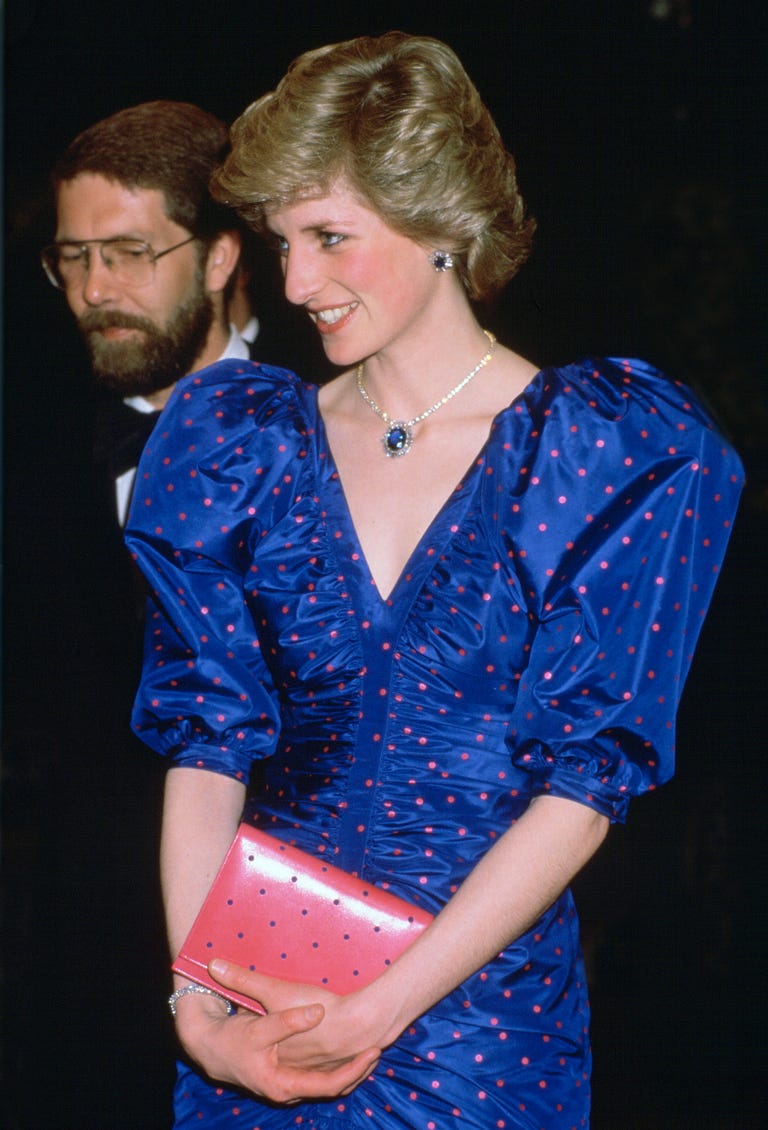 Wearing shoulder pads so big they deserve their own zip code, tbh. And more polka-dots!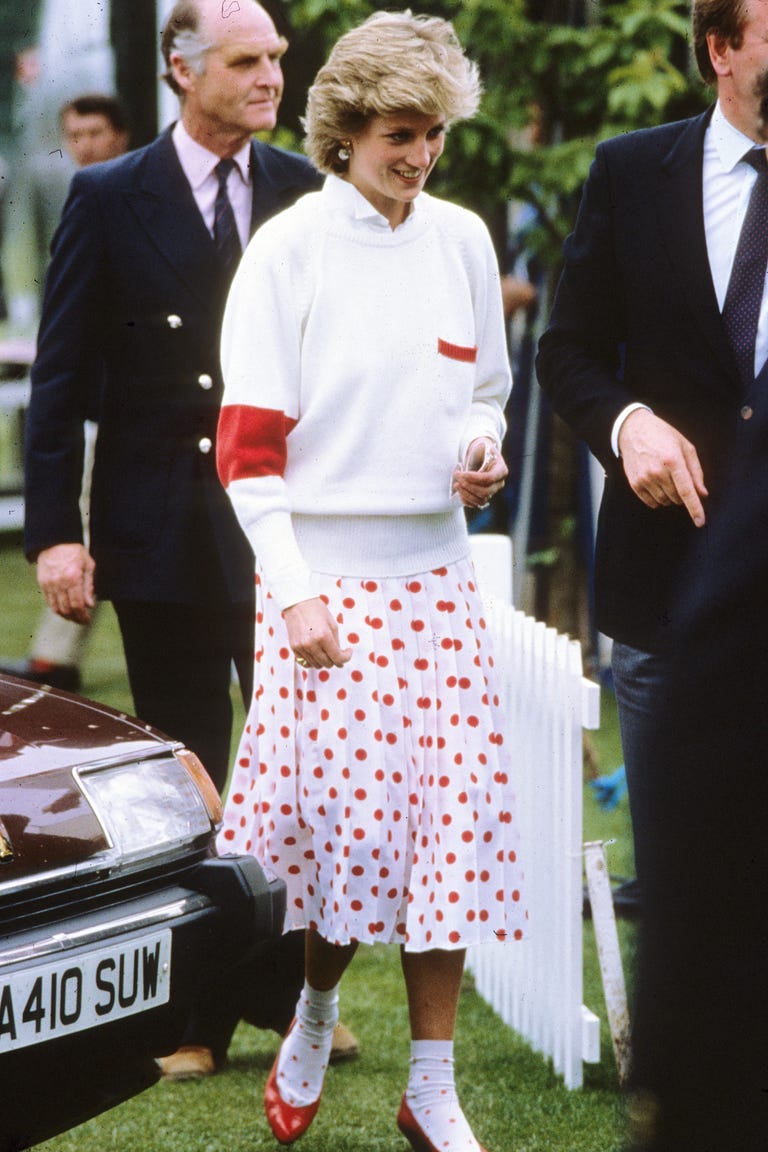 More polka-dots! Here, Diana's wearing a pleated polka-dot skirt and MATCHING ANKLE SOCKS! Surely this level of co-ordination deserves the crown — or at least a piece from the crown jewels that would also go with this understated '80s glam look.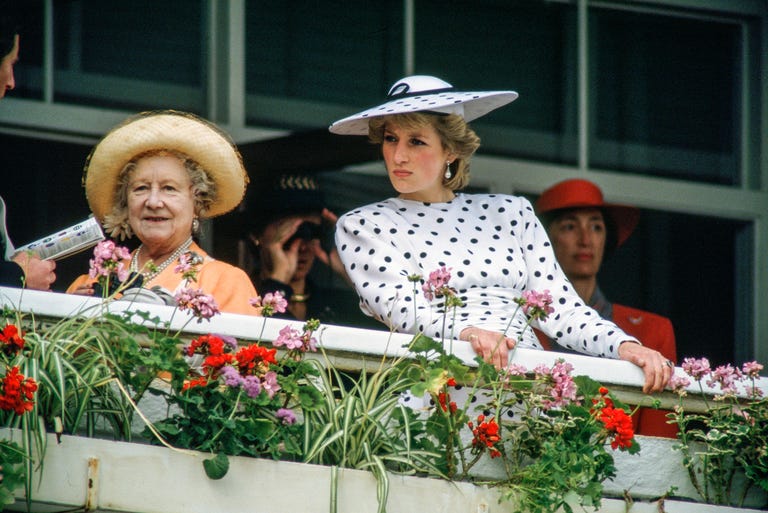 …Even more polka-dots! Wearing a monochrome polka-dot dress and matching hat with Elizabeth, the Queen Mother, at the Royal Ascot Derby.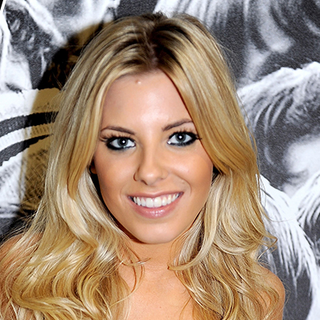 Source: Read Full Article