Priyanka Chopra has added her voice to the conversation surrounding controversial Simpsons character Apu. During an appearance on The View on Thursday, Chopra said Apu was "the bane of my life growing up, for sure," according to People. The actor's comments draw attention to the real-life ripple effect that the show's stereotypical depiction of the character has had for Indian people. Chopra said,
The Quantico star went on to explain that in the years since the animated show premiered in 1989, there has been a cultural change, as evidenced by comedian Hari Kondabolu's 2017 documentary, The Problem With Apu, which brought simmering criticism of the character to a boil. "What happened from that time to now, the population of Indian Americans has tripled," Chopra said. "So the voice is louder. Representation and the demand for representation for people of color is louder. There's the internet and the media, where people can have a conversation."
Chopra — who was born in India and moved to the U.S. when she was a teenager — said that the character, who works at a convenience store and speaks with a thick, exaggerated accent, prompted a number of her classmates in school to ask offensive questions. "I was always asked when I was in high school at 14, 15, why I didn't speak like that, or were my parents — well, they are doctors which is out stereotype," Chopra said, laughing. "But, like, did I find gold in my rivers? Did we go to school on elephants? I always had questions like that."
"So I think, yes, it is a time where we try and erase stereotypes," she continued. "Yes, it's a cartoon. Yes, it's a pop culturally super successful show. But that gives it more responsibility. It's out of date. It's not evolved on so many levels."
Apu is played by actor, Hank Azaria, who is white, and he expressed his remorse at the backlash during an appearance on The Late Show With Stephen Colbert last month. "The idea that anybody young or old, past or present, was bullied or teased based on the character of Apu, it just really makes me sad," Azaria said. "It was certainly not my intention. I wanted to spread laughter and joy with this character and the idea that it's brought pain and suffering in any way, that it was used to marginalize people, it's upsetting."
Azaria also offered to work to alter the character or step away from playing him entirely, which many people considered a sign of progress, especially given widespread disappointment at The Simpsons' recent response to the issue. (When Bustle had reached out about the backlash, Fox declined to comment.)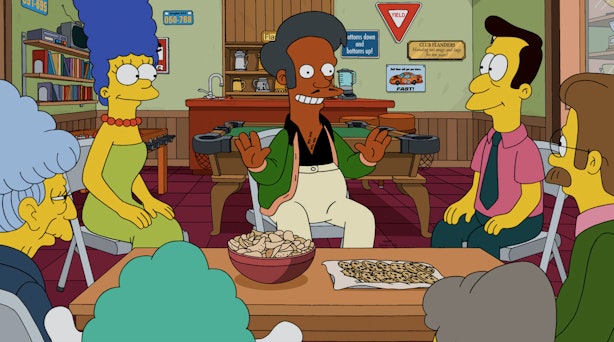 On an episode in April, Marge realizes one of her favorite childhood books, in which a girl punishes her non-white staff and "baptizes savages without their permission," now seems offensive. Marge tries to rewrite the book, removing the offensive parts, but Lisa says the point of the story has been lost in the process.
Marge asks Lisa what she should do, to which she responds, "It's hard to say. Something that started decades ago and was applauded and inoffensive is now politically incorrect. What can you do?" Many fans of the show viewed the response as dismissive and insufficient, especially since the connection was made all the more clear when Lisa glanced at a photo of Apu on her nightstand.
The show's creator Matt Groening also minimized the issue in an interview with USA Today published April 27. "I think it's a time in our culture where people love to pretend they're offended," he said.
However, there is already an ongoing dialogue, and as stars like Chopra continue to speak up, change is sure to follow.
Source: Read Full Article