The end of Unbreakable Kimmy Scmidt might not be so near after all. The first half of the show's last season just premiered, but in an interview with The Hollywood Reporter published on Thursday, series co-creator Robert Carlock said that Kimmy Schmidt's final episodes won't air until 2019.
While the second half of Season 4 was initially expected to drop before the end of 2018, Carlock, who created the show with Tina Fey, told the publication that viewers likely won't see more episodes until next year, giving the streaming service time give the show a proper sendoff. Carlock explained to THR,
The first half of the fourth season features six episodes, and kicks off with Kimmy, played by Ellie Kemper, navigating her new job at a tech company, and Jacqueline, played by Jane Krakowski, managing the career of Titus, played by Tituss Burgess, as he chases stardom. Season 4 also features a whole slew of guest stars, including Busy Phillips, Greg Kinnear, and Aidy Bryant, to name a few. Carlock said fans can think of both parts as their own mini-seasons.
"We were never quite sure what the life of the show wanted to be," he told the publication. "When we split up this fourth season into kind of a fourth and a fifth — just in the boring, most practical way, you could think of them as two short seasons — one wouldn't be coming out until 2019, so it just felt like the right time to pull up stakes since we were kind of pushing ourselves into next year."
There is still plenty of Kimmy's story left to tell, and Carlock confirmed previous reports that feature-length movie finale is in the works. "We now have a shorter runway than we originally thought we would and don't want to overstuff it and rush it," he said. "And there are things that I think would be fun to hold off for kind of a big epic finale in feature form."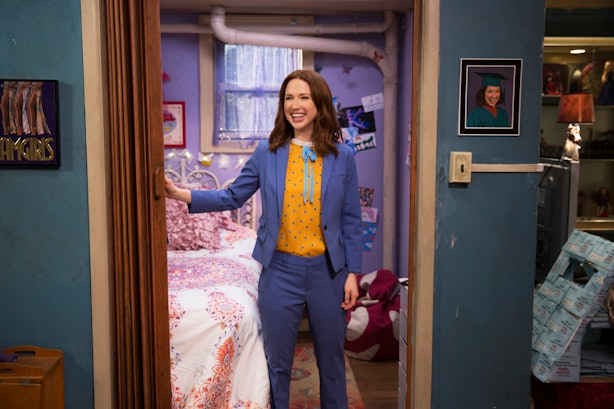 Mild spoilers ahead for the new season. Much like in the past, Season 4 will feature lots of cultural commentary, taking on President Trump, inequality, and the #MeToo movement. However, in the first episode, it's Kimmy who is accused of sexual harassment in the workplace.
Carlock told THR at the Writer's Guild Awards in February that it was important they confront the issue, particularly given Kimmy's backstory and her time spent in the bunker. He said,
The first part of Season 4 ended with a serious cliffhanger, and unfortunately there won't be any answers to the questions presented in the mid-season until 2019, but fans can rest assured that Kimmy's story is not over yet.
Source: Read Full Article