As Prince Harry and Meghan, Duchess of Sussex carry out their final engagements before exiting the royal family, there's been some discussion about the couple's decision not to bring their son Archie for their UK visit. One royal expert believes the move was "spiteful and inconsiderate" to Queen Elizabeth and Prince Philip.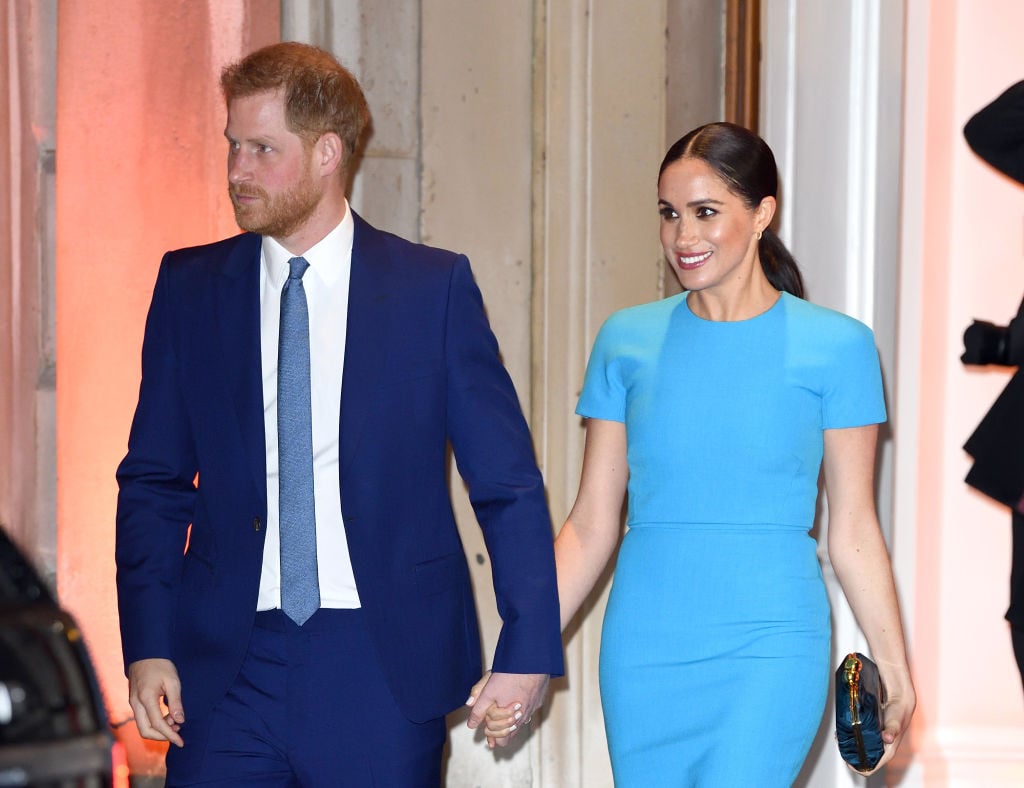 Prince Harry and Meghan return to the UK
Prince Harry and Meghan returned to the UK for a number of final engagements but left their baby behind for the trip. Their decision earned some criticism, as many believed the couple should have brought Archie along to see his great-grandparents.
Former palace press secretary Dickie Arbiter thinks that there's "no excuse" for the couple not bringing Archie. "I'm sorry, there isn't an excuse for not bringing him. After all, he's got to meet his family, his family are not going to get a chance to see him for quite some time, because Harry and Meghan are going to be in Canada or the United States," Arbiter told Nine News Australia.
"There's always the excuse, 'Well he's too young to fly'" hesaid, noting, "babies fly all the time, they flew Archie down to SouthernAfrica in October for that visit, so it wasn't too far to take him there, so Ibelieve that they should bring him."
Arbiter was asked if he thought leaving the baby behind was "spiteful"and he shared, "Well it is spiteful, it's inconsiderate as well, and the queenis going to be 94 in April, she's not going to be with us much longer."
'Prince Philip is going to be 99 in June, he's not going tobe here much longer," Arbiter continued. "You've got to be practical, he was inhospital at Christmas, he looked pretty frail when he came out, and he's up atSandringham, nobody's seen him, and he is frail."
He added, "People do get frail at that age and it would be agreat pity if Archie wasn't brought over so that his great-grandparents couldsee him."
https://www.instagram.com/p/B9crv9SJNJx/
Source claims Queen Elizabeth is worried she won't see Archie again
The Sussexes' visit without Archie sparked some experts' claims that the queen was disappointed that she won't see her great-grandson now that he has moved away. The queen is "heartbroken over the thought of not getting to see her great-grandson," a source told Us Weekly. "The queen would love to have a relationship with Archie, but it's looking unlikely that will ever happen."
The source continued, "The queen's worst fear is that shemay never see Archie again. She's trying to stay optimistic about thissituation and would never stoop to casting any aspersions on Meghan's character— even after everything that's happened."
https://www.instagram.com/p/B9cjuJ1JVfH/
She might not be that concerned, according to an expert
While it's logical to believe that a great-grandmother wouldbe disappointed in not seeing her great-grandson for a long period of time, oneroyal correspondent believes that it might not be a big issue for the queen.
"Some of the British press are trying to paint Harry and Meghan's apparent decision not to bring baby Archie here to the UK as disappointing for the queen, Keir Simmons told Today. "I've got to tell you, that is very unlikely. Anyone who knows the biography of the queen will know that she really isn't that into babies."
"I can almost guarantee she is not complaining that sheisn't seeing Archie right now," Simmons added.
Source: Read Full Article