Scott Disick Schools Willa Ford in the Game of Negotiation During a Trip to the Flea Market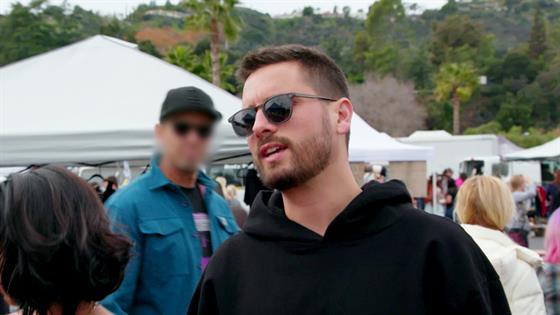 And going once, twice…
Sold to Scott Disick, the guy in the hoodie haggling his way through the Rose Bowl Flea Market in this clip from Sunday's new Flip It Like Disick. Also present is designer Willa Ford as well as her colleague Meeshie Snyder, though it seems the women's plight for bargain prices is considerably less fervid than it is for their new tag-along.
"What better place than this for me to haggle?" Scott asks, noting "that's what [he's] best at." Plus, he's seen Willa and Meeshie try their hands at negotiation before. "Trust me, they could use a little bit of my help," he tells the camera.
Right on cue, Meeshie stumbles upon an over-sized woven basket with an asking price of $275. "I do love that. Would you take 250?" she offers. But the Talentless boss cuts in before Willa's partner can seal the deal.
"Are you nuts, starting that high?" Scott says, ushering the group over to another pop-up. During a confessional interview with Willa later on, he tells her flea market shopping is "about the game of negotiation," and he appears to be taking this one very seriously.
"I kind of would like to take this from you. So, let's get serious," he starts, addressing a vendor whose vintage vase just caught his eye. She proposes $20 (which is $10 off the original price) and thinks that's fair, but Scott keeps pushing.
"Can we land at 15?" he tries, and the vendor sounds surprised he even asked when she repeats the number right back to him. "I was actually going to say 10," Scott shrugs, "but now that you're here and you look so pretty…"
Find out if his compliment makes for a successful bargaining technique in the full clip above!
Watch a brand new episode of Flip It Like Disick Sunday at 10 p.m., only on E!
Source: Read Full Article