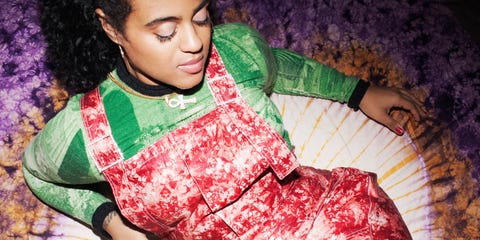 About a year ago, singer-songwriter Seinabo Sey took a solo trip out of Sweden, into Dakar, Senegal. It wasn't a vacation; it was an escape. "You know when you have those periods in life where everything is actually going wrong?" she asks me from across the table. Sey, who is Swedish and Gambian, speaks Wolof but not French, so she only understood about half of what she heard in Senegal. But still, she believed she was meant to be there.
"I remember sitting at the pool and I wanted to really write down why I liked being there so much even though I was lonely, but I really felt a sense of belonging," Sey recalls. What started as a writing exercise became her single "Breathe," which appears on her sophomore album, I'm a Dream. The track opens with: "I love it here 'cause I don't have to explain to them / Why I'm beautiful, 'cause I am beautiful."
Such themes of self-discovery and self-love are rich in I'm a Dream, which released last Friday. In the three years since releasing her celebrated 2015 debut album, Pretend, Sey has found her voice and become unafraid of using it. Her newfound confidence is immediately apparent in her lead single, "I Owe You Nothing," which dropped in March. The first lines are: "I owe you nothing / I be myself and I ain't fronting."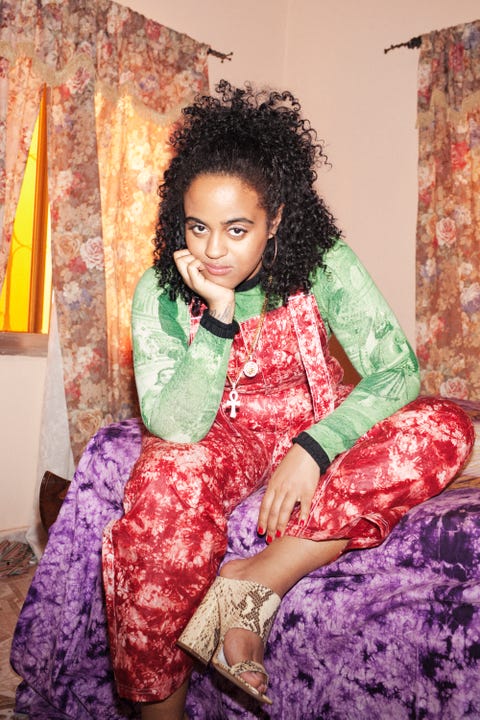 "I feel like more than anything, this is an ode to myself," Sey says of the album. "I felt like if I could be what I wanted to be in my music, instead of maybe who I was at that point, I would become that in the end. It kind of worked, actually."
On Pretend, Sey's EDM influences were obvious, especially on hits like "Hard Time," "Pistols at Dawn," and "Younger," where she paired synth-heavy, rhythmic production with her booming vocals to make dark, chilling bangers. On I'm a Dream, however, Sey's sound seems truer to soul and R&B. There are even funk influences, at times.
The sonics might be less aggressive on Dream, but Sey's creative approach was not. She says she wrote 50 or 60 songs in about two years for the 10-track album. Compare that to the 15 to 20 she penned for Pretend.
As she talks and moves her hands, the beaded bracelets stacked on her wrists slide and clack together. When I ask her where they're from, she's eager to point out that some pieces are by Acne Studios and Rodebjer, from her mom's home country of Sweden, and some are handmade accessories, like a cowrie shell bracelet, from her father's home country of Gambia. "I love when I find things that are a combination of both places where I come from," she said, beaming.
Here, Sey tells BAZAAR.com about finding her strength, her parents' influence on her music, and what it was like working on her new album.
Her father's background in activism influenced her perspective on being a musician.
I grew up with really rebellious parents. I've always been around a lot of "fight the power"-type of things. My dad was Pan-African, always preaching about stuff. He was very involved in the liberation of black people in general, just fighting for the underdog. I felt like if I can mirror that in any way in my music or visuals, I should really do that. I came to a point where it wasn't enough to do things for myself. It felt like I had to really understand what my purpose was. I felt like, yet again, I remember that it's to help people as much as I can.
Sey's lead music videos for I'm a Dream were shot in Gambia, featuring vibrant settings and visually stunning outfits, most of which were made locally or from Swedish brands.
I think the whole team was there for ten days. Me and my stylists were there for three months but we worked on that for like two weeks. Basically what I really loved to do and what I've done since I was a kid is cut pictures out of magazines and then I'd started making collages and mood boards and I'd paint when I was a kid. I always saved a lot of pictures and I loved fashion. I loved creating mood boards and building little worlds in a way.
So this time around, I made a mood board that was like three hundred pages long, like a PDF, and I sent it to my record label. Everyone was like, "We don't understand what this is." I'm like, "It's very clear to me." So I narrowed that down and it kind of became three music videos in my head for three songs that I had.
It's been a lifelong dream of mine to be able to record with the budget that that requires, which I never had before. So I was like, "Let's see what happens if we take all the money to Gambia and make videos." I'm so happy that we made it and everyone worked really, really, really hard.
Everything that could possibly go wrong really went wrong. The flight company lost all of our luggage. There was one camera in Gambia because Gambia is the smallest country in [mainland] Africa. They don't have anything there. But I think that contributed to it becoming what it became in a weird way 'cause everyone had to really push it and think outside of the box. I'm very grateful for my stylists. They were brilliant with everything. They went around to markets and were fighting with tailors to get everything.
Sey sometimes serves as her own stylist.
Most of the times I come up with a million ideas about things and I get help with it. I love clothes, I always have. I feel like whenever I'm in a mentally good space the first thing I want to do is express myself with clothes. I can very clearly look back at periods where I'm walking around in clothes and I don't understand who I am. I remember how I felt then cause I just gave up on myself. So whenever I feel inspired to express myself with clothes and makeup, I know I'm in a good place. It's really self-care. I love it.
https://www.instagram.com/p/BlS4UU0H7Qs/?utm_source=ig_embed_loading
https://www.instagram.com/p/BlS4UU0H7Qs/?utm_source=ig_embed_loading
View this post on Instagram
Throwback ?
A post shared by Seinabo Sey (@seinabosey) on
Her new sound is inspired by the artists she grew up listening to.
I think it's about going back to music I grew up on. I grew up on Destiny's Child and Timbaland and that's what I really, really love. I wanted to write in a simpler way. I wanted to come to point a little quicker in my lyrics and I know the producer Magnus Lidehäll wants to make things more minimalistic as well.
As far as it being more uptempo; I think it's just 'cause I always recorded things really slowly. I'm just like a low-energy kind of person. Then he kind of chops it and messes with the tempo. I'm like, "Who's going to perform this, 'cause I'm not moving." [Laughs] I really like it; it's just that hip-hop vibe.
She credits her parents for giving her a sense of possibility and ambition.
I'm very much a product of all of their good things and all of their mistakes. But, what I understood that my parents instilled in me—and what I'm most grateful for—is that I feel like anything is possible. That's only because they've always supported me.
I come from a super-poor background. We didn't have anything. We lived in a two-bedroom apartment with, like, five people. But they still encouraged me to be an artist in all of that. I've just been very grateful for that. I think they tried for like four seconds to be like, "You should be a lawyer," like any parent would, but they were like, "Alright, she's gonna sing because she's singing all the time." I love them for that, honestly.
They also made her proud of her mixed-race identity since childhood.
They were always explaining that whatever the society thought were my weaknesses were actually my strengths, and the fact that I came from two different places is just being the best of both worlds. Now that I've grown older, I can look at it and understand that it must have been an active thing for my parents to really try to make proud children, proud black little kids in a town with no black people. It couldn't have been that easy. If you came home crying for sh*t loads of reasons. They'd be like, "No you don't cry about this." I fought a lot, but I love them.
https://www.instagram.com/p/BhV9Fd2HrU0/?utm_source=ig_embed_loading
https://www.instagram.com/p/BhV9Fd2HrU0/?utm_source=ig_embed_loading
View this post on Instagram
❤️ Maudo Sey
A post shared by Seinabo Sey (@seinabosey) on
Sey's parents, who were big on soul and reggae music, would often weigh in on her songs. Though her dad was the musician in the couple, her mom also has sound advice.
She can actually have really amazing opinions. The thing is, 'cause my dad was a singer, he passed away like four years ago, she never really commented on music that much because he was the expert or whatever. But she has a really good ear for song takes. Like, "You're singing better here."
She knows I'm not sensitive, but like, I don't need opinions. I would just love her to be my mom. My dad, I think would also think I was experimenting too much. I remember him hearing "Younger" and this was a month or so before he died and he couldn't really speak because he had had a stroke. He was like, [Hums]. I know they would be and are proud but they really like pure music, if you can call it that.
Sey hopes you feel joy, happiness, and empathy when you hear her music. But she also wants you to jam out.
I love the type of songs where you know you are on your way out, but you stay home because you have to listen to a song. When you're alone and you're in your room or your apartment and you feel so cool. It's like you're singing to that person who did something to you. You're trying to be real cute and you have a whole music video in your head. I love those moments; they've given me so much in life. I hope people get that feeling from it.
Listen to Seinabo Sey's I'm a Dream below.
This interview has been edited and condensed for clarity.
Source: Read Full Article