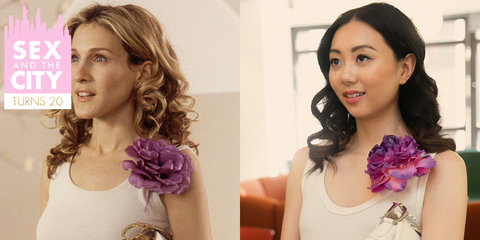 To celebrate the 20th anniversary of Sex and the City, our sex and relationships editor Carina Hsieh (who also lived like Carrie Bradshaw for a week) will write one column each day in the style of Our Lady of Manolos. We couldn't help but wonder: What would Carrie's beloved New York Star column look like in the age of Tinder and ghosting? It's hard to say, but Carina Bradshaw's got a few ideas. For her fourth column (read her others here, here, and here), Carina Bradshaw accompanies a coworker to a singles mixer.
After my weekend with Ricky ended, I felt ready to get back in the game. But where to start?
"I wish women asked guys out more," my friend James*, an Asian man who was also a writer, told me over GChat one day. I countered that no woman wants to start off a relationship as the clingy one, but James said he admires the courage of women who make the first move. "It's humiliating to put yourself out there only to be rejected," James explained. "But does it feel any worse than waiting around for someone to make a move? Shoot your shot!"

I assumed James's "women should make the first move" spiel was just Bumble propaganda he'd been brainwashed with, but apparently the woman he was currently dating had proven his theory. James had been talking to a stranger at a party, but assumed she wasn't into him because he was a little bit shorter than she was. His confidence with women is already a bit shaky, because as he told me, "There are a lot of women out there who straight up won't date people of color, and especially not Asian guys, thanks to reinforced racial stereotypes." The worst, he said, is when women tell you, "Ah, sorry, I'm not attracted to Asian men," as if they're doing you some kind of favor by being honest. (This, by the way, is not honesty — it's racism.)
Anyway, when James woke up the next day to an email from the mystery woman, he was stunned. "I hadn't even given her my number," he marveled.
I was impressed. Here was a woman who shot her shot and went for it, with no first-move fear to hold her back. Still, I wasn't sure if I was ready to face rejection. I can admire someone else for making the first move, but I also didn't want to do it myself.
Later that night, I agreed to accompany my coworker Hannah to a singles mixer downtown. The party was sponsored by an elite dating app and promised to only match you with gainfully employed, well-educated matches. I'm a community college graduate and I'm on the app, so I wondered how great they could really be at weeding people out, but regardless, I went.
I can admire someone for making the first move, but I also didn't want to do it myself.
While Hannah was off interviewing people for a story, I grabbed a drink and tried my best to look approachable at the bar. No such luck. The event was 70:30 women to men, everyone was slowly pairing off, and no one was talking to me. I thought about James's theory. Are things just easier if you do it yourself?
In an attempt to look busy and too cool for school, I whipped out my phone to scroll through my own Instagram. I thought of DM-ing Liam*, a guy I had hooked up with two years ago after another, braver DM slide. Liam had been liking my Instagram posts lately, which I took to mean "down."
The last time I'd DM-ed Liam, I'd been feeling way more confident. We'd gone on a really great first date and made plans for future dates, but I got impatient and rushed to sleep with him, then bounced because I have no self-control. I'd always kicked myself for fucking it up, so I wondered if I should shoot my shot again. As James said, what's the worst that could happen?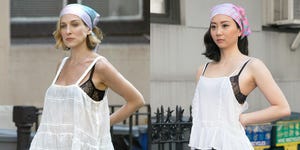 I opened up our DMs and immediately felt regret. Thankfully, by this point, Hannah had taken a break from her interviews and agreed to help me craft the perfect DM.
"Is this lame?" I asked her of the four-sentence line we'd been laboring over in my Notes app.
"No," she said. "You gotta go full dirtbag and just do it."
"Bao noticed you liking her pics," I wrote. "Do you wanna meet her soon? Should it be 'soon' or 'sometime?'"
"Sometime," said Hannah, nodding wisely. "Puts a nice finite option there for him."
I pushed send. It was out there and there was no taking it back.
I spent the rest of the night spiraling over his non-response. The last time we'd DM-ed, Liam had responded almost instantly. This had to be a bad sign. For the rest of the night, I stood around with my phone screen visible through my crossed "Don't Talk to Me, I Just Sent a Risky DM" arms. When I went home that night, my rosé buzz wearing off, it hit me.
I really tried to backslide into someone's DMs from two years ago, and it was going to flop. I was a dumb rat.
But even though I was totally beating myself up for going "out there" and had convinced myself this was a bad situation, I also kept checking my phone every two seconds for a response.
I really tried to backslide into someone's DMs from two years ago, and it was going to flop.
Eventually I turned off Instagram notifications. Reader, it did not help. I found myself manually checking Instagram, pulling down my feed to refresh, still having mini heart attacks. I wound up deleting the app entirely for the night, promising to re-download it in the morning.
What I don't know can't hurt me.
I wanted to slap James. This is all your fault! I wanted to scream. But then I remembered we were only in this situation because I already did it two years ago, and also, I asked Hannah for help sending a message in a way that was very much me asking for permission and validation to do this thing.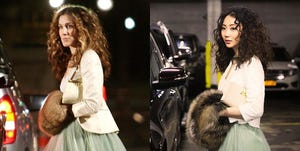 At least I got a good night's sleep.
In the morning, high off my caffeine buzz and the general self-esteem boost that comes from arriving to work 30 seconds early, I decided I was ready to re-download Instagram.
It's no big deal, I told myself. Who even cares that he so clearly saw your message and ghosted. You have so many other options. Think of all the strangers who DM you their dick unsolicited. That's WAY worse than what you did.
But the second I re-downloaded and saw that little red notification in the corner, my heart stopped.
*Names have been changed to protect the innocent, because Carina Bradshaw doesn't blow up people's spots like the real Carrie (city comptroller candidate Bill Kelley knows what we're talking about).
Follow Carina on Twitter and Instagram.
Source: Read Full Article