It won't be long before viewers finally know the answer to the question of who killed Ann Nash and Natalie Keene. But will the solution to that mystery also spell the end of the series? HBO has already announced that Sharp Objects won't return for Season 2 — but that probably won't stop many fans from hoping the powers-that-be will change their minds and continue telling the captivating story of Camille Preaker and exploring the sordid history of Wind Gap, Missouri.
The optimists in the audience will point to the trajectory of HBO's own Big Little Lies as proof that Sharp Objects could still resurrect itself in the future. Like the Amy Adams series, that program was also billed as a limited series starring Oscar-caliber actresses and was based on a standalone bestselling mystery novel by a female author. (They even share a director in Jean-Marc Vallée) Despite the fact that it completely adapted the book and solved the central mystery, that didn't stop HBO from renewing Big Little Lies for Season 2 eight months after the first had ended, based on the show's tremendous buzz and critical acclaim.
Could the same thing happen to Sharp Objects? Alas, such a reprieve seems unlikely in this case. "We're not talking about a Season 2," creator Marti Noxon said at the Television Critics Association summer press tour in July, as reported by Indie Wire. "This is it, so bask in it while you can."
So what's the difference between the two shows? What makes Big Little Lies capable of being extended, while Sharp Objects remains a one-and-done. Two words: Amy Adams.
"In Big Little Lies, all of the cast — Reese [Witherspoon], Nicole [Kidman], Zoe [Kravitz], Laura [Dern], Shailene [Woodley] — they all came to us wanting to do more," HBO's president of programming Casey Bloys said during the same TCA panel. "They were willing to do more. And obviously Sharp Objects is a much darker subject matter and it's a lot for Amy to play that character. It's a lot to ask someone to inhabit that role. It's not a role she can do again. That makes total sense to me. Without her doing it, I don't think a Season 2 makes sense." I think most fans would have to agree with that.
The good news is, even though Sharp Objects isn't returning, everyone involved is remaining extremely busy in its absence, so you can still get your fix of the talented cast and crew after the finale airs. Creator Marti Noxon — who has worked on such popular shows as UnREAL, Glee, and Buffy The Vampire Slayer — currently has another show: AMC's dark feminist comedy Dietland, which recently wrapped its first season. Director Jean-Marc Vallée (Dallas Buyers Club, Wild) of course has Season 2 of Big Little Lies coming up; although he's not returning as director (American Honey's Andrea Arnold is taking over those duties), he remains on as an executive producer.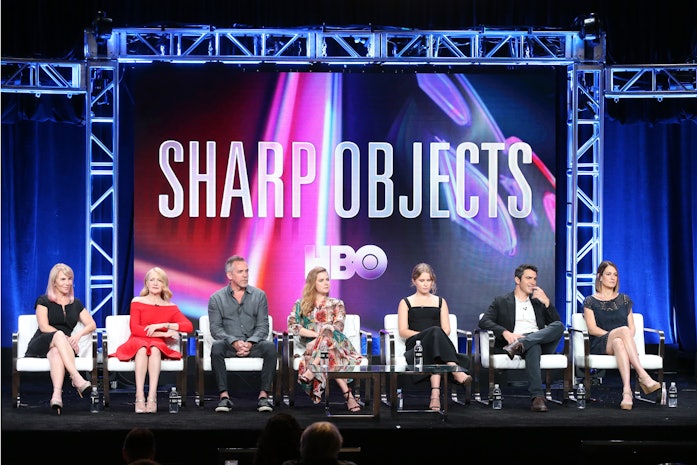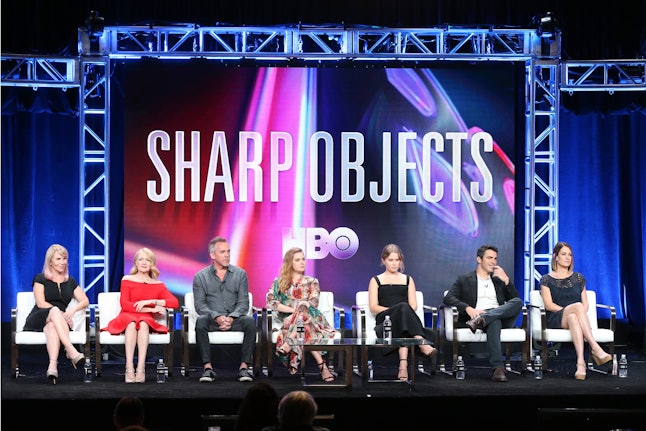 If you need more dark, twisty thrillers, author Gillian Flynn has a couple of projects on the horizon you should check out. First, for her feature film followup to Gone Girl, she's collaborating with 12 Years A Slave director Steve McQueen on the crime drama Widows, starring Viola Davis as the head of a group of women who have to finish a job their criminal husbands started after they're killed. The film premieres on Nov. 16 and is already receiving intense Oscar buzz. In 2019, Flynn will debut her new series Utopia on Amazon, the author's first time serving as showrunner.
Amy Adams' next role is something very different from Camille Preaker: she'll be portraying Dick Cheney's wife Lynne in the political comedy Backseat, director Adam McKay's followup to his 2015 Best Picture contender The Big Short. Adams will star alongside Christian Bale as Cheney, and a supporting cast that includes Sam Rockwell as George W. Bush, Steve Carell as Donald Rumsfeld, and Tyler Perry as Colin Powell.
Meanwhile, Patricia Clarkson (Adora Crellin) will reprise her role as the well-connected Deputy Undersecretary of Commerce Jane Davis on the sixth and final season of House Of Cards, and Australian newcomer Eliza Scanlen (Amma Crellin) will launch from her first American TV role to the big leagues, playing Beth March in the upcoming adaptation of Little Women, Greta Gerwig's followup to Lady Bird that also reportedly features such big names as Emma Stone, Saoirse Ronan, Timothée Chalamet, Meryl Streep, and Laura Dern.
The saga of Wind Gap may be coming to a close, but our time with the people who brought us Sharp Objects is far from over.
Source: Read Full Article