https://www.instagram.com/p/Bl9LfohHQIx/
Buddha and Barbie. ?#instagramvsreality
A post shared by Shenae Grimes-Beech (@shenaegrimesbeech) on
It's a 90210 reunion!
Shenae Grimes-Beech took to Instagram on Wednesday to share pictures of her enjoying some fun in the sun with her former co-star AnnaLynne McCord. One of the photos showed the actresses smiling on a beach chair in their bikinis while the other showed them with more serious expressions. The photos also gave fans another glimpse at Grimes-Beech's growing baby bump.
"Buddha and Barbie," she wrote beside the photos. She also included the hashtag #InstagramVsReality.
Grimes-Beech was clearly excited about the Annie Wilson and Naomi Clark reunion. The star also shared the photos on Instagram Story and wrote, "#Reunited and it feels so good!!!"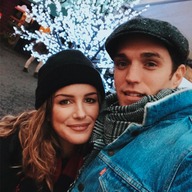 Read
90210 Star Shenae Grimes Is Pregnant and Expecting a Baby Girl
Grimes-Beech recently entered the third trimester of her pregnancy—and it looks the reality of becoming a mom really set in. The celebrity admitted she "definitely" gets scared if she thinks about it too much; however, she tries not to psych herself out.
"I'm just embracing things day by day and will do my best to take every day of parenthood just the same," she wrote on her blog Lost in LaLa. "You cannot predict the future, so what's the point in wasting time trying? I cannot prep for the unknown so what the point in wasting time pretending I can? Life is meant to be lived and let me tell you, there is nothing like creating another life that let's you know you're living it! Fear is natural but so is procreation so I'm letting that question slide through one ear and out the other while I marvel at my body and this newfound purpose I've been blessed with!"
Grimes-Beech also recently celebrated her baby shower, which McCord attended.
The TV star announced her pregnancy news along with husband Josh Beech back in May.
Source: Read Full Article