It seems like everyone in the British royal family hasa nickname — or several. And with a record-breaking reign and so manydifferent people in her clan, Queen Elizabeth might have the most nicknames ofall.
Most people will never have the privilege of addressing HerMajesty by any informal kind of name. But in her private life, Queen Elizabethenjoys many differentnicknames from family members that prove she's truly beloved by those whoare closest to her. Recently, her daughter-in-law Sophie, Countess of Wessexrevealed yet another intimate name for Queen Elizabeth that we really love.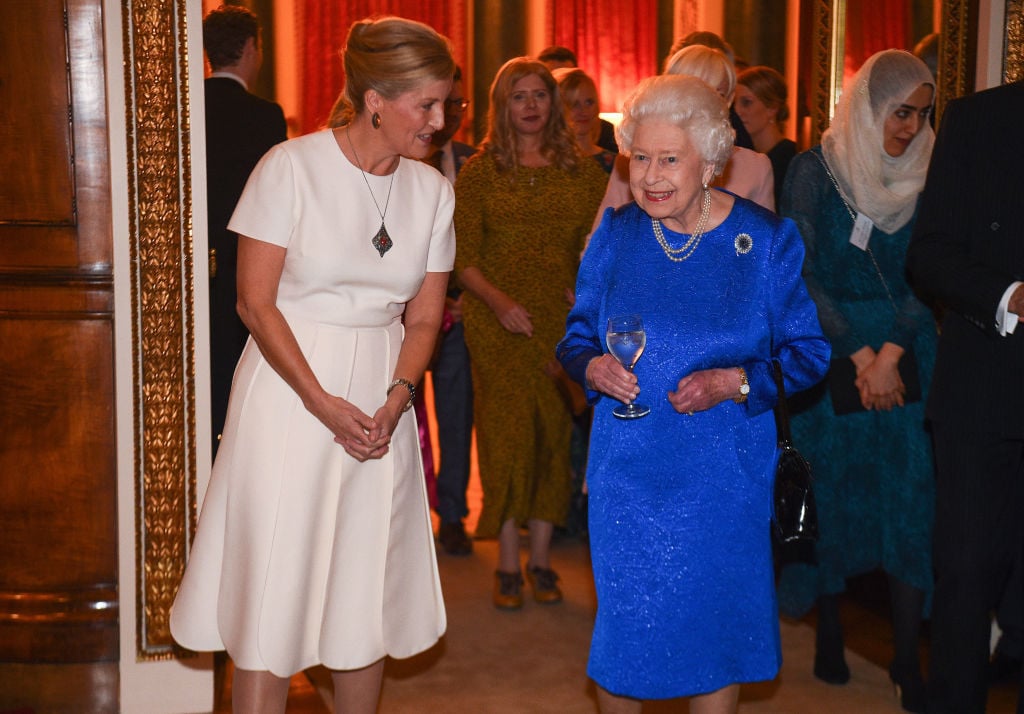 Sophie and Queen Elizabeth are very close
Like anyone, the queen has favorites in the royal family even if she tries not to make it too obvious. Queen Elizabeth's youngest son Prince Edward married a woman named Sophie and she and the queen are exceptionally close. Sophie, Countess of Wessex just proved that again recently.
Though she's not the only one who has a nickname for Her Majesty,Sophie's is especially sweet. At a recent event, Sophie shared what she callsQueen Elizabeth during a reception at Buckingham Palace. During a speech, whichthe queen attended, Sophie addressedthe monarch as "Mama."
She said, "Mama, when I havereturned from my travels, I have been so proud to share with you the work Ihave witnessed being carried out under the umbrella of the Queen ElizabethDiamond Jubilee Trust and the care of so many people working so hard to saveand cure sight."
https://www.instagram.com/p/B4NhAzcH78I/
The queen has so many other nicknames
Mama is definitely an amazing nickname. But it's notthe only one. Apparently, the future king Prince William calls his grandmotherQueen Elizabeth "Gary." This peculiar nickname came about when the Duke of Cambridgewas just a little boy and unable to properly say the word, "Granny." The nicknamesimply stuck after that.
The other grandchildren call Queen Elizabeth by the fondname of Granny. Meanwhile, several of the great-grandkids, including Prince Georgeand Princess Charlotte, call Queen Elizabeth "Gan-Gan."
https://www.instagram.com/p/By91KyrndyW/
Sophie isn't the only one who calls Queen Elizabeth 'Mama'
And those aren't the only nicknames Queen Elizabeth has. HerMajesty's father, King George VI used to call her"Lilibet," which was inspired by the way she pronounced her name as a littlegirl. Her husband Prince Philip, Duke of Edinburgh calls Queen Elizabeth"Cabbage."
And there are a couple of others who call the queen by the informal nickname "Mama." Apparently, Princess Diana used to call her mother-in-law that same name. These days, Meghan Markle has adopted the habit as well.
The queen must love her nicknames
https://www.instagram.com/p/BxziWpNnbC-/
Nicknames convey familiarity and closeness between two people. It's clear that the queen has many family members who love and respect her, which makes her nicknames even more special.
No doubt it's impressiveto be addressed by a formal title. But it's likely that the queen gets the bestfeelings when she hears her family calling her by one of her many fond nicknames.
Source: Read Full Article