In the months leading up to Prince Harry and Meghan Markle's wedding, there has been speculation about every last detail, especially the guest list. Is the Suits cast invited to the royal wedding? Markle did work on the show for seven seasons, so it would make perfect sense if she formed close enough relationships with cast and crew members to invite them to her wedding. But this isn't just any old wedding happening on Saturday. The now-retired actor is marrying a prince. There are specific protocols and traditions that they have to follow in many aspects of their big day and this includes the guest list.
Nevertheless, there is not an "official" answer to this question and the public will have to wait until the wedding day on May 19 to know for sure who is in attendance. Even though nothing has been publicly confirmed, an "inside source" told Hello!, "The cast has been contacted in regards to invites from Kensington Palace."
One Suits co-star who most likely made the wedding guest list is Abigail Spencer. In a May 2 interview with Entertainment Tonight, Spencer revealed that she and Markle became friends at an audition over 10 years ago "I have known her for years before the show," she said. "We were born on the same day, hours apart, in the same year… she's a trusted friend and one of the most glorious people I have ever met."
Spencer did not address anything specific about the wedding, but she did share, "I think she's doing OK" in regard to the preparations for the big day. Spencer also dished on a wedding present for the couple: "I think what they would love is [for people] to donate to one of the charities that they are involved in." (And she is right because charitable donations are actually what Harry and Markle are requesting for their wedding gifts.) It sure sounds like Spencer is someone who would be included in the wedding festivities, but it is likely that she just didn't want to (or could not) confirm that publicly.
According to Hello!, Markle once described Suits costar Sarah Rafferty by saying she is "not just my Suits sister wife, but my sister." It would make sense for Markle to invite her work wife to be there when she becomes an actual wife, right? Plus, she is very much on board with this royal union. On November 27, 2017 Rafferty congratulated Markle and Prince Harry on their engagement. She tweeted, "Sending congratulations and wishes for every blessing across the pond today."
As for Markle's onscreen love interest, Patrick J. Adams joked about wedding gift possibilities during an April 5 interview with Entertainment Tonight. He said, "We were trying to choose between like a blender or bread maker. You know something classy, like a good blender."
On November 27, Adams reacted to the engagement news with a sweet Instagram post. He wrote, "Playing Meghan's television partner for the better part of a decade uniquely qualifies me to say this: Your Royal Highness, you are a lucky man and I know your long life together will be joyful, productive and hilarious. Meghan, so happy for you, friend. Much love." After years of working together, it's clear that Adams thinks highly of Markle and they formed a close bond, but did he get invited to the wedding?
In an April 6 interview with Entertainment Tonight, Adams admitted, "I don't even have her telephone number anymore!" In all fairness, there are probably a lot of people who don't have her current phone number. It would make sense for Markle to change her contact information after moving to another country and getting engaged to a prince.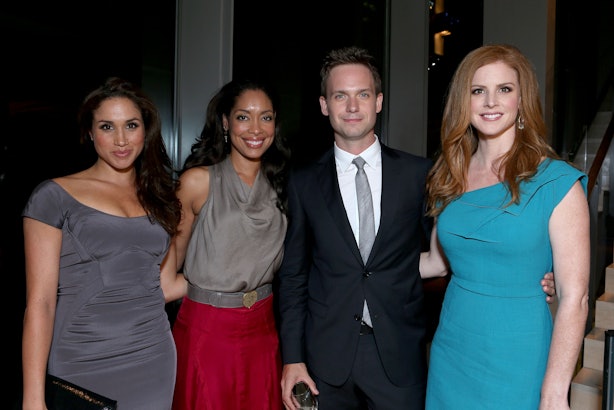 Even though it's still unclear if anyone from Suits will be at the wedding, the Kensington Palace Twitter account announced some other guests who will be a part of the big day in April. A tweet from the account read, "Members of the public from around the UK have this week learned that they will be amongst the 2,640 people at Windsor Castle for Prince Harry and Ms. Meghan Markle's wedding."
A follow-up tweet revealed, "The couple asked Lord Lieutenants to invite 1,200 people to join the celebrations, including young people who have shown strong leadership, and those who have served their communities." If the couple is including so many strangers in their wedding celebrations, it would also make sense that they would also want to include Markle's former co-stars who she worked with for years. (Of course, the guests from the public who were invited will not be at the actual wedding ceremony. USA Today reports that these people were invited to the grounds of Windsor Castle so they can see the royal arrivals and carriage procession in person.)
At this point there is no concrete information about who made the guest list and if any of the Suits cast and crew were invited, but it would make sense for some of them to make the cut. After all, Markle was on the show for seven seasons. Fans will just have to wait until the big day to see who made the trip across the pond for the nuptials.
Source: Read Full Article