As I walked out of the theater after seeing The Spy Who Dumped Me, I found myself trying to narrow down what the most outrageous scene in the action-comedy film was. When Kate McKinnon casually pushes a naked man off a balcony to his death? Or maybe when Mila Kunis is remarkably cool with watching her meth-smoking Uber driver having his head blown apart by a rogue bullet? (For what it's worth, I eventually settled on an acrobatic duel and subsequent graphic impalement at the film's climax.)
The film from director Susanna Fogel, who previously directed the 2014 indie comedy Life Partners, can sometimes feel like it can't quite decide what it wants to be: a hardcore action movie, with all the aforementioned shocks? A tender study of the bonds between best friends? Mission Impossible with a lot more toilet humor? But that's also exactly what makes it so entertaining: it doesn't pigeonhole itself into one single category.
"For me, it just came down to the mantra that I repeat when I write and direct," Fogel recently told me when she hopped on the phone ahead of the film's premiere. "What would I want to watch? What would I find entertaining? I love action movies and spy movies, and many of them are very brutal. Meanwhile, obviously I'm a big fan of dialogue-driven, friendship-driven, character-driven comedies that are very small and indie. In thinking about how to make an action-comedy with both action and comedy elements that I would actually want to see myself, I needed a good mix of the two."

The Spy Who Dumped Me follows Kunis and McKinnon's Audrey and Morgan, two best friends who end up going on the run in Europe after Audrey discovers that her ex-boyfriend (Justin Theroux) is actually a spy, and he needs her to get a mysterious flashdrive to a contact in Vienna. With a smoldering MI6 agent (Outlander's Sam Heughan) hot on their trail, Audrey and Morgan get in way over their heads and end up killing a shocking amount of gun-toting assassins on their sudden Euro trip. From watching dudes get smushed into the pavement to blood spurting out from gory neck wounds, the fast, colorful violence sometimes has the effect of making the film seem like one of the video games Kunis's Audrey is constantly playing, not unlike action sequences in films like Kingsman and John Wick, both movies Fogel happily counts as inspiration.
"There's a scene in the gym when Sam Heughan does this insane gymnastics move, which is supposed to be a chuckle for people," she explained. "Like, OK, we're living in this slightly heightened universe where he's basically doing a Super Mario-esque flip. For me, it's about finding ways to let people know that it's OK to laugh or smile or be entertained by something that otherwise would be disturbing . . . It's a lot about analyzing what makes movies that way. What makes a movie like Kingsman entertaining when it's so brutal? How does the audience feel OK laughing at, smiling at, or enjoying watching so many people meet their end?"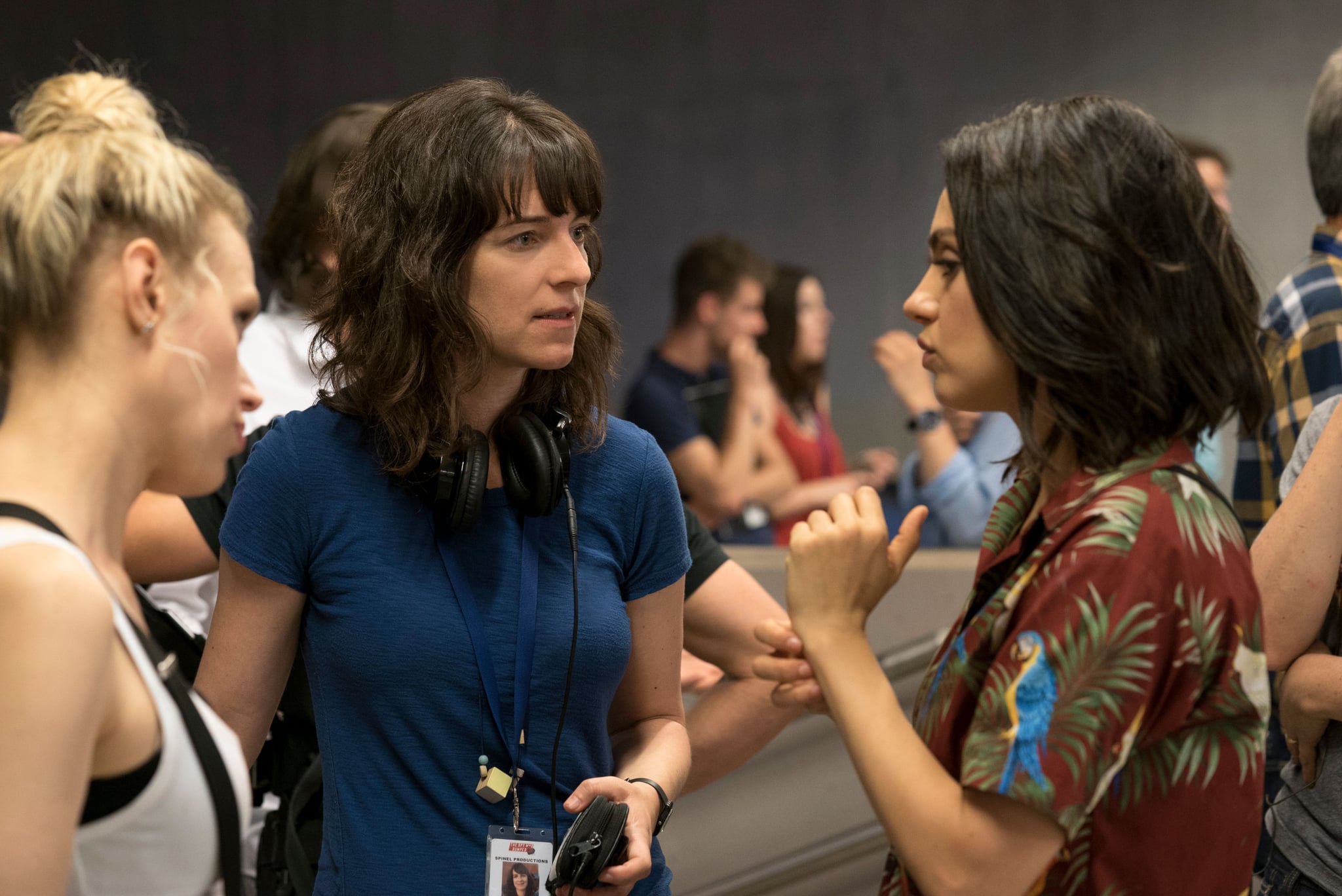 Director Susanna Fogel with stars Kate McKinnon and Mila Kunis.
To be fair, it's practically impossible not to have fun when McKinnon is on screen. She brings the perfect amount of rambling, frenetic energy to her performance as Morgan, who has a relatably insecure core lurking under all of her eccentric humor. Fogel, who pulled double duty writing the script as well as directing, knew from the beginning that she had to have McKinnon on board for the film to work.
"I had a relationship with Kate from her cameo in my first film [Life Partners], and she was always my first choice for Morgan," she said, noting that she let the SNL alum flex her improv skills during filming. "You can't have someone like Kate on your set and not utilize that genius that she has! But she's also a person who turned out to like the discipline of a more dramatic role as well. When I met Mila, she was so down to earth, such a girl's girl, I felt that there was no way they wouldn't get along. They're both these smart, sarcastic women killing it in Hollywood."
Since the film ends with what Fogel jokes is "shameless ploy for a sequel," could there be more Audrey and Morgan in our future? Fogel says that's definitely something she'd be open to, but for now, she has a simpler hope for how the movie impacts the action-comedy genre: "If this opens up the playing field for all sorts of versions and gradations of female-driven movies, I think that's a great thing."
The Spy Who Dumped Me is in theaters now.
Source: Read Full Article