When a tragic accident kept Isabella McCune from attending the Reputation Tour, Taylor Swift visited the 8-year-old fan with burn injuries in the hospital. The Swiftie had tickets to the pop star's show in Arizona, but was injured in a fire pit explosion on St. Patrick's Day. After her accident, a news team interviewed the young girl in the hospital, and she revealed her love for Swift's music, according to People. AZ Central reported that in the video she asked Swift if she would stop by the Arizona Burn Center at Maricopa Medical Center while in town, and the star answered the call.
On Saturday, May 5, Swift took time out from her rehearsals for a stadium performance in Glendale, Arizona, to visit the young super fan. The visit was a total surprise, and McCune had no idea Swift would be coming until the singer walked into the room in a hospital gown. The fan was shocked, and her sweet reaction suggests that the visit was a dream come true.
According to Lilly McCune, Isabella's mother, Swift arrived at the hospital with gifts and spent plenty of time talking to her daughter. She told People,
Since Isabella's accident back in March, she's had 11 operations, including skin grafting on 50 percent of her body. Swift's music has reportedly brought the 8-year-old strength through her medical difficulties, and played an important role in her road to recovery.
According to People, Swift's music helped the 8-year-old be brave in the face of painful procedures. McCune would reportedly put on the pop star's songs as a distraction, which would help her face these difficult moments. Her mother told the publication,
McCune reportedly wanted to tell the singer how much her music means to her in person, and news media outlets began to reach out for interviews. The supportive staff at the center said that Swift could come visit, and soon the story got lots of attention on social media. Swift's mother saw the posts, and she joined her daughter for the visit. The Reputation singer brought her parents along, which was a big comfort for Isabella's mother and father as well. "Her parents came too and they were the sweetest people, and it meant so much to my husband and me as parents," Lilly told People. "We have so much respect for them and how they raised her."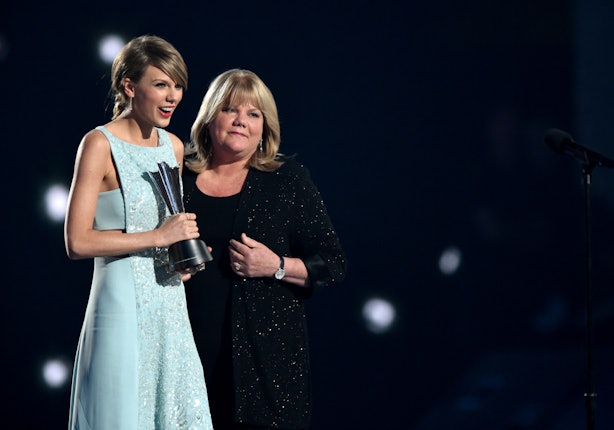 It's a busy time for Swift, whose Reputation tour kicks off on May 8 and features shows across the country. The singer recently revealed that she would play 10 songs from previous albums in addition to new material. However, Swift has always put fans first, and this isn't the first time she's taken time out of her schedule to surprise people. In 2016, she dropped in at a fan's wedding to perform "Blank Space," a tribute to the groom's late mother. In 2015, the singer visited a 13-year old fan with cancer in the hospital at Christmas. These visits were equally meaningful, and it's clear that Swift wants to have a personal connection with her listeners.
This unexpected visit was no doubt a special one for McClune. Swift even wrote the young Swiftie a special note before leaving, calling her an inspiration and inviting her to attend any concert once she's healed. "I'm so honored you've been listening to my music," the letter read. "You're so awesome and I can't wait to have you at a show!! Stay strong, gorgeous."
Given Swift's track record when it comes to supporting her fans, it likely won't be long before McClune sees her favorite singer in concert after all.
Source: Read Full Article