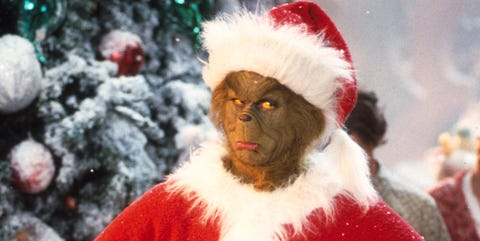 The holiday season hasn't officially started until you've watched A Christmas Prince—no shame. While you're at it, start queuing up any of the streaming site's other deliciously over-the-top holiday flicks. This stuff gives the Hallmark channel's 25 Days of Christmas a serious run for its money.
But don't worry, nostalgia lovers will appreciate the classics in the mix, too. (Oh hey, Grinch.) If you're looking for something Christmas-y to watch ASAP, check out the 10 best holiday movies on Netflix:
Netflix's Christmas original took the internet by storm last year—so much so that there's a sequel coming this year. Journalist Amber Moore goes to Aldovia to cover the news that the country's crown prince is taking the throne. She goes undercover to report on the story…and ends up falling for the prince in the process. (Of course she does.)
My family watches this movie every single year. This 50s classic follows two friends and former soldiers, who decide to help their former Army general's struggling inn drum up Christmas business by putting on a big show. The cast is incredible (Bing Crosby, Rosemary Clooney!) and the dance numbers are *chef's kiss.*
I'm personally partial to the '60s animated version, but if you love Jim Carrey, odds are you love this interpretation of the Grinch. Laugh along as he tries to steal Christmas away from the cheery residents of Whoville—only to learn that the holiday isn't about the gifts and trappings, but the people you're with.
No holiday movie list is complete without Love Actually. Follow the love stories of eight different couples at Christmas to see how they all link up at the end. Keep the Kleenex handy.
This movie is basically the holiday version of The Proposal or The Wedding Date. And I'm not mad about that. TL;DR a woman gets dumped right before Thanksgiving, so she hires an actor to play her fiancé during Thanksgiving weekend at her mom's house.
So cheesy, yet so good. In order to prove to her father that she is capable of running the family's toy business, Ellie pays a visit to Snow Falls (where the company started) to learn the true meaning of Christmas.
This comedy features a baby Ryan Reynolds (who could resist?) meeting up with his high school crush while visiting his hometown for the holidays. He's definitely still not over her—can he prove that he's grown up for the better?
In this cute animated movie, Santa is looking for a young boy he can train to become his successor before he has to retire. It's obviously meant for kids, but it's really sweet—and def enjoyable for any age.
This movie is definitely heavy on the drama (and the cheese), but if you loved Downton Abbey, this is the holiday movie for you. A new minister arrives in a small English village and starts trying to reform the townfolk of their Christmas-related superstitions. It would take a miracle to get this grouch to change his ways…hint.
Did anyone else have this on VHS as a kid, or was it just me? If you're too cheap to buy ballet tickets this December, opt for the movie version of the Nutcracker instead (starring a young Macaulay Culkin!).
Source: Read Full Article