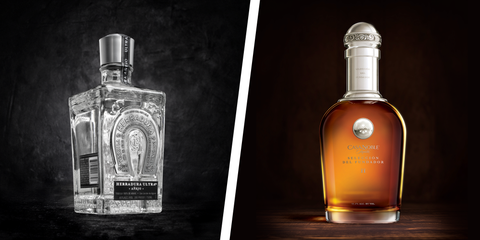 Did you know there's an agave shortage looming? Yep. Prepare for the worst, kids. Demand for Mexico's finest spirit is outstripping production and it could mean trouble for the tequila aficionados of the world. Prices for Weber Blue — the source of all tequila — have tripled in the last couple years, pushing distilleries to shift production to higher end offerings where they can make more dollars for each agave. This trend is underscored by sales of super premium tequilas exploding by more than 70% in the last five years. The stakes, as De La Soul once said, is high.
There is an array of amazing artfully-crafted tequilas that will be hitting shelves in the coming year. Here are the best eight we tasted coming in 2018.
PATRÓN CASK COLLECTION SHERRY AÑEJO
One might assume this is Patrón's core Añejo simply finished in sherry casks, but not exactly. Instead of normal aging and then only finishing for a month or so in a sherry cask as some other distillers have experimented with, the Cask Collection was aged for over two years exclusively in Oloroso Sherry barrels. What these unique Spanish oak barrels add to the spirit are noticeable pecan notes both to the tongue and nose. But the trick with such an expression is not to overwhelm the delicate agave flavors with Oloroso, but rather to compliment them. Expect additional hits of caramel, raisins, light vanilla, and a whiff of butter.
Until now the Sherry Añejo Cask Collection was almost impossible to find as it was only produced in 2017 for global Duty Free shops. But due to its unexpected success Patrón has announced it will release the spirit more broadly this summer in select domestic markets — although its release will still be limited.
Learn More
DON JULIO REPOSADO, DOUBLE CASK
In the 75 years of the Don Julio existence, Enrique de Colsa is only its second Master Distiller. The man learned directly from the eponymous Don Julio González how to make his distinct recipe. This Double Cask is his next great invention.
De Colsa took their Reposado, aged 8 months in one-term American White Oak barrels, and then aged it one more month in Dalwhinnie single malt scotch casks. "I experimented for years using a lot of other barrels — white whine barrels, sherry, a lot of them," explains de Colsa. "The single malt cask is what gives it that final touch — that peaty, maybe a little smoky finish. The result is beautiful, wonderful." And perfect for those who are obsessed with both whisky and tequila. Only 17,000 cases will hit American shelves in early July, for $59.99 while supplies last.
Learn More
HERRADURA ULTRA CRISTALINO
One of Don Julio's staunchest top shelf nemeses, Casa Herradura will release a cristalino expression dubbed Ultra. Ultra is made from a blend of both Añejo and Extra Añejo (aged up to 49 months) tequilas, which is then augmented with subtle hit of agave nectar for added sweetness. We are huge fans of the Horseshoe and consider their Reposado the best volume reposado you can find, so we look forward to trying this one out when it arrives at $59.99.
Learn More
PATRÓN X GUILLERMO DEL TORO BOX SET
Made in collaboration with the Oscar-winning filmmaker, the packaging for the collectible is as eye-popping as one would expect from the genius behind such visual gems such as Pan's Labyrinth, The Shape of Water and Pacific Rim. The exquisitely detailed black box features silver etchings of a giant skull bordered with skeleton jimadores working the agave fields. Inside you'll find a large bottle that is actually two-in-one: a 750ml bottle of extra añejo tequila topped by a second skull-shaped 100ml crystal of orange liqueur.
Both extra añejos — the source for the orange liqueur as well as the expression in the 750ml bottle — are completely unique blends not found in any other line. The exact blend was designed by Patrón's Master Distiller Francisco Alqueres with direction from Del Toro after numerous happy tasting sessions together at the Hacienda. Although the first run of these collections sold out in seconds, expect the second edition — due this summer — to be quickly snatched up, even with a hefty albeit deserved price of $399.
Learn More
EL TESORO 80TH ANNIVERSARY EDITION
La Alteña distilleries was founded in 1937 by Don Felipe Camarena and remains family-run to this day, by Carlos Camarena — Felipe's grandson. To celebrate the birthday of La Alteña, Camarena aged his finest eight ex-bourbon oak casks for a full eight years to create the limited edition El Tesoro 80th Anniversary. The natural deep golden hue — never any caramel coloring allowed at El Tesoro — boasts a unique green olive finish, with more traditional notes of caramelized oak and smoke. The 80th Anniversary casks were filled with stronger 85-proof blanco (instead of 80-proof). Due to the "angel's share" (alcohol evaporating over time), the final liquid is lowered to 83-proof. The US will be the only market to receive El Tesoro 80th Anniversary at a suggested price of $199.99.
Learn More
PATRÓN EXTRA AÑEJO
Patrón's Extra Añejo will be the first new expression added to their core line in over 25 years, and widely available this summer. It's made from only the highest-quality 100% Weber Blue Agave, steam baked in brick ovens for three days, and then crushed, fermented and distilled using both the ancient "tahona" wheel method and more modern roller mills. To age its tequilas, the Highland distiller uses oak wood sourced from three different countries (America, France and Hungary) to make their barrels, both new and used. All three are used in aging this tipple for at least 36 months. Each bottle is hand-numbered and hand-labeled for $89.99.
Learn More
CASA NOBLE SELECCIÓN DEL FUNDADOR VOLUME II
The limited edition Selección del Fundador Volume II is an 8-year extra añejo reserve using only agaves planted in 1997 to commemorate the founding of Casa Noble. It's triple distilled, and then aged only in French Oak barrels. For this expression it is then aged for eight years in new Taransaud French white oak to develop its impeccably complex, elegant character. These barrels are small, around 114-liters, which accelerates the aging process by increasing the tequila's interaction with the new wood.
The result is an incredibly robust spirit with an exceptional honeyed mouthfeel, rich in notes of dried fruit, flowers and cinnamon. Considering Casa Noble is racking up the awards (e.g. 2016 International Spirits Challenge's Tequila Producer of the Year, OTW's Outstanding Tequila of the Decade, etc.), it clear its liquids are effective. Only 300 bottles of the Selección del Fundador Volume II will be shipped worldwide, each hand-signed by founder Jose "Pepe" Hermosillo. Even with a pricetag of $1,499 per bottle, expect this gem to vanish fast.
Learn More
VOLCÁN DE MI TIERRA BLANCO
After developing more than 125 iterations of possible tequilas, carefully experimenting with various agaves, cask maturations and yeasts, the resulting winner from the Gallardo family is Volcan De Mi Tierra. Named after the towering volcano looming over the distillery, Volcan De Mi Tierra distinguishes itself by being the first to use agave from both the low- and highlands. They believe the two different agaves best honor the terroir of the region, and makes their spirit unique. Although announced last year, the two first products from the nascent house, a Blanco and Cristalino, are just hitting finer liquor stores this year. Of the two we preferred the Blanco, which uses a blend of 75% tahona-crushed lowland agave and 25% roller-milled highlands agave. Now available for a very reasonable $40.
Learn More
Source: Read Full Article