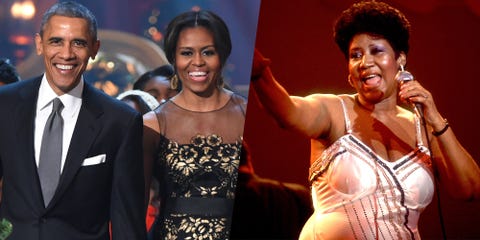 Barack Obama, who has been a longtime fan and friend of Aretha Franklin, released a statement in honor of the Queen of Soul, who died Thursday at 76.
"Aretha helped define the American experience," he wrote on Twitter. "In her voice, we could feel our history, all of it and in every shade—our power and our pain, our darkness and our light, our quest for redemption and our hard-won respect. May the Queen of Soul rest in eternal peace."
Shortly after, Michelle Obama followed up with a message of her own. "Watching Aretha Franklin perform at the White House, and on so many other occasions, made time stand still. @BarackObama and I are holding Aretha's family in our hearts right now. She will forever be our Queen of Soul," she tweeted.
The couple also released a full joint statement on Franklin's passing. It reads:
The former president and first lady involved Franklin in several public events during their time in the White House. Franklin performed "My Country 'Tis of Thee" during President Obama's inauguration in 2009:
In 2011, she performed at the dedication of the Martin Luther King, Jr. Memorial on the National Mall. She sang "Precious Lord," the same song she sang at his funeral.
Also in 2011, Franklin performed at a Labor Day event before the president spoke in Detroit.
In 2013, she performed at the White House Christmas tree lighting.
And in 2015, Franklin performed a tribute to Carole King at the Kennedy Center Honors, singing King's song "Natural Woman." President Obama, who was in the audience, was visibly moved to tears.
That same year, Franklin sang "America, the Beautiful" at a farewell ceremony for Attorney General David Holder.
And in 2016, Franklin paid tribute to the Obamas at the White House's International Jazz Day concert.
"Nobody embodies more fully the connection between the African-American spiritual, the blues, R. & B., rock and roll—the way that hardship and sorrow were transformed into something full of beauty and vitality and hope," President Obama wrote about Franklin in 2016. "American history wells up when Aretha sings."
Source: Read Full Article