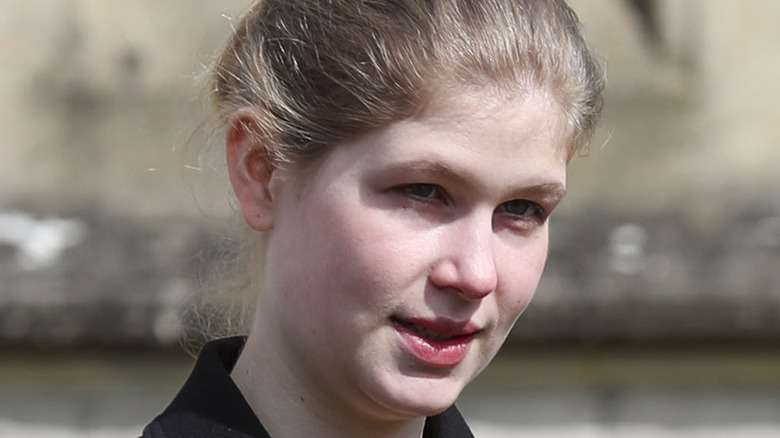 When we think of the royal family, we typically think of Queen Elizabeth, Prince Charles, the two princes — Harry and William — and, of course, the late Diana Spencer. But the royal family is far more extensive than the few people that we see in the headlines time and time again. One such royal who doesn't spend a ton of time in the spotlight is Lady Louise Alice Elizabeth Mary Mountbatten-Windsor (that's a mouthful!). The eldest daughter of Prince Edward (the queen's youngest son) and Sophie, Countess of Wessex, Louise is a budding member of the family, who is seen as a huge asset to the royals.
Louise hasn't spent a ton of time in the public eye, but, when she has, she's always behaved with a palpable amount of royal etiquette and charm. She was a bridesmaid at William and Kate Middleton's wedding in 2011, she's been spotted at a number of royal events, and, most recently (as of publication), she was seen at Prince Philip's funeral, mourning the loss of her grandfather. At 17 years old, Louise is, without a doubt, a royal to watch, as she seems to have a bright future within the family. 
Here is the untold truth of Lady Louise Alice Elizabeth Mary Mountbatten-Windsor.
Lady Louise is reportedly the queen's favorite grandchild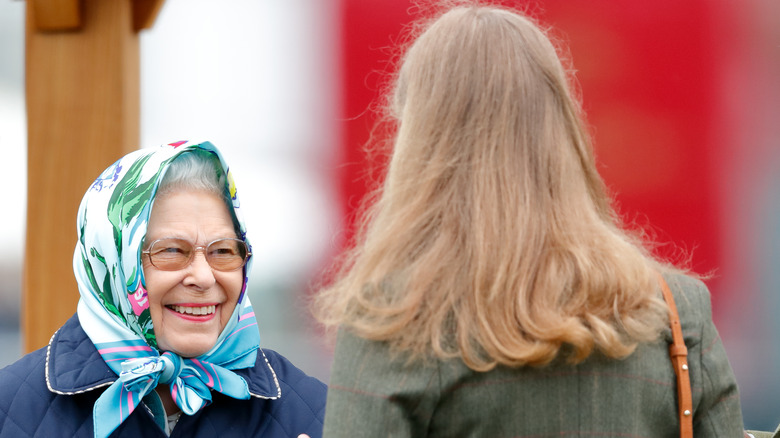 Queen Elizabeth has eight grandchildren, ranging from their 40s all the way down to their teens. Some of the queen's most high-profile grandchildren include Prince William and Prince Harry, but it's Louise who has a special place in the queen's heart. 
As noted by The Sun, Louise is reportedly Elizabeth's favorite grandchild, given their common interests, their summers spent together, and Louise's kind nature. A royal insider told the publication, "The queen loves the fact that Louise and [younger brother James, Viscount Severn] relish their time at Balmoral, and she has become particularly close to Louise … Louise also endeared herself to everyone by looking after William and Kate's children when they were up here."
Louise reportedly stepped up to the babysitting plate (like all good older cousins do) when Princess Charlotte visited the queen. Louise apparently has a talent for drawing and extended her time and patience to the little princess while she visited her great-grandmother. The gesture clearly made a big impact on the monarch, who looks very favorably on her granddaughter.
Lady Louise is very skilled at this activity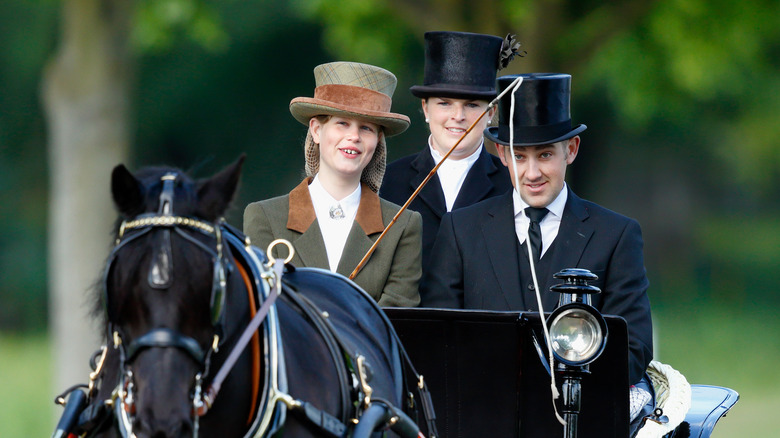 The royal family is known for its collective interest in hobbies such as horse riding, polo, and hunting, and it looks as though Lady Louise Windsor has followed suit. According to Woman & Home, she is an excellently-skilled carriage driver and has carved quite the space for herself within the activity. Her mother, Sophie, Countess of Wessex, spoke about her daughter's skillset during a virtual appearance at the Royal Windsor Horse Show. "To actually participate in the horse show you know, has been a really special thing for her to do," Sophie said of her daughter.
Sophie said that her daughter's skillset is a natural talent and that she absolutely outshines the rest of the family. "I trail in her wake frankly," Sophie said. "No, she is naturally so good at it, she really is. It's something that she has taken to very well." School, however, did get in the way of Louise's passion. Sophie revealed that Louise took a break from carriage driving to carve out time for studying, which kept her away from the Royal Windsor Horse Show. The show was canceled due to the coronavirus pandemic, so it turned out that Louise didn't miss out on much.
Lady Louise was very close to her late grandfather, Prince Philip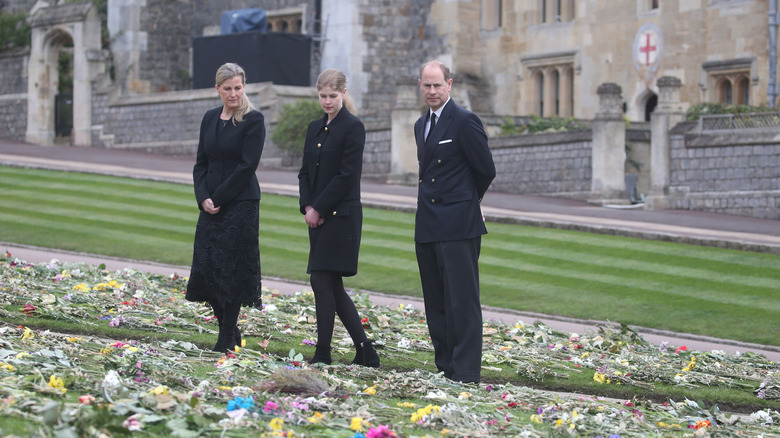 There is something to be said about the bond between granddaughter and grandfather, and, as Cosmopolitan noted, Lady Louise Windsor and the late Prince Philip were very close. The two shared a number of passions, namely their interest in horses. Philip was often seen at Louise's equestrian events, just as he was for his daughter, Princess Anne, and the two seemed to share a very special bond. Philip died in April 2021, and, as such, left a number of touching gifts to his young granddaughter. 
According to Cosmopolitan, Philip left his two Fell horses, Balmoral Nevis and Notlaw Storm, to Louise. In addition, he gifted her his own four-wheeled carriage, the same carriage used during his funeral procession. Philip often used the carriage while he stayed at Windsor Castle. His choice to leave such an item to her has been interpreted by some as his subtle way of encouraging her pursuits. Since the carriage was used during Philip's funeral to carry his cap and gloves, it's safe to say that it was an incredibly special gift for Louise to receive.
Lady Louise was a tiny baby, born a whole month before she was expected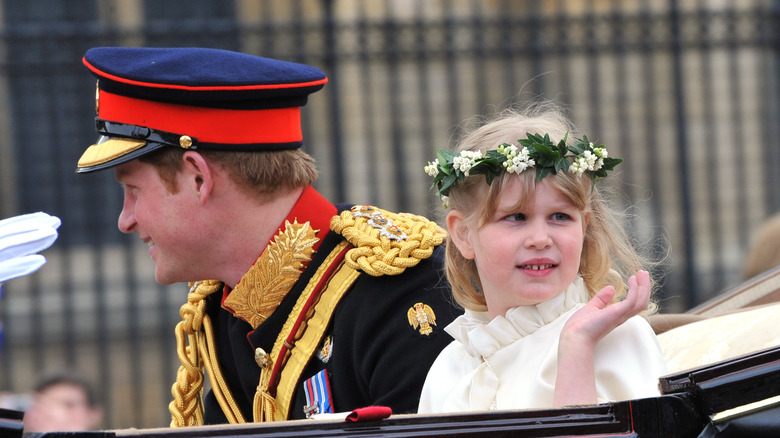 Royal births are a big deal, there's no doubt about it. It seemed like the entire world was on edge when Kate Middleton was expecting her first child, Prince George, with Prince William. But things weren't so planned and expected when Lady Louise Windsor was born to Sophie, Countess of Wessex, and Prince Edward. As noted by the BBC, Louise was born a month early and weighed just under five pounds.
As it turned out, Sophie was experiencing intense cramps at home and called an ambulance to take her to the hospital. Louise was born via emergency c-section and was immediately taken to Frimley Park Hospital's neonatal unit. Because the baby was born so early and under such unexpected circumstances, Edward wasn't even there. As reported by the BBC, he was on an official trip to Mauritius and quickly made plans to travel home.
It was quite the unexpected delivery, and both Sophie and Louise — who were described as stable at the time — stayed in the hospital "as a precaution." Talk about an entrance.
The royal family has debated the use of a royal title for Lady Louise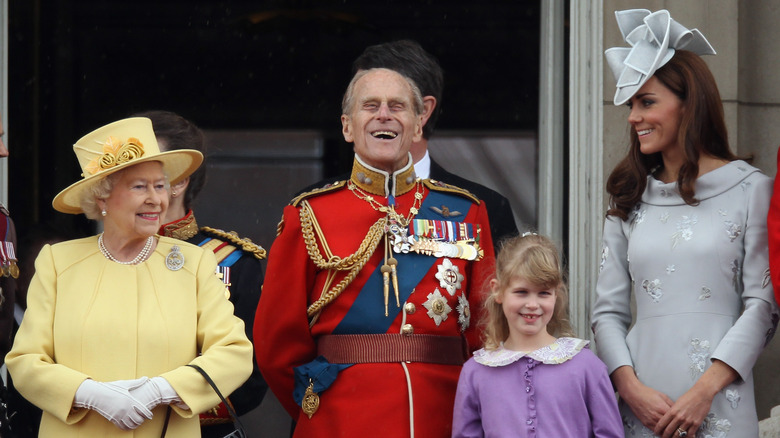 If you're confused when it comes to royal titles, you're not alone. There seem to be a lot of rules and protocols to follow regarding royal titles, but a lot of it comes down to personal preference. There's been some debate over Lady Louise Windsor's royal title and if she'll ever use an HRH (Her Royal Highness) label. As noted by Express, Louise's parents, Sophie, Countess of Wessex, and Prince Edward, opted out of using HRH titles, as they wanted their children to have as normal a life as possible, and shared with Express, that both children are "very likely to have to work for a living." 
However, Express reported that the decision to adopt the HRH title will soon be left up to Louise, herself. By the time she turns 18, she can opt to use the HRH title if she so chooses. However, even her mother thinks that it'll be a stretch for her daughter to use it. "I think it's highly unlikely," Sophie said when prompted. Since Louise turns 18 in November 2021, time will tell.
Lady Louise has looked to her mother for fashion inspiration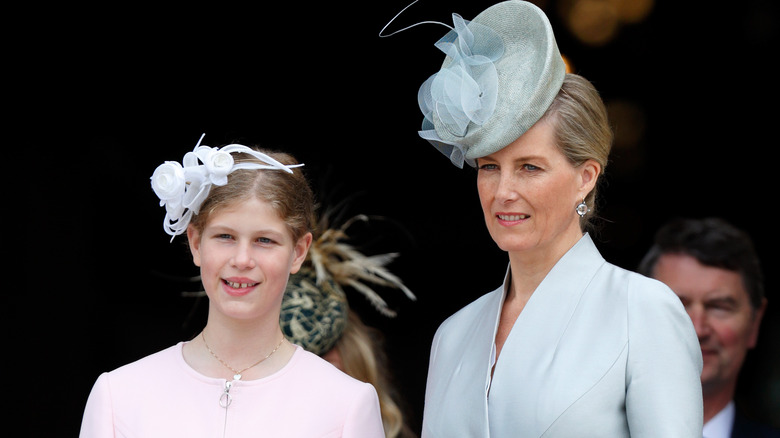 Most of us know what it's like to want to raid our mom's closet, and despite her royal lineage, Lady Louise Windsor is still a teenager who borrows her mom's clothes. As noted by Hello!, Louise has been seen on numerous occasions wearing clothing that belongs to her mother, and, honestly, we don't blame her for doing so one bit. Sophie, Countess of Wessex, has designer piece after designer piece, and if we had access to a wardrobe like that, we would absolutely borrow everything we could get our hands on. 
What are a few of Louise's looks, courtesy of her mom? To start off, Louise was spotted in a stunning Stella McCartney coat paired with a Sophie Habsburg nude clutch, both of which appeared to be sourced from her mother's closet. Louise also looks to her mom for accessories — she was spotted holding Sophie's Noble MacMillan plum tassel pouch back in 2018. It also looks like Louise takes fashion notes from Sophie, as Louise was seen in a headband from Jane Taylor — her mom's go-to milliner.
Lady Louise's eye condition helped inspire some of the royal family's charitable work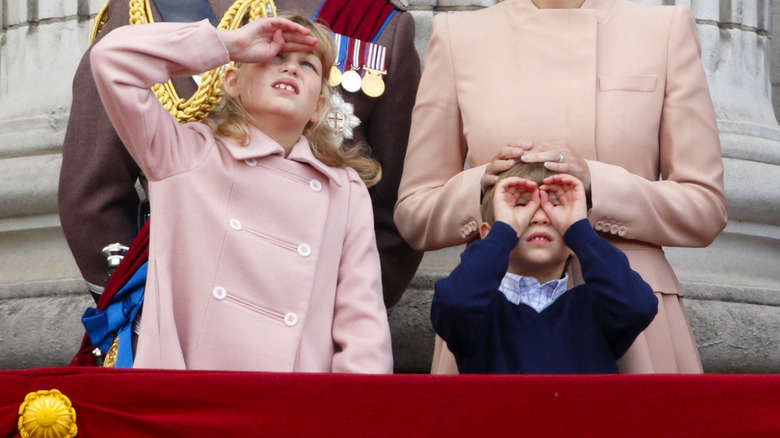 As aforementioned, Lady Louise Windsor was born a month premature. As such, she developed a condition called strabismus, which impacted her ability to see. As noted by Express, if the condition is not treated, it can result in "lazy eye," where the brain starts to ignore signals from the eyes. Louise's diagnosis inspired her mother, Sophie, Countess of Wessex, to get involved, and she has since advocated for children who are visually impaired.
As a child, Louise reportedly had a very impactful squint, though her vision has improved with time. "Her squint was quite profound when she was tiny and it takes time to correct it," Sophie said. "You've got to make sure one eye doesn't become more dominant than the other but she's fine now — her eyesight is perfect." It remains unclear whether Louise's condition fixed itself with time, or if she had an operation to correct it, but, nevertheless, it has inspired her mother to advocate for those who have the same condition and similar vision difficulties.
Lady Louise's younger brother is ahead of her in the line of succession to the throne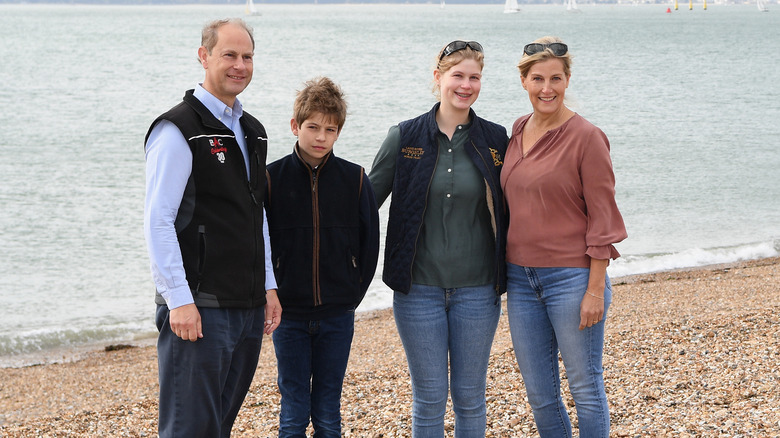 Some aspects of the royal family and the institution at large are quite archaic, and, until it was amended, the rule that a younger brother would circumvent his older sister in the line of succession was enforced. As such, although Lady Louise Windsor is older than her brother, James, he is ahead of her in the line of succession to the British throne. 
As noted by Hello!, The Succession to the Crown Act, which halted the gender-based rule, was not implemented until 2013, after both Louise and James were born. The act states that all royal family members born after October 28, 2011, would benefit — leaving Louise out of the loop, so to speak. The act, at one point, was an area of heightened importance, as Princess Charlotte was not overtaken by her younger brother, Prince Louis, in the line of succession after he was born. She's not the only young royal to have benefitted from the act. Zara Tindall's daughters, Mia and Lena, also maintained their positions, even after their younger brother, Lucas, was born.
Unfortunately, Louise was born too early — before the cutoff date — to benefit from the act. As heirs are born, she will continue to move down the line of succession.
Due to her parents' wish for privacy, Lady Louise is rarely seen in public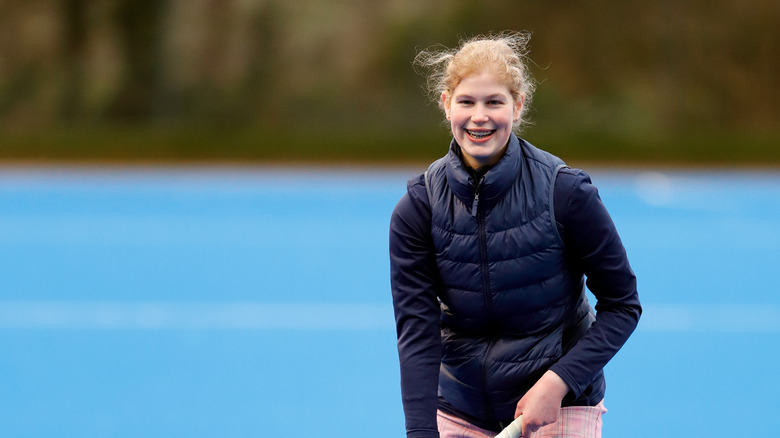 The world often sees Prince William and Kate Middleton's kids, who are all direct heirs to the British throne. But the children of Prince Edward and Sophie, Countess of Wessex, Lady Louise Windsor and James, Viscount Severn, are rarely seen in the spotlight. As Express noted, this could be directly linked to Edward and Sophie's wish for privacy. Even though Louise is almost 18 years old, she is only ever really seen during official royal events, and, as such, body language expert Judi James analyzed the dynamic with her parents. 
Edward spoke about his desire to keep his kids out of the headlines — as his importance in the royal family increases, the chances of Louise and James being available for scrutiny also increases. "This desire to protect his children's privacy might sound natural but given Sophie and his current elevation through the ranks of the Firm and their much higher profile as a result it could be a personal challenge for Edward to ensure that any desire for privacy is respected," James said. That privacy is certainly extended to Louise, who is often only ever seen with one of her parents.
Queen Elizabeth reportedly sees Lady Louise as a major asset to the royal family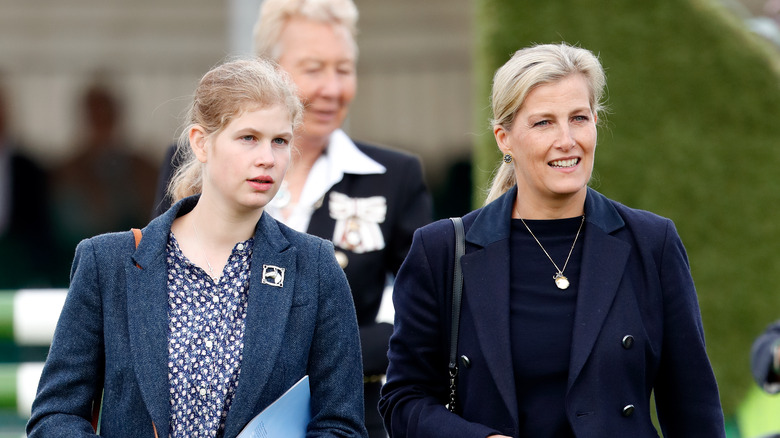 Even if you don't consider yourself a fan of the royal family, you most likely know that there has been some drama happening. Prince Harry and Meghan Markle have made a name for themselves as they've aired royal dirty laundry, Prince Andrew is consistently under fire for the troubling allegations posed against him, and Prince Charles and Camilla Parker-Bowles are experiencing more and more pushback (you can thank Season 4 of "The Crown" for that). So, it doesn't come as a huge surprise to find out that Queen Elizabeth sees Lady Louise Windsor as a huge asset, mostly due to her calm demeanor, dedication, and kind nature.
Royal biographer Ingrid Seward told Express that Louise "has shown in the past she can handle gracefully difficult situations," a trait that is sure to come in handy. "She has always been an asset to the family and very polite which the Queen loves," Seward said, pointing to a situation at Princess Eugenie's wedding in which Louise took charge of the little bridesmaids. Not only did she assist, but she suffered a bit of an outfit snafu and walked it off like a pro.
Lady Louise didn't always realize that her grandmother is the queen of England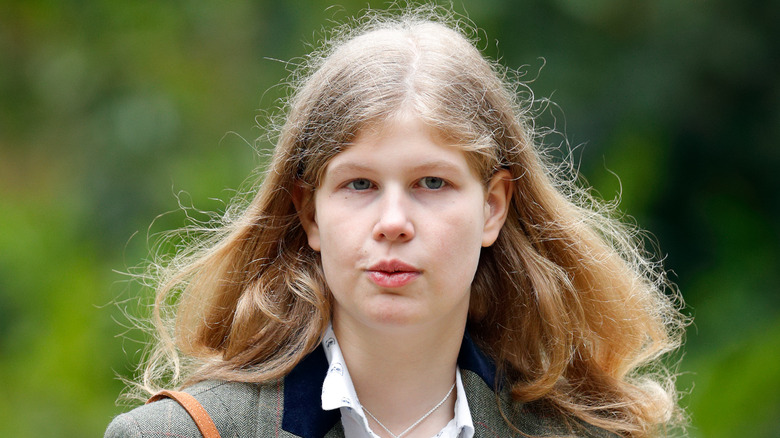 It's hard to know how we'd react if we found out that one of our relatives was a queen (although it'd probably look like Mia Thermopolis in "The Princess Diaries" with an unabashed "Shut up"). But, apparently, Lady Louise Windsor didn't realize that her grandmother was the queen of England. As noted by Now To Love, Sophie, Countess of Wessex, relayed the story of how Louise found out just who her grandmother was. Louise came home from school one day and told her mom that classmates were telling her that her grandmother was the queen. "And I asked her, 'Yes, how does that make you feel?'" Sophie said. "And she said, 'I don't understand.'" 
It was clear that the revelation was a bit of a shock to Louise. Maybe she thought that all grandmas were queens, which, if so, how cute is that? Sophie continued by saying, "I don't think she had grasped that perhaps there was only one queen" when concluding the story. Of course, Louise is fully aware of her royal lineage now, but the sweet way she found out about her grandmother's true identity is lovely.
Lady Louise reportedly looks exactly like Queen Elizabeth when she was young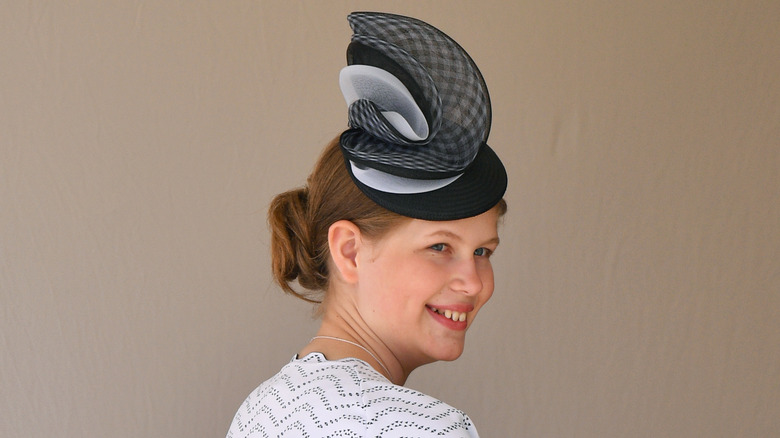 There are some strong genes in the royal family. For instance, Prince William — especially when he was younger — looked like the spitting image of his mother, Diana Spencer. Prince George and Prince Louis pretty much look exactly alike, too. But when it comes to Lady Louise Windsor, she resembles none other than her grandmother, Queen Elizabeth. 
As Express noted, the young royal looks remarkably similar to the queen when she was young, and royal commentator Camilla Tominey even commented on the similarities. "Now 17, Lady Louise bears a striking resemblance to a young Princess Elizabeth, and is said to share something of her character, too," Tominey assessed. An insider told the publication that, like her grandmother, Louise is "studious," "conscientious," and "straightforward," all qualities that Elizabeth embodies — just think of all the years that Elizabeth has been on the throne and all the aspects of life she has had to oversee. "There is something about her — a capability," the insider shared. "She's obviously a very gentle young woman." Louise's similar looks and traits may explain why she and the queen get along so well.
Lady Louise has a very close relationship with her mother, according to their body language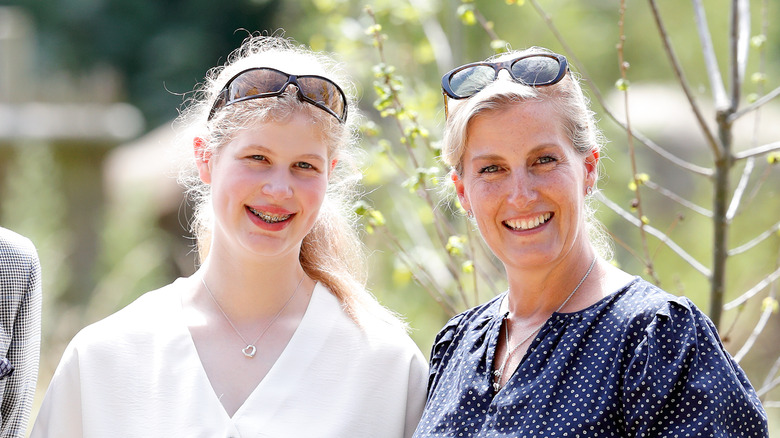 The public has gotten to see the Wessex family interact with each other. As such, body language expert Judi James shared her thoughts with Express regarding the dynamic between Louise and her mother, Sophie, Countess of Wessex. 
As Louise has gotten older, Sophie has reportedly taken a couple steps back in order for her daughter to branch out on her own. This is shown in her body language toward the teenager and is an aspect of their relationship that James picked up on. "Sophie's confidence signals show her as being the more socially active one in the team dynamic," James said. "Her encouraging and proud smile is teamed with the kind of spatial gap you'd get between friends … This allows Sophie's daughter to be seen and to feel like a confident adult in public." 
James also highlighted the smiles that are often cast between Sophie and Louise, assessing that the pair shares a friendship as well as a mother-daughter bond. Additionally, James suggested that Sophie knows how to avoid being "overprotective" of Louise and is happy to let her strike out on her own.
Sophie, Countess of Wessex, has created a fairly normal life for daughter Lady Louise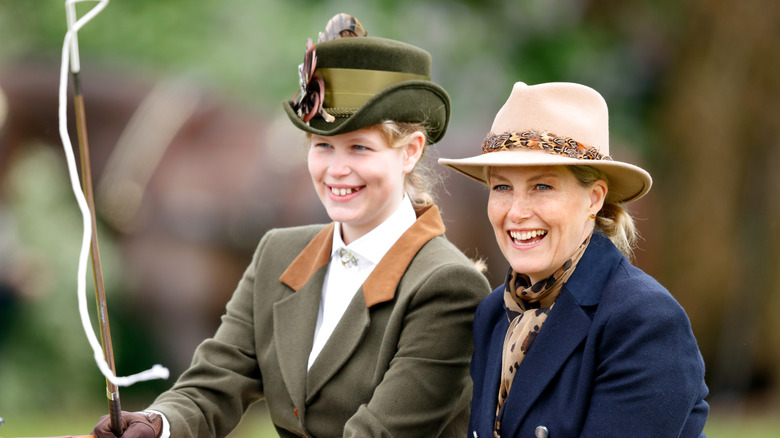 The term "royal family" doesn't exactly allow for a lot of normalcy. When you think about it, it's a little weird for the world to know everything that a family says or does, regardless of whether they're part of one of the most high-profile institutions. But a keen eye on privacy is something that Prince Edward and Sophie, Countess of Wessex, are keyed into, and, as such, they have done everything they can to give Lady Louise Windsor a normal life.
Sophie shared an update with The Sunday Times Magazine on Louise, opening up about how ordinary her day-to-day life is (via Express). "[Louise and James] go to a regular school. They go to friends for sleepovers and parties," Sophie said. "[On] weekends, we do lots of dog walking and stay with friends." Sophie went on to share that when Louise is with the queen, she isn't with the ruler of the Commonwealth, but, instead, with her grandmother.
It's safe to say that Louise has absolutely benefitted from her parents' family values and lifestyle. We're excited to see what this royal accomplishes in the future.
Source: Read Full Article