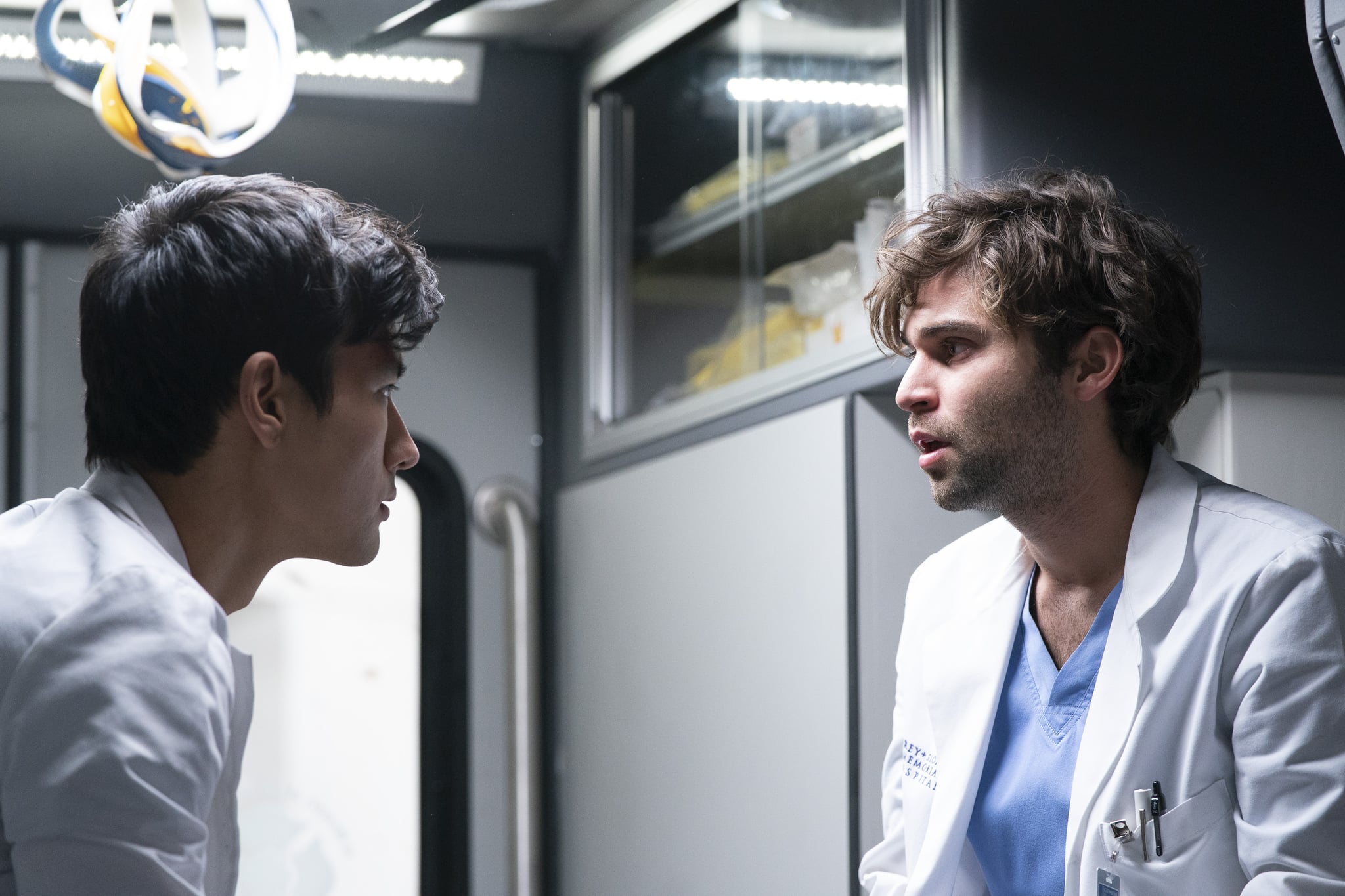 Warning: spoilers ahead for Grey's Anatomy.
When it comes to Grey's Anatomy, we can never be too sure about the longevity of our favorite couples. After all, we thought Japril and Calzona were endgame, didn't we? One of the sweetest pairings to crop up this season are Nico and Levi, an old-school opposites-attract situation that had us swooning from the start. With Nico's position as a fellow, his time at Grey Sloan was never guaranteed to be permanent. But we sure were blindsided by his botched surgery that led to his fallout with his boyfriend. Their relationship doesn't look great right now, so we definitely have some theories about how this couple will pan out in the next few episodes. Let's investigate below.
Nico leaves for a job or gets fired, ending his relationship with Levi.
So here's what happens: Nico nails a surgery. But it turns out that he probably caused a cement leak during the operation, which leads to complications that even Maggie can't fix. The patient dies, and Nico is livid, yet still swinging hard at his postfellowship job hunt. Levi tries to comfort him and tells him to take things slowly. But Nico continues with his Skype interview right after saying that Levi lets failure be his whole identity. It's mean and uncalled for, making us question how much time they'll have together.
Nico's departure is the most probable result, whether he is fired or moves out of state for a job. He looks laser-focused on finding work and doesn't seem interested in communicating with Levi. Plus, Alex Landi, the actor who plays Nico, has been cast on Netflix's Insatiable, which is a likely sign for his exit. If Nico does indeed leave, we hope Levi will find love once more. It's been a while since we've seen a major queer couple on the show besides Callie and Arizona. While we do have queer characters such as Helm, Casey, and Carina, there haven't been many long-term queer love interests — Erica, Leah, Penny, and Eliza all lasted about a season on Grey's.
Nico will get disciplined.
Because we haven't seen much of this character, it would be interesting to see Nico develop outside of his relationship with Levi. While this pairing could still break up, we might not see the last of Nico yet. Surgeons who made mistakes that have killed or hurt people have still returned. Nico could also get fired or disciplined, then come back, since we've seen this happen with April and Ben.
This situation could escalate into a lawsuit.
It's possible that the patient's family could file a wrongful-death lawsuit. Could Grey's Anatomy give Nico that much time on the show? Probably not, since Landi isn't part of the main cast. Still, it's a possibility that could unfold the same way Alex's trial does after he punches DeLuca. Alex eventually marries Jo and becomes interim chief, so there's hope for Nico and Levi yet.
While we might have to mourn Levi's relationship with Nico, our beloved Glasses probably isn't going anywhere soon. Levi has become more than comic relief as the writers explore his love life and surgical career. We're Team Glasses above all else.
Source: Read Full Article