When it comes to folks who celebrate Christmas, there are two kinds of people: Those who prefer traditionally-decorated trees, and those who like to think a little outside the box. And hey, guess what? If you're an outside-the-box Christmas celebrator, you can easily turn your Christmas tree into a unicorn. All you need is a unicorn tree topper, and you're good to go.
"But wait!" I hear you ask. "How can I get a hold of one of these mythical tree toppers?" Fear not — that's what the internet is for. Given that unicorns have not-so-gradually been taking over spaces both online and off for the past several years, it shouldn't come as a surprise that the world wide web is more than willing to help make your magical unicorn tree happen this year. Are you a unicorn toast enthusiast? A rainbow bagel fan? A lover of pastel-colored hair? Read on, for you, too, can make your tree just as delightful as your favorite snack, hair trend, and more.
When it comes to acquiring a unicorn tree topper, there are two ways you can go about it: You can either make it yourself, or you can have someone else make it for you. Both options are perfectly acceptable; if one or the other is better for you, go for it. Here are a few resources that might help:
DIY It
Yes, I realize that "DIY it" literally means "Do-it-yourself it," but hey, we use DIY as a verb all the time, and that verb need an object, so… here we are.
Anyway.
The whole reason I started looking into different ways turn a tree into a unicorn was because I spotted HelloGiggles' recent tutorial on how to make a unicorn tree topper with nothing but basic crafting supplies and some DIY knowhow, so let's start there, shall we? The video above shows you what each step should look like, while the accompanying article contains detailed instructions. All you need to do to get started is finish off a roll of paper towels and save the cardboard; get some felt, ribbon, glitter craft foam, and metallic string; pick up your needle and thread; and load your hot glue gun.
But although HG's tutorial is probably the most accessible, it's far from the only out there. Subtle Revelry, a blog dedicated to "styling, creating and sharing a lifestyle lived festively," has a slightly different tutorial, for example; a lot of the basics are the same (cut unicorn out of felt, stitch together, stuff with batting, etc.), but the details differ a bit — the mane, for example, is made of yarn tassels, rather than huge pieces of ribbon.
And if you're feeling really ambitious, you can go ahead and make an entire unicorn tree with a little help from DIY YouTuber Kate Albrecht, AKA Mr. Kate. This project is significantly more involved than either HelloGiggles' or Subtle Revelry's; it includes instructions on how to make feathered Christmas lights, unicorn baubles, "snow"-filled ornaments, and, of course, a unicorn horn topper. If you undertake this challenge, you are braver than I — but then again, you're also probably craftier than I, so whereas my own attempts would probably end in disaster, yours will likely look delightful.
Buy It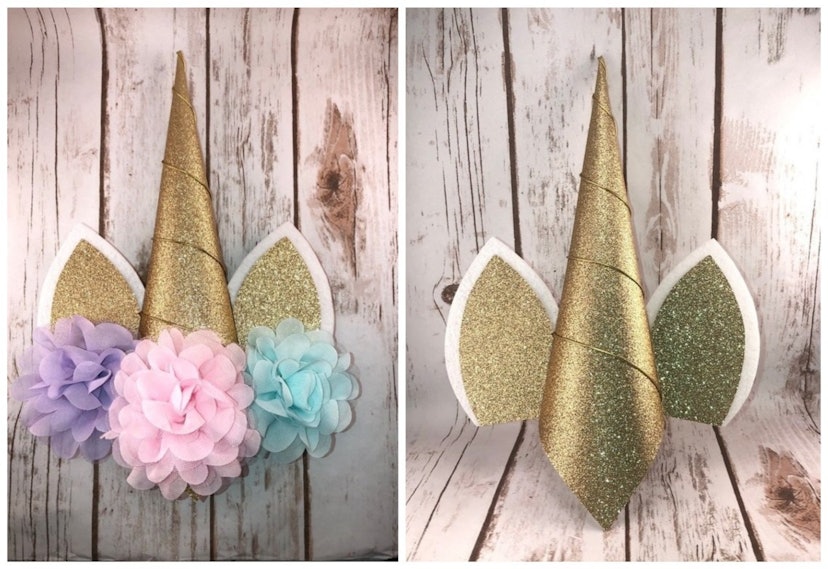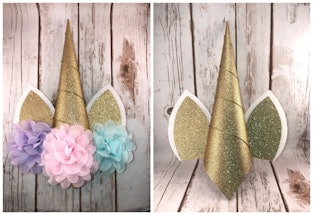 Unicorn Tree Topper
$15.95
Etsy.com
For those of you who are sitting in the same "Oh noes, I am a crafting disaster!" boat as me, though, good news: There are also a number of unicorn-themed tree toppers available for purchase through the wonders of Etsy. That one up top is my favorite; handmade by Pennsylvania-based Etsy seller Bella Bowtique Designs, you can get it in either gold or silver and with or without flowers.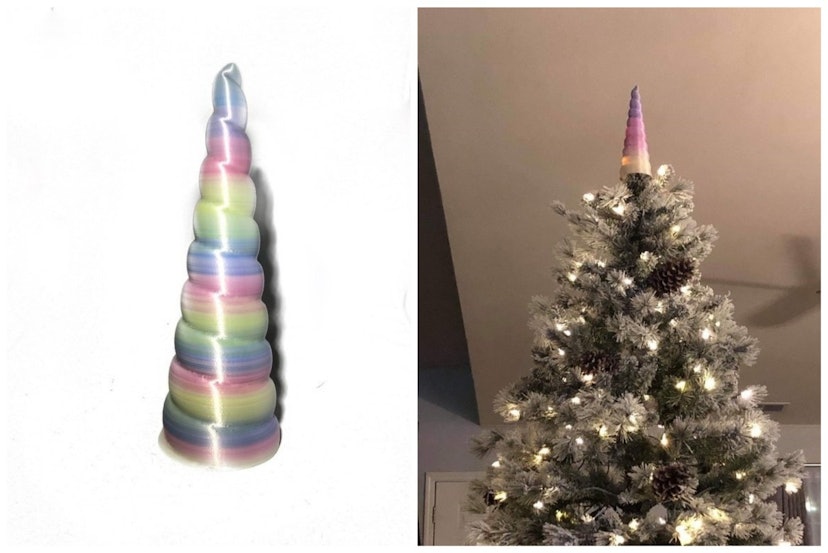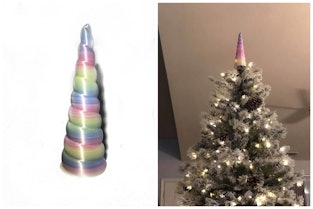 Unicorn Horn Tree Topper
$18.95
$17.05
Etsy.com
If you want a unicorn horn only — no ears; just the horn — there's also this option from 3D Visuals And Design Co., which is based out of California. The horn is 3D-printed, which is pretty rad; it's available in a whole range of colors, including the pastel rainbow one seen here.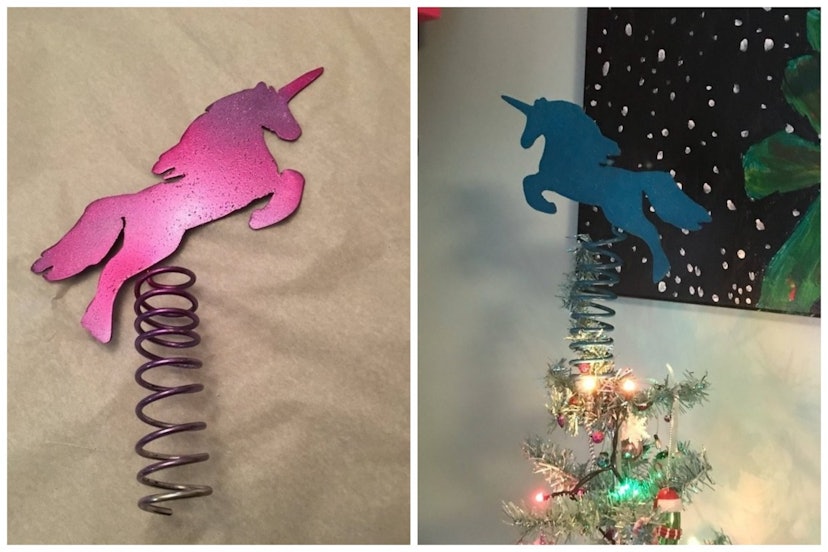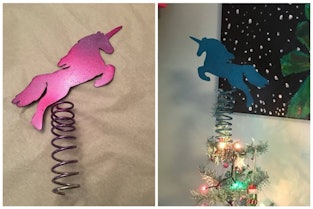 Unicorn Tree Topper
$20
Etsy.com
And lastly, if you just want to slap a whole unicorn at the top of your tree, there's this pick from Saugerties, New York Etsy seller Tutti Toppers by JD. Made of aluminum, you can get it in blue, pink, purple, and multi, as well as in a few different sizes.
And there you have it: Two easy ways to make your Christmas tree into a unicorn. May your holidays be as magical as the mythical creatures you revere.
Source: Read Full Article