Hello there! Elizabeth Holmes is in a committed relationship and has a cute baby, while the rest of us can't even get a text back! ICYMI, Elizabeth, lover of black turtlenecks, was charged with nine counts of wire fraud and two counts of conspiracy to commit wire fraud in summer 2018. All thanks to allegedly hustling, scamming, and bamboozling the entire world (but especially poor Walgreens) by claiming her company Theranos could run medical tests using a single drop of blood.
Since her infamous (alleged!) web of lies, Elizabeth went from topping the Forbes 2015 list of America's Wealthiest Self-Made Women and having $4.5 billion to her name…to having her net worth plummet to quite literally zero. And now? Now she's in the middle of a federal fraud and conspiracy trial, which could put her in jail for 20 years if she's found guilty (note: she's pleaded not guilty to all charges). But just because Elizabeth has been busy dealing with legal troubles, doesn't mean she hasn't had time to find love! (Alleged) scammers have feelings too! Which brings us to Billy Evans.
Billy and Elizabeth just welcomed a baby in July (one of the reasons her trial was delayed) so let's get to know him a bit better, eh?
Billy is the heir to a hospitality company
Said company is the Evans Hotel Group, which sounds pretty fancy. It was founded by Billy's grandparents William and Anne Evans in 1953, and they own a bunch of major California resorts. So…at least Elizabeth has somewhere nice to crash if she doesn't end up behind bars? Let's stay positive! And let's enjoy this extremely blurry LinkedIn picture of Billy!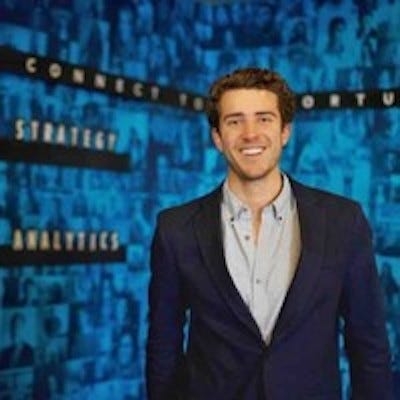 According to the Daily Mail, Billy, who used to work at self-driving car company Luminar as the director of special projects, was raised in San Diego and attended college at MIT. His LinkedIn page indicates that he left his job in January 2019 and hasn't started a new one yet. Probably too busy living that Scamstagram Boyfriend Life.
Elizabeth wears his MIT signet ring around her neck
The ring was spotted in pics Elizabeth and Billy posted to their private social media accounts, which Vanity Fair reporter Nick Bilton shared on Twitter. FYI, in one of the captions, Billy writes, "Happy bday to my best friend. The last year has been the best I've ever had."
Source: Read Full Article