Tom Hanks will play public television icon Mr. Rogers in an upcoming biopic about the child educator's life.
The role seems tailor-made for the nicest guy in Hollywood. Tom Hanks will don the red cardigan and blue sneakers of the world's greatest children's entertainment star, Fred Rogers, better known by his stage name of Mr. Rogers, in an upcoming movie titled You Are My Friend.
For decades, the grandfatherly Rogers graced public television with a simple message of friendship, empathy, and understanding that spoke to not just children but adults from all walks of life. Fred Rogers was held in such high regards that he was given awards, honorary degrees, and met with sitting Presidents. Upon his death in 2003, Rogers was given full, front page obituaries and received a monument in his hometown of Pittsburgh, Pennsylvania.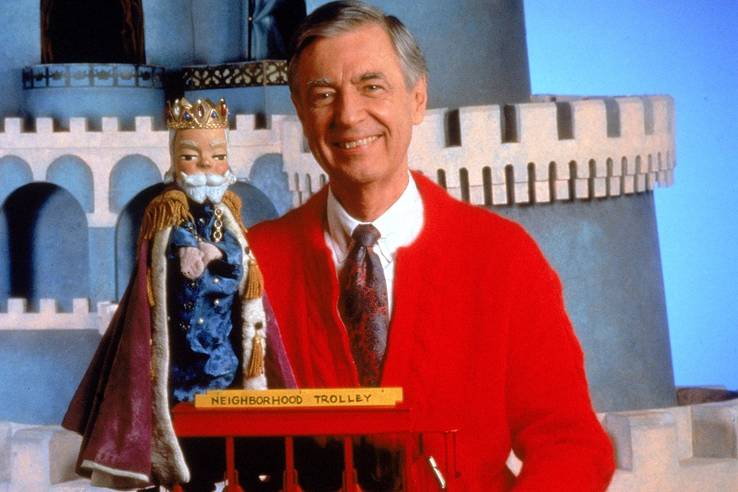 The movie will be directed by Marielle Heller and based on a script written by Micah Fitzerman-Blue and Noah Harpster. The story will focus on Tom Junod, a journalist who was tasked with creating a television profile for the host of Mr. Rogers' Neighborhood. Over the course of his project, he develops a strong friendship with Rogers and drastically affects his life for the better.
Junod eventually wrote the famous 1998 profile found in Esquire magazine.
Speaking to Variety, Heller expressed enthusiasm for the upcoming movie. "I'm thrilled to be making You Are My Friend," Heller said. "The script knocked me out with its message of kindness and its exploration of the human spirit. As a mother, I am so inspired by the teachings of Fred Rogers and as a human I am in awe of his life's work. I can't wait to bring his story to the public and be a part of such a thoughtful, smart group of people who are all coming together to make this film, which truly feels to me like an antidote to our very fractured culture."
Fred Rogers is having a bit of a renaissance of late. The documentary Won't You Be My Neighbor? recently debuted at the Sundance Film Festival. The film followed Rogers' decades-long career in children's entertainment, providing archival footage and rarely-seen interviews.
Production has yet to start on You Are My Friend, but hopefully it'll happen sooner rather than later. We could all use a friend right about now.
Source: Read Full Article