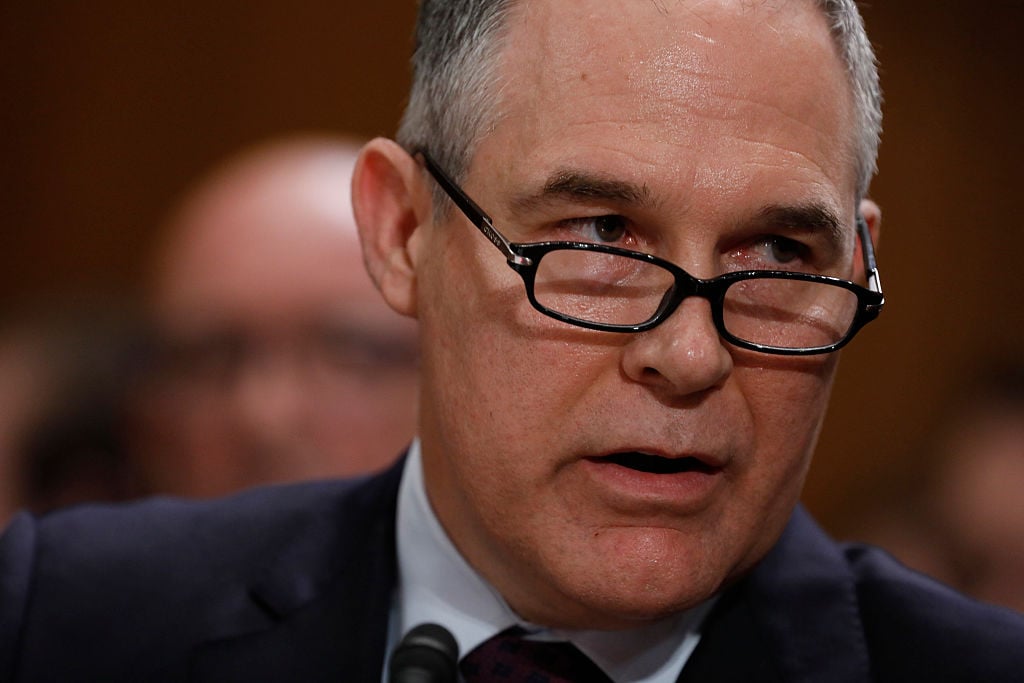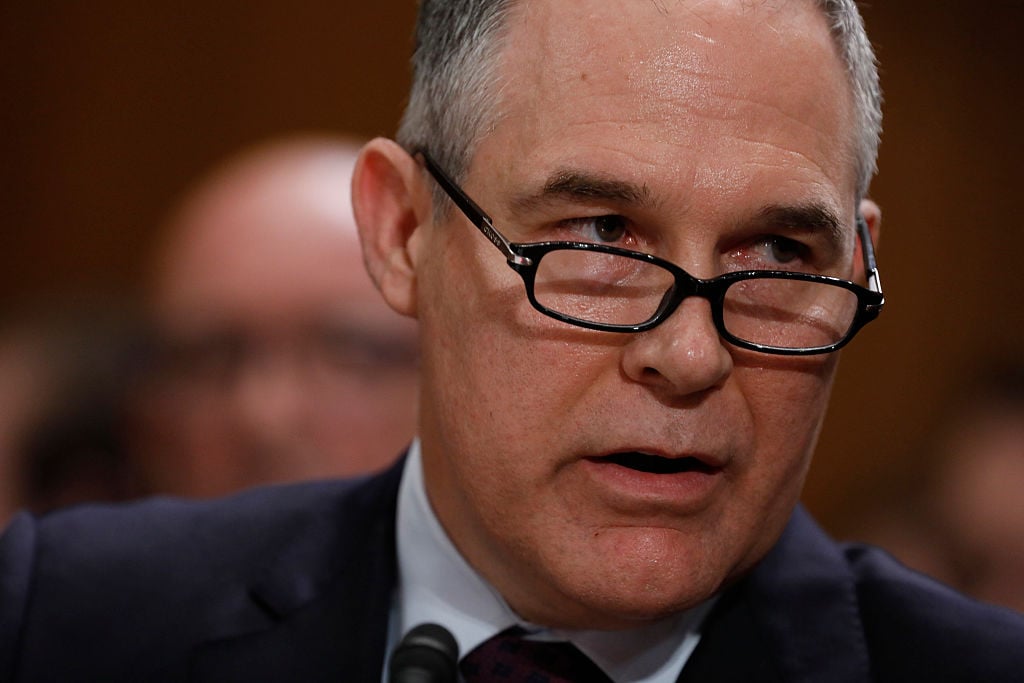 Scott Pruitt | Aaron P. Bernstein/Getty Images
For most of 2018, we've heard calls for the resignation of Scott Pruitt, the new face of corruption in America. Ever since taxpayers learned about Pruitt's taste for luxury travel, fine dining, and high-end goods, the EPA chief's scandal-plagued tenure seemed doomed.
Yet Donald Trump has remained a loyal supporter of Pruitt through it all, as have most members of the Republican Party. The reason is clear: The GOP prizes Pruitt's close connections to the heads of polluting industries, including the Koch Brothers.
Those ties seemed hard to break — until now. On June 18, the auto industry's top trade publication, Automotive News, officially turned its back on Pruitt with a scathing editorial. Here's why even an industry that can benefit from Pruitt's policies called for his resignation.
A lack of integrity
"Political views aside, a serious industry deserves a serious regulator, a public servant of proven integrity who lives by at least a baseline standard of propriety," the editorial board wrote. "Scott Pruitt is none of those things."
While the short piece did not cite any specific Pruitt scandal, there are enough examples to fill a long list. For example, in just over one year, Pruitt's offenses include:
Renting an oil lobbyist's apartment at $50 a night in an expensive D.C. neighborhood
Wasting $43,000 on a soundproof booth for his office
Spending over $100,000 on luxury and military jet travel
Asking his security detail to run his car's sirens so he can make dinner reservations
Lying about raises he gave to employees, who were old friends from Oklahoma
Of course, there are many more "tawdry" examples available, including Pruitt's use of aides to run personal errands for him — all while on the taxpayer's dime.
The Automotive News editorial noted Pruitt can be "a handy political ally" but disparaged "his conduct in office." It described the EPA chief's behavior as "anathema to everything the auto industry would expect of its own employees."
In short, it sounded like the man who promised the auto industry weaker fuel economy regulations could not earn its respect. The editorial ends with one of the hardest hits on Pruitt we've heard to date.
"He should resign before he embarrasses the auto industry, and the nation, further."
Pruitt's 13 ethics investigations haven't moved the GOP.
While 169 Democratic lawmakers (plus Bernie Sanders) have called for Pruitt's resignation, nearly every Republican in Congress continues supporting him. The closest Sen. Jim Inhofe (R-Oklahoma) came to condemning Pruitt's behavior was saying "something needs to happen to change that." But Inhofe couldn't say a negative word about him.
So despite 13 separate ethics investigations, and even the loss of the auto industry, Pruitt stayed on in Trump's Cabinet as of the third week of June. Something tells us he'll be featured in several campaign commercials this fall. By then, Republicans will learn to sing the tune most of America memorized months ago.
Check out The Cheat Sheet on Facebook! 
Source: Read Full Article