Image Source: Getty / Bennett Raglin
When it's time for our interview, Trixie Mattel swishes into POPSUGAR's LA office like a fierce Spring breeze. It's a warm day, but she's in full drag; I've caught her at the perfect moment. It's early April, a few short weeks after her fantastic RuPaul's Drag Race All-Stars 3 victory and mere days before she kicks off the tour for her second mini album, One Stone.
We proceed to the green room, where she changes immediately. It's a busy press day, so she's prepped multiple wigs and outfits to keep things fresh. She looks over her shoulder and says, "I sat through a 40-minute car ride while wearing a corset. Can you imagine?" She pops off her shoes, cracks open the LaCroix I've offered her, finishes up her outfit overhaul, and sits on the couch.
She's kind, gracious, and game for any question I might have . . . just as long as she can leave in time to make it to her next gig of the day. Clearly, in this moment, Trixie is at the top of her drag game, and it's not because of her All-Stars win. No, Trixie was on the grind much sooner: after getting eliminated from RuPaul's Drag Race season seven not once but twice in 2015. In the three years since, her career has only snowballed, with one exciting opportunity invariably rolling into the next.
Just one year after her stint on Drag Race, Trixie launched a World of Wonder YouTube talk show with fellow Drag Race alum Katya Zamolodchikova. The debut episode of UNHhhh dropped on March 25, 2016; the web series was a weekly exploration of all sorts of random topics, from "Beauty Tips" to "Drag Show Etiquette" to a riff-off of the funniest drag names in the game. After garnering millions of views per episode, the show turned into The Trixie & Katya Show on Viceland. Last year, Trixie returned to her country music roots with her own country folk album, called Two Birds. The album received critical acclaim, and Trixie did a modest but mighty tour around the country.
Then, of course, there's RuPaul's Drag Race All-Stars; we all know how that panned out. It's clear this is one queen who can spin straw into gold, and no matter how the odds are stacked against her, she'll be able to come out on top. This year is poised to be her biggest ever. With a crown on her head, a second album on iTunes, another tour, and who-knows-what-else, the sky's the limit for Trixie.
Fresh off her win, we spoke with Trixie about the weeks following her victory, plus the next explosive event in the drag world. RuPaul's DragCon will descend on Los Angeles on May 11, 12, and 13, and around 100 drag stars will all be under one roof. In between her myriad jokes — there were too many to count — Trixie offered a preview of what we can expect and even took a bit of time to offer us some practical advice about taking over the world and blocking out the haters.

POPSUGAR: Let's start with DragCon. For the people who are more recent drag fans, or drag newbies, or people who have just never been before, what can they expect going into the weekend?
Trixie Mattel: It's the Mall of America of cross-dressing. It's everything. You could walk in there, naked and afraid. That's what I do. And you could leave there in literally a corset, a wig, a bra, nails, jewelry, makeup. Full face of makeup. You could leave there in drag.
PS: And you're kicking things off on Friday with a performance, right?
TM: In true Trixie Mattel style, I'm flying in that morning, immediately getting in drag, and then going to give a private special acoustic performance. And my acoustic sets are unique in that I play covers and some of my own music, but I also build stand-up into the sets. So it's chunks of stand-up, song, chunks of stand-up, song. And because it's DragCon . . . I'm going to take some of my favorite drag queens' club hits, like Alaska's "This Is My Hair," and "Purse First," and I'm going to do them in a Dave Matthews way.
PS: Oh, I love that.
TM: To show what's possible when you want to really squeeze the life and fun out of a song. Let me do it.
PS: Exactly, yeah. And this year, we're getting this giant installation, the workroom. Is that going to trigger you?
TM: Oh, I'm not going in there [laughter]. I'm not f*cking going in there. I'm never going in there. Never going in there ever again. I mean, for what?
PS: Yes!
TM: It's very popular if you talk to like Bob the Drag Queen or Jinkx [Monsoon]. They have all these fond memories of Drag Race. I'm fully Saving Private Ryan.
PS: Just, like, war flashbacks.
TM: Limbs flying off. Why do you think I'm wearing this long bang? Half my face is burned off [laughs]. No one even talks about that.
PS: I mean, we don't hear a lot. Or there's no way we can get the full picture of what happens, but it sounds grueling.
TM: It's horrible. I mean, it's TV, it's supposed to look fun. But in real life, you're just like . . . if you're like Shangela or BeBe [Zahara Benet], you're fearless. But if you're me, every moment is like pulse-pounding horror. And going back, I mean, I knew what to expect going back.
PS: But it only made it worse.
TM: What's worse? Your first trip to the dentist or your second, after you got all your teeth pulled?
PS: But this was the best-case scenario situation. You won!
TM: Yes. I left with a full set of porcelain veneers.
PS: I know it hasn't been long since you won All-Stars, but how has it shifted after this second round?
TM: At the risk of sounding like a piece of sh*t from hell, I think being an All-Star is proving that you don't need a crown to accomplish whatever you want. So for me, there's a crown and scepter in my garage, but I was going to do everything I'm doing right now anyway. I would still be here right now. I've still lost Drag Race once and won once. No, I lost twice and won once. So, I'm still a two-time loser. That's the way karma works. So for me, it's like I'm happy to have won. But in a weird way, a lot of what I've accomplished, I've accomplished as a loser and I'm very proud of that.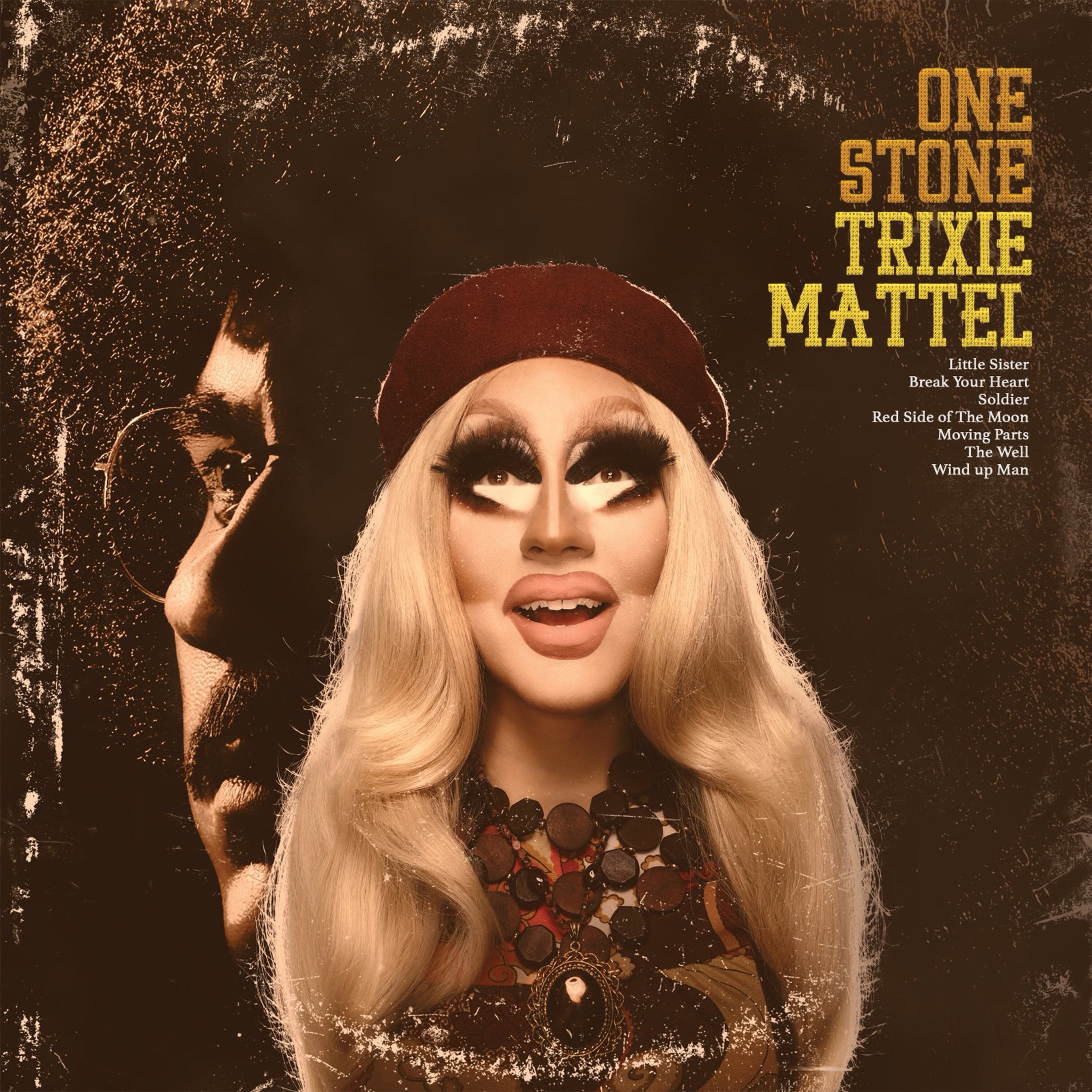 PS: Let's talk about One Stone. What was the process of writing these two mini albums like? Was there a lot of heartbreak for you to draw from?
TM: Well, the first album I [had] recently broken up with somebody and I thought it was the one. I was like, "Great." And then it didn't work out and then you feel so horrible. So that album, the style is like radio '50s country music, and the sentiment is very "Why me? Why me? Someone did something to me and here's a bunch of metaphors about how I feel about it."
PS: For me, one of the most striking lyrics is from "Moving Parts." You sing, "No one gave a warning to the breaking of your heart." It hits you like an arrow.
TM: Well, it's sort of like a "nobody told you life would be fair" kind of thing . . . One Stone is a little bit introspective. It's looking at Two Birds and it's going like, "Well, maybe the problem's you." On "Moving Parts," where that lyric's from, that song is all about the fact that part of growing up is realizing when one thing moves into place, three other things are going to shift out of place. That's just how it's always going to be.
PS: In recent interviews, you've talked about blocking out the haters and not really listening to what they have to say. And I imagine a lot of being a drag queen is letting it roll off your back. Are there ever moments where it does leak in, or you have a bad day, or you happen to see a comment out of context and it gets to you?
TM: To be honest and to be truthful, there are 24 hours a day. There might be five minutes a day where I'm like, "What if I'm garbage?" But then, five minutes later, I'm like, "Oh, that's right. I'm amazing." And honestly, we should all feel like that.
PS: Oh, absolutely.
TM: We should all carry ourselves with the confidence of BeBe Zahara Benet. That is an asset.
PS: But when you have these days, or these hours or these minutes — when you're feeling discouraged or unhappy with where you're at — how do you snap yourself out of that?
TM: RuPaul always says the call's coming from inside the house. It's one of my favorite RuPaul quotes. It must be, because it means nobody wants you to fail or wants bad things for you. You just bring that on yourself. You think about that crazy. I mean, some days you just need to put on a neck brace, pop in the VHS of Harriet the Spy, and just dissociate.
PS: That's your self-care.
TM: Yeah. But for me, for real? I mean, when I'm writing this music, sitting in my bathroom on the floor drinking a Red Bull, playing my guitar, I'm like, "What if everyone hates it?" But then I'm like, "I'm writing it anyway. I'm not writing it for other people." I mean, you don't pick this kind of drag because you think everyone's going to think it's the best one.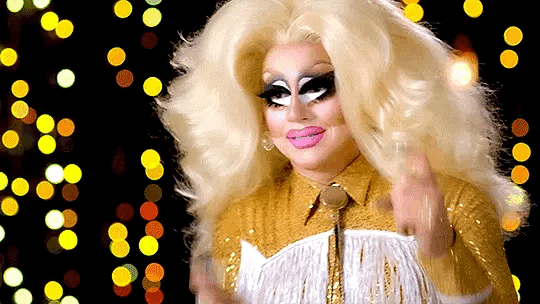 Image Source: VH1
PS: There you go. What's something now, even with drag becoming more mainstream, what's something you still think is a misconception about being a drag queen?
TM: Oh, you know what's funny? Drag queens, especially being a musician, I've found that people go, "I listen to your album and I actually liked it." And I'm like, "You didn't walk into a discussion of people not liking it. You just saw a wig and you thought there's no way there could be anything intelligent coming from that person." Tell that to every very Jewish woman who wears a wig. RuPaul always talks about the lines blurring and over time we're all realizing that everything's drag. How is me in a wig and a dress different than not? People are like, "I don't like drag. It's not my thing." Well, do you like the movie White Chicks? Do you like Mrs. Doubtfire? You do like drag. You just don't even think about it when you see it. I think it's funny, watching the world catch up with drag.
PS: I've heard Ru say before that people used to just write off drag queens, or just say, "Oh, it's just like a person in a wig or whatever." But now people are realizing that drag is an art form, and these artists are capable of other kinds of great art.
TM: Yeah. Drag is also secondary . . . We're more than just looks. This is the candy wrapper but what you're really in for is the candy bar.
PS: Can you share a fun story from your early drag days?
TM: Oh, this is a great story. I went to a club at 21. It was my birthday and I went. I'd been doing drag since I was 18 and I was like, "I'm going to f*ck it and shake. I'm going to show them everything. They're going to live." So I go to the club on my birthday. BeBe Zahara Benet is performing in Milwaukee, WI. I go to see BeBe Zahara Benet, in drag by myself, at a club where I don't know anyone. And then afterward I go to the meet and greet, and I shake her hand, and she says, "Keep doing drag. It'll take you anywhere."
PS: Oh my god.
TM: And then I beat her ass. She should have told me to stop.
Source: Read Full Article