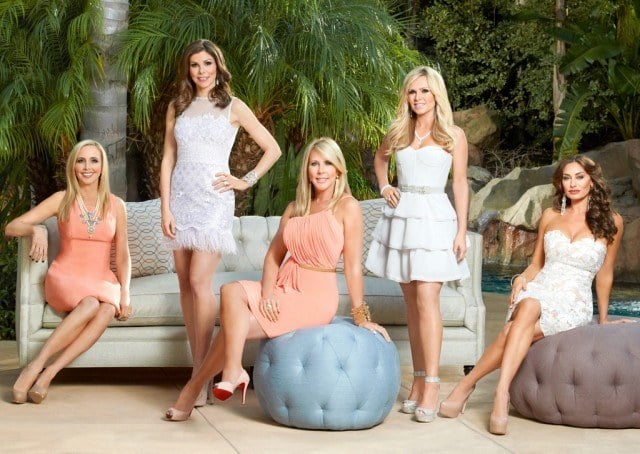 RHOC Tamra Judge's husband Eddie is dealing with Afib.
While Tamra Judge from the Real Housewives of Orange County spent a good chunk of season 13 hobbling around on a scooter thanks to a broken foot, her husband Eddie was fighting a more serious issue.
Eddie, a fitness fanatic and owner of CUT Fitness, was initially hospitalized and underwent a procedure called a cardioversion for Atrial fibrillation (Afib), which is an irregular heartbeat, People reports. The show documented Tamra's devastation following the procedure when it was not successful. Eddie ended up having additional surgeries and procedures to correct Afib, which appears to be neverending.
So what is Afib and how does someone so fit and healthy end up with a heart condition like this? Also, where does Eddie stand with his health?
What is Afib?
Atrial fibrillation, commonly known as Afib is when the two small upper chambers in the heart don't beat properly, according to the American Heart Association. Instead of a normal heartbeat, beats are too fast and irregular.
What are the symptoms of Afib?
One major warning sign is an irregular or fast heartbeat, the American Heart Association reports. A fast heartbeat is how Eddie learned of his condition. "He had noticed his heart rate was getting up to 240, 250, 260 beats a minute when he was working out — which is dangerous," Tamra said in an episode, according to People. " And he needs heart surgery. So they're going in and cauterizing part of his heart."
Other warning signs include heart palpitations, dizziness, sweating, chest pains or pressure. Also, shortness of breath, anxiety and getting easily tired while exercising are other signs.
Is Afib serious?
The American Heart Association says Afib is a condition you can live with. However, Afib can lead to other serious conditions like stroke, heart failure, chronic fatigue, and additional heart rhythm issues.
How is Afib treated?
Throughout season 13, Eddie is filmed checking in and out of the hospital for cardioversions, but also ablations, which is a surgical procedure that builds scar tissue inside the heart, People reports. Eddie also takes medication too, which could include beta blockers, digitalis, calcium channel blockers or amiodarone, which slows the heart rate. He may also be taking blood thinners to avoid blood clots.
How many procedures has Eddie had?
Eddie has undergone a number of both cardioversions and ablations. "He's had, now, six heart procedures," Tamra tells ET. "Two invasive heart procedures, which would be the ablation, where they go in through the groin and through the vein in the neck and kind of cauterize the parts of the heart that are not beating properly and where the problem areas are. And then, you have to stay on medication. He's been on heart medication, beta blockers, blood thinners for nine months now. Then you have wait three months to see if it worked. So, it's a process."
Despite treatment, this is how Eddie feels
Tamran told ET despite multiple procedures and medication, Eddie wakes up with his heart racing so fast, it resembles the heart rate of someone who just finished running a marathon.
"He'll be sitting on the couch sometimes and be like…" she said to ET. 'And I'm like, 'Is this the big one? Do I need to call?!' I freak out! And he's like, 'My heart's freaking out. I don't know.' And he'll just lay on the ground or something and take deep breaths."
How did someone so fit get this?
Doctors have yet to identify a cause for Eddie's Afib, according to ET. However, Tamra says, "I mean, this is my 46-year-old husband! I'm like, why? He's fit! What is going on? But this is not totally uncommon with cyclists, and we're finding that out more and more … just any kind of endurance athlete. They pump so much blood through their heart. So, it causes problems and… I mean, I don't know all the medical terms. But, a few of his other cyclist friends have had it. Something, it comes and goes, where his is just persistent."
What is Eddie's current health status?
After Eddie's third ablation, Tamra shared some good news on Instagram. The image shows Eddie with his doctor and the caption: "THANK YOU for all your prayers, messages and calls. But most of all thank you Dr. Andrea Natale & team for working so hard to fix my husband (broken heart) It's been a long road and lot more difficult than anyone expected, confident this did the trick. Now it's time to let your sweet heart  heal my love."
In fact, Tamra and Eddie celebrated recently with an 18-mile bike ride, which Tamra posted to Instagram.
Check out The Cheat Sheet on Facebook!
Source: Read Full Article