Congratulations, you're engaged! The engagement party is the first of many events where all eyes will be on you. Don't stress–use the excuse to invest in your first of many bridal looks to set the stage for your bridal style. Don't limit yourself to only white, ivory and blush, and dare to be different. There are no hard and fast rules–it's your party after all.
Whether your style is fashion-forward and totally trendy, laidback with a side of sexy, or traditional all the way, here are the 25 looks we're loving for your first official wedding celebration–and that you can shop right now.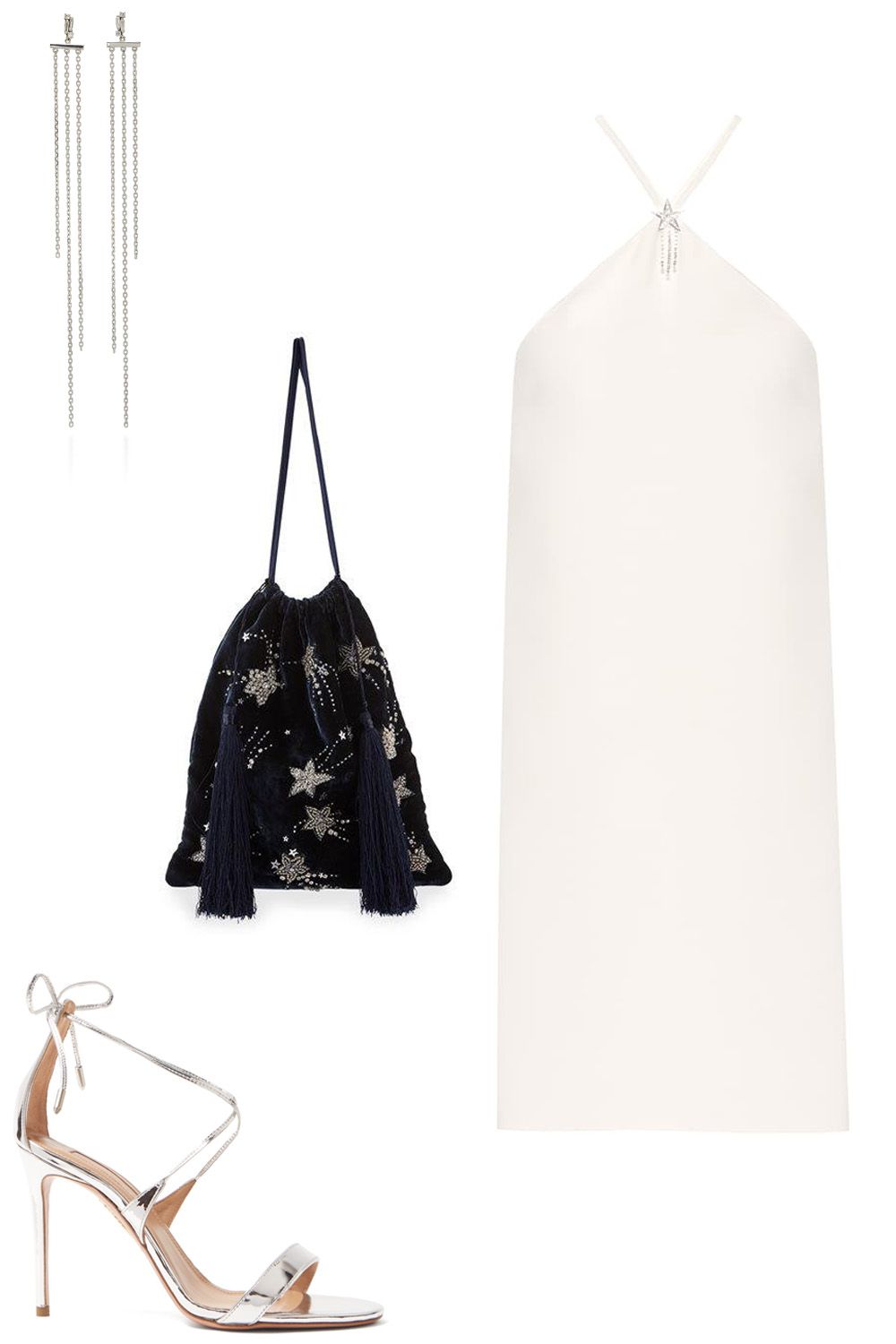 Embrace a celestial theme, but reinvent the wheel. Instead of a dreamy, ethereal vibe, opt for sleek shapes and keep the accessories minimal.
Miu Miu mini dress, $1,825, mytheresa.com; Suzanne Kalan diamond earrings, $1,300, modaoperandi.com; Attico velvet stars and moon bag, $670, bergdorfgoodman.com; Aquazurra sandals, $567, matchesfashion.com.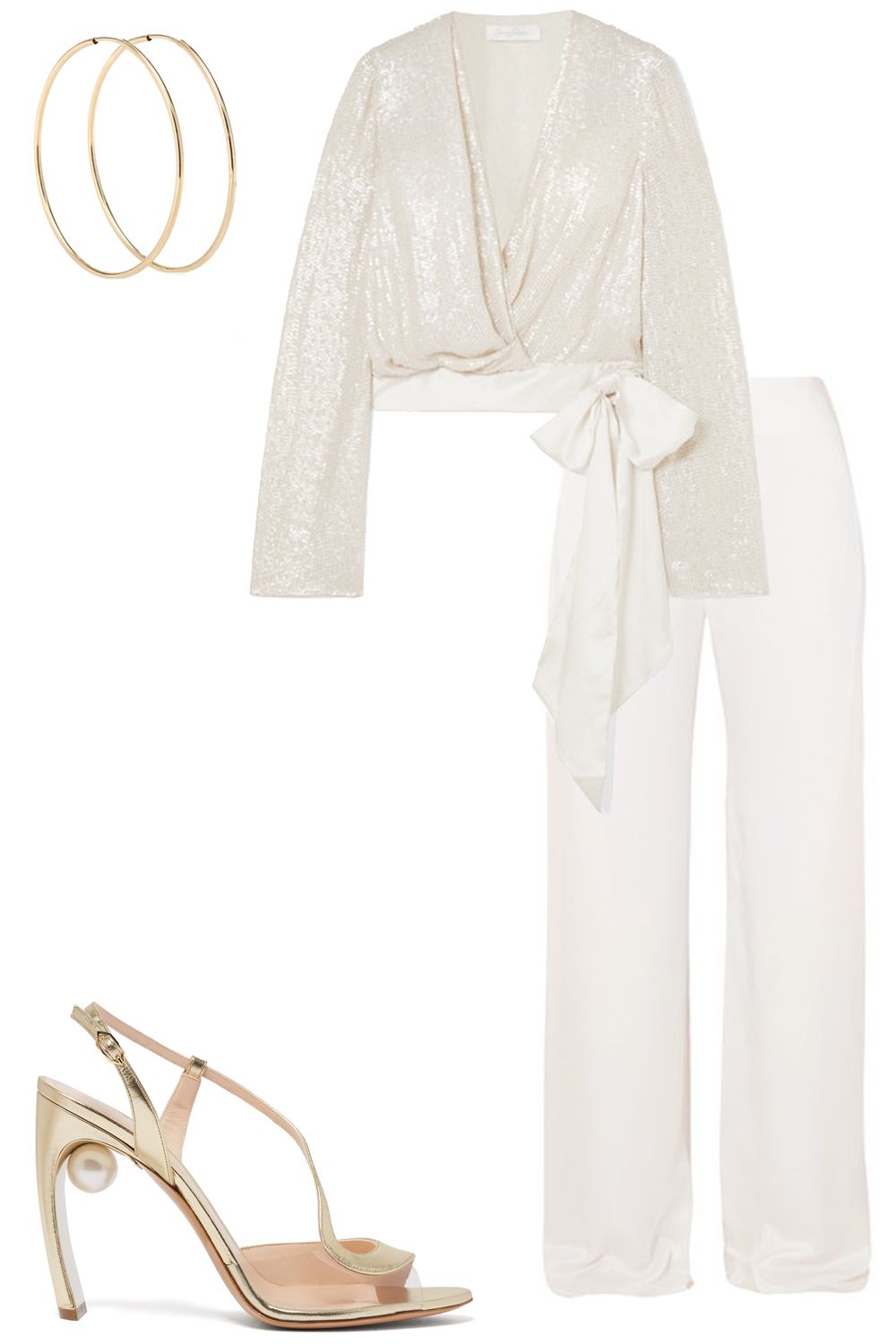 Step up a vintage vibe with the sparkle of sequins and sheen of a satin palazzo pant for an effortlessly sultry vibe. Thin, over-sized hoop earrings and a trendy sandal complete this two-piece look–top it off with voluminous curls, or a textured ponytail.
Jenny Packham 'Penelope' sequined silk-chiffon blouse, $1,890, net-a-porter.com; Jenny Packham 'Selina' satin wide-leg pants, $1,200, net-a-porter.com; Loren Stewart 'Nakita' gold hoop earrings, $225, mytheresa.com; Nicholas Kirkwood pearl-heeled sandal, $838, matchesfashion.com.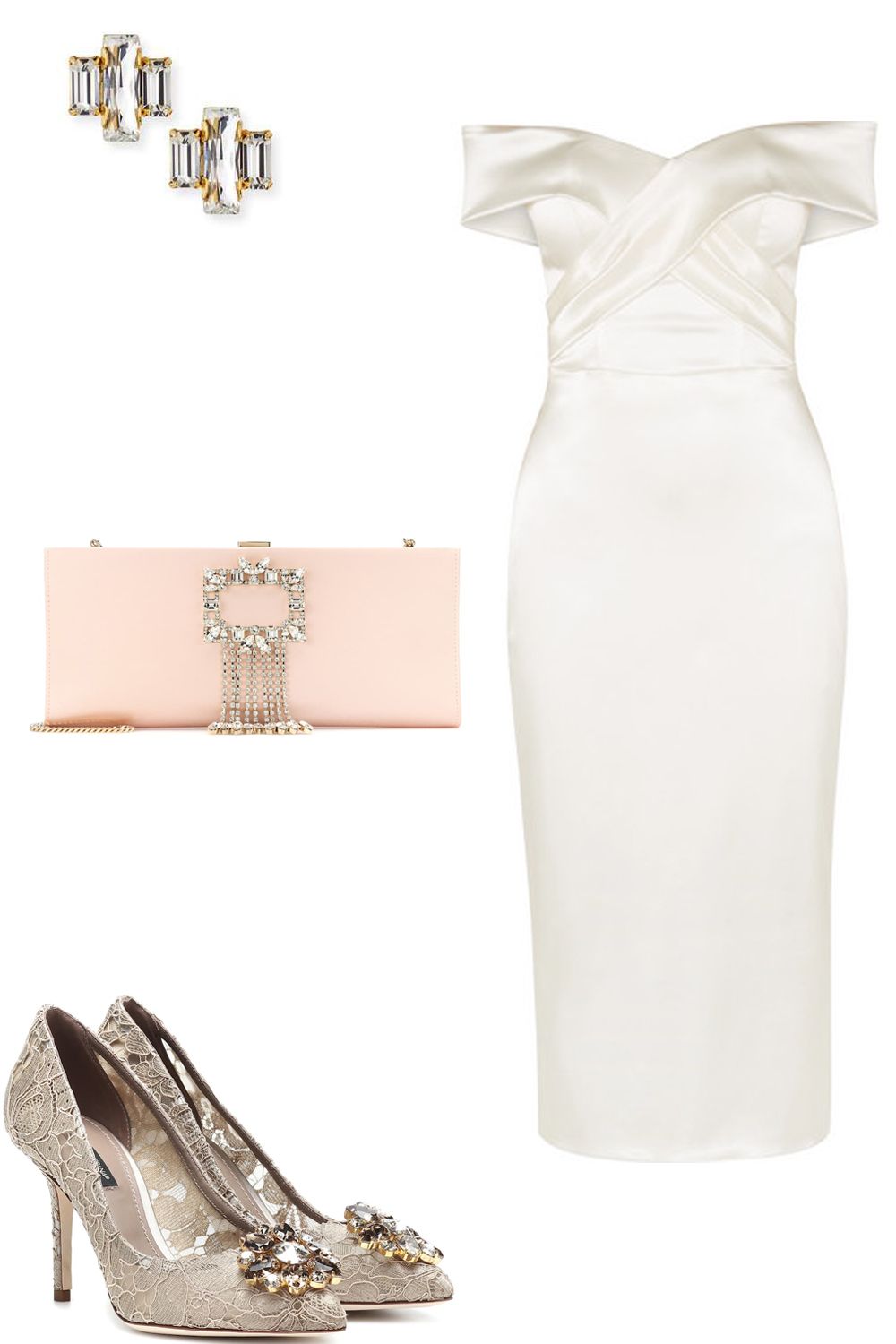 Traditional and classic don't have to be boring. Kick uptown girl up a notch with an off-the-shoulder, fully-fitted midi dress. Nod to old-school elements with a brooch-clad satin clutch and classic lace pumps. Cap off the look with a sleek, low ponytail. or an easy chignon.
Halfpenny London 'Kelly' off-the-shoulder satin midi dress, $2,345, net-a-porter.com; Auden crystal earrings, $138, bergdorfgoodman.com; Roger Vivier satin clutch, $2,550, mytheresa.com; Dolce & Gabbana 'Belluci' lace pumps, $995, mytheresa.com.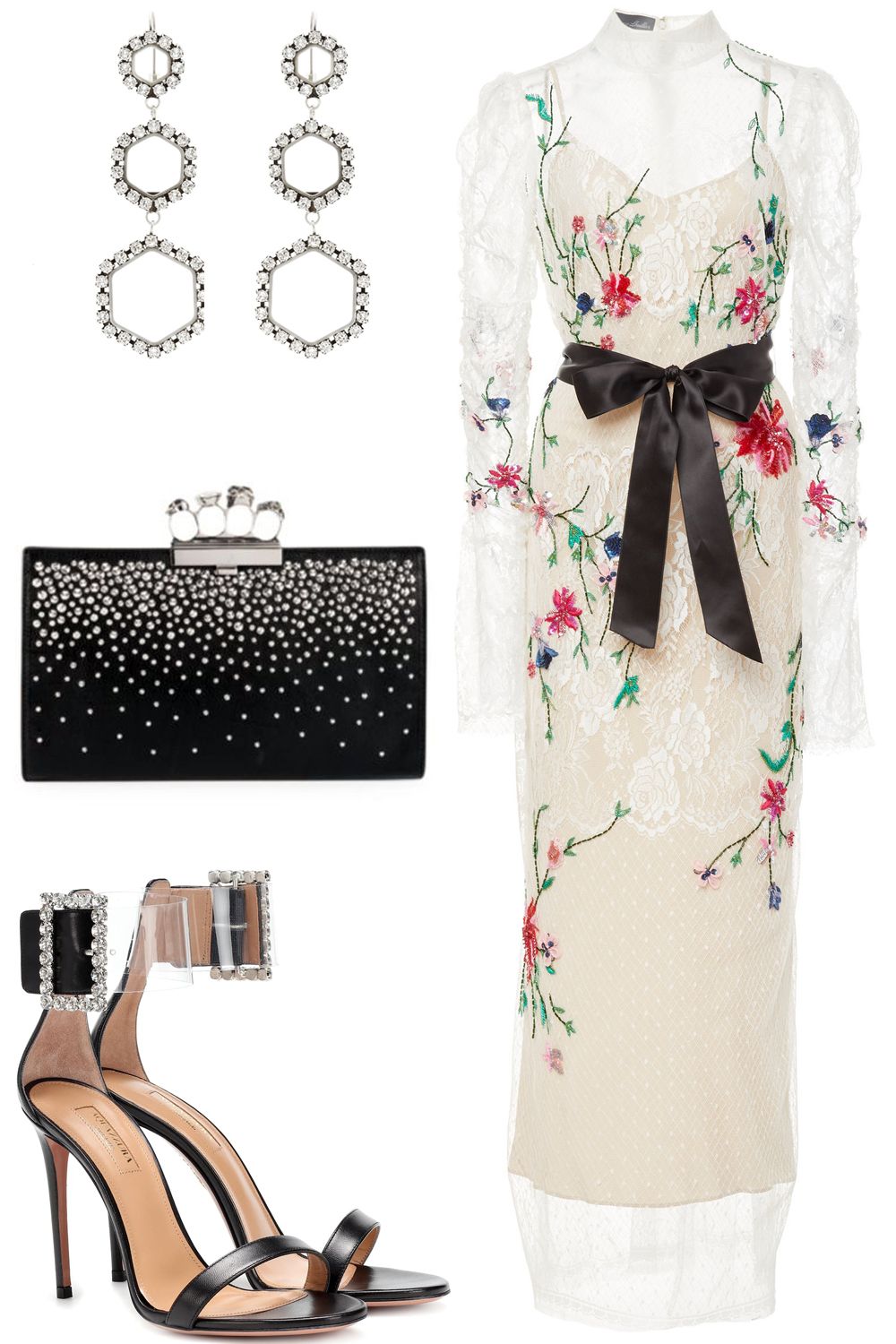 Florals aren't strictly for summer affairs or garden parties. Edge up your romantic style with touches of black to take your warm-weather look through the winter months and to a more formal evening cocktail.
Monique Lhuillier floral-embroidered silk lace midi dress, $6,995, modaoperandi.com; Isabel Marant crystal earrings, $396, matchesfashion.com; Alexander McQueen four-ring clutch, $2,095, saksfiftheavenue.com; Aquazurra embellished sandals, $895, mytheresa.com.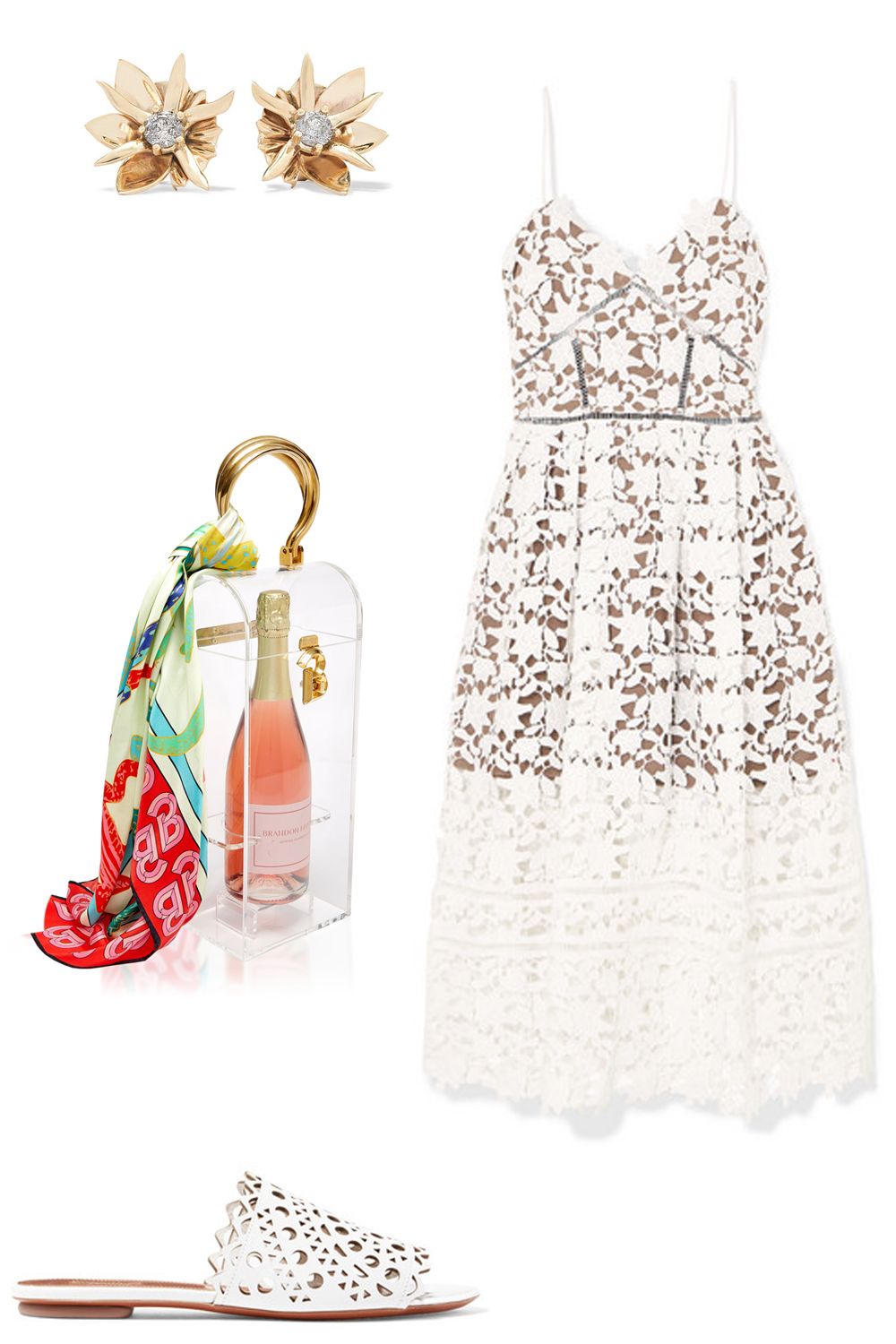 Amp up a day-time look with playful accessories–like a bold bag or earring–for a ladylike style that feels fresh and feminine, without taking yourself too seriously.
Self-Portrait 'Azaelea' guipure lace dress, $350, net-a-porter.com; Meadowlark 'Wildflower' diamond earrings, $2,065, net-a-porter.com; Brandon Maxwell champagne box, $1,795, modaoperandi.com; ALAÏA leather-cut slides, $850, net-a-porter.com.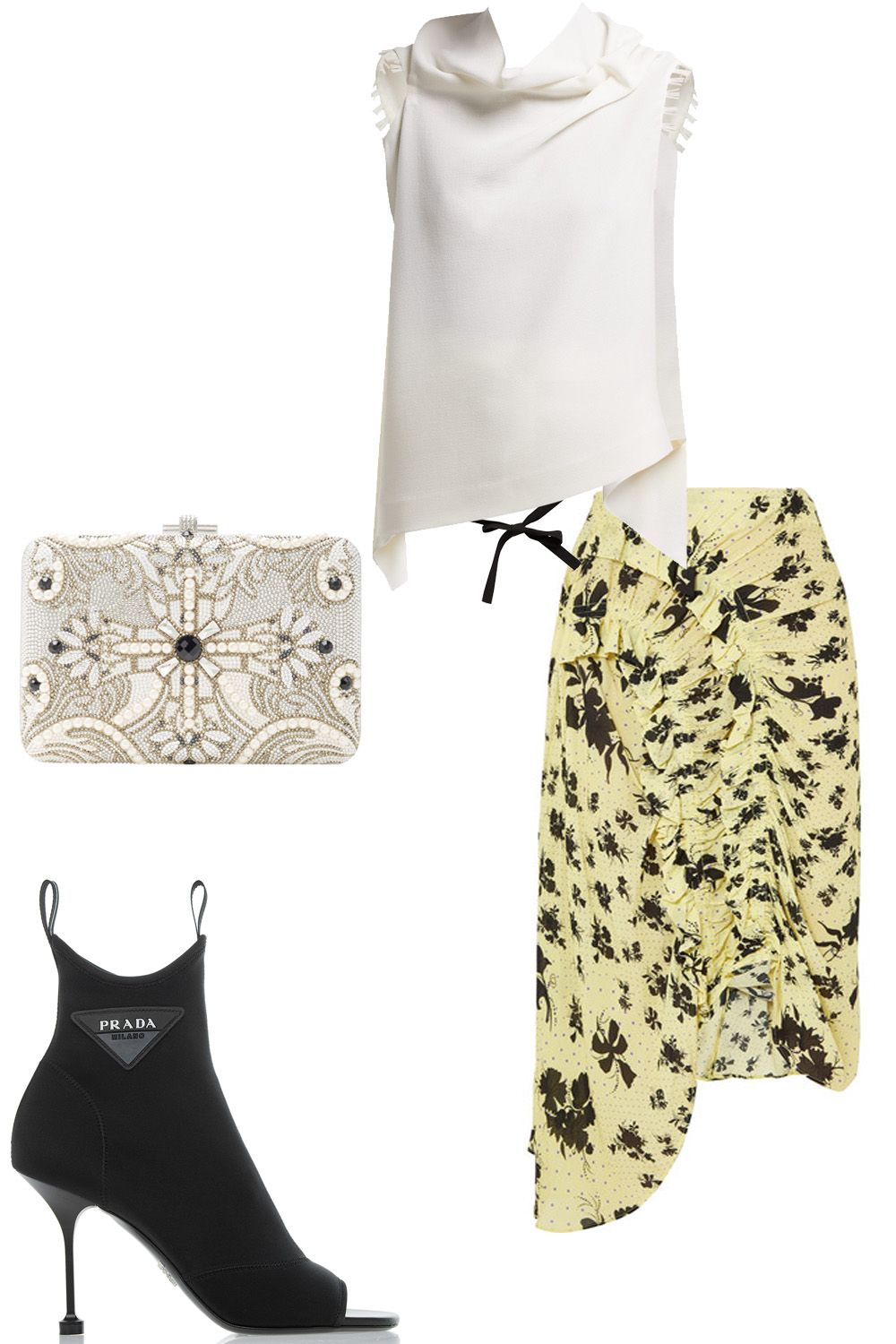 Use this party as an opportunity to invest in pieces you'll wear long after the wedding. Touches of black and pops of color will still feel bridal if you dress them up with an evening clutch and a bold shoe.
Roland Mouret 'Eugene' draped wool-crepe top, $580, matchesfashion.com; Preen Line ruffled skirt, $405, net-a-porter.com; Judith Leiber clutch, $4,195, modaoperandi.com; Prada booties, $890, modaoperandi.com.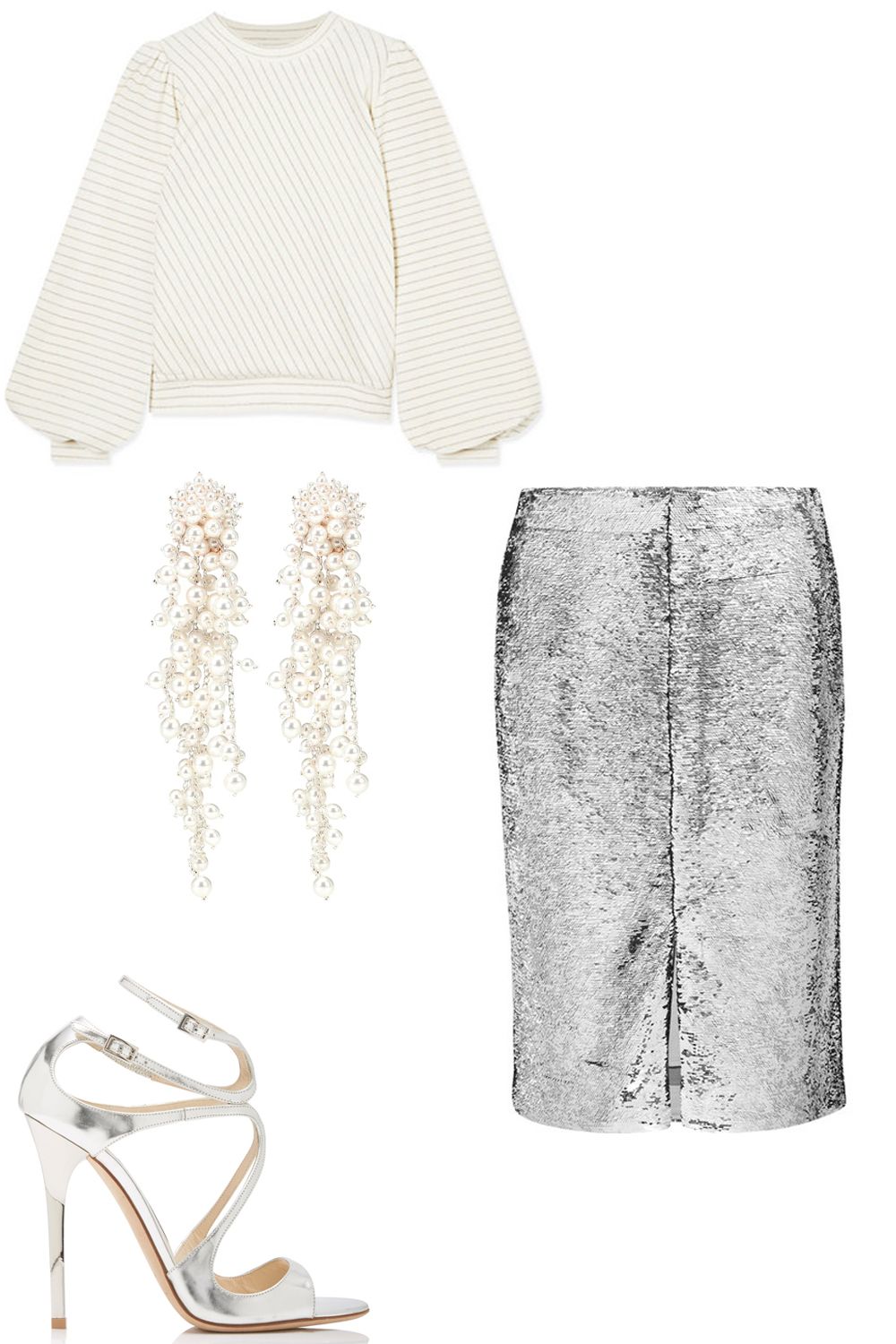 Dress up a more casual look with pearl accents and sexy sandals for an engagement party ensemble that doesn't try too hard–but will insure you stand out in the crowd.
Ganni velour sweatshirt, $145, net-a-porter.com; Ganni skirt, $295, net-a-porter.com; Oscar de la Renta pearl earrings, $350, mytheresa.com; Jimmy Choo leather sandal, $895, modaoperandi.com.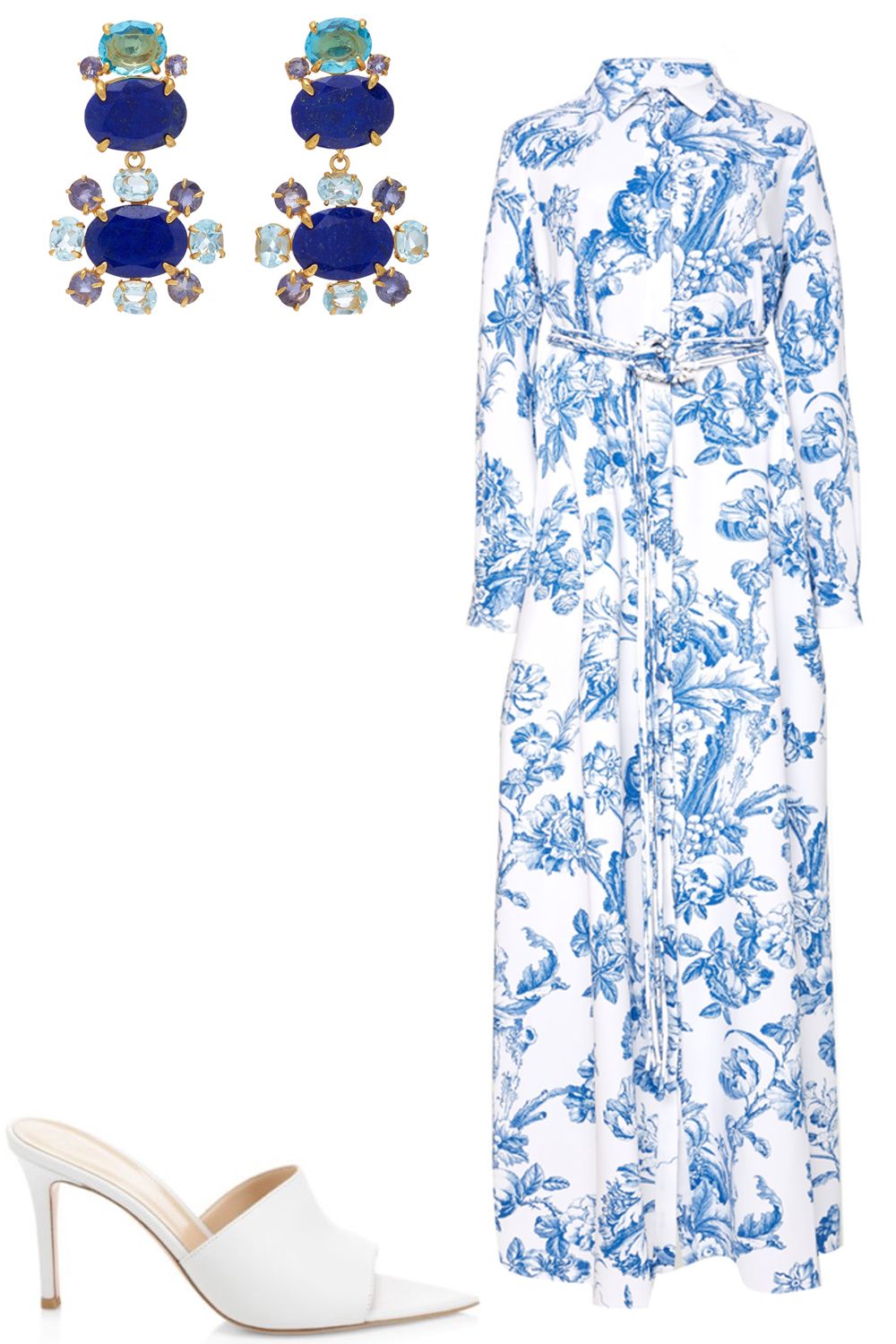 Wearing a 'something blue' isn't just for the wedding day. Start incorporating your favorite wedding traditions as early as you want, preferably with a chic blue printed dress and sapphire jewelry.
Oscar de la Renta dress, $2,605, modaoperandi.com; Bounkit earrings, $375, modaoperandi.com; Gianvito Rossi leather point toe mules, $695, saksfifthavenue.com.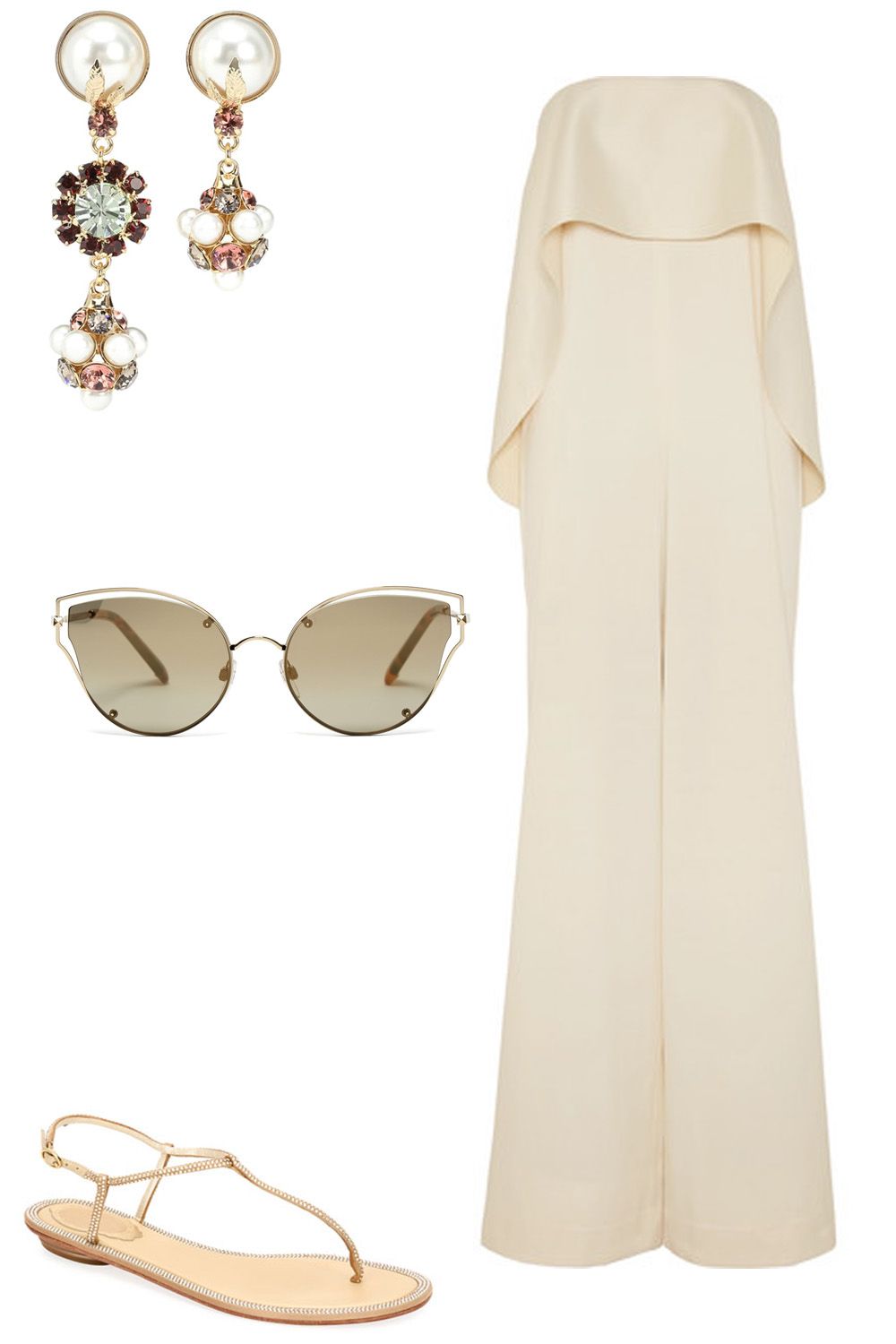 Play it cool with an easy jumpsuit, elegant baubles and chic extras for a warm-weather or poolside celebration.
Solace London 'Cadenza' satin jumpsuit, $525, net-a-porter.com; Valentino 'Rockstud' cat-eye sunglasses, $308, matchesfashion.com; Erdem crystal drop earrings, $375, mytheresa.com; Rene Caovilla flat crystal sandals, $995, bergdorfgoodman.com.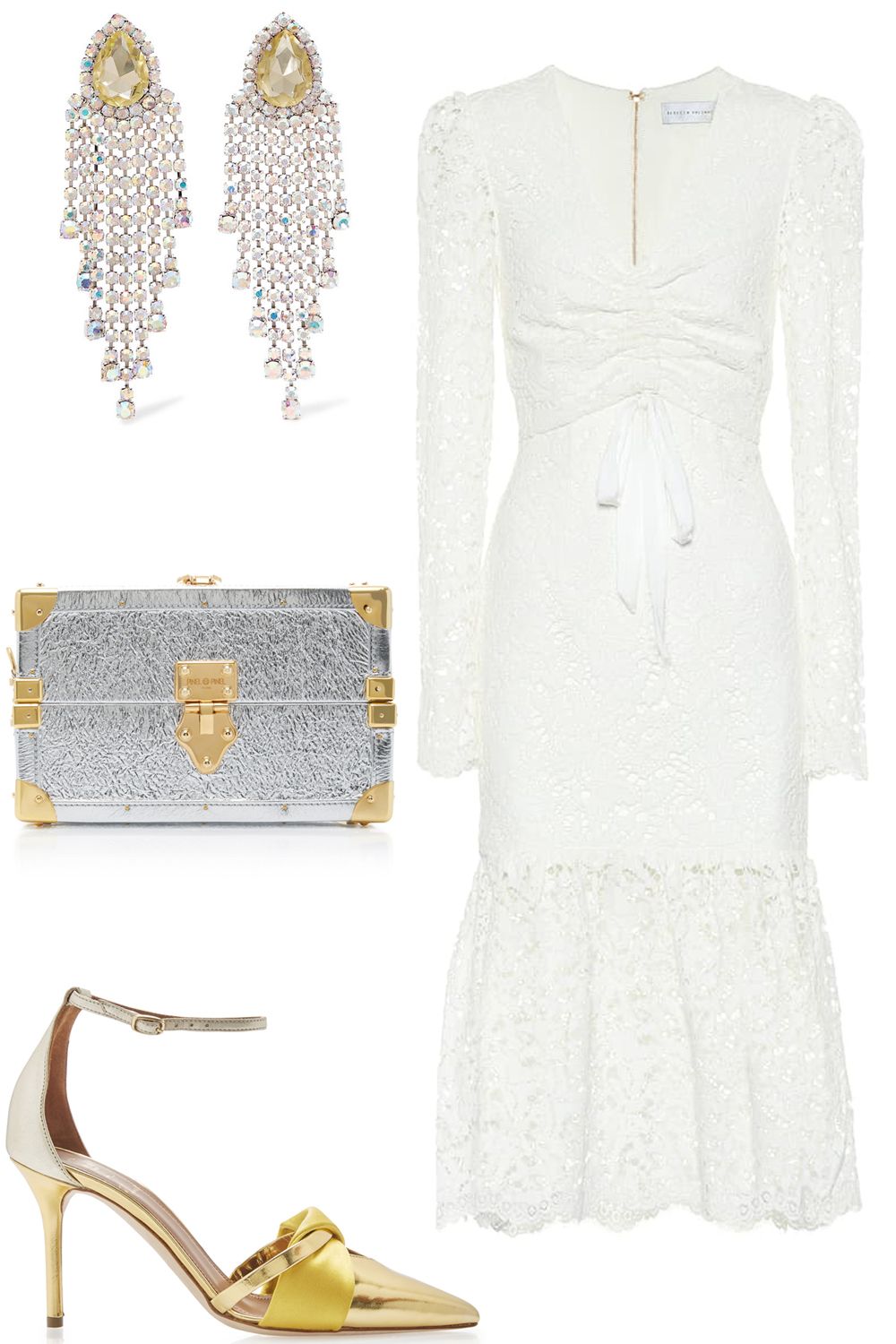 An all-over lace dress in white or ivory will feel undoubtedly bridal, but don't start things off too traditional. Bring out touches of color, like canary yellow, to give your engagement party look a fresh feel.
Rebecca Vallance 'Le Saint' lace dress, $609, mytheresa.com; Alessandra Rich 'Borealis' earrings, $465, net-a-porter.com; Pinel Et Pinel mini metallic bag, $3,080, modaoperandi.com; Malone Souliers 'Thalia Luwolt' pump, $595, modaoperandi.com.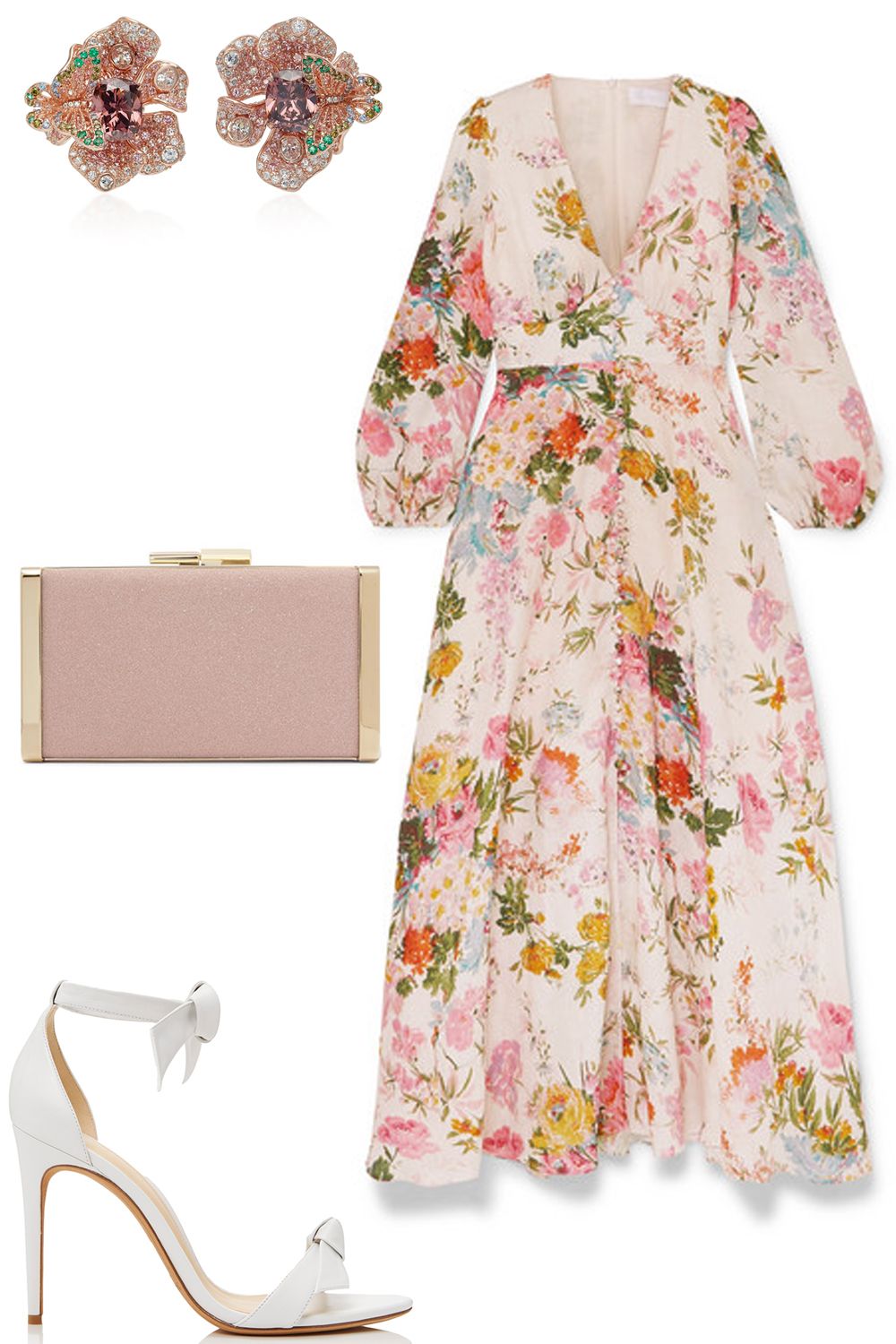 White isn't the only thing that feels bridal. Romantic florals and a soft silhouette will touch on your bohemian side, or hint at a garden wedding to come.
Zimmerman dress, $695, net-a-porter.com; Annabel Chan rose peony earrings, $2,930, modaoperandi.com; Jimmy Choo canvas clutch, $1,150, net-a-porter.com; Alexandre Birman 'Clarita' leather sandals, $595, modaoperandi.com.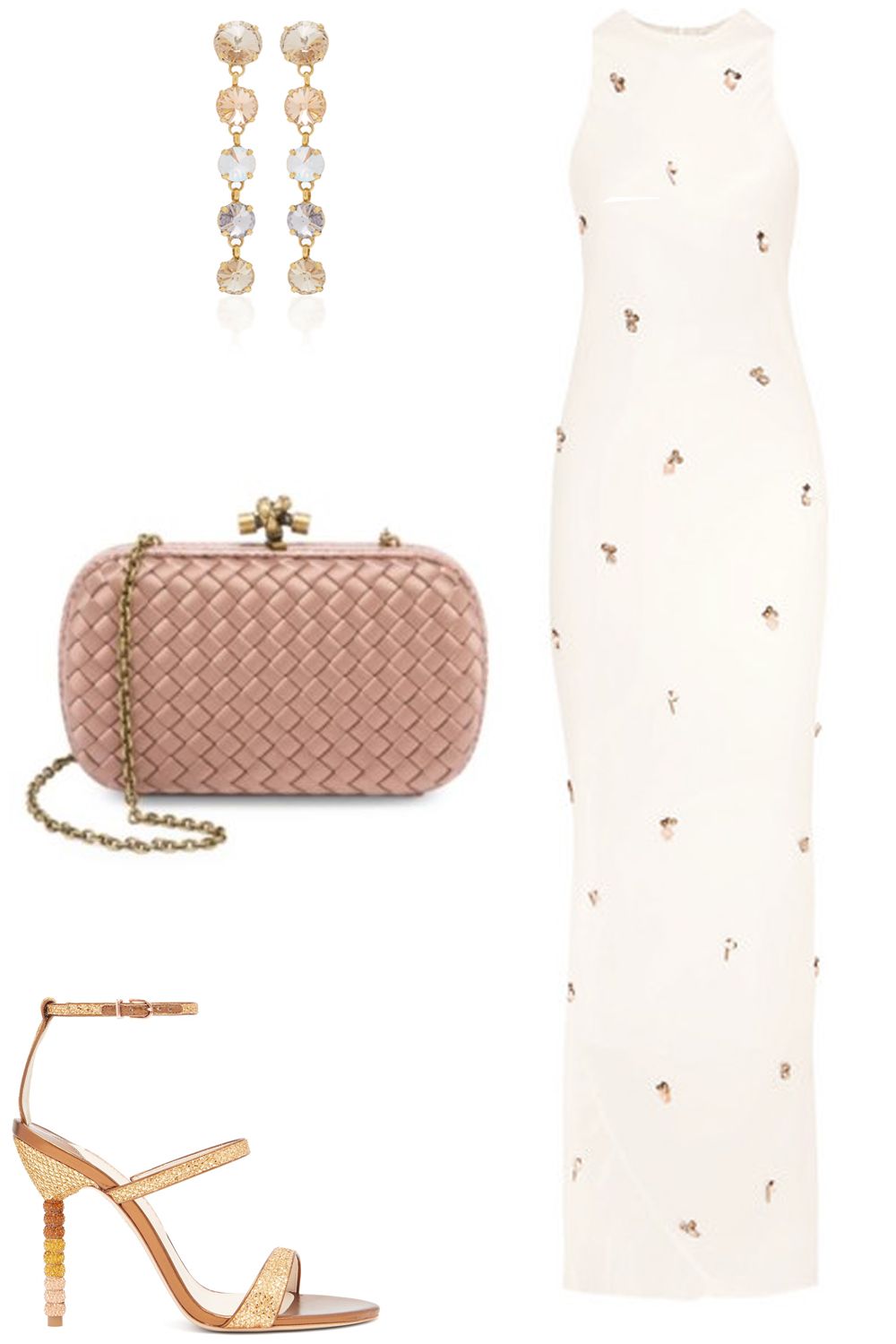 Upgrade a traditional white sheath dress with one that has all-over embellishments for a more festive feel–it's a party, after all. Compliment the look with down-to-earth accessories.
By Malene Birger 'Saicala' embellished satin maxi dress, $740, net-a-porter.com; Roxanne Assoulin crystal drop earrings, $180, modaoperandi.com; Bottega Veneta woven satin clutch, $2,200, saksfifthavenue.com; Sophia Webster 'Rosalind' leather sandals, $509, matchesfashion.com.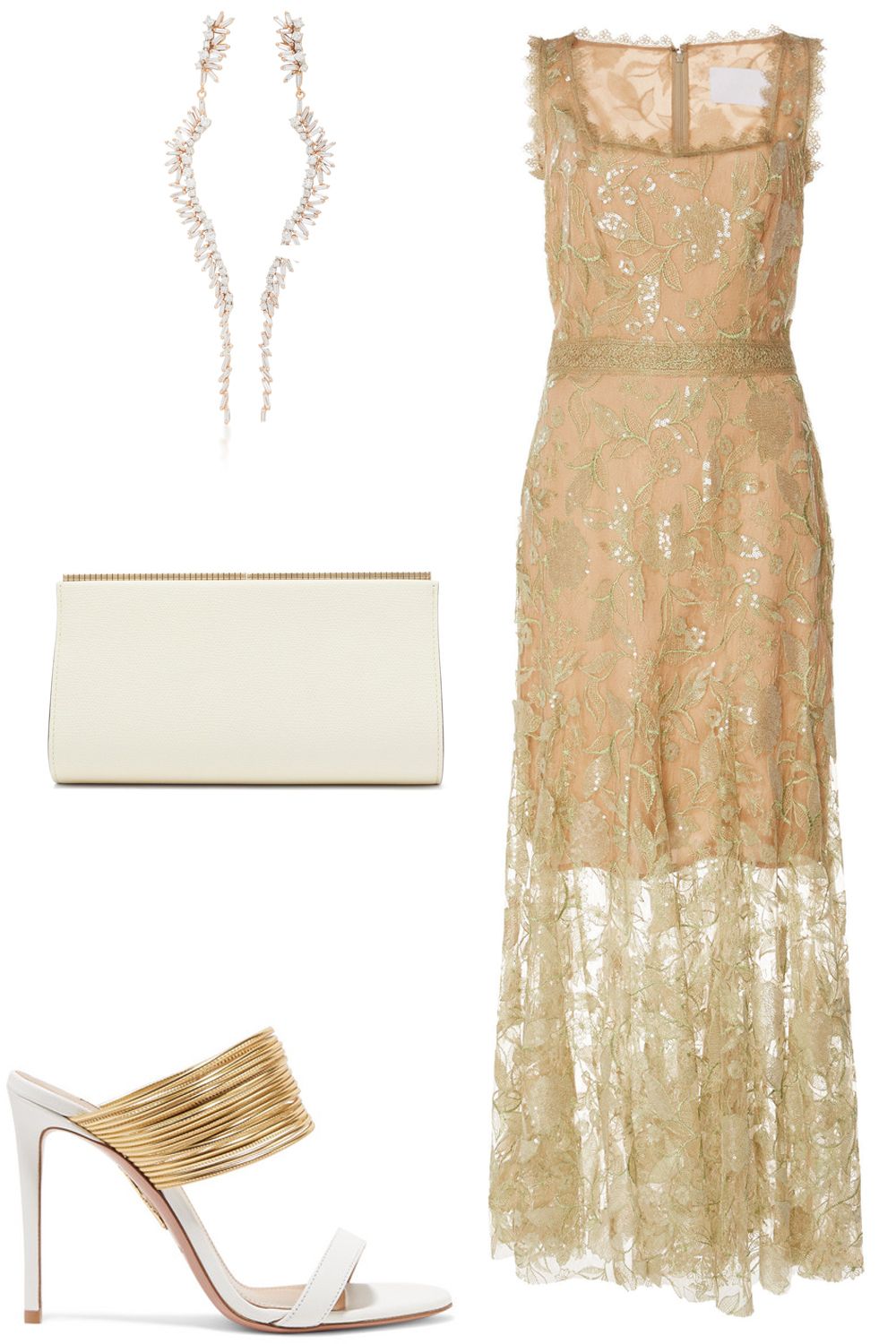 Deconstruct an ultra-glamorous look with soft, nude tones, sleek yet sparkly accessories and head-t0-toe hints of gilding.
Costarellos lace midi dress, $1,695, modaoperandi.com; Suzanne Kalan earrings, $7,800, modaoperandi.com; Valextra 'Lucky Stars' leather clutch, $1,890, matchesfashion.com; Aquazurra metallic mules, $750, net-a-porter.com.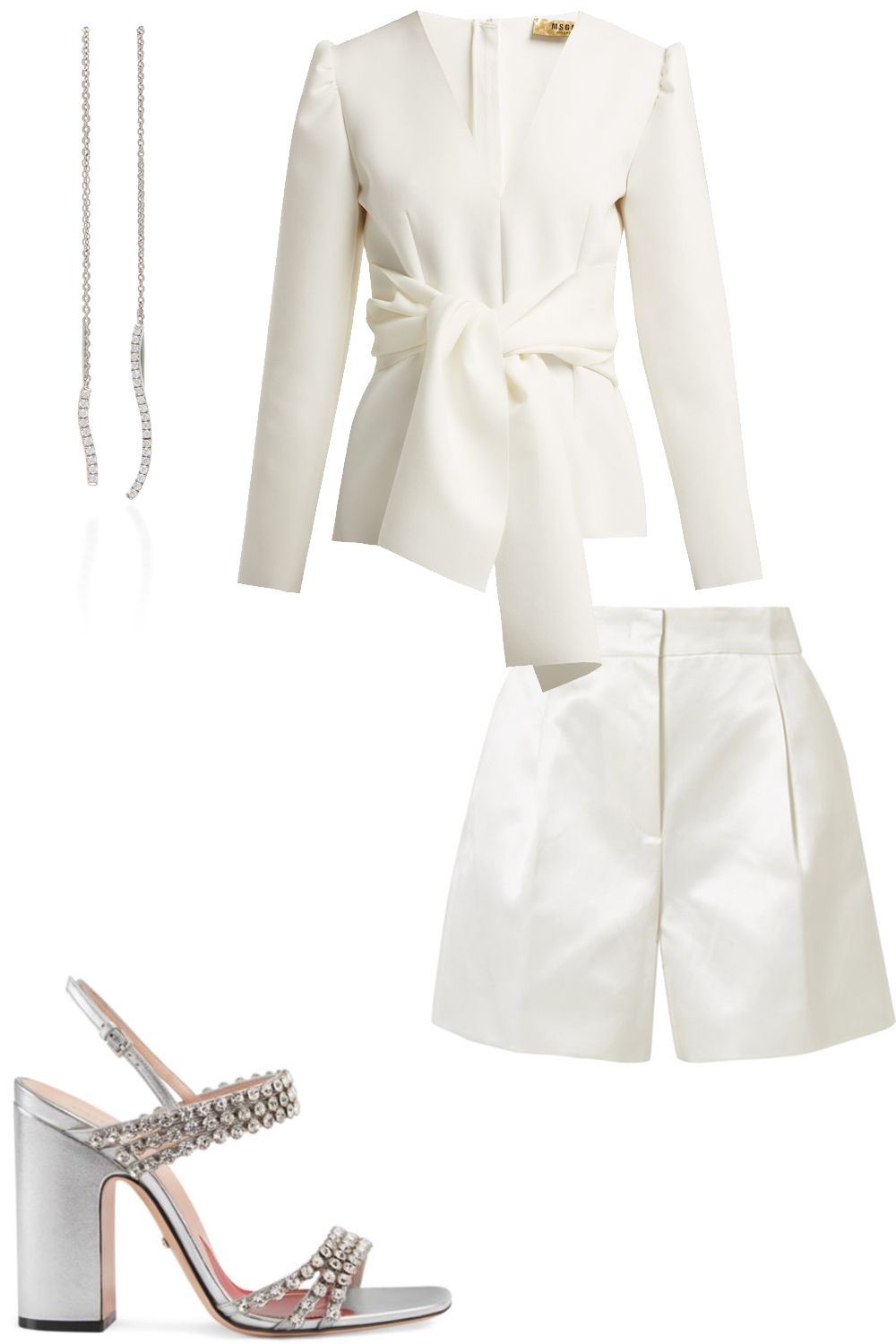 Suit up in a two-piece ensemble that's part power dressing and part bride-to-be. Pair it with diamond earrings and chunky heeled pumps to match that new bling while making a sophisticated statement.
MSGM tie-front crepe blouse, $393, matchesfashion.com; Gabriela Hearst 'Hayworth' silk-blend satin shorts, $890, net-a-porter.com; Graziela diamond earrings, $1,600, modaoperandi.com; Gucci 'Bertie' sandals, $1,250, saksfifthavenue.com.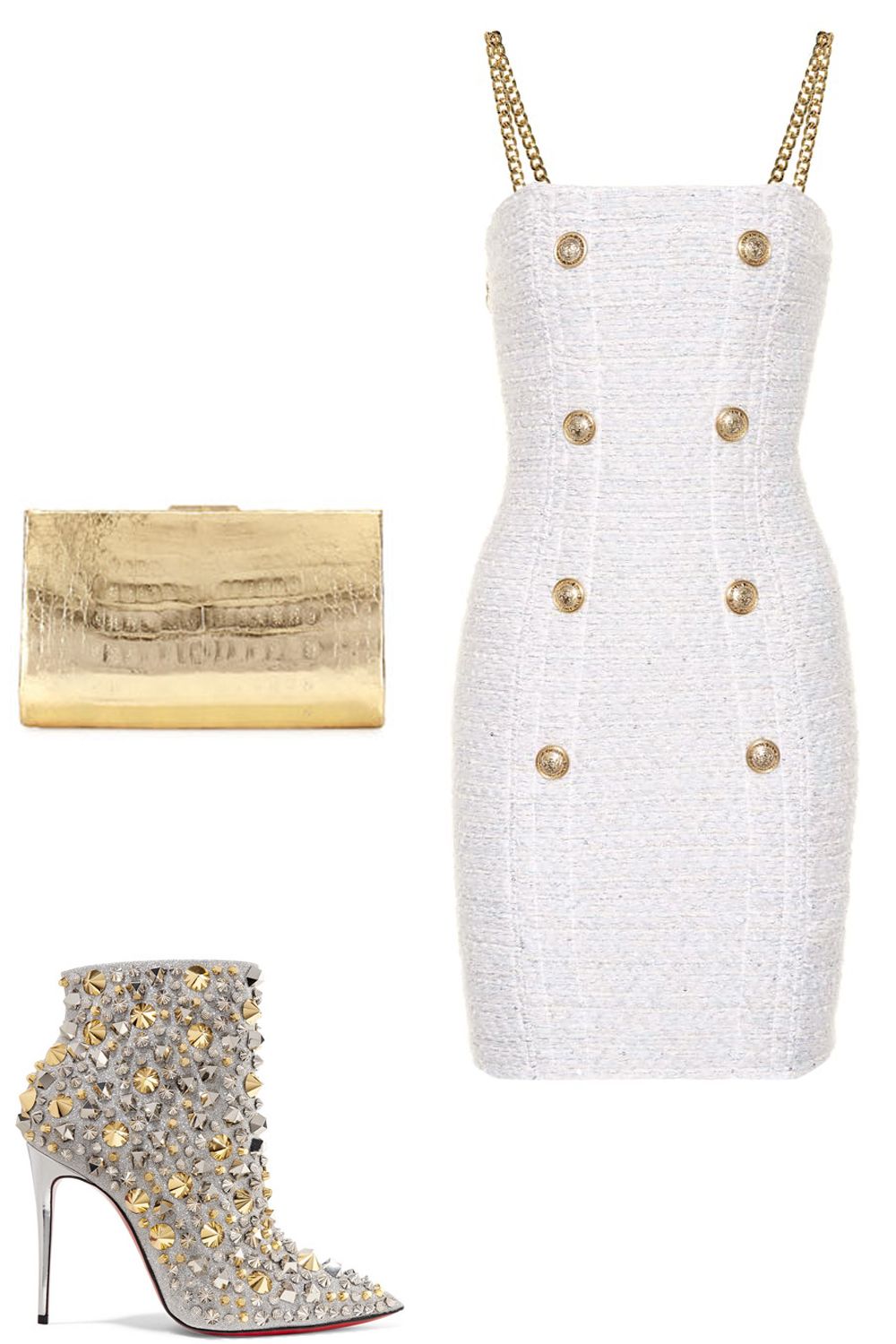 Level up a white mini dress with a sultry fit, and bold add-ons for a seriously sexy vibe that feels perfect for an all-out party.
Balmain metallic bouclé minidress, $1,350, mytheresa.com; Nancy Gonzalez metallic crocodile clutch, $2,145, bergdorfgoodman.com; Christian Louboutin, $1,895, net-a-porter.com.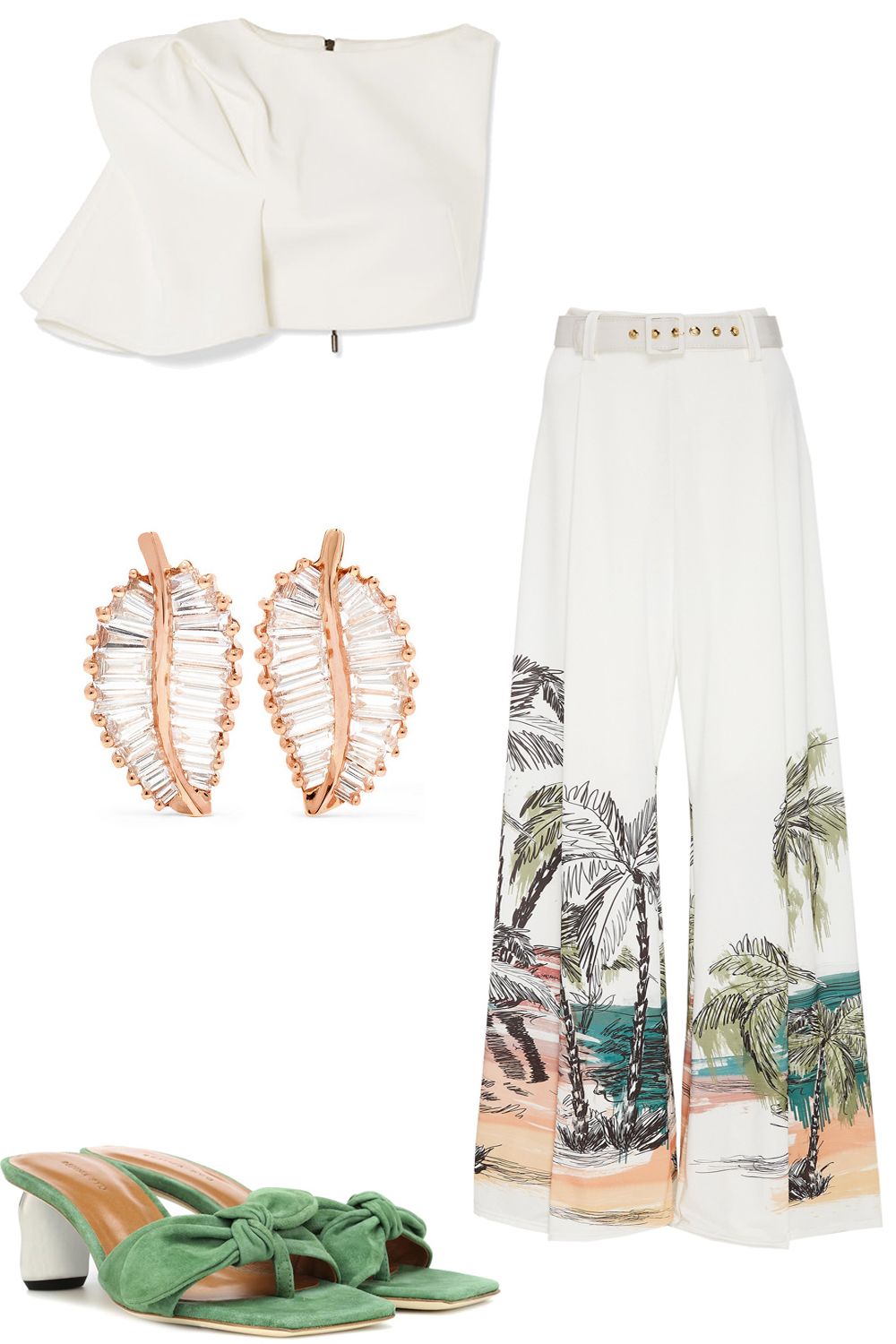 Tease your island destination wedding location with a tropical printed palazzo pant and a body-bearing crop top. Style this look with easy extras, like palm leaf earrings and colorful slides that feel just as right on the beach as they do at an intimate evening soiree.
Maticevski cady top, $695, net-a-porter.com; Agua De Coco belted wide leg pants, $550, modaoperandi.com; Anita Ko pal leaf diamond earrings, $7,400, net-a-porter.com; Rejina Pyo 'Lottie' sandal, $545, mytheresa.com.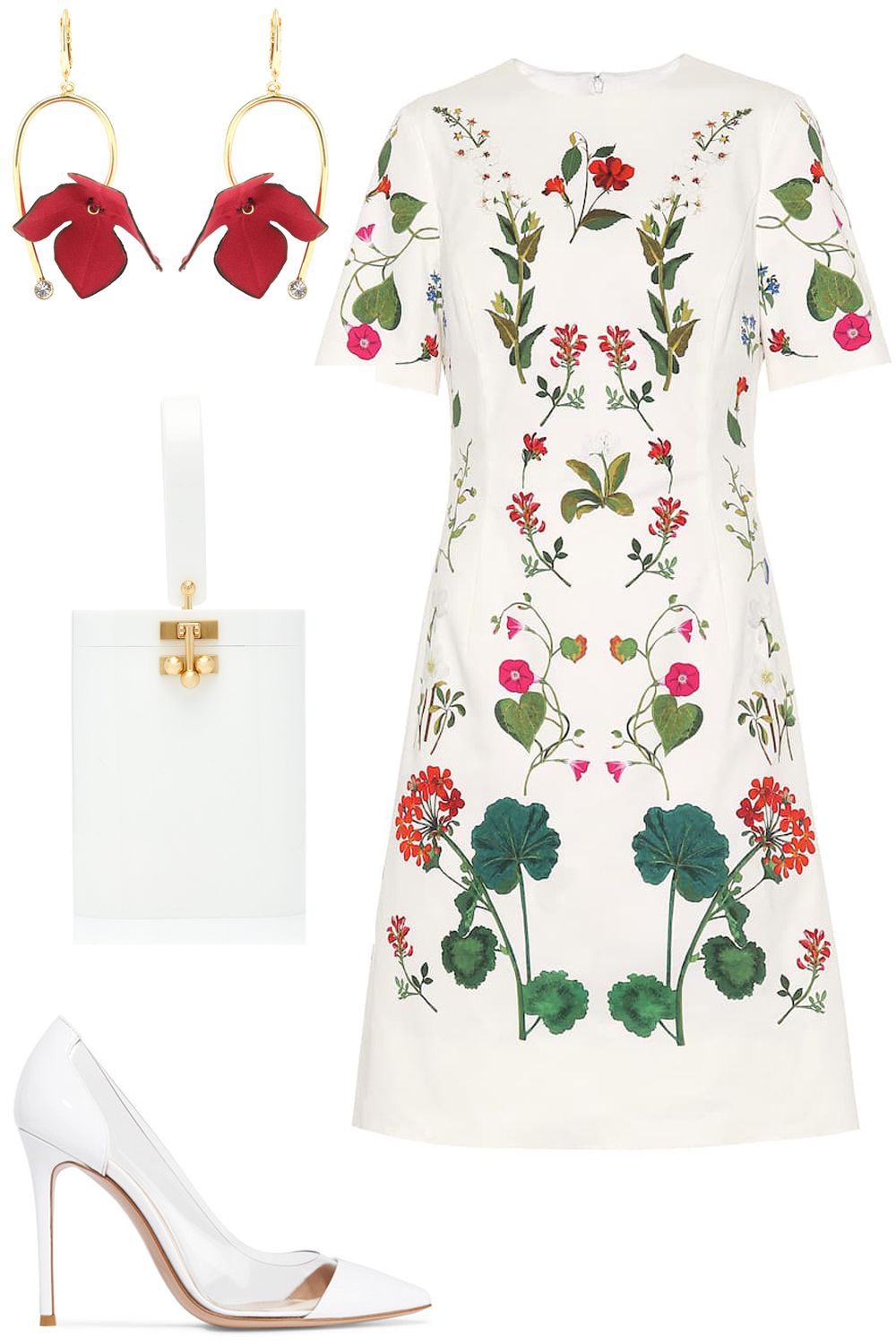 If you're sticking with a tried and true silhouette, like an A-line mini dress with short sleeves, punch it up with a bold pattern and some in-theme accessories.
Oscar de la Renta dress, $1,490, mytheresa.com; Marni earrings, $350, mytheresa.com; Edie Parker bucket bag, $1,295, modaoperandi.com; Gianvito Rossi pumps, $795, net-a-porter.com.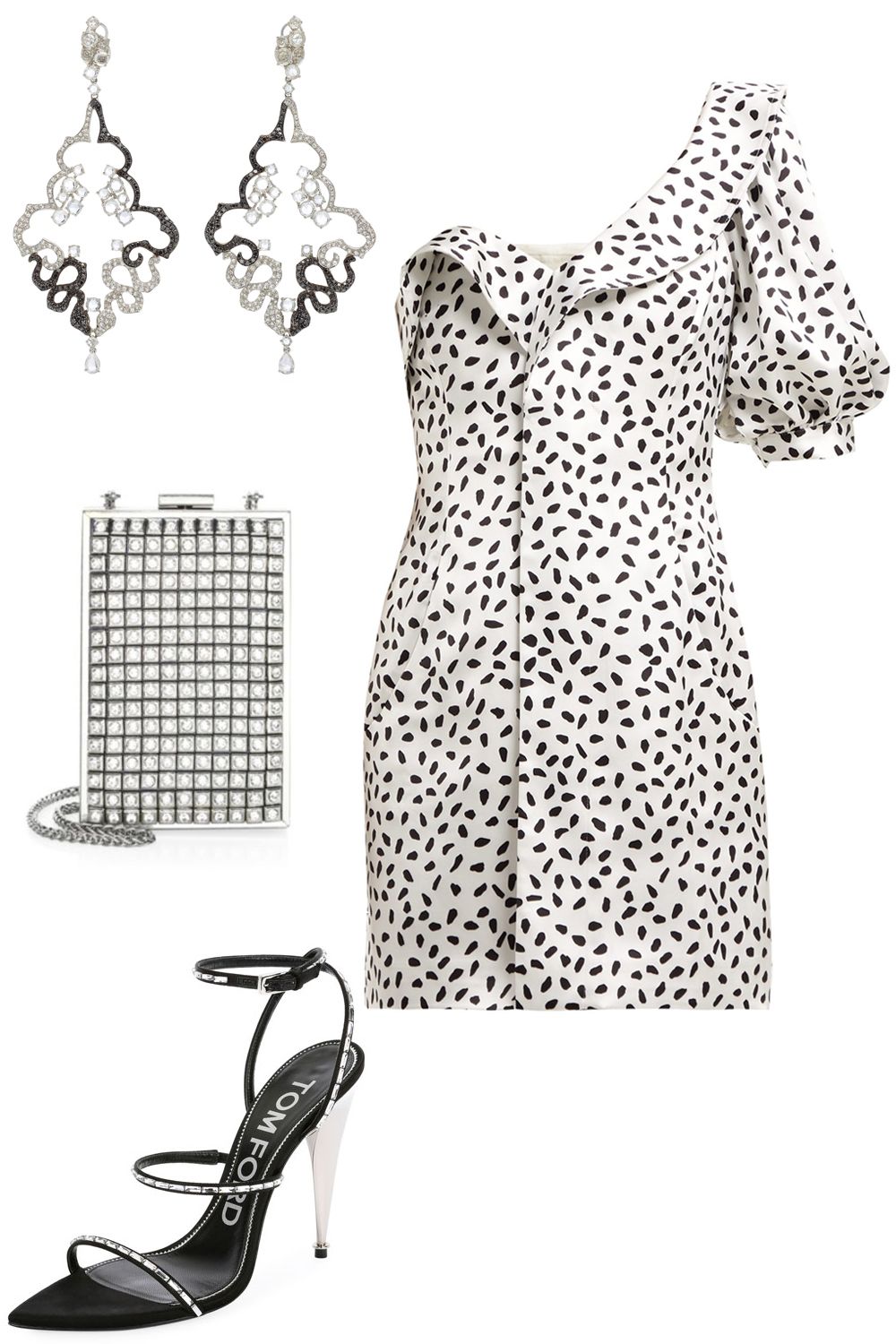 Just because you're the bride doesn't mean you have to wear all white for every event–or any of them for that matter. Play with patterns in black and white for a look that is modern, standout and undeniably special.
Self-Portrait dot-print dress, $374, matchesfashion.com; Wendy Yue diamond earrings, $11,400, modaoperandi.com; Alice & Olivia 'Sophia' clutch, $395, saksfifthavenue.com; Tom Ford satin sandals, $1,690, bergdorfgoodman.com.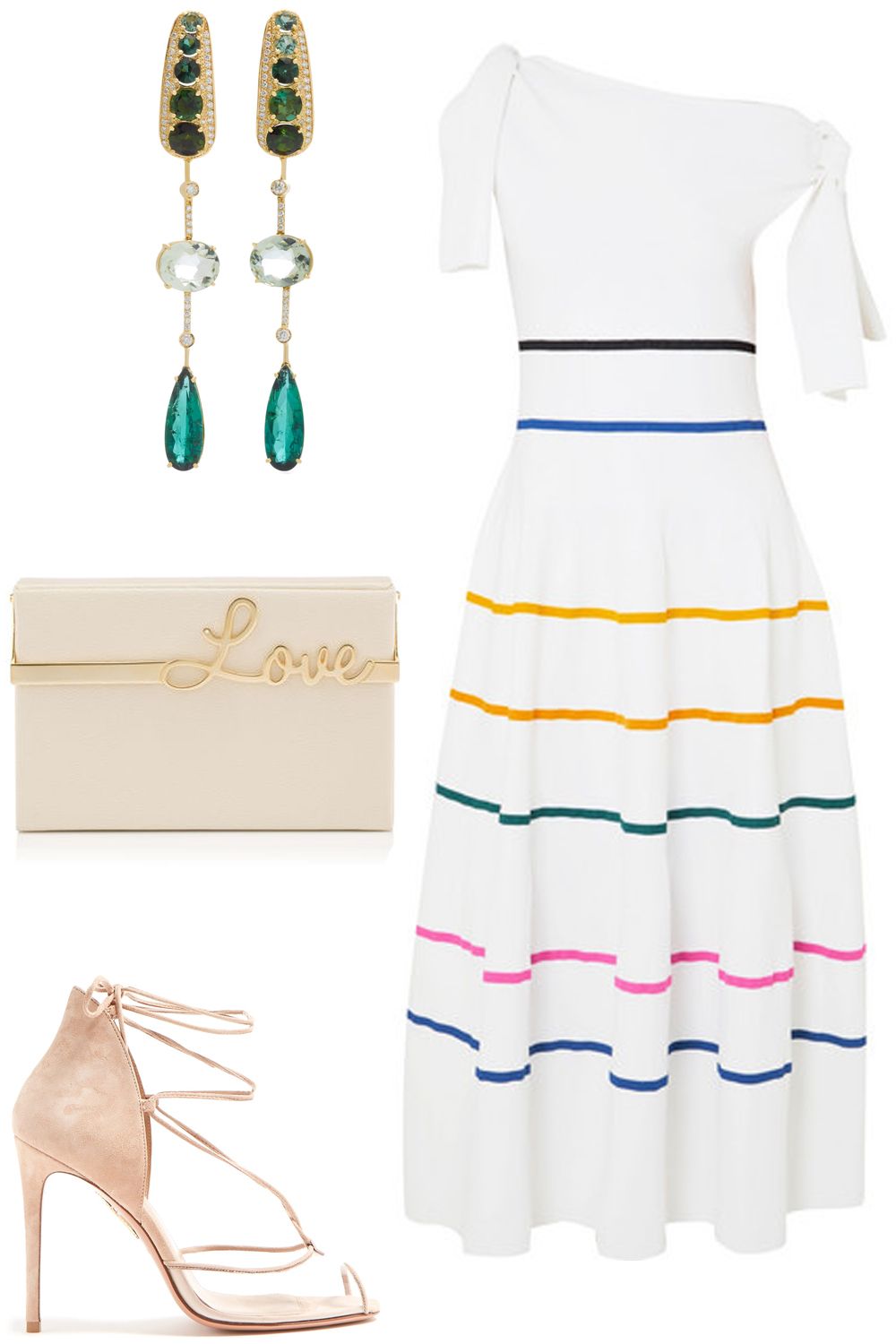 Pops of color and whimsical accessories don't make your look less bridal–they just make you a more interesting bride.
Carolina Herrera dress, $2,190, net-a-porter.com; Carol Kauffmann drop earrings, $10,285, modaoperandi.com; Charlotte Olympia 'Love Vinina' clutch, $1,220; charlotteolympia.com, Aquazurra suede sandal, $683, matchesfashion.com.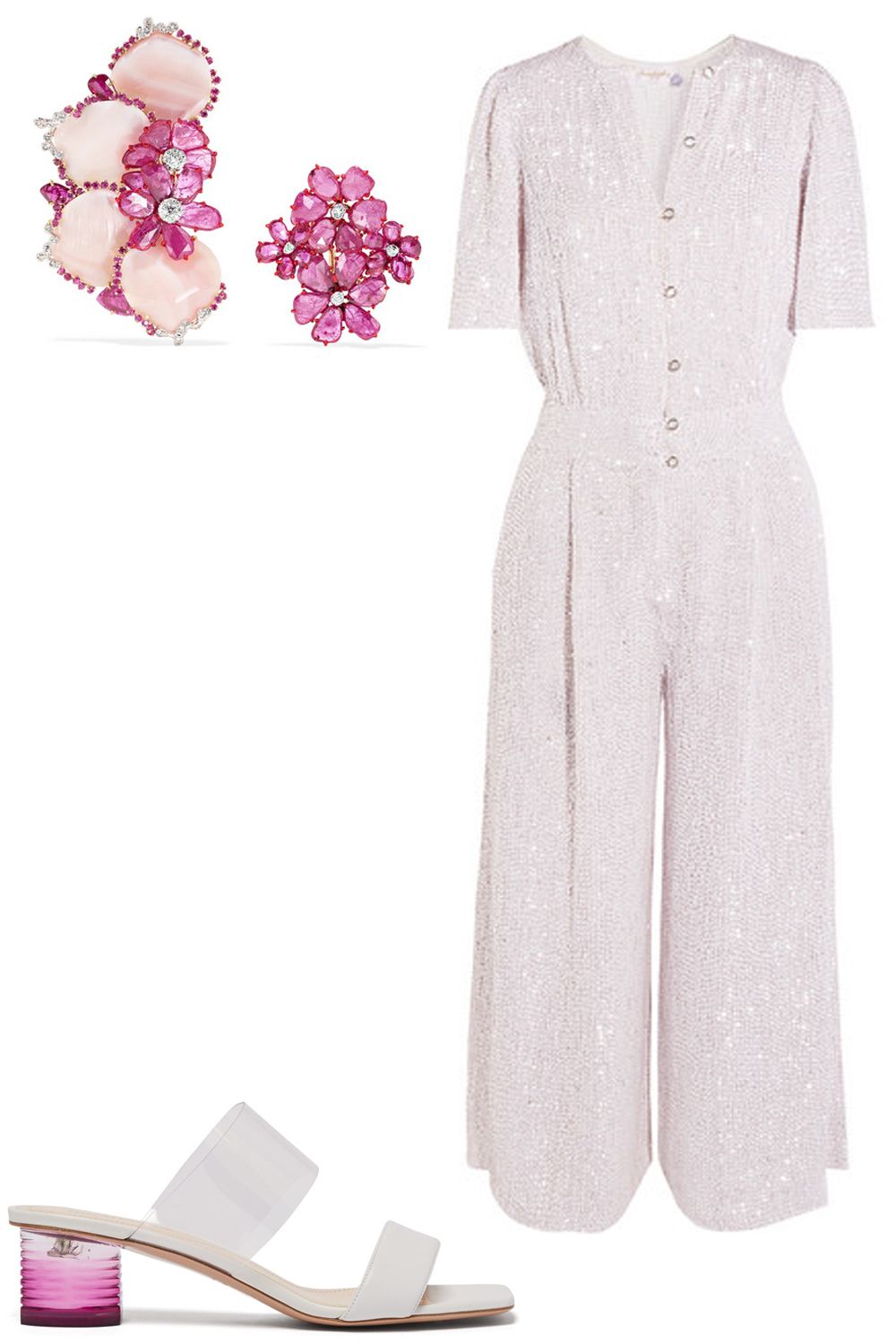 Choose a bridal-esque hue and balance party-worthy sparkle with an easy shape and on-palette extras for a look that suits a daytime or evening affair.
Temperley London 'Olina' cropped sequined jumpsuit, $1,995, net-a-porter.com; Bina Goenka multi-stone earrings, $27,100, net-a-porter.com; Nicholas Kirkwood 'Peggy' perspex-heel mules, $741, matchesfashion.com.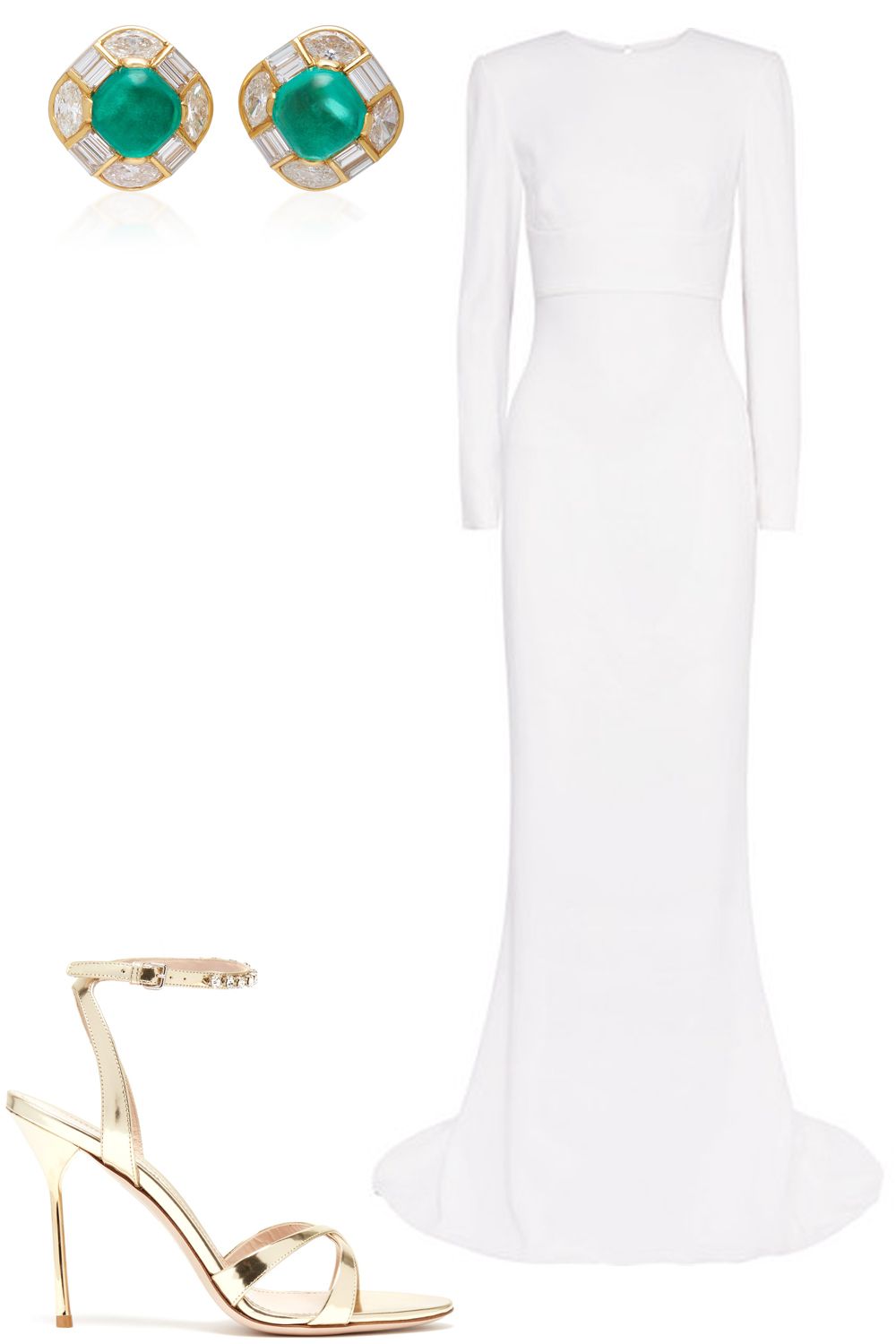 Channel your inner Meghan Markle with a long sleeve, slim, crepe gown from the designer that brought you the duchess' second wedding dress look—Stella McCartney. Complete the ensemble with a hint of emerald (or her choice, aquamarine) and a low, sleek pony.
Stella McCartney open-back stretch-crepe gown, $4,600, net-a-porter.com; Gioia Bulgari emerald and diamond earrings, $225,000, modaoperandi.com; Miu Miu crystal-embellished leather sandal, $896, matchesfashion.com.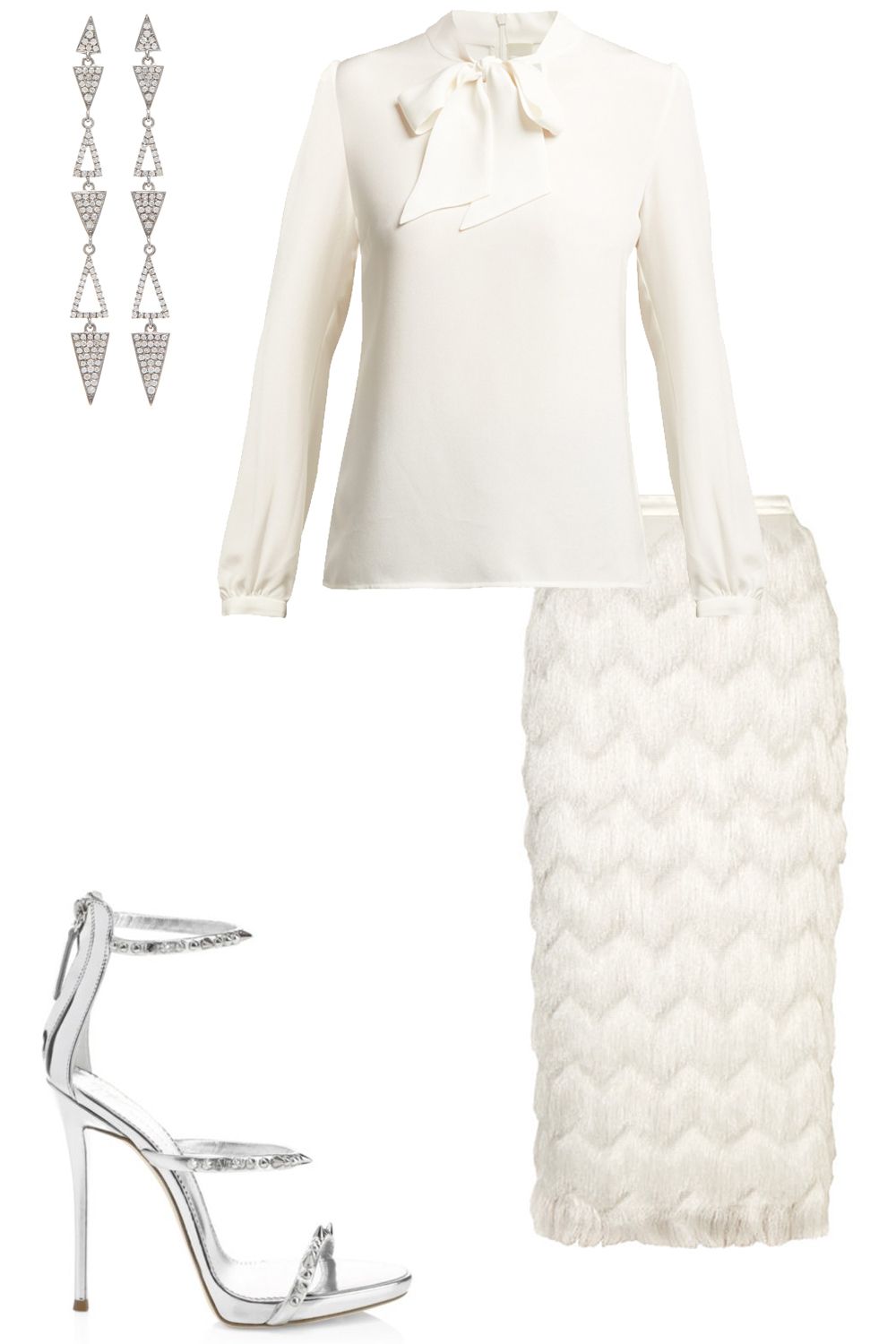 Feeling flirty? A pussy-bow blouse and fitted fringe skirt is as sophisticated and elegant as it is edgy.
GOAT pussy-bow silk blouse, $490, matchesfashion.com; Halfpenny London fringed satin skirt, $1,610, net-a-porter.com; Graziela diamond earrings, $2,250, modaoperandi.com; Giuseppe Zanotti metallic stilettos sandals, $995, saksfifthavenue.com.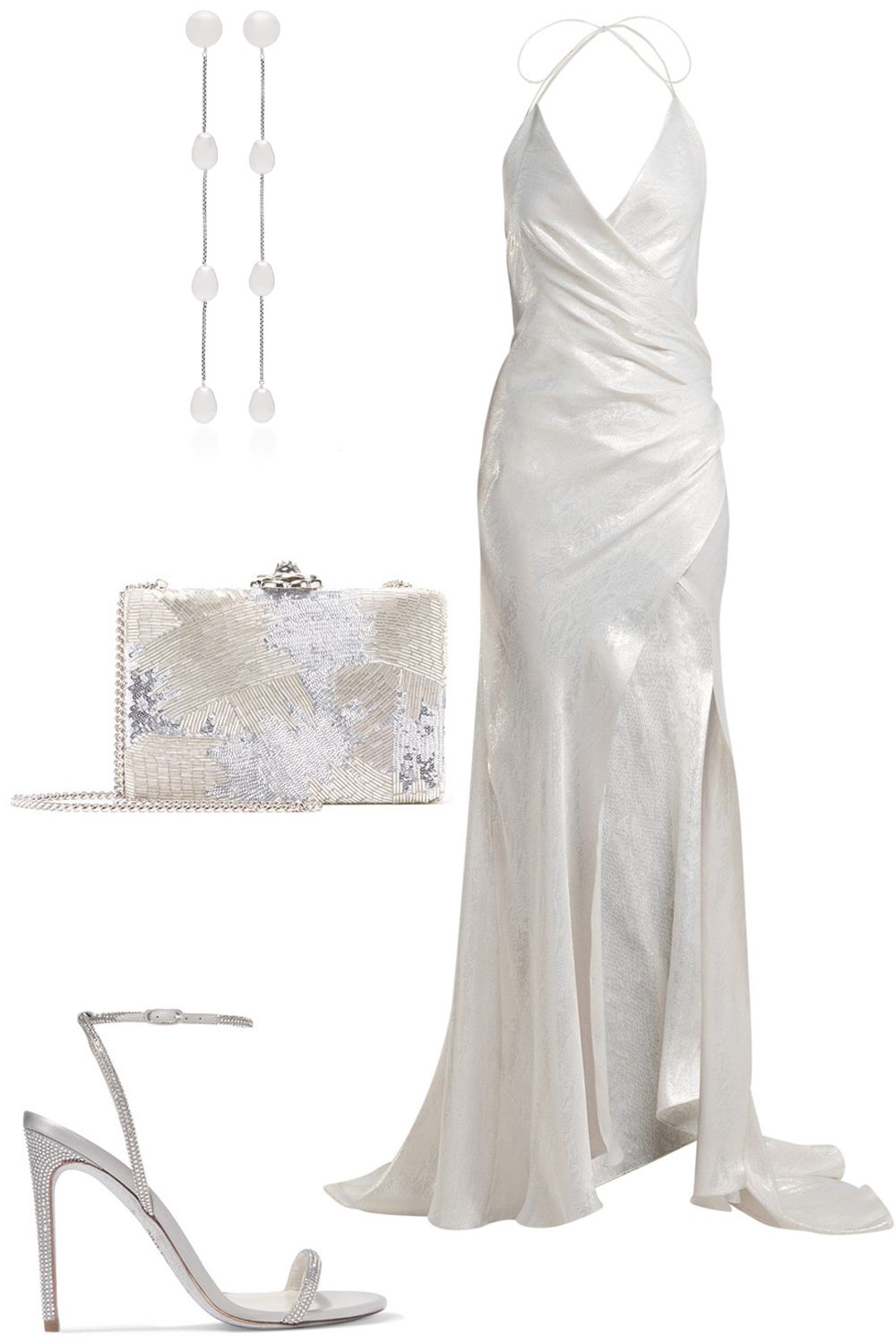 Take in your time to shine and use your engagement celebration as an excuse to go all out and dress up. You're not quite ready for a classic, ceremony-worthy look, so choose one that's sophisticated yet sexy in all the right ways. These pieces will easily take you from day to night. Think: after-after party.
Adriana Iglesias silk-blend satin gown, $1,980, matchesfashion.com; Sophie Buhai drop earrings, $400, modaoperandi.com; Oscar de la Renta 'Rogan' clutch, $2,290, bergdorfgoodman.com; Rene Caovilla sandals, $1,200, net-a-porter.com.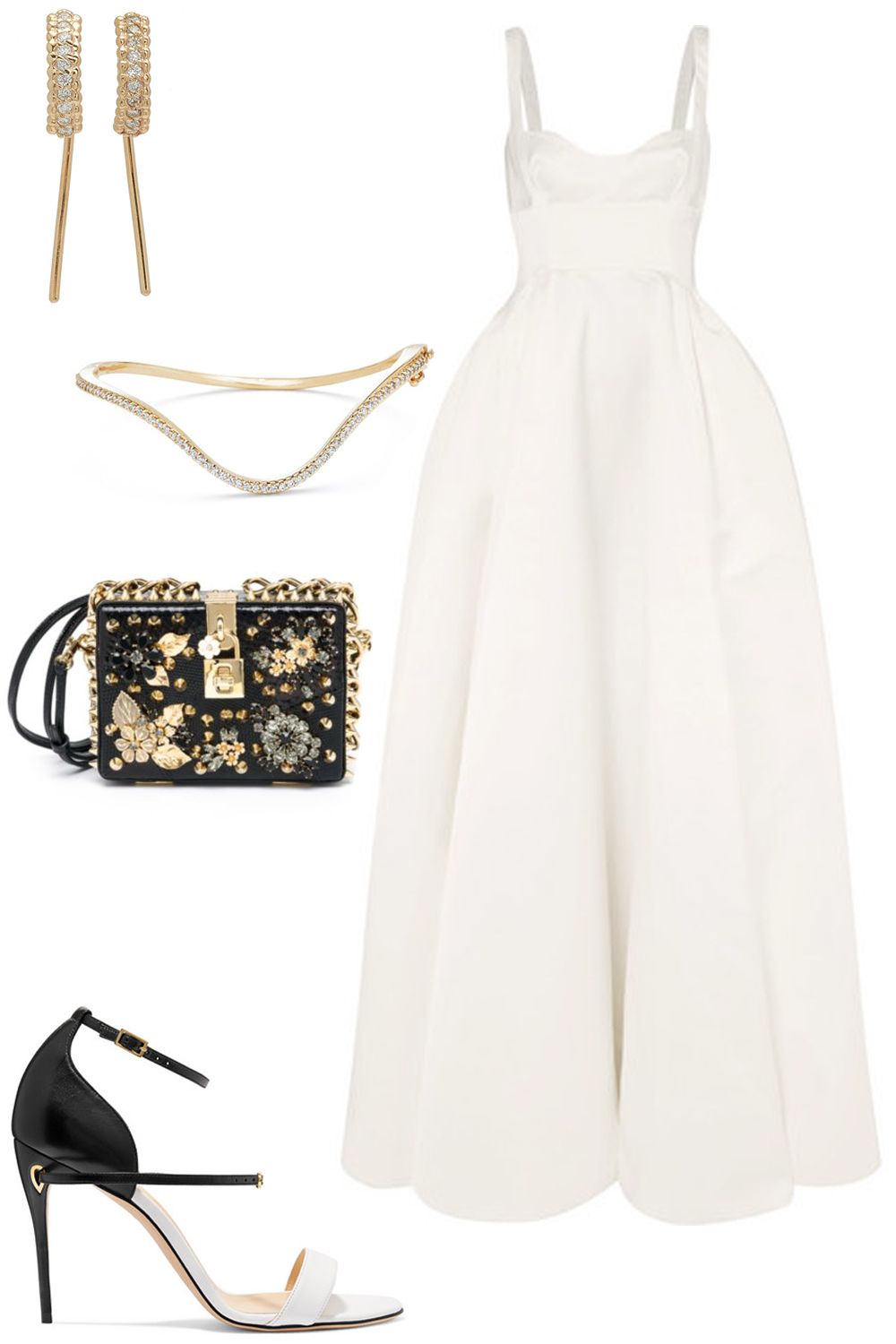 When in doubt, go bridal or go home–but edge it up so that your pre-wedding party photographs don't start to blend with your day-of portraits. Rather than pair this aisle-worthy gown with all-white extras, try a sexy, color-blocked heel and a clutch you'll wear for black tie long after the wedding.
Emilia Wickstead duchesse-satin gown, $5,775, net-a-porter.com; Sophie Ratner earrings, $450, modaoperandi.com; Paige Novick diamond bracelet, $4,930, bergdorfgoodman.com; Dolce & Gabbana clutch, $5,995, saksfifthavenue.com; Jennifer Chamandi 'Rolando' two-tone leather sandals, $785, net-a-porter.com.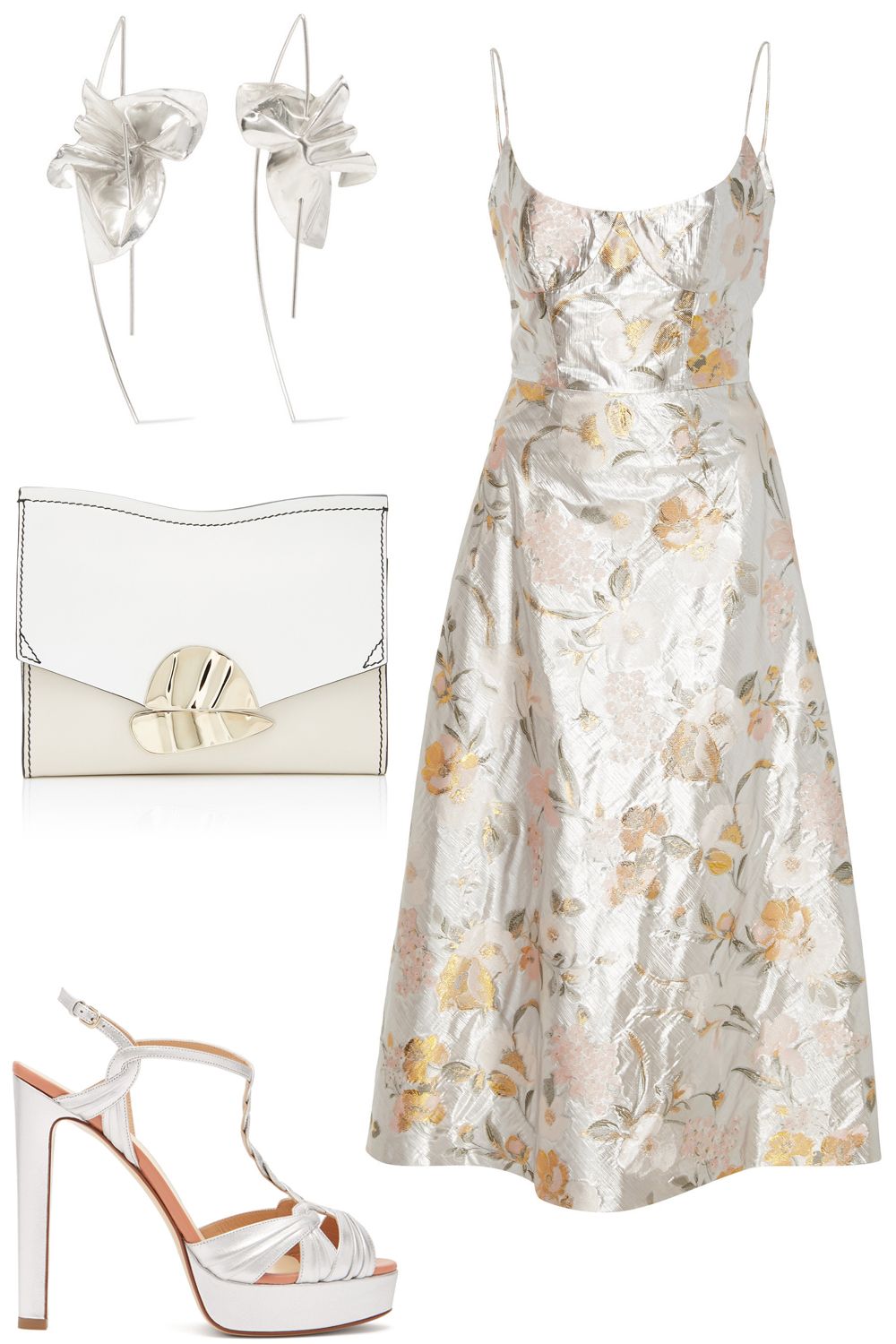 Amp up a soft pastel color palette with metallic details that make any floral print feel fancy. Pair with silvery sandals and a modern earring for a look that's cool, but still feels classic.
Markarian lamé midi corset dress, $1,850, modaoperandi.com; Closer by Wwake silver earrings, $265, net-a-porter.com; Proenza Schouler clutch, $995, modaoperandi.com; Francesco Russo leather platform sandals, $1,109, matchesfashion.com.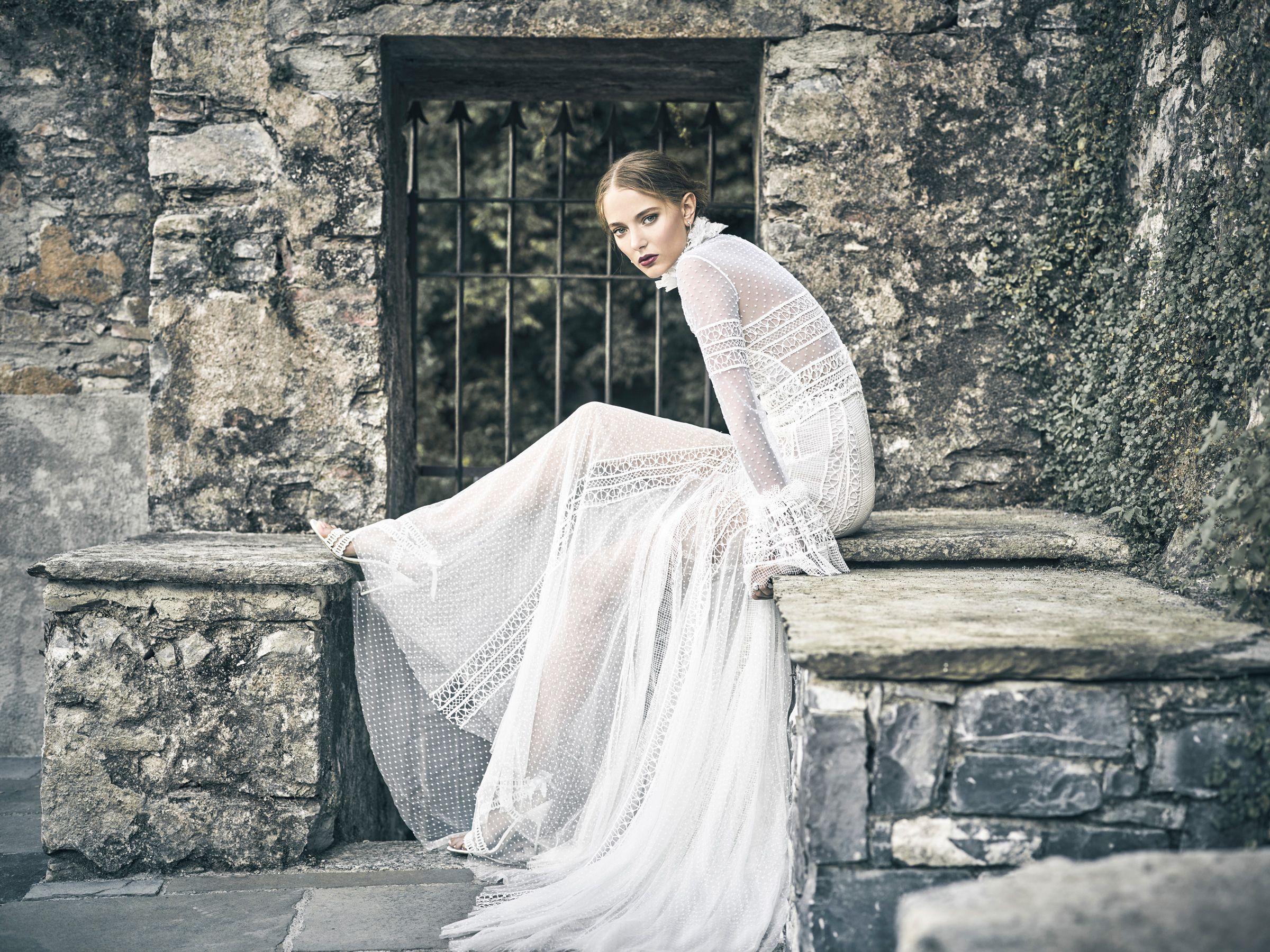 Source: Read Full Article