Here's a look at what's happening in the stars rn: tonight, the Moon is in fiery Leo, and Venus enters Aries, setting your love life ablaze—it can be a seriously steamy time, or you might find yourself in way more heated arguments with your boo. On Sunday, the Moon scoots into Virgo. The Moon enters lovely Libra on Tuesday, bringing along with it a romantic, pleasant vibe, and on Thursday, the Moon flies into sexy Scorpio, giving you a sensual early start to Valentine's Day!
Okay, so what does that all mean for you?
Aries
This weekend is all yours, Aries! Venus in your sign = you're looking good and feeling gorgeous for the next few weeks, and the Leo Moon making you feel frisky AF tonight blends beautifully with Venus' fiery energy. Hook up, go on a date, climb your boo like a tree—this weekend is making life in the bedroom hotter than ever and you're having a blast!
Taurus
Sorry, Taurus, but it looks like you're staying in this weekend. The astro-vibes just aren't favoring your love life, and your time is best spent recharging your batteries after such a busy week. By the time the Moon enters Virgo on Sunday you're feeling way better (and pretty horny, TBH) so you can squeeze in a last minute hookup before your week starts. It's a regular-shmegular week at work, but the Moon entering Scorpio on Thursday is putting you deeeep in the mood for action, and you're likely to find someone sexy to have a pre-Valentine's Day hookup with!
Gemini
Hey, hottie! It's all eyes on you this weekend, Gemini! This weekend's astro-weather favors your social life more than your love life, so go grab some drinks with your crew! You're more popular than ever right now and coming off even more charismatic than usual, so there'll defs be a couple of cuties trying to flirt with you while you're out having fun!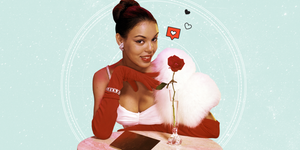 Cancer
Work is a bigger focus than usual this weekend, but come Sunday when the Moon enters Virgo, you're given a minute to clock out and go do something fun. Your phone's blowing up with notifications from all your dating apps, your group chat is poppin', and even though you're not at work, you're still being kept super busy from all the people you're talking to and meeting up with. JSYK, the Scorpio Moon on Thursday is activating your chart's zone of sex/romance, so even if you're single this V-day, expect some super-hot action to come your way!
Leo
Keep your eyes peeled for a cute new face at the bar this weekend, kitty cat! Venus in Aries is making you more attracted to people that aren't your normal type, and the Moon in your sign makes connecting with people much easier, so the chance to find love (or just someone to *wiggles eyebrows*) is high this weekend! If someone especially sexy manages to get your number, plan to meet up with them again on Tuesday or Wednesday, because the Libra Moon's vibes make you come off as way more charming and will help you have an amazing time with them!
Virgo
Venus in Aries puts you deeeeep in your feels, Virgo. If you're in a relationship, you're loving up on your partner more than ever now, but if you're single, expect to fall hard for the next person you hook up/go on a date with. Heads up, tho: this weekend isn't great for your love life, unfortunately, because the Leo Moon finds you feeling super introverted and all you want is alone time. The Scorpio Moon at the end of the week sets the stage for a seriously sexy Valentine's Day, and even if you're single there are way more people sliding into your DMs than usual, so finding a hookup is a breeze.
Libra
NGL, it's a pretty lit weekend for you, Libra. Venus in Aries is activating your chart's relationships zone, so whether you're boo'd up or not, love is totally in the air! The Leo Moon makes you more outgoing and upbeat and people are naturally more attracted to you right now, so get your flirt on! Try to live it up this weekend, because your week starts off pretty rough, since the Virgo Moon is making you feel moody and lonely. You'll be fine once the Moon enters your sign on Tuesday.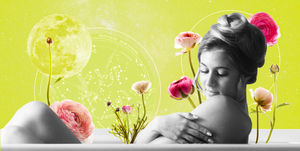 Scorpio
The Leo Moon pulls your focus to work, and Venus in Aries also pulls your focus to work, so it looks like you're staying clocked in most of the weekend. It's honestly not a spectacular week for your love life, but it is a great time for self-love (the just-booked-a-mani kind and the toys-that-aren't-for-kids kind) and taking plenty of R&R time. The Moon enters your sign on Thursday so by the end of the week (just in time for Valentine's Day) you're feeling way better.
Sagittarius
Your love life is getting a major glow up, Sagittarius! All of the loveliest, most exciting zones of your chart are being activated by this weekend's fiery astro-weather, and you're totally feelin' yourself! Confidence is one of the most attractive traits to have, and you are brimming with it now, so put yourself out there and have fun! Go home with someone sexy, or get on top and get a little wild in bed with your boo and you'll have a thrilling time!
Capricorn
You aren't the most social or outgoing sign by a long-shot, Capricorn, and this weekend's astro-weather makes you feel even more quiet and introverted than usual. If you're boo'd up, this means you should stay in and get real snuggly with your boo, because it's actually a great weekend for romance and ~making love~, but if you're single, don't expect to get to mingle with anyone.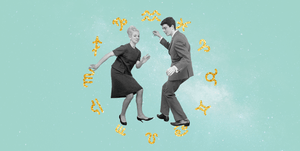 Aquarius
This weekend starts off with you in a lighthearted, social mood, so go out and get your flirt on! Connect with all the cuties you see, get their numbers, and have fun with it. If you find someone you're really in to, try and meet up when the Moon is in Virgo on Sunday or Monday, because the vibe is extremely intimate and you can easily make deep connections with others. If you're just trying to have a quickie, Tuesday or Wednesday's Libra Moon is way better for you to see them.
Pisces
Venus is no longer in your sign, but that doesn't mean all of its lovely vibes are going out the door! If you found someone you like a lot in the past few weeks, Venus in Aries is a period of time where DTRing happens more easily, and for everyone, single or not, it's making sex way more sensual and erotic! The Virgo and Libra Moon this week are also great for your love life—the Virgo Moon is better for going on dates, being romantic, and all that other cute stuff, and the Libra Moon brings a deeper, steamier vibe that makes life in the bedroom hotter than ever!
Source: Read Full Article