Your Weekly Tarot Card Reading, Based on Your Sign
You don't need to be a tarot card pro to get your cards read. All you need: your Sun sign! Here's what I do: Shuffle my tarot deck and pull out the cards in order from Aries to Pisces plus one general card for everyone so that you can get specific advice around your personality.
Basically, if your bank account is not ready for a full tarot reading just yet, this one should help tide you over for now!
A GENERAL CARD FOR EVERYONE: THE CHARIOT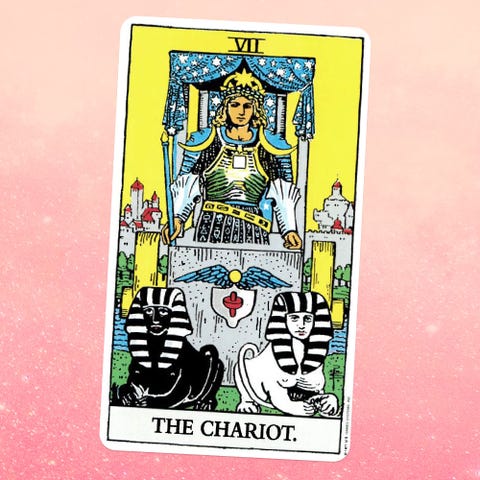 Life never stands still and nor should we. The Chariot visits us all this week to urge movement, travel and change, all of which should be well thought-out before you act. Moving homes or cities, important trips, aspirational vacays are all in the cards this week, even if you're only considering them for the first time.
ARIES: QUEEN OF CUPS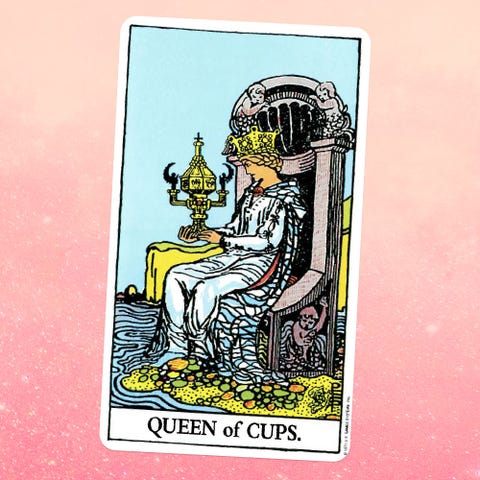 You're known for wearing your heart on your sleeve, Aries–there's no hiding when it comes to your emotions and, this week, that's even more the case. The Queen of Cups is in tune with her feelings and understands what sets her off and what the root causes of her emotions are. Are you? Tune in to what lies beneath this week; you might be surprised what you learn about yourself.
TAURUS: SEVEN OF SWORDS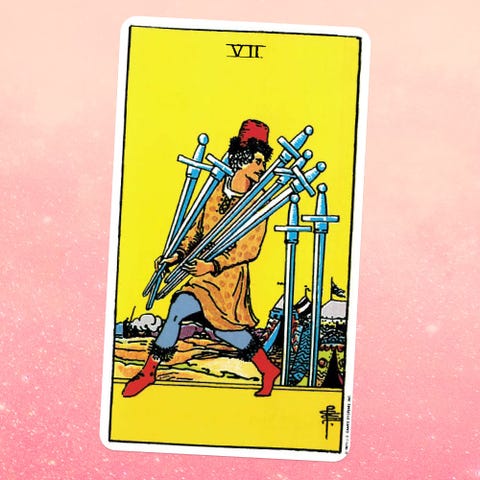 GEMINI: FIVE OF WANDS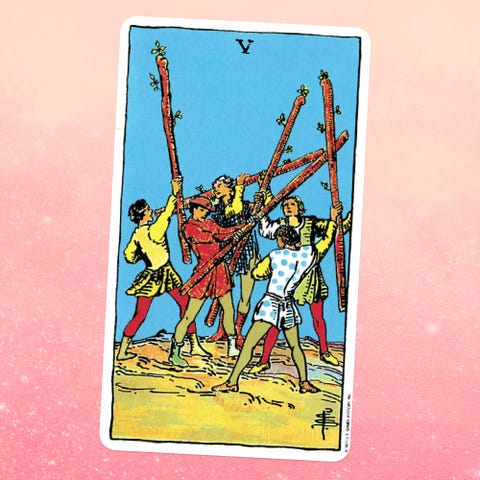 A troublesome situation, as shown by the pesky Five of Wands, has lingered for too long in your life and it's time to switch up the game plan. Try a totally new approach this week. Do your best to look at it from a third party-perspective. And then act accordingly. Stop reacting rashly, and start taking calm, collected control. You'll be surprised by the results!
CANCER: SEVEN OF COINS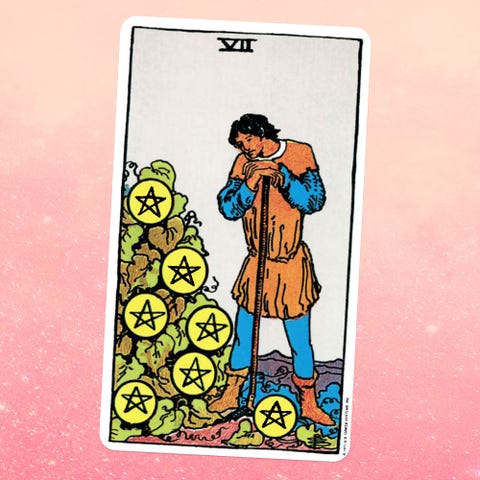 Whatever you think you this week is going to bring, be prepared to get something completely different (and no less appealing, either.) The Seven of Coins marks a pause in proceedings, or a sudden and left-field turn of events. Though it may seem unexpected (despite this heads-up), trust that the universe brings you this little plot twist for a reason. It's all working towards a much bigger plan…
LEO: STRENGTH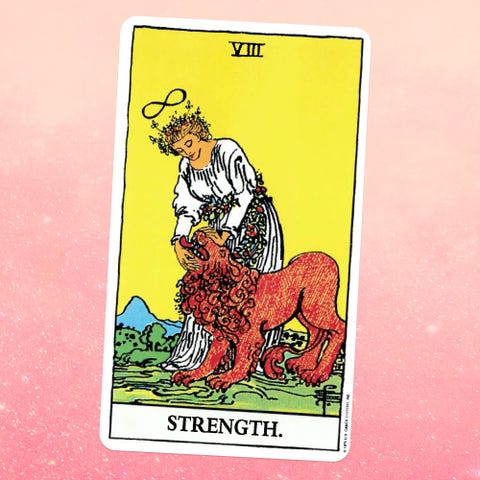 VIRGO: TEN OF SWORDS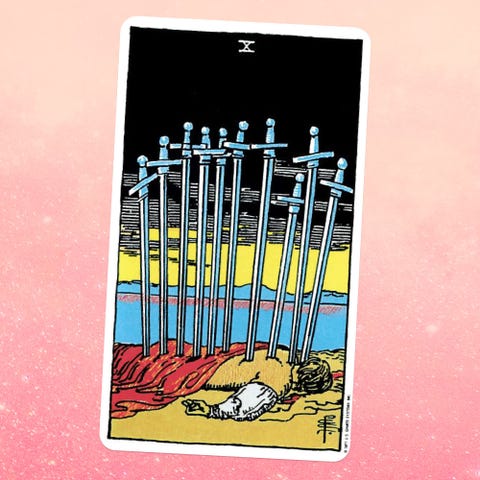 Someone in your life has taken advantage of your helpful and reliable nature. The Ten of Swords is begging you to draw an end to this situation, because your energy is being squandered. You can't live others' lives for them, or influence their behavior and choices– even though it feels like a small commitment from you, it ends up snowballing and sucking up so much of your time until there's barely any left for you. Let them do their own thing, for your own sanity!
LIBRA: ACE OF COINS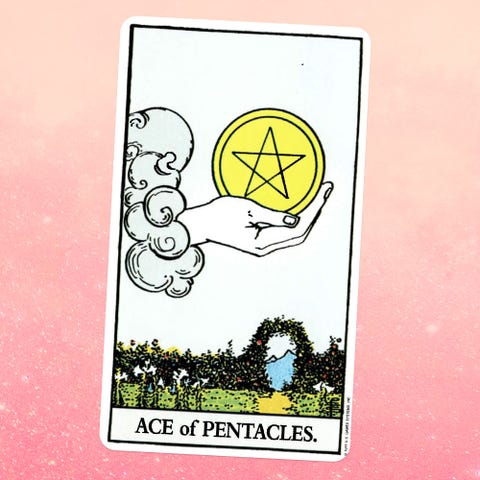 Decisions can be tricky for you because you tend to spend forever weighing out your options. The Ace of Coins acknowledges this, and brings you some advice this week. Don't go all in on the choices you have to make, but opt for a middle ground, "preliminary choice" instead. Aka, something that helps move things along but isn't a written-in-stone commitment. Take a small step forwards and see how it feels, just to get you moving again.
SCORPIO: THE EMPRESS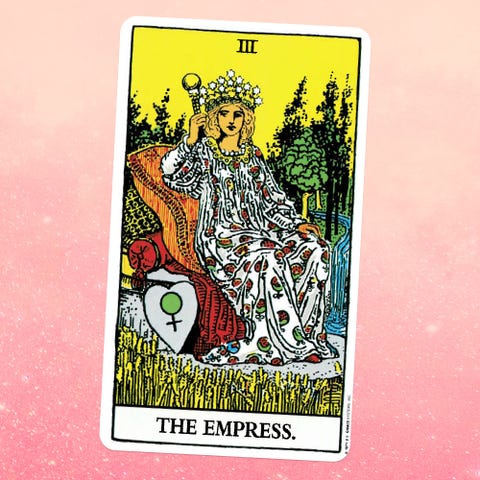 Family is where it's at this week, Scorpio. You're a fiercely loyal and protective person around those you love, and it's time to show them how much you care this week. The Empress is all about nurturing, taking pleasure from the simple things, and enjoying the beautiful outside world. Make some plans with close friends and family that reflect those themes, and you will feel rejuvenated and restored.
SAGITTARIUS: THE FOOL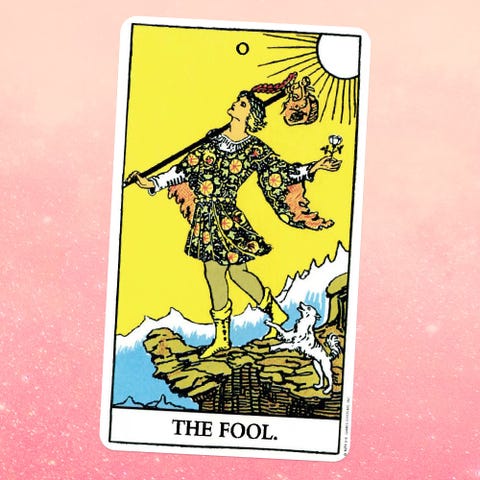 The patron saint of new beginnings, The Fool, plays you a welcome visit this week, Sagittarius. Great! You love a clean slate. So, what tickles you right now? What jobs, trips, or life goals have you been daydreaming about as of late? Pick one (even the wildest one you think could NEVER happen) and start exploring your options. The wind is in your sails this week!
CAPRICORN: SIX OF CUPS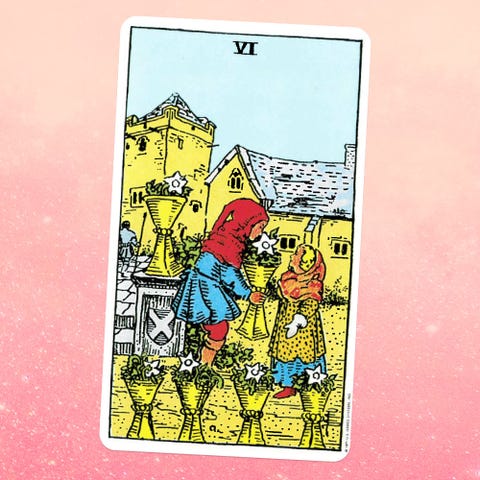 Capricorns hold duty, tradition and the past in high regard, so you have great respect for your elders and the lives they've led, and you understand the commitment and sacrifices others have made to help you get to where you are now. Reflect on that this week: this theme of legacy. What would you like yours to be? The Six of Cups is a nostalgic card and sometimes appears to ask us to project ourselves into an imagined future, to glean what a "future you" might have to say about your current path. Look back to move forward!
AQUARIUS: KING OF COINS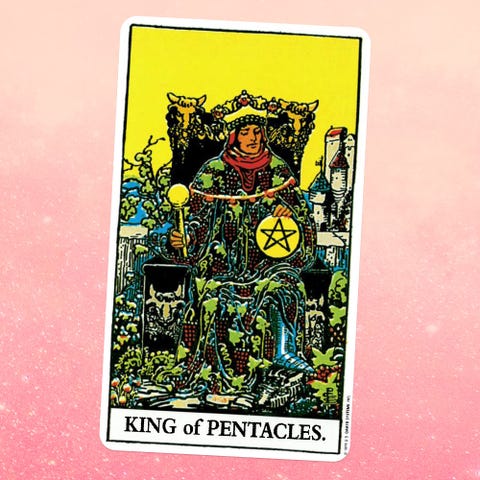 Keep your eyes peeled this week, Aquarius, for an older, successful person–possibly a grounded Earth sign (Taurus, Virgo, Capricorn.) This person may be a significant mentor re: your career or finances. Perhaps it's a parent, older relative, boss, friend or ambitious acquaintance. Advice and guidance are free, and from the right people, invaluable. Make sure you don't miss out.
PISCES: FOUR OF WANDS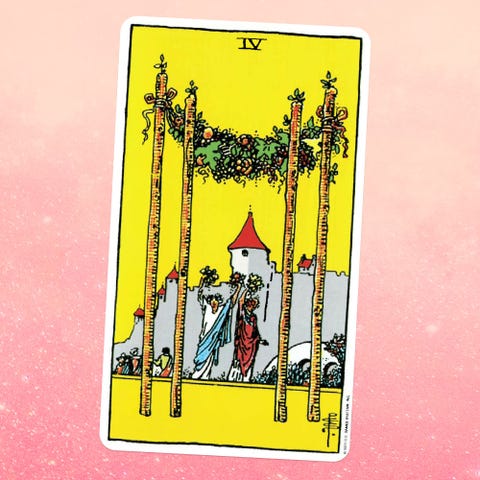 Are you getting the rewards you deserve? Is your hard work being recognized and providing the material gains you expected? Ask yourself this, because you can sometimes be too nice to really demand what you're owed. The Four of Wands hints you should be getting more, because you're valued and you make a difference. It's time to either step up and ask for that raise, or seek a new role with bigger rewards. You earned it, and the universe is ready to give it to you!
Source: Read Full Article