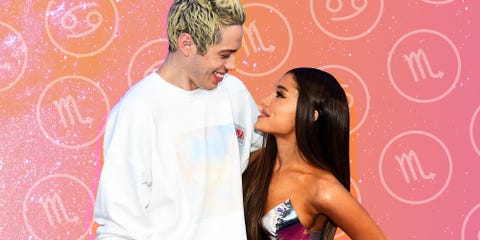 There is something deeply, ridiculously compelling about Ariana Grande, 25, and Pete Davidson, 24. While they're not the only celebs who got engaged super quickly this summer, their constant doting on each other in nearly every recent interview, song lyric, and Insta comment feels refreshingly genuine.
Turns out, their signs and astrological birth charts may explain their magnetic attraction, according to astrologist Jake Register. Here's how the stars explain this couple's most abrupt (but romantic!) behaviors:
1. Pete automatically felt comfortable around Ariana.
https://www.instagram.com/p/Bl2Nq9PHxj4/?utm_source=ig_embed
♡ ?
A post shared by Ariana Grande (@arianagrande) on
The day Pete met Ariana, he told GQ, he said he'd "marry her tomorrow," and even sent her engagement ring pics to choose from the same day. But he wouldn't do that for just anyone–Ariana is astrologically very special to him.
Born November 16, Pete is a Scorpio. People with this sign have the most emotional depth, but tend to be more guarded in their demeanor, Register explains. On the flip side, Ariana is a Cancer (born June 26). Cancers are uniquely incredible at reading feelings and encouraging emotional safe spaces for the people in their lives.
"Scorpio feels the understanding and empathy from Cancer, and Cancer is able to connect with Scorpio on an incredibly intimate level that isn't easily achieved with other signs," he adds. Basically, no one gets Pete like Ariana does.
Their unique connection is something anyone would want to hold onto—forever. "A lot of people say that Cancer/Scorpio compatibility can be the strongest in the zodiac, and I'm inclined to agree," Register says.
2. They fell in love almost immediately.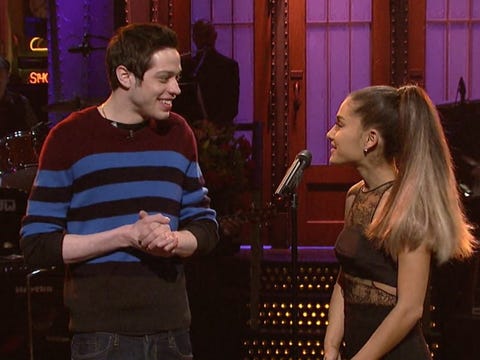 Both Ariana and Pete have described how quickly they fell for each other, and it makes perfect sense: Both Cancer and Scorpio are water signs. "[They're] super sensitive and emotional," Register says of this astrological element. "They can connect with each other on a super deep and psychic level with ease because they're so intuitive."
It sounds like the perfect basis for a fast-moving, passionate partnership—and Register supports the theory: "When they're feeling something, they really feel it," he says. "The initial spark of attraction they experience can feel like a raging inferno."
What's more, he adds, the watery energy in Ariana and Pete's charts means they're likely to both feel loved and express their love seamlessly.
3. Ariana and Pete are practically spokespeople for PDA.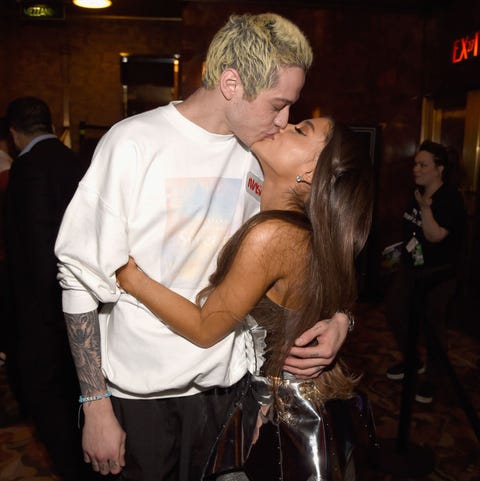 As literally everyone knows, Ariana and Pete haven't exactly been subtle about their feelings, and their individual charts show why both of them are so openly gaga about one another, according to Register.
Ariana's "midheaven"–the part of her chart that represents her career and reputation–is touched by several of the same planets in Pete's chart, Register explains. It means that dating him feels like fate to her—so much so that she can't help but publicize it, he says.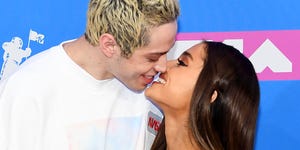 Pete's intensely romantic Scorpio nature complements Ariana's own idealistic views of their relationship, Register says: Their astrological bond is so strong that it's no wonder they operate as though the world around them has disappeared.
4. The duo moved into a b-a-l-l-e-r apartment together after less than a month of publicly dating.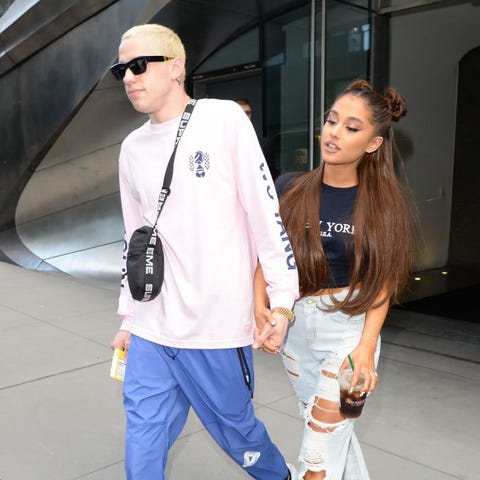 A comfortable and secure living space is incredibly important to Cancers like Ariana, Register says, and it's no wonder: Register chalks it up to Venus, which was located in Taurus (a very practical, home-oriented sign) when she was born. Of course she places a lot of value on her personal belongings and making her house a sanctuary!
Getting a home together so soon indicates an enormous sense of trust on Ariana's part. Meanwhile, Pete's sign, Scorpio, is more concerned with emotional resources and shared assets between partners. To that end, Pete has joked about feeling like a guest in Ariana's apartment when he's actually home in their place: "She's like, 'This is our house,' and I'm like, 'You're very nice for saying that. Thank you for letting me stay here,'" he told GQ.
"For him to be allowed into Ariana's space and also share it with her shows Pete just how important he is to her," Register says.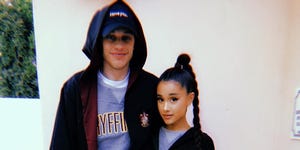 5. Ariana literally writes songs about her love for Pete.
Her recent album Sweetener is filled with lyrics about the singer's future husband, including, you know, the song literally named after him. As it so happens, a special part of Ariana's sign impacts how she communicates her love.
"With expressing love and commemorating a relationship, you'd want to look at Venus in astrology," Register says. After all, Venus represents a person's love life. And remember, when Ariana was born, Venus was located in Taurus, a sign that is both grounded and sensual.
"Venus in Taurus is a placement that can lend itself to someone who is gifted artistically, especially in music–which is obviously a trait Ariana has," Register adds. "So Ariana writing songs about Pete is another clear indicator of how much real love she feels for him." Makes sense!
6. Pete got cold feet in the face of soooo much attention.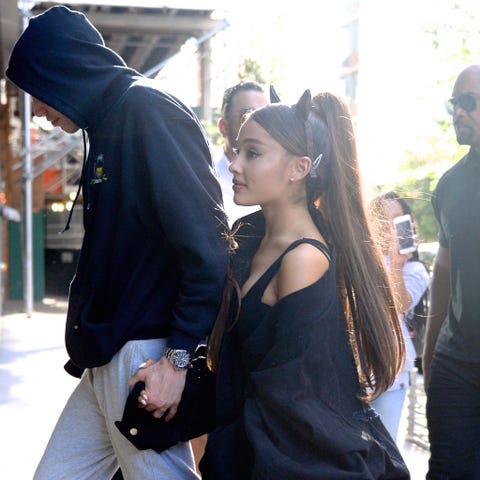 About a month after writing some gushy Instagram comments about his relationship on Instagram, Pete deleted all of his posts. He's also voiced discomfort in the newfound attention he receives, calling some of it "mortifying" in a recent GQ interview.
Register thinks all of this adds up: "Scorpios are definitely very private signs when it comes to any of their own affairs," he says, adding that dating a superstar like Ariana might take some adjustment because of his sign.
7. Ariana and Pete coolly clap back at haters.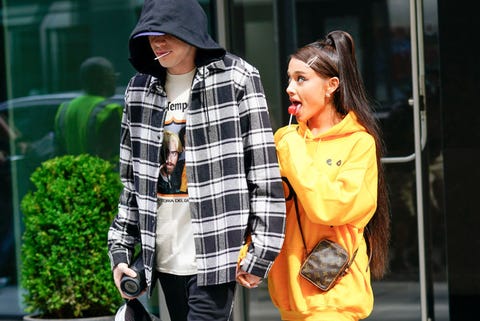 When haters criticized Ariana for dating Pete, she responded by saying that life was too short to not embrace her love for him.
forreal. the truth is ☕️ i been the fuck thru it and life's too short to be cryptic n shit about something as beautiful as this love I'm in. so ǝʇǝԀ it is.
And when Pete was accused of giving Ariana a fake version of his dad's necklace, he revealed that Ariana's was the real deal.
The symbols of their respective signs–a crab for Cancer and scorpion for Scorpio–explain their need to defend each other and their relationship, Register says. Despite being sensitive water signs, both are represented by animals that have a tough physical exterior and a means of attack (claws or a stinger, respectively) if you come for them.
"Ariana and Pete feel real love between each other and are totally devoted to the relationship—when people judge or criticize it, the pair can lash out!" Register says of his observations.
8. Ariana predicted she'd marry Pete from the get-go.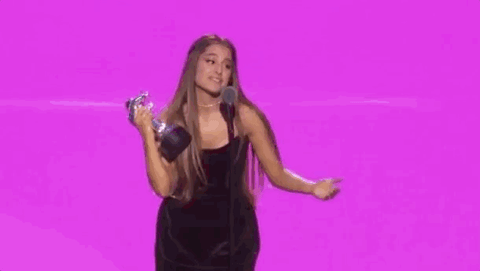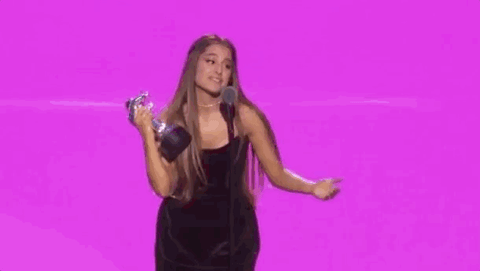 Ariana isn't the type to crush on random people, she told Jimmy Fallon in a recent interview, but when she first met Pete, she joked about marrying him. Turns out, it has a lot to do with her birth chart.
"With her Venus in Taurus, Ariana has a very refined taste and knows exactly what she likes whether it comes to men, food, art, or music," Register says. "That, combined with the super emotional vibes of her sign, explains why Ariana is the way she is in love. She doesn't fall often, but when she does, she falls hard!"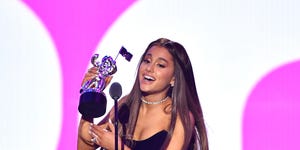 You might have noticed this theme in Ariana's Sweetener song, "R.E.M.": She feels like she already knows Pete, so she just wants to hug him and say "I love you" right away, per the lyrics. Aw!
Follow Julia on Twitter.
Source: Read Full Article