For fifteen years WWE has, in some shape or form, been ruled under the heavy boot of one Brock Lesnar. When he first made his professional wrestling debut with WWE back in 2002 he was a dominating force right off the bat and that's something WWE always likes to look back upon when listing Lesnar's accolades. However, plenty of big, athletic men have run through most of the roster within the first weeks of their careers; that's just how WWE likes to introduce these guys. We had no idea at the time that we had something as special on our hands as Brock Lesnar turned out to be. How could we? He's become a larger than life super villain and one of WWE's most intimidating bad guys of all time.
Sometimes we forget, though, that his appeal faded after a few years and he – along with Bill Goldberg – were viciously booed out of the company live at WrestleMania XX. All was forgotten years later when he would return from a successful mixed martial arts career with Ultimate Fighting Championship and the WWE Universe found him a breath of fresh air in the PG era. He certainly had some more time in the sun with WWE but for many reasons the time has again come for Brock Lesnar to hang up his professional wrestling boots, and this time he needs to hang them up for good. Here are fifteen reasons why the "beast incarnate" should find the closest exit and roll the credits on his WWE career.
15

The Universal Championship is M. I. A.
Upon the inception of the 2016 brand extension we were told that everything was going to be kept separate between Raw and SmackDown Live. That's been mostly true save for John Cena being a free agent and the company making all of their pay per view events dual branded. That's why the Universal Championship was created when the WWE Championship was drafted to SmackDown Live; Monday Night Raw needed a world champion. However, a few months into the Universal title's lifespan Goldberg had a brief stint with the title and barely showed up for television. Next, Brock Lesnar had a run with the title. He, too, barely showed up for television. That was over a year ago; Brock Lesnar is still the Universal Champion and still rarely showing up for TV.
If Raw needed a world champion so badly, then why has the past year and a half seen us with a Universal Champion who is never there? It's difficult at times to even remember that the Universal Title exists and since there doesn't seem to be a world where Brock Lesnar is in WWE and not holding the Universal Championship it's time to send his career riding into the sunset for the sake of one of WWE's most important championships.
14

To Prevent Lesnar from Being Drafted to SmackDown
Ever since the brand extension in 2016 the WWE Championship – professional wrestling's most legendary prize – has been exclusive to SmackDown Live. Unlike the seemingly endless days of Triple H, Randy Orton and John Cena fighting over the title, the company does not seem keen on resting on its laurels as it relates to the title's legacy. WWE has tried several new experiments to keep the title fresh including having Bray Wyatt finally capture the title and Jinder Mahal making a surprise rise to the top to claim it for himself. That's not to say all of these experiments worked, but WWE has been bold in the opportunities they have given.
For the last several months AJ Styles and Shinsuke Nakamura – two of the most popular wrestlers in the world – have been feuding over the WWE Championship and while the rivalry has certainly had its ups and downs the title will be better for it in the long run. Can you imagine, though, if WWE decided to switch things up for Brock Lesnar and draft the beast to SmackDown Live? Lesnar would almost certainly get his hands on the WWE title, which would squash all of the title's progress in recent years if the state of the Universal Championship is any indication.
13

Raw is Boring
One could believably make the assumption that WWE would never draft Brock Lesnar to SmackDown Live, as no matter how hard the company tries to make us believe otherwise SmackDown will always be an afterthought compared to Monday Night Raw. But even if Lesnar is never sent over to the blue brand to screw things up for the WWE Championship, there is no denying that Raw has been quite boring for a long time. If not everything about Raw is suffering – the Intercontinental Championship picture, for example, has excelled in recent times – then the overall main event scene has surely crumbled under the absentee style ruling of one Brock Lesnar.
It's not just that Brock Lesnar is the Universal Champion; the biggest problem is that he has had the exact same material for years. No matter if Lesnar holds the world championship or he doesn't, he only shows up for his next high profile feud to stand in the ring while Paul Heyman does all the work for him. Then he pops up for his pay per view match and moves on to the next opponent. The cycle is repeated, and with Raw seemingly always being built on what Brock Lesnar is doing next the whole show is brought down when he shows up and repeats the same shtick over again, if he even shows up at all.
12

He Can't Represent WWE
For all the talk of how incredibly boring he makes a weekly wrestling program to watch, there are other, perhaps more practical reasons from a business standpoint, that Brock Lesnar needs to seriously consider hanging up his boots. WWE is a worldwide entertainment organization that essential works every day of the year in order to keep the wheel rolling. From all stories told it would seem that being a champion in WWE means you now represent the company through interviews and appearances on morning television shows and so much more. We've discussed that Brock Lesnar doesn't even like to show up for work on Monday Night Raw more than a handful of nights out of the year, and even then he just stands in one spot while his advocate Paul Heyman speaks for him.
Not only does Lesnar only show up seemingly when he wants to, even when he is the Universal Champion, it is perfectly clear that he will very rarely put himself in the position to be interviewed even by WWE itself, let alone by a morning talk program. With his sparse work schedule and the fact that he will never do a media appearance for WWE, how can he represent the company the way that every other champion is expected to?
11

Paul Heyman Needs New Material
When Brock Lesnar makes a rare appearance for WWE there is a distinct formula that, apparently, WWE is convinced works perfectly. Someone makes a challenge to Lesnar and he shows up after a couple of weeks, only to stand in the ring while his advocate, Paul Heyman, works his magic to sell yet another Brock Lesnar match. Heyman is an artist on the microphone, and quite frankly the pressure to mount any sort of hype for an upcoming Brock Lesnar match usually falls onto the shoulders of the most excellent orator in the history of the professional wrestling business.
Paul Heyman is a professional wrestling genius in a lot of ways. He created Extreme Championship Wrestling in the 1990s, and while that company was ultimately mismanaged into its grave, Heyman's thumb was on the pulse of the wrestling fandom and he knew ECW was a hit from the beginning. Throughout his lengthy WWE career Paul Heyman has been an invaluable enhancement to many other careers including the Big Show and CM Punk. Unfortunately for the last several years Heyman's not been able to stretch his legs as he's been doing most of Lesnar's hard work for him. It's time to give this golden mouthpiece something new to do.
10

The Ticking Clock on a UFC Return
There is no denying that Brock Lesnar has been a hit for WWE since day one. He won the WWE Championship early in his career by defeating The Rock, one of the biggest WWE Superstars in history, at SummerSlam, one of WWE's biggest shows of the year. That wasn't just a fluke type of thing where WWE was rolling the dice on an upcoming star and hoping it worked out for the best; there was simply no denying the world title picture to Brock Lesnar. Lesnar came into the world of professional wrestling and was never anything but a main event star. It made no sense for him to not be the WWE Champion and he would go on to feud with the likes of the Big Show, the Undertaker and Hulk Hogan.
But the wrestling fandom soured on him eventually and he left the company after a few short but successful years. Upon his return to WWE Brock Lesnar was an even bigger star than he was when he left, but that wasn't due solely to his absence making the hearts of wrestling fans grow fonder. It was due to the fact that Lesnar had made a huge name for himself with an MMA career in the Ultimate Fighting Championship. He has returned to the UFC before while under contract to WWE, but recent years have seen rumors that he hopes for one more run in the octagon. If he wants to make that happen, he'll need to hang up his wrestling boots soon before it's too late.
9

Fans Don't Care Anymore
Sometimes the WWE fans don't care for what they see on television and they'll let the company know about it with verbal expressions of their disapproval. If there is one line WWE always likes to push in these situations, however, it is that as long as the audience is making noise that's a good thing. Leave for another day the irony in that statement coming from the same company who actively tries to sway the audience in the desired direction and occasionally dubs them for tape when they don't cooperate; the point here is that people really aren't making all that much noise for Brock Lesnar anymore.
Sure, there is still the usual pop for Lesnar's sudden appearance, as there is for any WWE Superstar who hasn't shown their face in a while. But Paul Heyman's twenty minute promos, while usually golden, aren't enough to sell Lesnar anymore. Lesnar's act long ago grew tired and repetitive and his mere appearance doesn't seem to be doing much for the live audiences. There is just no getting around the fact that Brock Lesnar is rarely the topic of conversation among wrestling fans who have so much more to be talking about in 2018.
Featured Today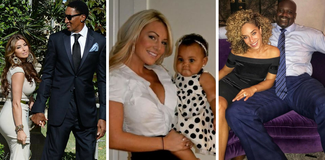 15 NBA Stars With More Baby Mamas Than We Can Count

10 Wrestlers Vince McMahon Is Trying To Get Fans To Like (And 10 Who Are Under-Appreciated)

15 NFL Players Who Won The Jackpot With Their GF (6 Who Ran Out Of Luck)

8

His Matches Aren't So Good Anymore
Yes, Brock Lesnar is less than a part time WWE Superstar who has held one of WWE's most important prizes for well over a year now. He is the Universal Champion and is seen only a handful of times per year. When he does make appearances on Monday Night Raw the script is almost always the same and fans have caught on; he isn't getting the crowd reactions he used to get and the WWE Universe has soured on him in recent months. Unfortunately for us, that fat contract he signed with WWE must mean that the company still owes him big time because when Lesnar shows up everything stops and all the hard work everyone else has been putting in is tossed to the side. Move over hard workers, Brock Lesnar's getting the main event.
That cycle is working to the detriment of WWE's pay per view system. Brock Lesnar is still getting main event matches whenever the company decides to cash in on one of his handful of annual appearances, which would be bad enough due to his part time schedule. The problem is exacerbated by the fact that his matches aren't even fun to watch anymore. Lesnar shows up and throws someone around a few times and hits the F-5. We've seen it all before, but somehow the same match gets the main event over and over again.
7

He Has No Opponents Left
Over the span of his off and on WWE career since 2002, Brock Lesnar has wrestled high profile matches against the likes of The Rock, the Undertaker, Goldberg, Big Show, Eddie Guerrero, John Cena, Triple H, AJ Styles, Roman Reigns and so many others. Obviously, his list of rivals over the years literally reads like a list of current and future WWE Hall of Famers. Lesnar has even branched out and competed against the likes of Dean Ambrose and Braun Strowman in recent memory, and at this point it is difficult to think of many big stars in WWE that Brock hasn't terrorized.
When you take all of this into consideration the story of Brock Lesnar's career starts to feel like that of John Cena or Triple H, two men who have wrestled beyond the time frame of when they likely should have started calling it quits with their in ring careers. There will always be the occasional rumored feud, such as the more recent rumblings of a rivalry between Lesnar and Bobby Lashley, who recently returned to WWE after a lengthy absence, but ultimately there seems to be nothing left of any meaning for Brock Lesnar in the way of new opponents.
6

He Overshadows Ronda Rousey
Just in case you've been living under a rock since January, in 2018 WWE managed to land perhaps the biggest sports star in the world when the company signed Ronda Rousey to a full time contract as a WWE Superstar. Rousey's MMA background with the UFC made her the face of women in combat sports and seems to have been a big inspiration for WWE's move to focus more on their women's division, which Rousey now herself competes in. WWE seems to be putting a lot of eggs in the basket of Ronda Rousey and some WWE fans believe she may be a part of the first female main event in WrestleMania history.
With Ronda Rousey being built possibly into WWE's biggest star, it seems a little contradictory at this point to still be pushing Brock Lesnar's MMA background. Not only does it hurt Ronda Rousey to try to hype Brock Lesnar's UFC history while he holds what the company calls Raw's most important title, it might hurt Brock Lesnar himself, especially since Rousey is easily the most talked about WWE Superstar at the moment. It makes Lesnar look like he's struggling to keep up with the new kid on the block, and that's just sad.
5

He's Unprofessional
Back in 2016, then WWE Champion Dean Ambrose did an interview with "Stone Cold" Steve Austin on the WWE Network that spoke volumes to all of us about the work ethic of one Brock Lesnar. Ambrose, who had just had a match against Lesnar at WrestleMania earlier that year, expressed to Austin his disappointment with working with the "beast incarnate." The match was built to make us believe it was going to tear down the house. What we got in reality was a short contest with a few chair shots and suplexes that was barely high enough quality to have been featured on a weekly episode of Monday Night Raw.
According to Dean Ambrose, Brock Lesnar doesn't like to plan his matches and was completely lazy in the face of Dean's hard work at attempting to make the match memorable. This is not a new accusation against Lesnar, who has also been rumored to have had some borderline violent outbursts backstage. Brock Lesnar is truly unprofessional and according to all of this completely unworthy of being pushed as one of WWE's top stars. It's time for WWE to put the Universal Championship on someone who has interest in more than just getting a quick paycheck.
4

He's a Total Jerk
The Brock Lesnar we see on television a handful of nights out of the year is just an awful, bad person. He's violent and has an incredibly short temper, which he tends to take out on anyone and everyone for his own personal gain. He's a selfish and cocky champion, but in the defense of his character this is professional wrestling and just about every character on Raw and SmackDown Live have similar qualities. The only problem here is that this is not just a character Lesnar portrays on television, at least not completely.
The truth is Lesnar really doesn't care for people, not even his fans. A video surfaced years ago that shows Lesnar, alongside his real life wife and former WWE Diva Sable, at an airport completely blowing off a fan who wanted to meet him. There have been many stories of his angry outburst backstage at WWE events, too, but perhaps one of the worst examples of what kind of person Brock Lesnar is came in 2004 when he apparently screamed homophobic slurs at a man in a bar and subsequently told a reporter, "I don't like gays." Freedom of speech and opinion is one thing, but not even Brock Lesnar gets to be this big of a jerk.
3

He's a Bad Example for Young WWE Stars
As any professional wrestling organization needs to do to keep itself fresh, WWE is always trying to make news stars. With the constantly growing popularity of NXT as a sort of training brand for the company and now with the brand extension, WWE has more young stars than ever. The future of WWE lies in these upstarts and some of the best wrestling talent in the entire world is currently under contract with Vince McMahon. It's obviously exciting to look at these men and women and try to imagine who the world champions of tomorrow could be, but they certainly don't have a great example being set for them in Brock Lesnar.
With Lesnar reigning at the top of Raw with the Universal Championship for over a year now and getting all the various perks afforded to him, it's easy to see how this might be incredibly discouraging for younger stars who are working night in and night out to get to the main event picture. Lesnar seems completely untouchable, as if he can do whatever he wants and he will only step out of the championship scene when he wants. How can potential future Universal Championship contenders feel that their hard work is going toward anything?
2

He Makes WWE Look Greedy
As the Chairman of WWE, Vince McMahon is a very rich business man who has never made it a secret that, when it comes to decisions about the company, he goes where the money is. This fact alone makes it hard to judge him negatively for the choices he makes, because he is usually pretty honest about it. But there is a difference between making smart business decisions and being outright greedy, and that is the image portrayed by the company every day that Brock Lesnar stays on top, either with or without the Universal Championship in tow.
For years Brock Lesnar has kept a WWE schedule that can barely even be considered part time, with only a few appearances on Raw every year and just a few big pay per view matches. Having such a huge spotlight for so long on Lesnar in spite of this undermines all the hard work of WWE's other Superstars. Despite the disregard for the work of everyone else and despite all of his unprofessional behavior, Brock Lesnar is still pushed ahead of everyone on Raw. This makes it clear that WWE not only goes where the money is, but that Vince McMahon and WWE value money over respect and basic decency.
1

It's Time to Make New Stars
In a certain sense, new stars are always being made. At this point NXT Superstars are graduating to both Raw and SmackDown Live at a rapid pace and most of them go on to become pretty big stars for WWE. Vince McMahon certainly has different criteria for WWE Superstars at times than does his son in law Triple H, so there is a bit of a culture shock for some of these rising stars and many of them end up in unpredictable situations. Nevertheless, NXT has produced truckloads of major stars who will carry WWE into the future, including Roman Reigns, Charlotte Flair, Seth Rollins, Shinsuke Nakamura, Alexa Bliss and more.
These men and women are all putting in the time and hard work, but what does it mean, especially for the men on Monday Night Raw, when they can only go so far? We've covered how Lesnar is the untouchable chosen star of the red brand despite rarely showing up and that he doesn't particularly care whether or not he puts on a good match with anyone, so how is anyone supposed to get ahead? It's well past time for Brock Lesnar to retire from the ring because he is a serious detriment to Raw and the overall WWE product. It's time to build for the future and that means anointing some new stars to dominate the Universal Championship picture.
References: foxsports.com, cagesideseats.com, sportskeeda.com
Source: Read Full Article