15 WWE Stars That Are Dating Women Half Their Size
To make it in the business you need to have a unique look. Even a generic looking guy like John Cena has that special quality; he looks like the Hulk and wears a size 13 in shoes. Yes, WWE Superstars are no average Joes, that's for darn sure. Since taking over the WWE from his father, Vince McMahon has obsessed over that 'larger than life' look.
In this article, we take a look at some monster-sized Superstars and document their romantic life away from the ring. We'll also look at decently sized wrestlers. What these 15 all have in common is how much bigger they are in comparison to their significant other. We feature relationships that include females that are also in the business along with unknowns that have nothing to do with wrestling aside from their relationship to a current WWE star.
From giants like Khali and The Undertaker to the likes of Buddy Murphy and Karl Anderson, we take a look at 15 WWE stars that are dating women half their size. Taking a look at real-life photos of these couples, it is truly hilarious to see the size difference. Enjoy folks and like always, be sure to share the article with a friend. We begin with Buddy Murphy and his relationship to the mere 'five feet of fury', Alexa Bliss. Let's begin!
15

Buddy Murphy (Alexa Bliss)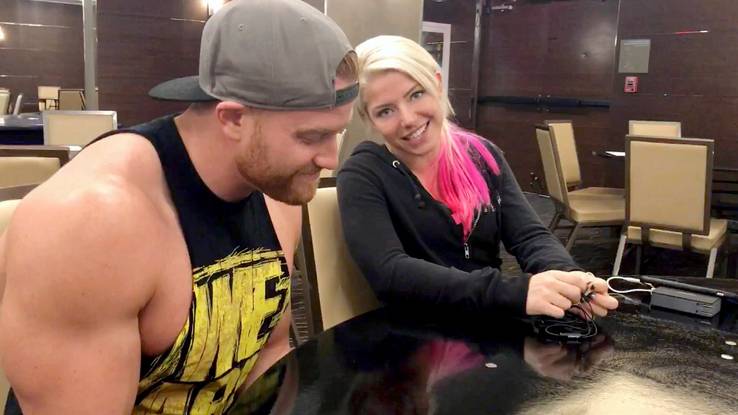 No matter who she dated, it was more than likely that Bliss would be a lot smaller than her man given the stature she has. Alexa stands in at just over five feet which might be generous. Of course, she's dating a fellow wrestler Buddy Murphy. Although he's with 205 Live, Buddy's no small guy, he probably has 5% body fat as he's loaded with some thick muscles. And of course, he also towers over his girl at six feet. Now just imagine if Alexa dated Braun Strowman and how hilarious that dynamic would be!?
Despite all of Alexa's success, Murphy is nothing but generous when discussing her current run. He even credits his partner as the reason why he developed such a mean streak in the ring. Bliss also speaks highly of her man crediting him as a helping hand early on in NXT;
"I've had some of my best matches in NXT with Bayley, which raised my confidence in the ring because I didn't have a whole lot of in-ring confidence because I was with Blake and Murphy. And Blake and Murphy helped me develop the actual Alexa Bliss character. I wouldn't be the bratty person without them because I was this little, happy, glittery tutu-wearing thing and when I joined Blake and Murphy, I got to really experiment and got them to help me evolve and develop who Alexa Bliss really is. And those are definitely people who've helped me and influenced me the most in NXT, for sure."
14

Kane (Crystal Goins)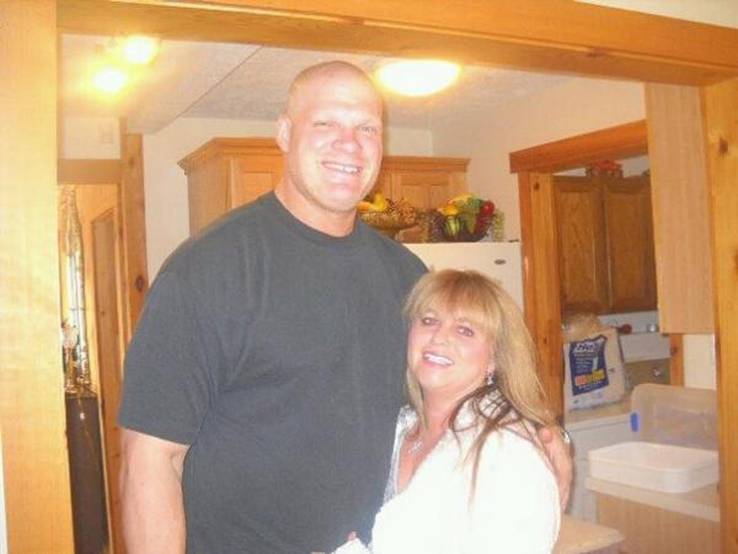 Standing in at nearly seven feet, whoever Kane would stand next to he'd no doubt tower over. He's been towering over the same woman since 1995, his wife Crystal Goins. Photos of the two together are truly hilarious; Kane is usually towering over her. The height difference is hilarious, however that takes nothing away from their strong bond.
These days, the two continue on together. This time around, Kane is no longer away from his wife for weeks at a time on the road with the WWE, instead they're working together in Kane's political career. The Big Red Machine recently spoke out about the transition, calling his wrestling background an advantage;
"It's sort of cool because your sort of entrenched political class is going to think that, 'oh he's a wrestler and that's going against him.' It doesn't. It actually works for me because you know people think that's cool, but people know who I am too and the things that I have been doing in the community for years."
Things recently reached a peak for Kane in terms of his political career. Earlier in the month of May, Kane was voted in as the primary seat as the mayor of Knox Country, Tennessee. As one of the top minds in the business, we applaud Kane for his new career.
13

Drew McIntyre (Kaitlyn Frohnapfel)
Oh, how things changed for WWE's Drew McIntyre. Just a couple of years ago he was fielding questions about his WWE release and terrible breakup to long-time partner Taryn Terrell;
"There are always behind-the-scenes politics in any job. I pride myself on being a nice guy and hope the things that have been blown way out of proportion didn't hurt me and my career. A lot of what you hear and see on the internet is nonsense. A lot of people are really vocal about my talent – and that's what's most important."
Yup, things have changed these days. Not only is McIntyre in a new relationship with partner Kaitlyn, but he completely revamped his brand on the independent scene. At the request of Vince McMahon, he was fast-tracked to the main roster most recently. Given his size at 6'5 and look of a champion, the rumor mill suggests a big push for the talent in the near future.
His size is a big reason for the success, though in truth his movement is extraordinary given his big stature. Of course, he towers over his current partner as evidenced by a recent photo of the two. He'll likely tower over the rest of the roster (since he's in line for a massive push).
12

Tino Sabbatelli (Mandy Rose)
A new couple in the WWE consists of a WWE main roster star and talent with NXT. The two revealed the relationship during the Hall of Fame, of course, we're talking about the beautiful Golden Goddess Many Rose and Tino Sabbatelli.
In terms of physiques, both are sculpted. Rose comes from a background as a fitness competitor while Tino was a promising athlete before his WWE days spending time with NFL teams such as the Tampa Bay Buccaneers, Cleveland Browns and Kansas City Chiefs. In terms of height however, the two have noticeable differences. Tino stands in at 6'3 while Mandy's barely over five feet.
Tino's currently out of action nursing an injury. Mandy is instead enjoying a big time push on the main roster with SmackDown Live. She discusses that this type of run was never a guarantee, especially early on;
"Everything I have achieved in my life I worked very hard for; I didn't just wake up and say this was handed to me, so it kind of bothered me because I was very sensitive to that, but then I thought, you know what, it'll be more rewarding for me in the end when I prove to everyone that I can be the person that I want to be. Besides that, it was fun, but I think it's awesome that it was full circle, and with her debut back from surgery and the fact that Sonya and I were with her [during Tough Enough] it's crazy."
11

Wesley Blake (Sara Lee)

Every little thing that you do baby I'm amazed by you ?..my hunky hunky man @thewweblake !! #cheesin #hunkyhusbandsofinstagram #Orlando

A post shared by Sara Lee (@saraann_lee) on

Who can forget Sara Lee, the winner of the last Tough Enough competition. Although she wasn't the most skilled of the bunch she still managed to win the show due to her underdog status. Lots of people saw this as WWE fans pulling a rib on the company by voting her on as the winner of the show.

She won the contract though her run in the company came to an end shortly after. Rumors about the departure are still unclear; some believe she left in order to start a family while other platforms suggest that her in-ring struggles and inability to improve caused her demise.

Nonetheless, she at least got a relationship out of the experience. She's partnered with NXT Superstar Wesley Blake, and the two recently had a child together. They make a cute couple but like the other relationships on the list, are definitely different in stature. Sara stands in at 5'6, though in terms of weight, she looks like a darn feather. Wesley on the other hand is extremely wide. He also stands in at over six feet.

These days, Blake continues on with NXT; they recently revamped his gimmick as a tag team act alongside Steve Cutler.
10

Rusev (Lana)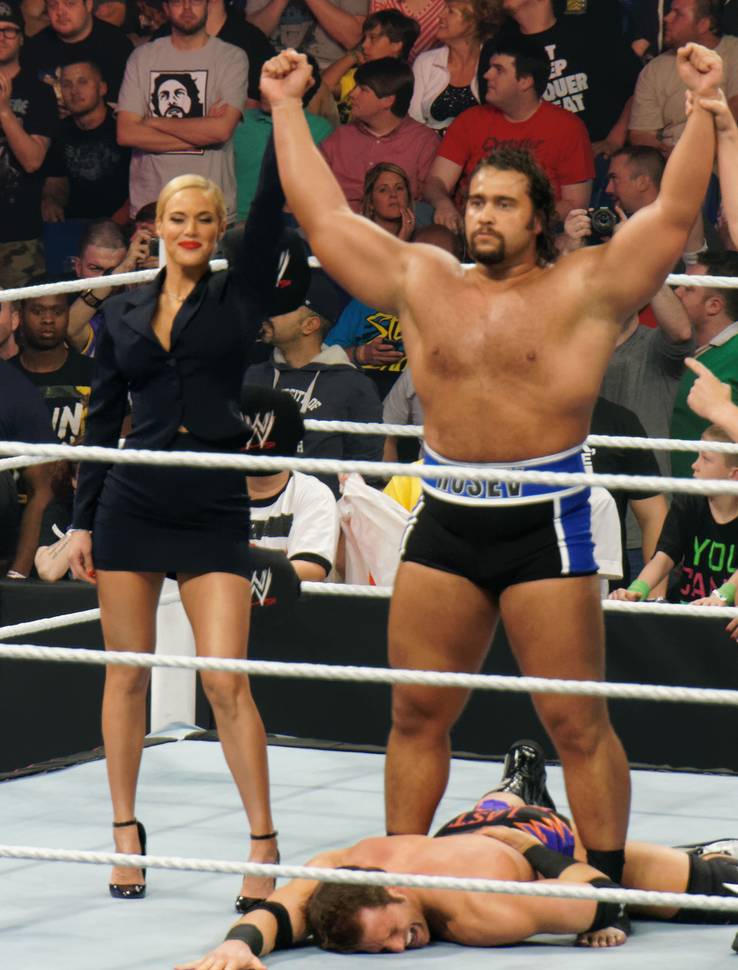 Weighing close to 300 pounds, it is quite clear that Rusev is double the size of his wife. Heck, Lana likely weighs just over 115 pounds, meaning the 33 year old is literally double the weight of his partner.
A couple of years back, Lana was clearly ahead of Rusev in terms of fame with the WWE audience. However, given the recent Rusev Day boom, that has changed. In recent weeks, Lana was also added to the gimmick giving her husband even more validity. He's in line for a big push and Lana is nothing but glowing when talking about her man's recent success.
Surprisingly, she didn't have an issue with them being separated and serving as rivals at one point. She recently spoke about the experience and here's what she had to say;
"Oh yeah! I really enjoy being his enemy. One of my favorite stories in WWE was when he was the jealous boyfriend and I used Dolph Ziggler as revenge, basically; (and) that was so much fun. We had so much fun with that story when we were fighting and our segments on TV would be so much fun—I would love to be in a story or movie where maybe we were enemies."
9

Kevin Nash (Tamara Nash)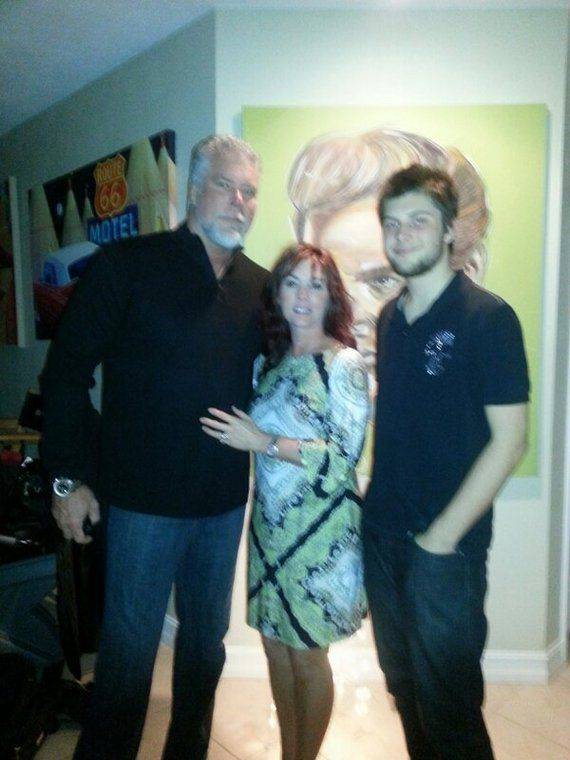 The biggest reason for all of Nash's success in the wrestling business was his look. Kevin stood near seven feet at 6'11. Given his height, he caught the biggest break of his career working alongside Shawn Michaels. As they say, the rest is history and Nash would make a fortune in the industry particularly during his time with WCW, as both a talent and booker for a time period.
Given the party lifestyle of The Kliq, it's shocking to think that Kevin kept the same relationship to his wife throughout his entire pro wrestling run. He married wife Tamara in 1988, and despite a minor hiccup that saw them separated, they've managed to maintain the relationship nonetheless – crazy stuff to say the least.
Nash has admitted that his wife as seen all of his ups and downs, without her, Kevin has stated he would have imploded. He even recalls an emotional moment the two shared a couple of years back;
"I just had a little Yorkshire terrier that my wife and I had for eleven years and we put the dog down last Thursday. The vet that came to the house saw my reaction, and I know she didn't think that person existed. But being a seven-footer or being 300 pounds doesn't make you not afraid of the dentist, or afraid or losing someone you love."
Featured Today
15 Pics Of Young Divas Who Will Outshine Their WWE Parents Soon

10 Wrestlers That Would Say No To A WWE Contract In 2018 (5 That Would Accept)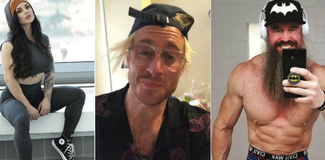 16 Former WWE Stars Even True Fans Didn't Know Completely Transformed Their Look

8

Bill Goldberg (Wanda Ferraton)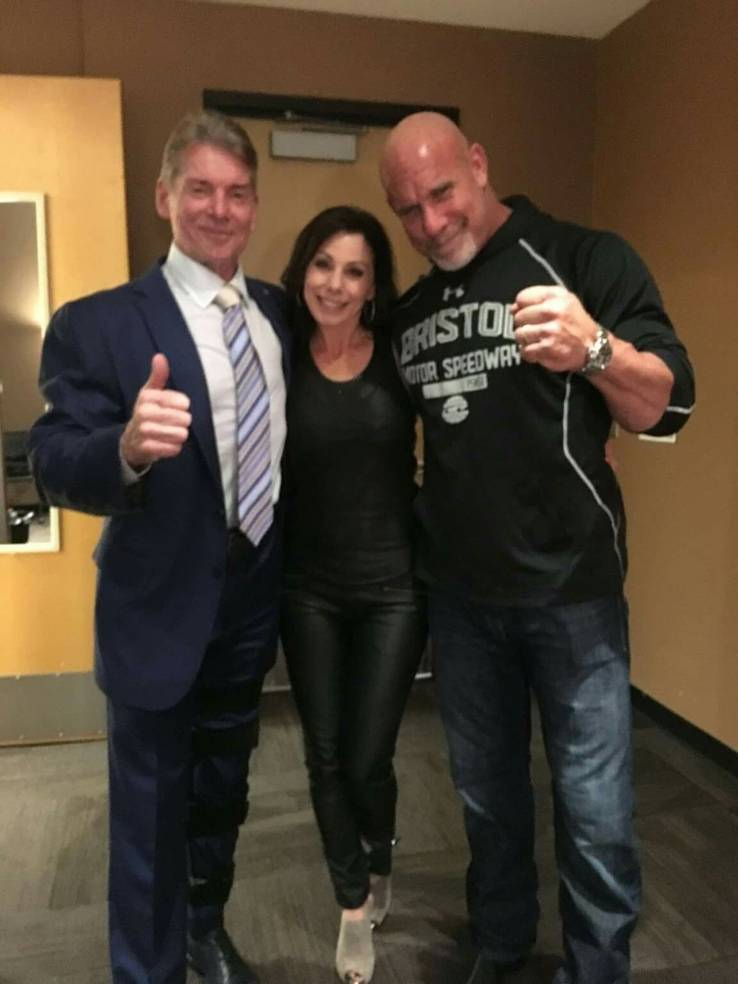 Like Kevin Nash in the prievious entry, Goldberg made it in the industry due to his massive look, standing in at 6'4 along with having the thickness and muscle density of a darn fridge. It was actually Sting that approached Goldberg and convinced him to make the jump into pro wrestling; we can all agree that decision worked out pretty darn well. Bill made a couple of bucks in the industry.
He met his wife Wanda Ferraton during the filming of Santa's Slay. She was on set as a stunt double. The two married shortly after and had their son Gage, who you likely saw during Goldberg's previous WWE run. It completely resurfaced his legacy with the fans and he recalls having a blast with his son in the middle of the ring;
"Firstly, I really don't know why he pulled his shirt off in the stands anyway. At the end of the day, it was hilarious. I couldn't have asked for a better way to write the story. I mean, I really couldn't have. You hope and you wish and you dream for the right things to happen and everything to fall into place. But I never could have imagined for it to work out like this."
7

Big Show (Bess Katramados)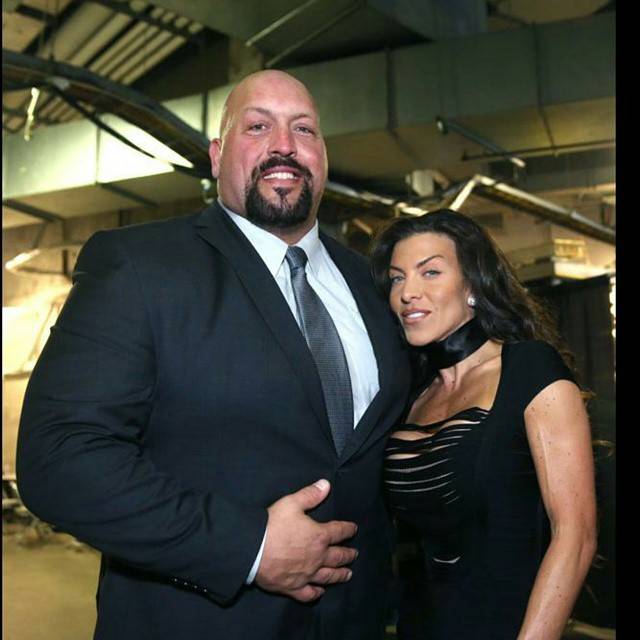 Standing in at over seven feet and weighing over 350 pounds, finding love isn't the easiest for Big Show. No matter who he dated, Show was always going to be triple the size of his partner. That was the case with his first relationship to Melissa Piavis. Though the two separated after only five years of marriage – it was said that Show's dedication to the business caused the split. He remarried in 2002 to his current partner Bess Katramados. Not too shocking, he towers over her as well.
At the age of 46, it appears as though Show's career might be coming to an end sooner rather than later. He'll likely return for one more run, just don't expect a massive send off once he's done for good;
"No last matches, no fanfare, just ride off into the sunset and disappear," said Big Show. "That's more my style. I'll find something else to do that is inspiring—and let these new kids take the business and the reigns and let them build the future. I wish them all luck. Everything changes. We've got a great group of talent that deserves the spotlight. I may work in some sort of ambassador capacity for WWE. I'm going to try to pursue a course with this Jetsons cartoon. I've pestered Seth Green, who is like the cartoon king, to get me some more cartoons. I'll try to do some more films, and that's my transition. I've had a great career and I'm really thankful for everyone I've worked with, but everything comes to an end."
6

Randy Orton (Kim Marie Kessler)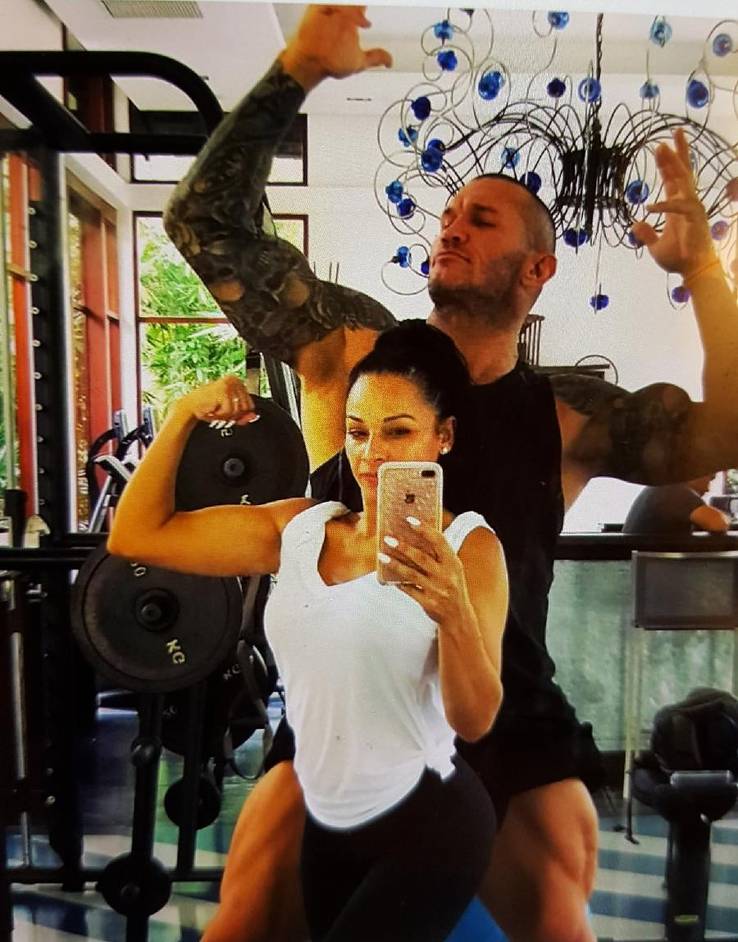 Putting his wrestling talent aside, Orton has the look of a champion. Standing in at 6'5, Randy was made for the business.
Now his love life hasn't gone as smoothly. He had a troubled relationship with his former wife Samantha Speno. Though these days, the Viper seems happier than ever alongside his new wife Kim Kessler. Orton is a family man outside of the ring taking care of the child the couple had together, Brooklyn Rose Orton, along with Kim's three other boys from her past relationship. The two make a great couple but again, it's hilarious to see Randy towering over her in candid photos of the two.
Kim has also taken an interest in Randy's work. She went on a rant during Orton's exclusion from the Raw 25 event;
"Can someone pls explain to me how @randyorton isn't on the Raw 25th anniversary tonight?" Kim Orton asked on Instagram. "He's been on more episode of Raw then anyone besides HHH, Michaels, Taker, Kane and Cena. Impressive list right? So why NOT @randyorton? He's had some of the most memorable moments in Raw history too. He's also on the Promo pic but isn't on the show. Just doesn't make sense to me. Enjoy the show tonight guys," she continued, implying that she won't be watching the show without Orton involved. "I'll be playing MarioKart with my kids."
5

Matt Morgan (Larissa Vasper)

#happyvalentinesday LaLaLu!! Can't get home soon enough to you. Hope you have a great day today and you enjoy your VDay surprises! I love you! @larissamorgan1

A post shared by "The Blueprint"MATT MORGAN (@bpmattmorgan) on

Standing in at almost seven feet, WWE saw big time dollar signs in Matt Morgan. Jim Cornette who worked developmental at the time saw a future World Champion in the talent, though sadly, he could never really grab the brass ring and run with it. He enjoyed more success outside of the company with the likes of TNA Wrestling.

These days, you can find the 41 year old sporadically wrestling. He also loves to spend family time with his wife of more than a decade, Larissa Vasper. In a surprising twist, with the support of his family Morgan took a liking in the world of politics just last year;

"It comes to a point where you get old enough and you have a child and you're like what am I doing about my own city?," the 41-year-old Morgan said. "What am I doing to make my city where my son is going to grow up? I want to be able to give him every opportunity afforded to him here in the city and it starts at the very top, in my opinion. I want to be one of the five different commissioners that decide these things that go on in our city."
4

Bray Wyatt (JoJo Offerman)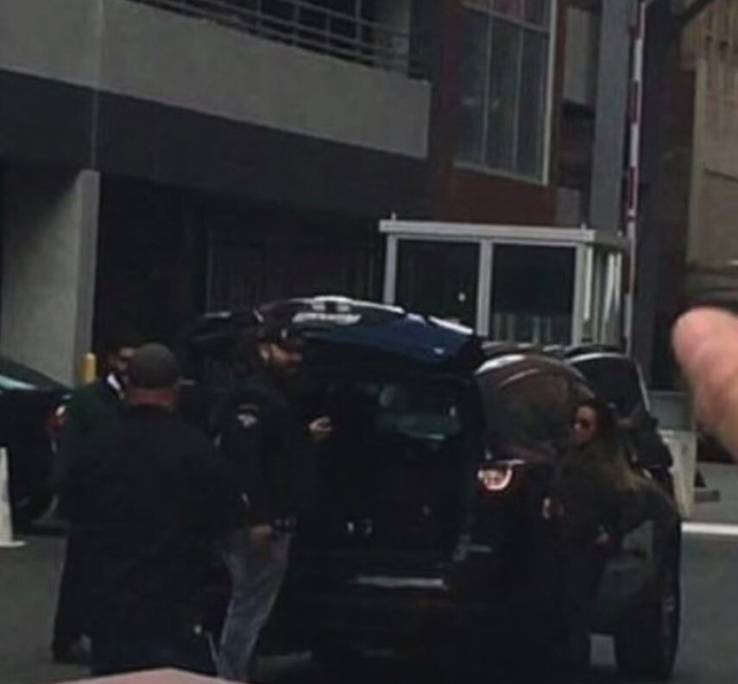 One of the oddest relationships to be unveiled was Bray Wyatt and JoJo. While married to his ex-wife Samantha, she listed JoJo as the main reason for the separation.
As you might expect, such a relationship caused a firestorm online. One of the first things fans caught on is just how different these two are visually. Still in her early 20s, JoJo is petite in stature, not to mention she's barely over five feet. Wyatt, physically, is the exact opposite. He's nearly 300 pounds with a wide frame. He's also surprisingly tall at 6'3. With all this being said, the two entering a relationship based off of the criteria was considered a big time shock.
Problems only persisted most recently. It was said that Wyatt was late on payments to his ex-wife and he wasn't apologetic about it either. Making matters worse, it was revealed that Wyatt was spending his money elsewhere purchasing expensive jewelry for his new love interest.
Thankfully, things are finally starting to settle down for the veteran. Hiss character is somewhat reborn as of late becoming a tag team act alongside Broken Matt. The two are the current Raw Tag Team Champions over on the Monday program.
3

Karl Anderson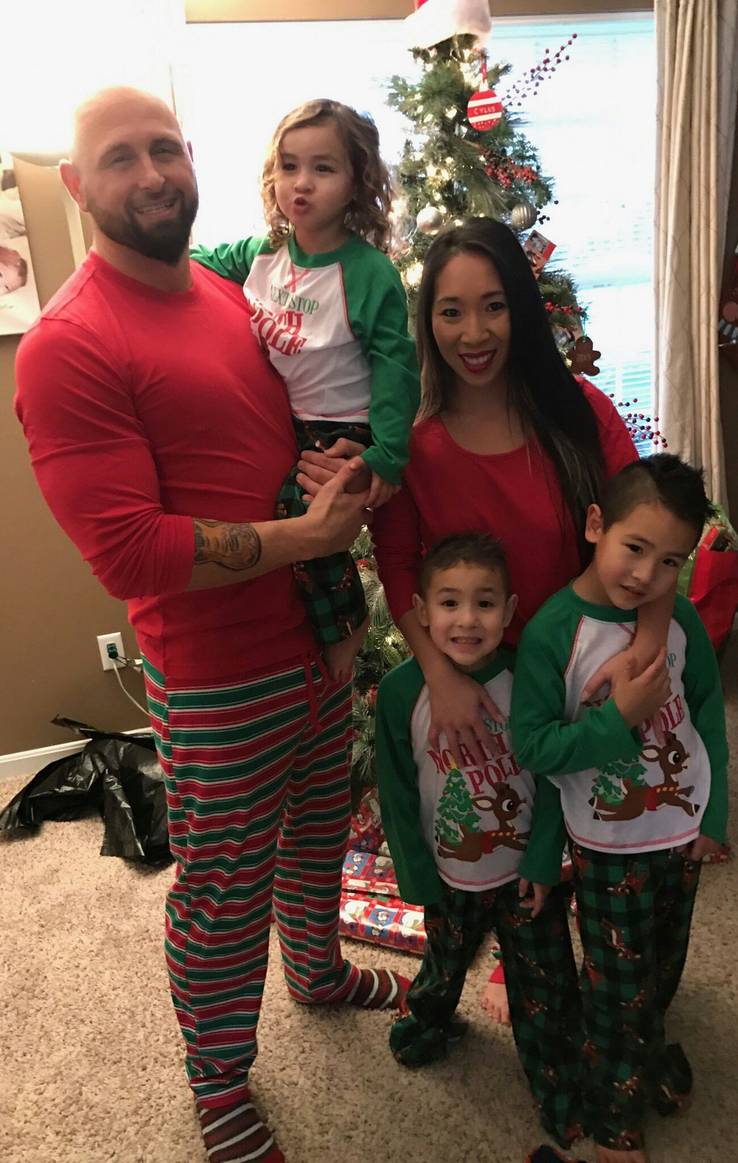 Before finally making it to the WWE, Anderson had one heck of a resume wrestling around the world as of 2000. He made several pit-stops which included NWA, Pro Wrestling Guerilla, Ring of Honor, Global Force Wrestling and of course, the bulk of his success came with New Japan. Although he enjoyed huge success overseas, he planned on a return back to North America in order to give his family a stable life.
He almost joined Impact just before inking the deal. Thanks to AJ Styles however, Anderson was given the green light to join the WWE as well. Providing for his family with a stable pay was huge, and for that reason, he really doesn't seem to be too bothered with his current role as a lower tier tag wrestler.
He has three adorable kids alongside his wife. The hilarious part about his partner is the fact that she's nameless and instead, he refers to her as his "hot Asian wife". The two share obvious differences in terms of stature; standing in at over six feet, Anderson towers over his beautiful wife. At the age of 38, he's enjoying life as a WWE Superstar while residing in the Fairfield, Ohio area.
2

The Undertaker (Michelle McCool)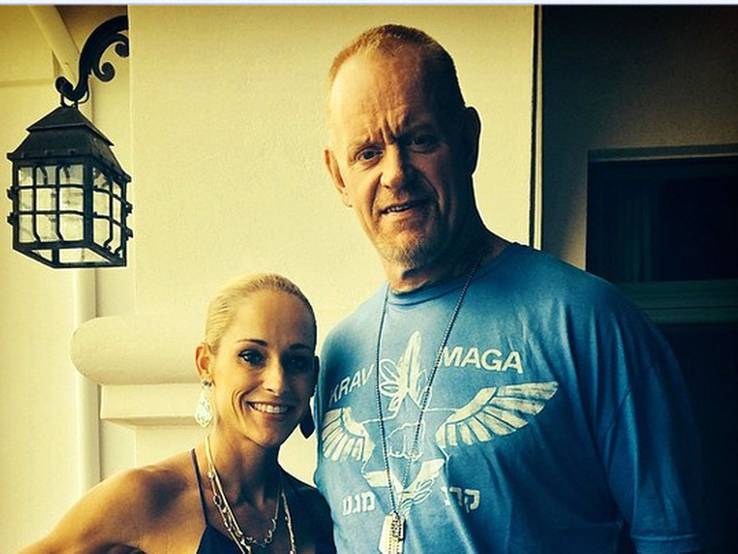 Before Michelle McCool, Undertaker had a couple of other relationships. He first married in the 80s to ex-wife Jodi Lynn. The second marriage came in 2000 to Sara Frank, the couple had children together. The two also had a noticeable difference in size, at the time it looked as though Taker could have fit Frank in the palm of his hands.
His next relationship would be with his current wife, Michelle McCool. Now Michelle isn't the smallest, standing in at almost six feet. However next to Taker's 6'10, 300 pound plus frame, she looks pretty darn small. The two are a part of one of the most beloved couples in the entire industry. Though they also have a pretty substantial age gap. Undertaker's well into his 50s at 53, while McCool is yet to enter her 40s at the age of 38. Yup, it's a seismic age gap, folks.
Despite his older age, Undertaker put on an impressive showing at both WrestleMania 34 and at the WWE's event in Saudi Arabia. Rumors suggest he'll have one more match and some even claim a handful of bouts. He'll likely call it a day with one final bout against John Cena in 2019.
1

The Great Khali (Harminder Kaur)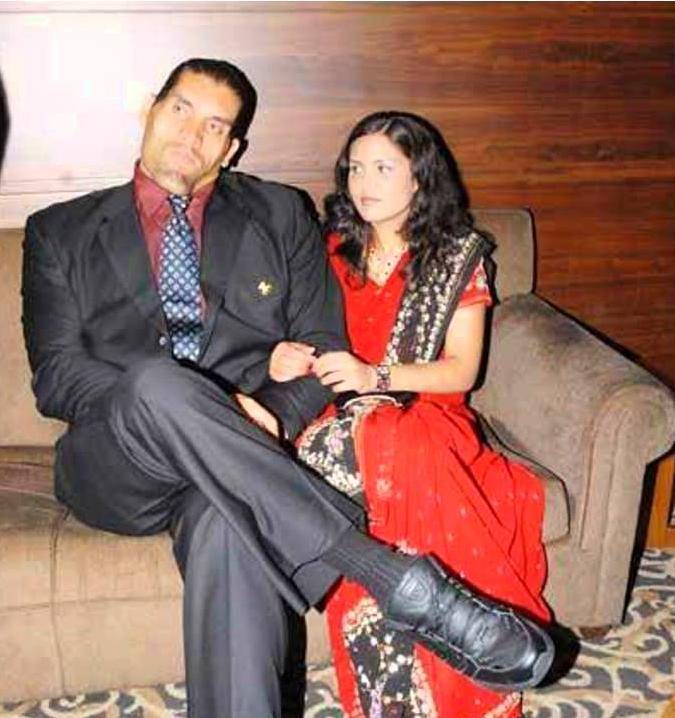 It doesn't get much bigger than Khali who stands at over seven feet, weighing nearly 400 pounds. He's double the size of most human beings, though you can imagine just how much bigger he is than his current wife. The two have been married since 2002.
Now 45, Khali's enjoying his post WWE-life back at home. He still wrestles from time to time along with running his own wrestling academy. He recently spoke out about his WWE hiatus and why the company failed to make a dent in the India market;
"The WWE has failed in India. They thought they would use the Great Khali fully and then leave him. I [had] been trying hard for [a long time] to leave WWE, but they kept on offering me [a] contract. Finally in 2014, I decided I [would] leave once my contract [ended] and [would] not work with them ever again."
"Then I came back and opened CWE [Continental Wrestling Entertainment] in Punjab, which is doing well.The future of wrestling is very bright and it can be better, if handled in a better way, if a coach is provided or [a better foundation] is given. The mentality of the Indian sportsmen is very weak. Many of them depend upon dr*gs. They feel that the consumption will help in enhancing their performance and will help them in clinching a medal. They receive too much of love after winning a medal that they forget to concentrate on sports."
Source: Read Full Article