25 Unrecognizable Photos Of Our Fave WWE Stars
The superstars in the WWE are loved by millions of people. Which means that even after their time in the ring is over, it doesn't mean the spotlight completely goes away. Even if in some instances, we're sure they wish it did. Because there are many examples of WWE Superstars, such as Ahmed Johnson, who seemingly forgot what a gym looked like after his time in the ring was done. Or Gene Snitsky who kept the body, but may have found himself longing for his days in the ring (and the paycheques), when he became a bodyguard for Alex Rodriguez.
When it comes to not being able to recognize some of these superstars, you may also be surprised at how they looked prior to their rise to fame. Such as Carmella and Alexa Bliss, both of whom have experience in the world of cheerleading. Or Steve Austin who prior to shaving off his hair and helping define the Attitude Era for the company, had long blonde hair. Though if Austin feels too dorky, so did Ryback!
Speaking of blondes, Sable may be the most iconic blonde bombshell in the history of the company, but just wait till you see her as a brunette! We also take the mask (and body paint) off for entries on Rey Mysterio and Dustin Runnels (better known as Goldust) that will definitely change how you view them. As well as put the mask back on for Sami Zayn. And while John Cena and Nikki Bella may have been the source of controversy lately, perhaps both of their entries on our list will just add some enjoyment to your day.
These are the 25 Unrecognizable Photos Of Our Favorite WWE Stars.
25

Becky Lynch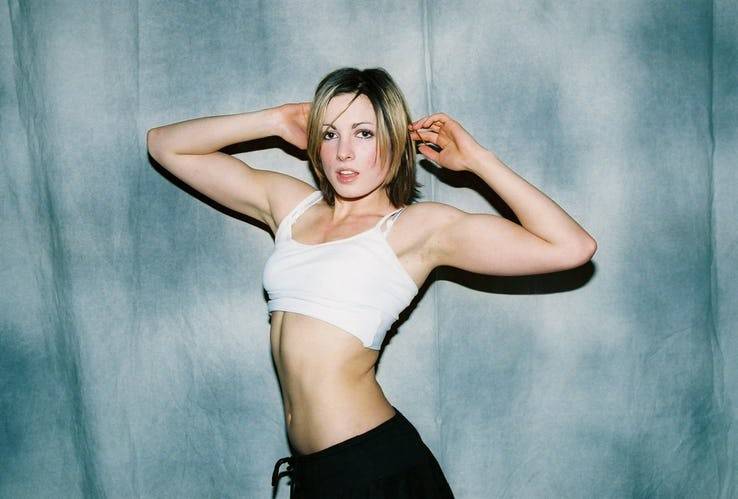 When you think of the WWE superstar Becky Lynch, your first thought may go to her long red hair. Which makes this photo perhaps one of the most startling entries on our entire list. As not only is the red hair nowhere to be found in the photo on the left but she's rocking a bob cut!
There is no question that Becky still looks great, but also no question that she looks nothing like the Becky Lynch that you know and love.
Lynch did an interview back in 2017 with WrestleZone where she opened up more about the very start of her career and why she fell in love with the sport,
"I just took my first bump and I just loved it. I loved wrestling, and there was nothing that got me more focused or put me on the straight and narrow and got my head in the zone and got me wanting to train and eat better, in every aspect of my life. I became so focused in wanting to be the best, that I was able to progress, with no natural talent whatsoever but a lot of passion…Maybe a natural talent for talking."
We are sure she is one of the many stars on the roster who felt that wrestling was love at first bump!
(Source: YouTube)
24

Rey Mysterio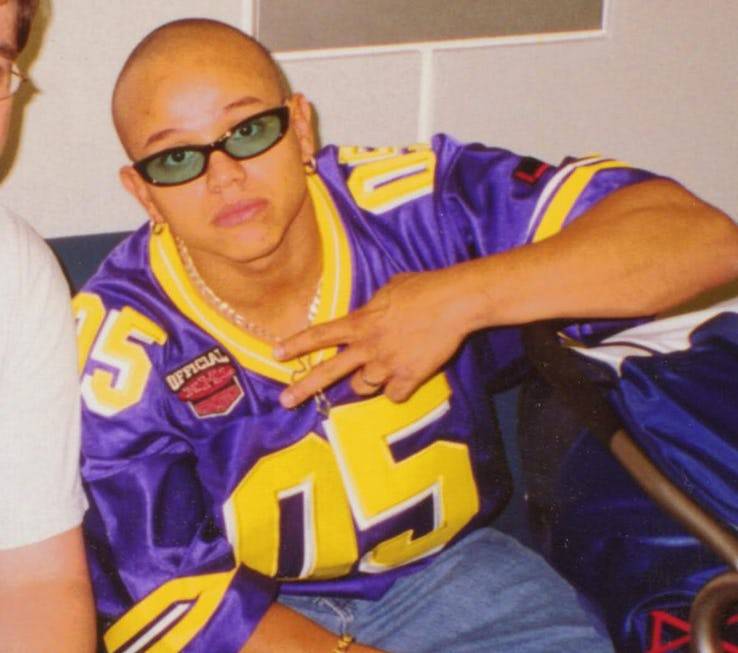 We are sure that if you have been watching wrestling for a significant period of time, that you have probably had several amazing memories of Rey Mysterio in action. But we are sure that for a large majority, if not all, of those memories, you are remembering Mysterio while wearing a mask.
When describing how much what wearing mask meant to him, he stated, "It's part of you, it's part of your whole wrestling career. Your get-up, it's part of yourself."
Mysterio also told a story of when he was told that he was going to lose the mask in a match against Eddie Guerrero and was so upset that at one point, he considered not even showing up for the match. Only a threat from Eric Bischoff that he would be in violation of his contract, which to be fair, would be true, was enough to get Rey to show up. Thankfully, for Rey, he was told that he wasn't going to lose the mask after all. And while Rey has wrestled without the mask, getting to see him outside of the ring in a setting like we have for you above, is sure to still be as shocking as it is entertaining.
(Source: YouTube)
23

Alexa Bliss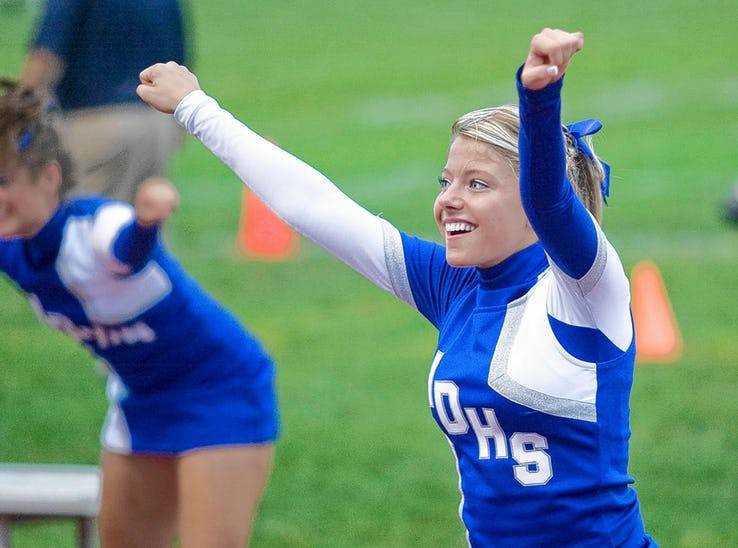 You may be surprised to see Alexa Bliss in a cheerleading uniform, but if she never took up this sport, she never may have become so proficient in the ring. When Bliss was interviewed in the past as to what helped her succeed in the company, she replied,
"With what your body goes through with WWE, nothing can actually prepare you for it. If anything, gymnastics and cheerleading helps me with my air awareness and body awareness and it helps to know where my body is at all times,"
Bliss also revealed that her family was very shocked to hear that she had aspirations to one day make it in the WWE, even if they were all fans of the sport,
"My family had watched wrestling ever since I was young, but my mom was really surprised when I said I wanted to try out for wrestling. Her first instinct was, "No, you're not, because they have women like (late female professional wrestler) Chyna!' She is muscular and big and powerful, which is great, but I guess I was definitely not the pick of the family to become a WWE superstar, but I'm really glad I did!"
Bliss has millions of fans who are also really glad she took the chance!
(Source: Mandatory)
22

Ahmed Johnson
Ahmed Johnson, real name Anthony Norris, holds the distinct honor of being the first African American to take home the Intercontinental Championship. But sadly, that was the peak of his career. Something that Johnson attributed in part to injuries. But when discussing his career in a past interview, Johnson revealed that he lied to the WWE in a major way that may explain the issues,
"For those of you that didn't know, I was already in my thirties when I went to WWF. I lied. I was not born in 1972, or '69 or whatever the Internet says. I was born in 1963. I was already on my way to being an old man. So, of course, I had some injuries."
Johnson retired from the ring in 2003, and if this fan photo is any indication, has definitely seen some better days. He is still only 54 years old, so here is hoping that if Johnson is still as large as he is in this entry, that he can take the proper steps to help out his health. If not, he may sadly become one of the many wrestlers who tragically find themselves passing away at a young age after suffering from the adjustment to life outside of the ring.
(Source: BleacherReport, Wiki)
21

CM Punk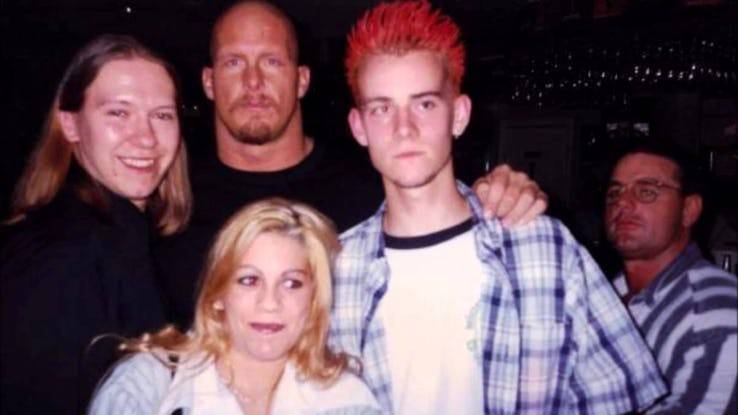 CM Punk's passion for wrestling may have been helped by the fact that he got to meet Steve Austin when he was still a young boy. But we don't know if that red hair was ever something that Punk could honestly have considered to be a good decision. And was definitely something that we're sure he was glad didn't translate to his career as an adult.
That being said, it does make for a great "blunder years" style of photo and could be your favorite entry on our list. Sadly, Punk's dreams to be in the WWE eventually turned into a nightmare. Punk ranted about several issues with the company in a past interview.
"The interviews and the promos people remember, those are improv. Now, wrestling's just over-scripted to death. It's almost like they've got a choke hold on it. Some guys need to operate that way, and I feel like some people need to let loose and be themselves."
He continued with, "You've got a whole room of guys writing for you; they don't know you, they don't know your perspective or your character. If you're out there being disingenuous, saying words that three other people wrote, I always felt that the crowd could tell, and they're going to pay attention to their phones, or s*** on whatever segment you're in. I was always just a big fan of doing my own thing."
(Source: SportsKeeda)
20

Brie And Nikki Bella
Nikki and Brie Bella have always been the athletic type. As shown in this next photo that seems to have been taken of the girls when they were in high school. Nikki Bella is definitely having a tough time at the moment as she has been left reeling from the breakup with John Cena.
The devastation that Nikki is felling will hopefully only bring the two sisters closer together. In a recent video that Nikki uploaded online, she also revealed how the break from John Cena has led to changes in her living situation
"I've been staying at Brie's because you all know why. I know I've been kind of MIA. I've just been kind of hiding out but I wanted to reach out to y'all and just thank you for all your love and support. I can't tell you how much it's meant to me especially through a really difficult time."
Cena has also commented on the separation saying
"I love Nicole with all my heart, and the split is very tough. But that's life. We all go through highs, we all go through lows. I'm going to get through it. I love her. I'll always love her. The fact that my heart hurts for her — I know I was in love. So I'll always have that."
When you consider Brie and her husband, Bryan Danielson (ring name Daniel Bryan), have a little one at home, perhaps they don't mind having the extra babysitting help!
(Source: PageSix)
19

Ryback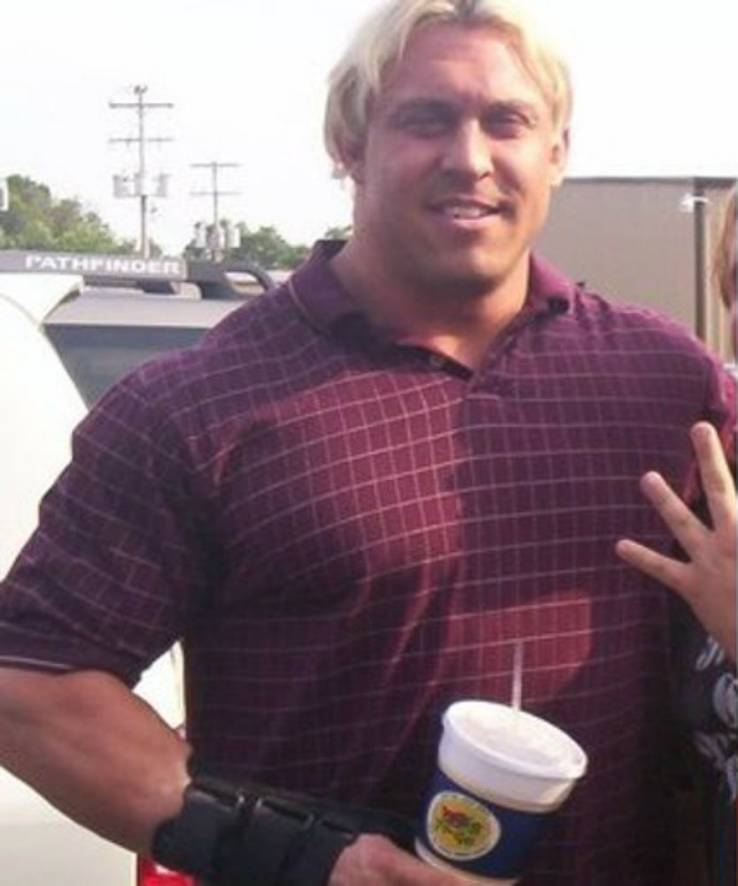 There was a time when Ryback was looking like one of the most promising superstars in the WWE. But you may be stunned to see the dominant force posing for a photo while sporting a head full of hair!
Frustrations grew over the course of Ryback's career and while he isn't ruling out a return, that isn't on his radar quite yet. When discussing some of the problems that he found with the company, Ryback stated, "The WWE is not just run by Vince McMahon anymore."
He continued with, "They are a publicly traded company and have shareholders. The company's goal is to make as much money as humanly possible. I've said, from day one, they've done a phenomenal job of building up the WWE brand, but they're very stubborn and hard headed. If you're not in that little inner-circle of guys, it does not matter what you go out there and do. That should not be the case."
He went on to complain about the writing staff, saying,
"My argument was that when I was used in a good capacity, I was the number two merchandise seller in the company. I could have been the number one merchandise seller had they given me all the merchandise we should have had. When I was used in a good fashion, people believed in it."
(Source: WrestlingInc, SI)
Featured Today
8 WWE Rumors Currently Circulating That We Hope Are True (And 8 We Don't)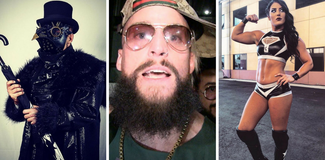 8 Rumored Names Vince McMahon Might Hire (And 7 For Triple H And NXT)

15 Wrestling Daughters Who Followed In Their Parent's Footsteps

18

Melina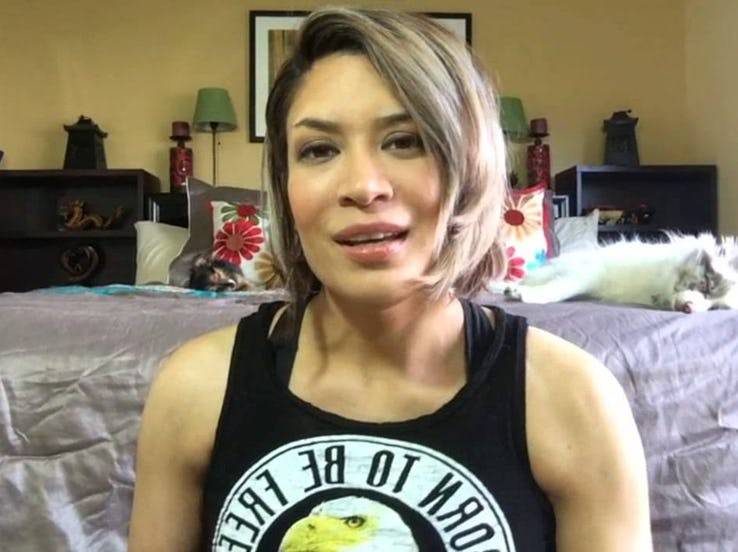 Melina definitely had her fair share of controversies when it came to interacting with other wrestlers behind the scenes. So much so that when Brooke Adams was asked to describe her, she stated,
"She was rude and fake to everyone…I can't stand her and neither can most of the rest." Melina blamed part of the heat directed towards her was a result of her character on television being that way,
"In the past, it was really difficult, because people didn't want to know me or give me a chance, because they believed in that character. Since my character was so mean and so vindictive, people didn't think I couldn't really be that way in real life, so that was really hard. It hit a point that everybody was treating me that I was such an evil person, that it kind of wore me down."
Her time in the industry was also marked by a relationship with John Morrison, as well as with Batista. When asked about his relationship with her, Batista stated
"Melina and John weren't together anymore. He was always aware of what was going on, and she was very honest with him. They split up and moved apart, and we started dating each other. She still considers him her best friend in the world. But he always knew exactly what was going on."
(Source: CagesideSeats, Mandatory)
17

AJ Lee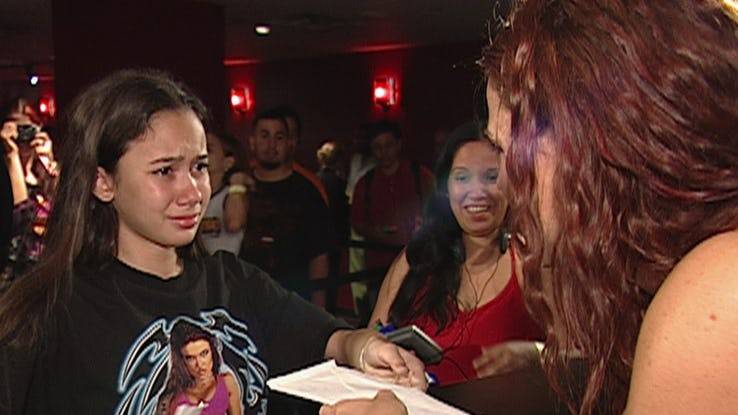 One of the most impactful moments of your life may have been when you got to meet someone that you admired. For AJ Lee, who you may not recognize at first as she is a young girl in our next entry, that opportunity came when she met Lita.
A moment that we're sure Lee and Lita were both also very glad was also captured on camera. When talking about how amazing of a moment it was, Lee revealed,
"The really cool thing is meeting people that you look up to and them being cool and not disappointing. So for her to be awesome and nice definitely helped me along my path."
You can imagine that if this interaction had gone the other way, that Lee may have been soured off of trying to make it as a wrestler entirely. After all, who wants to aspire to get a job where even your idol is cranky?
Lee also had high praise for the, apparently, lovable giant Kane who has hopefully also had many amazing interactions with fans over the years,
"There is not one person that does not like him. He's the one lovable teddy bear that everyone loves so much."
(Source: WrestlingInc)
16

Braun Strowman
Braun Strowman first became a person of interest to the WWE when they noticed him competing in Strongmen competitions. But getting into that ring was something that Strowman grew up always wanting to do,
"As a child growing up, let's be honest what young boy doesn't want to be a WWE Superstar? You watch it, it's intoxicating, you see the crowd, the cheering, the larger than life characters. Being able to step into that world now, coming in from the Strongman side before, I would get to compete in front of 1,000, maybe 3,000-5,000 people at the most. And I fed off the crowd, the louder they cheered the stronger I would be."
Thankfully, this is an experience that Strowman definitely isn't taking for granted as he also went on to say,
"It really is surreal. It's happened so fast and taken off in such a positive way for my character, Braun Strowman with WWE. It's a dream, I'm living a fairy tale right now to be honest. To see the work I've put in come across the screen, being able to relate to the fans, turned into video game characters, [and] action figures. See my friends and family around the world playing with my toys. I'm a country boy with a cool job."
While nobody will know how long Strowman's career will last, perhaps hearing his thoughts on his career will make you a bigger fan of him.
(Source: 411Mania)
15

Ruby Riott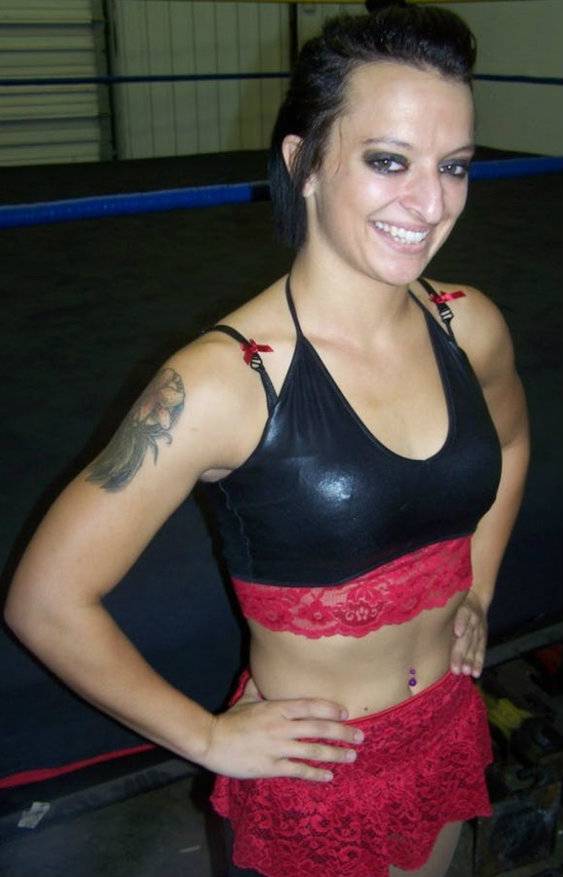 There are many amazing things about the world of professional wrestling. For Ruby Riott, the thing that perhaps stands out the most for her is the fact that the company allows her to express herself. This includes through her tattoos, of which Riott is absolutely covered in.
But that may make this photo that was taken at the start of her career and before she got super tattooed up, all the more surprising to see. When discussing the influence that the company has had on her overall sense of confidence, Riott revealed,
"Instead of really shunning my weird oddities, professional wrestling embraced my quirkiness and really helped me embrace myself and stay true to myself and accept myself and really bring out even more of these oddities that people seem to embrace. It has really helped me with my confidence and really made me the woman who I am today."
Riott also went on to explain where her name comes from,
"The name Ruby Riott was very much inspired by my punk rock background. There is a song by Rancid that is inspired by a Ruby name. Riott, obviously, when you think of punk rockers, mosh pits, riots, everything like that."
(Source: MiamiHerald)
14

John Cena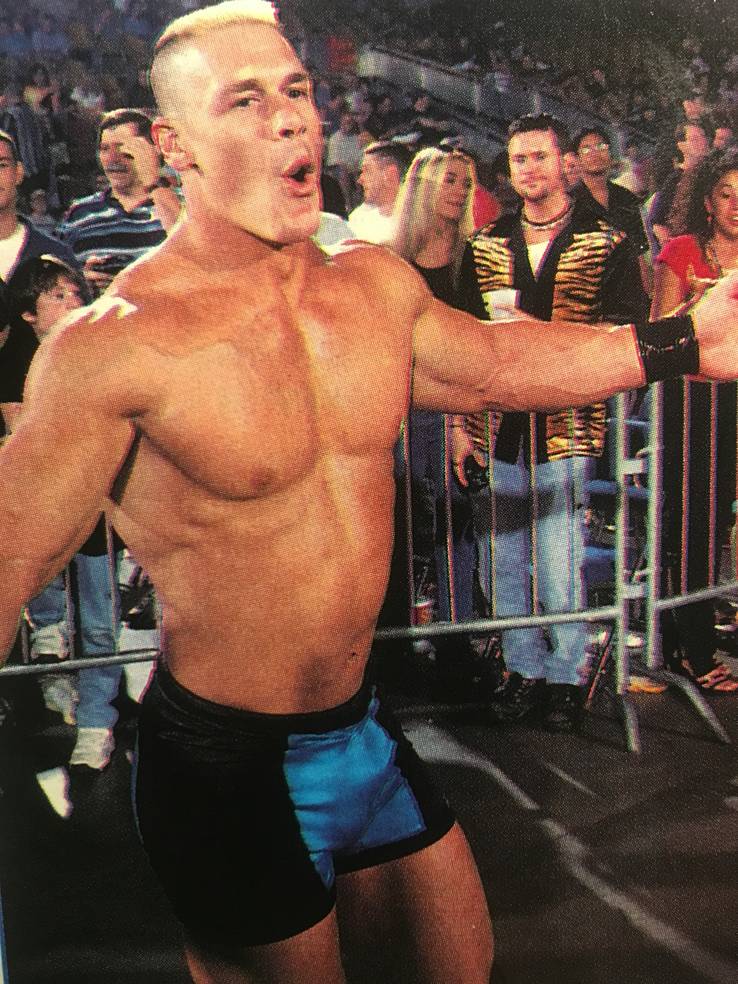 When John Cena was making a name for himself in the WWE, it was as the Dr. of Thuganomics, something that the WWE Universe could not get enough of. But when he was first trying to get his footing as a wrestler, it was under the gimmick "The Prototype", who Cena stated was 50% machine, 50% man, and 100% mayhem. You may not have to think too long and hard to see why the WWE decided to pass on following through with that look!
Entering the wrestling ring was a passion of Cena that he can link back to the relationship he has with his father,
"As a young kid. Most parents were like Little League coaches and all that. My dad was a wrestling fan. Instead of going out and playing home run derby with my old man, we just watched wrestling together."
There is no way that when the two of them were watching wrestling together that they could have ever dreamed that Cena would go down as perhaps the most iconic man to ever put on a pair of wrestling boots. Something that probably wouldn't have happened if Cena had to stay saddled with his Prototype gimmick!
(Source: Uproxx, MensJournal)
13

Paige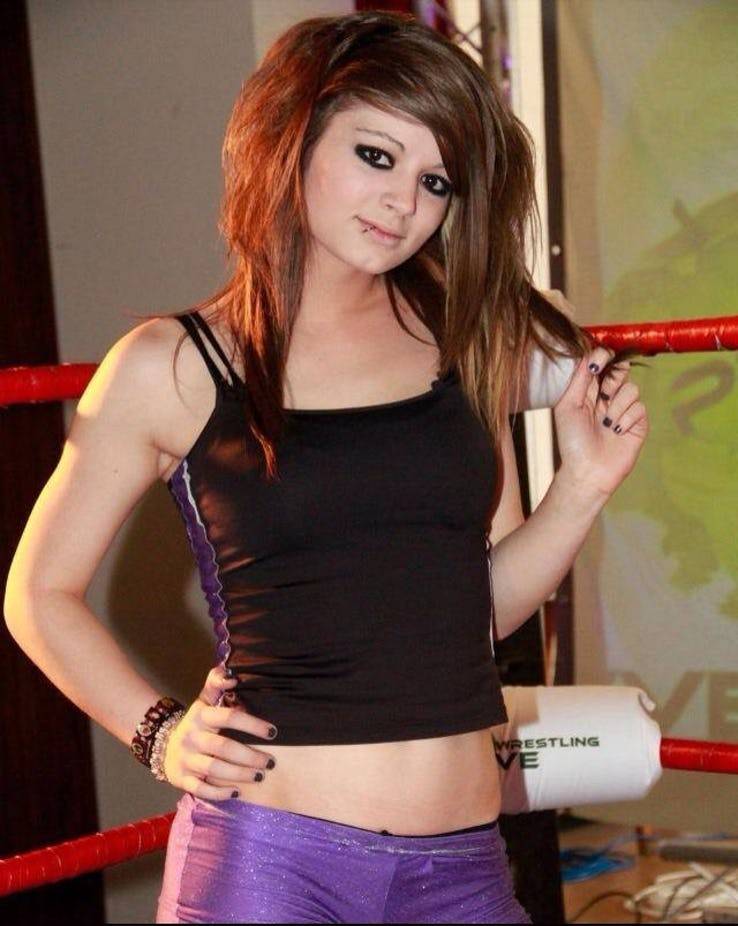 There are sadly many superstars who have had their career tragically cut short because of injury. The most recent example of this may be Paige, who earlier this year suffered a stinger following a kick from Sasha Banks.
When Paige was asked to describe her first thoughts following the bump, she replied
"When it actually happened and the accident happened in the ring, I lost all feeling in my legs and my arms. It was literally the most terrifying experience in my life and I would never wish that upon anyone."
She went on to say,
"It was so scary. I literally was like 'Oh my gosh, I'm done. I'm going to be in a wheelchair now, this is it, I've pushed myself too much.' Because I really did, because every time I was in the match I was like 'its okay, I'll do the comeback, I'll take the bump, I'll do this, I'll do that' because I was just so eager to get back in the ring you know. I feel like I pushed myself too hard to the point of where my body was like 'stop.' "
While she has managed to transition to an on-screen role as Smackdown's GM, that definitely not how she wanted her career to end. Especially considering Paige had been training for the ring since she was 13 years old.
(Source: SportsKeeda)
12

Ric Flair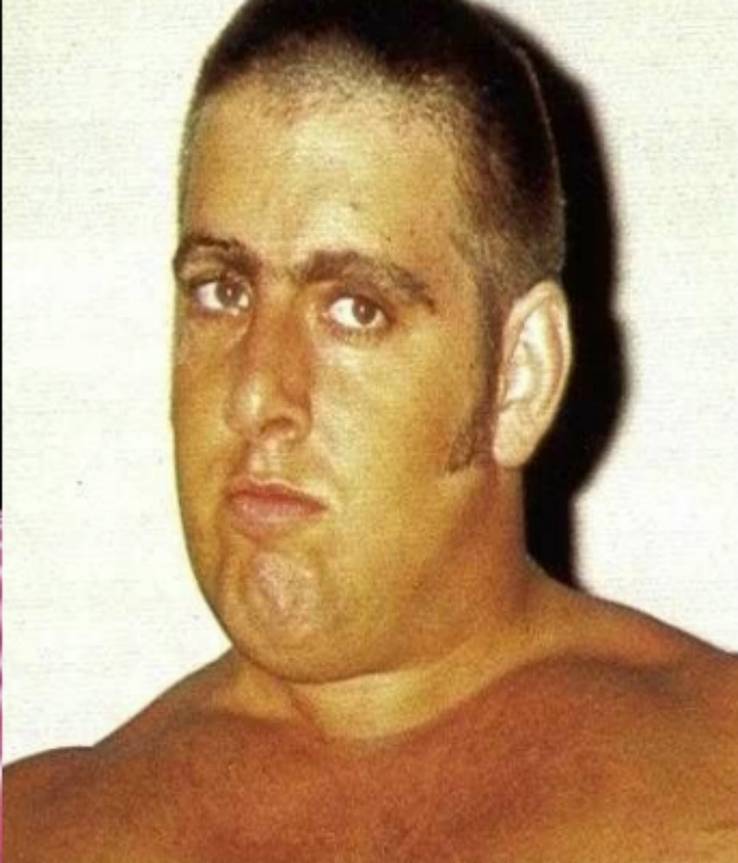 Ric Flair earned himself a reputation for many things during his youth. This included a love of partying, as well as an affinity for trying to bring lovely ladies back to his room. But when you think back to how Ric Flair may have looked in his youth, your mind may definitely not picture a man that looks like he does.
That's not to say that Flair is completely unattractive, but the shorter hair, mean mug and unibrow (or at least eyebrows that are too close for comfort) are all things that may have worked against him. Flair had a health scare back in 2017 that was related to his previous life of partying.
"I never drank when I was working. But as soon as work was over, I went right to the mill. I've never taken a pain pill in my life. I'd just take a shower, flip my hair back and go to the best bar in town."
But his experience definitely changed how he plans to live the rest of his life, "I'll never drink again. I never want to go through this again."
(Source: ETCanada)
11

Tammy Sytch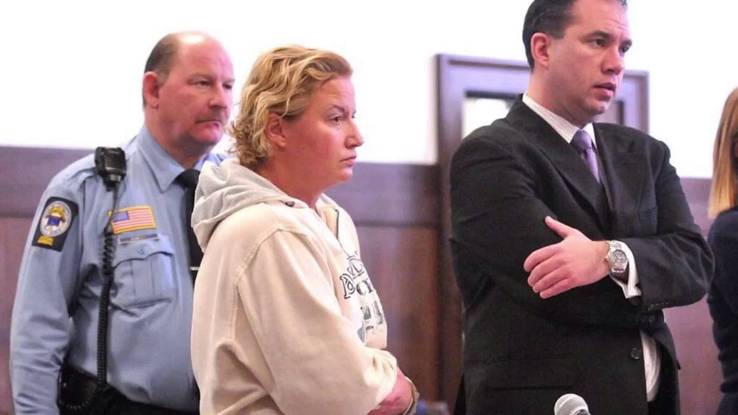 There are unfortunately many WWE superstars who have found themselves on the wrong side of the law. In some cases, those incidents – such as with Enzo Amore – can lead to the person being terminated from the company. Tammy Sytch's legacy in the WWE for her portrayal of the gimmick, Sunny, was good enough to land her in the Hall of Fame.
And while she managed to stay out of legal trouble while she was employed with the WWE, that definitely wasn't the case once her time in the ring was over.
Sytch has several times where she was taken in, under her belt. Nothing which was perhaps as shocking as when in 2012, it happened to her five times. Making that even more shocking is it was over a 4-week period.
We'd love to say this was it, but she also had 3 more instances in 2015 and drove with a suspended license in 2016. TMZ also reported in March 2018 that Sytch had been taken in twice this year in a 2 week period for the same charges; including one incident where she left the scene of an accident.
All reasons as to why this photo of her in the courtroom may not be surprising but is still a shocking fall from grace for Sytch.
(Source: WrestlingInc, TMZ, Wiki, Wiki (For Tammy))
10

Gene Snitsky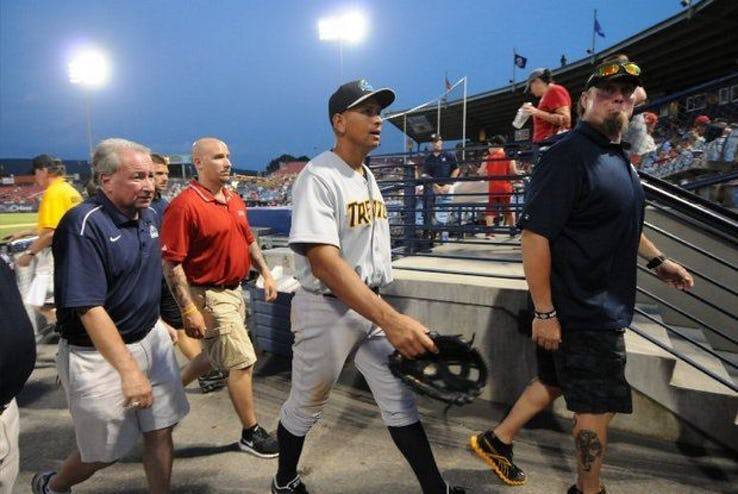 While the life of a professional wrestler may be one that is fun, it is also one that for many wrestlers leaves them with a need to find a career after their time in the ring is done. This was the case for Gene Snitsky who has taken on a variety of odd jobs since hanging it up.
None of which was perhaps as interesting as when he got hired to work as the bodyguard for Alex Rodriguez. It was a job that Snitsky said that he got due to the fact that he had developed a close friendship with Torrie Wilson, who was at the time, dating Rodriguez.
We're sure if Rodriguez and his current partner, Jennifer Lopez, need bodyguards that they probably aren't going to be tracking down former wrestlers. But when Wilson was explaining to Rodriguez that Snitsky is billed at being 6'8 and over 300 pounds, it probably made for a pretty easy sell. After all, Rodriguez may have received his fair share of hate over the years, but you'd still have to be a very big person to even kind of get past Snitsky. And then if you did, you'd still have to deal with Rodriguez! Which means that it would probably be a lot smarter for those fans to just stick to jeering Rodriguez from a distance.
(Source: WrestlingInc, Wiki, WhosDatedWho)
9

Steve Austin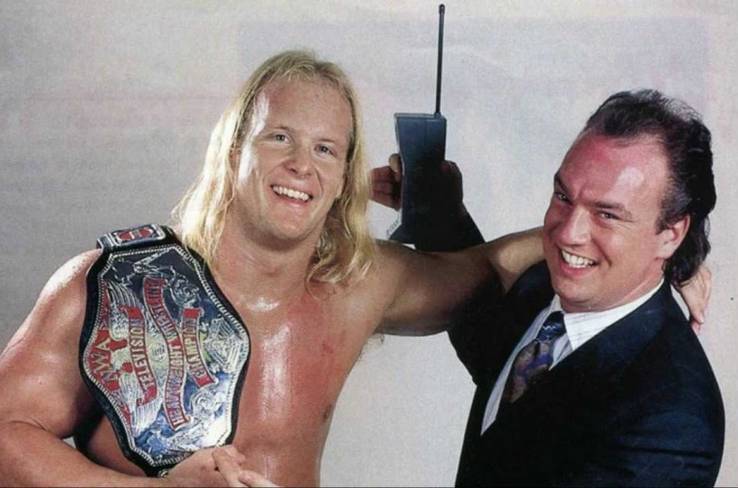 Steve Austin was arguably the most popular superstar during the Attitude era of the WWE, matched perhaps only by The Rock. But when Austin was taking names and drinking beer in the ring, he definitely didn't do it while tossing back his luscious blonde locks. Which is probably a good thing, because you may be in agreeance that it definitely makes him look a lot less intimidating. Despite that, he's definitely still trying valiantly to look like a badass in this next photo. As an added bonus, we also have a great photo of a much younger Paul Heyman.
Who, to be fair to Austin has also lost himself a great deal of hair over the years. When Austin was asked about the impact that Heyman can have on a young wrestler, he replied,
"I mean in terms of getting inside a guy or gal's head, helping them unlock their potential and letting them see things that they didn't see themselves. He's very good at doing that."
We are sure there are countless wrestlers, including Austin, whose career was helped significantly by the influence of Paul Heyman. Though we're sure that also means there are plenty of people who got on Heyman's bad side and didn't recover!
(Source: WrestlingInc)
8

Carmella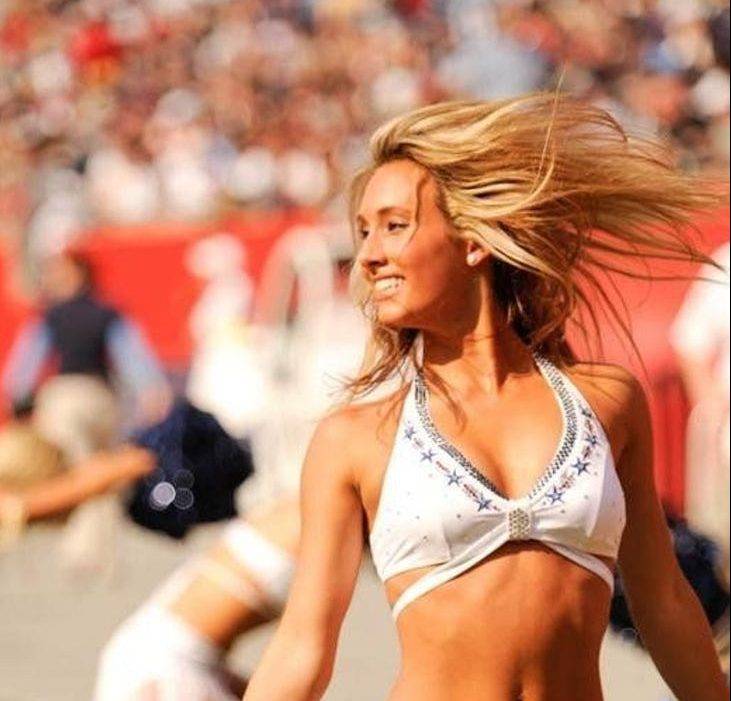 There are some wrestlers who have trained their entire life to enter into a WWE ring. But for Carmella, the plan to the WWE was definitely not one that she had planned for.
"I never thought it was something I could even do. I never thought it was a possibility. I never thought it was something I could train for and do. I thought, 'Oh my god, what a challenge.' I had 10 tryouts and kept making the cut, and I found myself in the WWE Performance Center in Orlando and I've been there for two and a half years."
The experience has been something that has also been incredible in helping Carmella's self-confidence. When she was asked what she has learned the most from her time in the ring, she replied,
"Probably just the fact that anything I can put my mind to, I can do. I really wasn't sure when I started. I'm very confident in my ability to learn, but every time I'm in the ring, I can't believe the things I can do and that I've learned."
Prior to making a name for herself in the wrestling ring, Carmella had experience as a cheerleader including for the New England Patriots. And while her career in the WWE may never be as legendary as what Tom Brady has been able to accomplish on the football field for the Patriots, she still has plenty to be proud of.
(Source: Mandatory, Wiki)
7

Roman Reigns (And Jimmy/Jey Uso)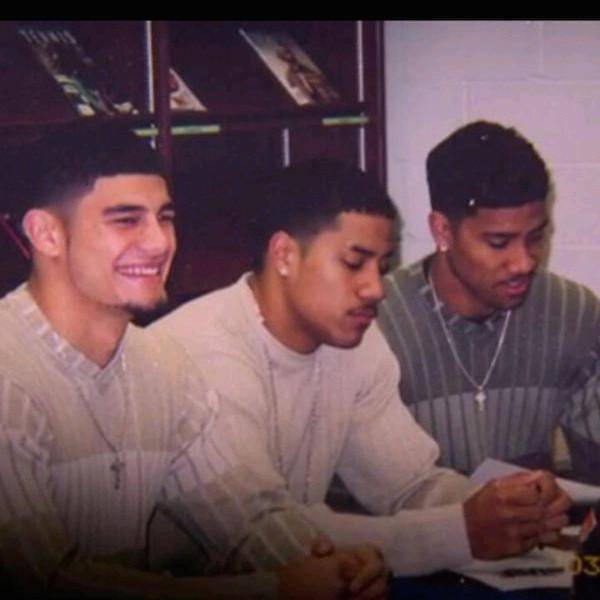 The WWE has several prestigious families that have left their mark on the company. One of the current ones is the Anoa'i family that has given the world of wrestling some of the greatest talents of all-time, including The Rock and Yokozuna.
Currently, it is Roman Reigns that is helping the lineage, along with Jimmy and Jey Uso. The three have seemingly been tight their entire life, as evident by this fantastic photo that was taken during what appears to be their time in high school.
When Reigns was asked about how he feels representing such a prestigious line of wrestlers and the added pressure that it may add to him to succeed, he replied
"It's a responsibility; I'm from such a prestigious lineage. Multiple WWE Hall of Famers are in my bloodline. It's one thing to reach par, but I'm trying to hit hole-in-ones every single night."
While Reigns definitely doesn't succeed in that goal every night, we're sure that his family is incredibly proud of the legacy that he has formed in the company. We are sure it may also help that if Reigns finds himself struggling, that he has no shortage of people he can call up for some advice.
(Source: HoustonPress)
6

Sami Zayn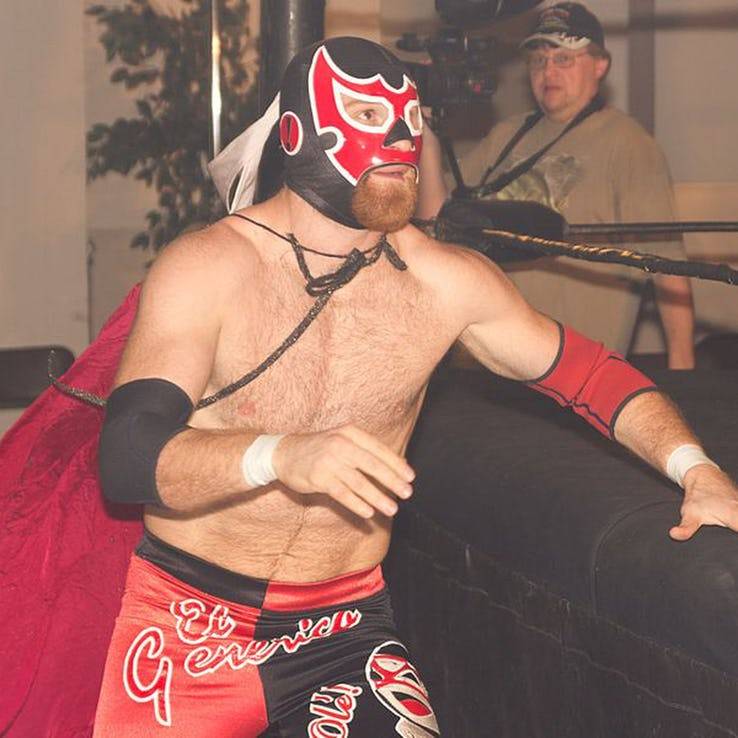 One of the best things about watching the world of professional wrestling is getting to see different gimmicks in action.
This was definitely the case for Sami Zayn who prior to making a name under his own name, used to wrestle under the gimmick of El Generico. Though when he was asked about him in a past interview and on if his past fans would ever be able to expect to see him make an appearance in the ring, he played coy saying,
"There a lot of parallels between my style and his, I suppose, but I never actually met the man. But from what I hear I think he's still running an orphanage, still fighting the good fight in Mexico. That's as far as I know."
Now to be fair, Zayn did spend over a decade wrestling under this character and it may be how he first came onto your radar if you're a huge wrestling fan. But if you only know him from the WWE then seeing what made him famous on the Independent Circuit is sure to be shocking. Especially considering while Rey Mysterio makes an appearance on this list for taking off his mask, Zayn makes an appearance for putting one on!
(Source: SesScoops, Wiki)
5

Kelly Kelly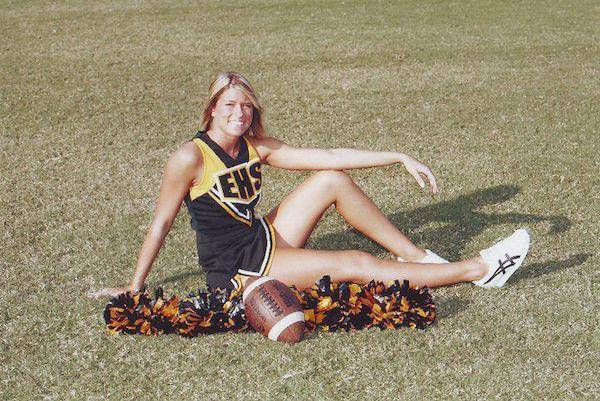 When Kelly Kelly was first making a name for herself in the company, it was with a segment on ECW where she would slowly strip off her clothes. It didn't exactly showcase her wrestling talent, but if you were a fan of exhibitionism, then Kelly Kelly was right up your alley.
And considering she clearly has at least some experience in the world of cheerleading, perhaps dancing was something that she was comfortable with. Though in a past interview, Kelly Kelly admitted that when she introduced herself to Paul Heyman that she highlighted how she had no rhythm and was in her words "the whitest white girl".
We hope it doesn't make her dancing less attractive, but she did also admit that it was Vince McMahon himself who was able to show her how he wanted her to perform. Kelly Kelly did also admit that she received some negative treatment from other wrestlers who felt she had to work less hard for her spot,
"The guys were pretty rough because the guys had been there for a long time, the ones who had growing up wanted to wrestle for WWE for their whole lives and they had been working their whole lives to be here, and they see me and Alicia Fox come in as these models, so we definitely got not the best treatment from the guys – they definitely gave us a hard time, so that was rough too."
(Source: WrestlingInc, Wiki)
4

Goldust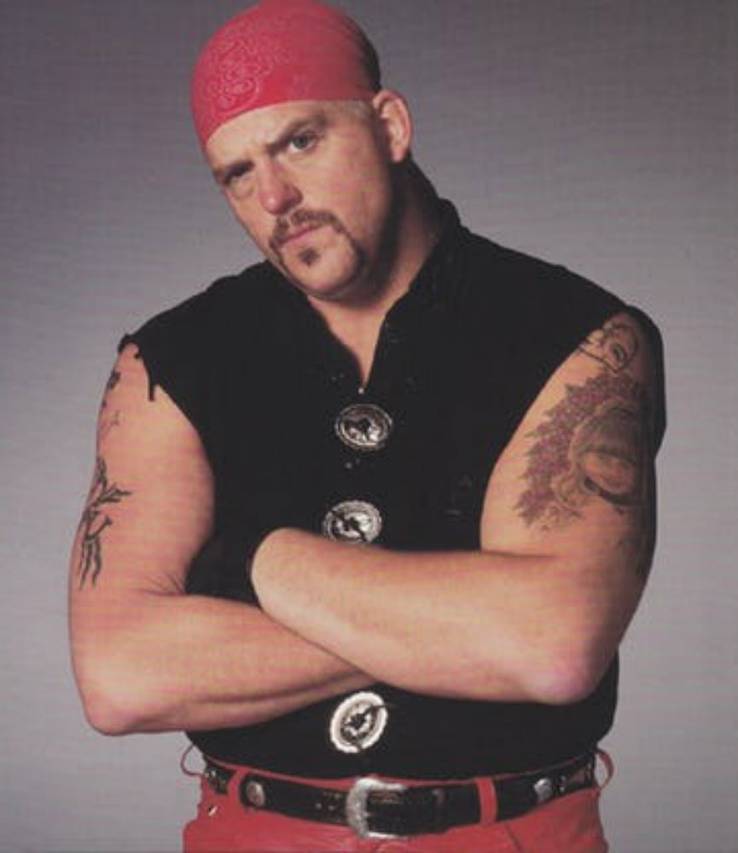 Dustin Runnels has left his own mark on the history of the WWE for his character, Goldust. But there were definitely some big shoes to fill when he started out when you consider he's the son of Dusty Rhodes. Dustin's brother, Cody, also had a stint in the WWE.
When talking about how his father influenced his life, Dustin revealed that he wasn't always the biggest fan of his sons becoming wrestlers
"Cody and I were so adamant about getting into the business because we love our dad. We wanted to do what he did and make a name for ourselves like he did. He was, and still is, our hero."
He continued with, "So I just think he tried to sway us in a different direction: college, football scholarships and things which Cody and I both had. He had a wrestling scholarship and I had football scholarships. But we didn't want that. We wanted to be like him."
He went on to say, "[Dad] did his job to [set us on a different path] to the best of his ability, but we ultimately chose the entertainment industry and haven't looked back. Yeah, there are times when I wish I would have gotten a degree, but the past is history and tomorrow's a mystery."
Thankfully Dustin did go on to say that his Dad is ecstatic at his career choice.
(Source: WWE)
3

Sable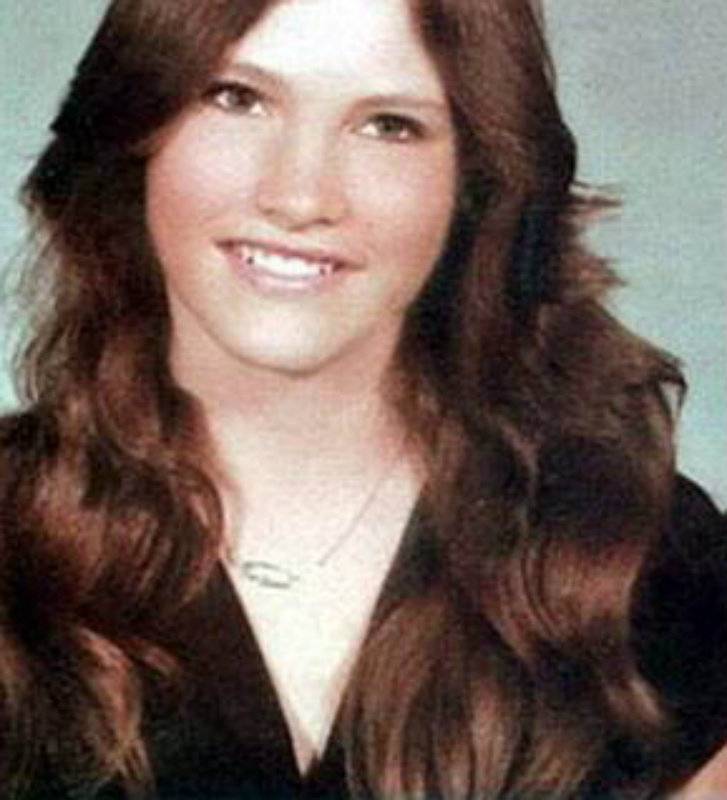 Sable may have become famous as a blonde, but did you know that there was a time when she was instead a beautiful brunette?
Along with often leaving little to the imagination whenever she appeared in the ring, Sable was also selected to appear in Playboy on multiple occasions. While there were plenty of reasons for fans to love Sable. There were persistent rumors that she was difficult to work with.
When she was asked about the claims, she replied,  "If you asked me, I'd have to say no. I had many friends within the business, and continue to have many friends. But I think that anytime there is competition, and one person maybe excels quicker or to a different level than other people, there will always be a sense of jealousy or competitiveness. The way I learned to deal with that was just basically to stay to myself. I didn't want to fuel any rumors and I didn't want to say anything negative."
Sable also denied the rumors that posing for Playboy left her with an inflated sense of self, "Absolutely not. I've always been shy in a lot of ways, and I come from very humble beginnings. I don't believe that was the case. Anytime there's any kind of jealousy, people are going to say whatever they want to say."
(Source: RenoMero, Playboy)
2

Brock Lesnar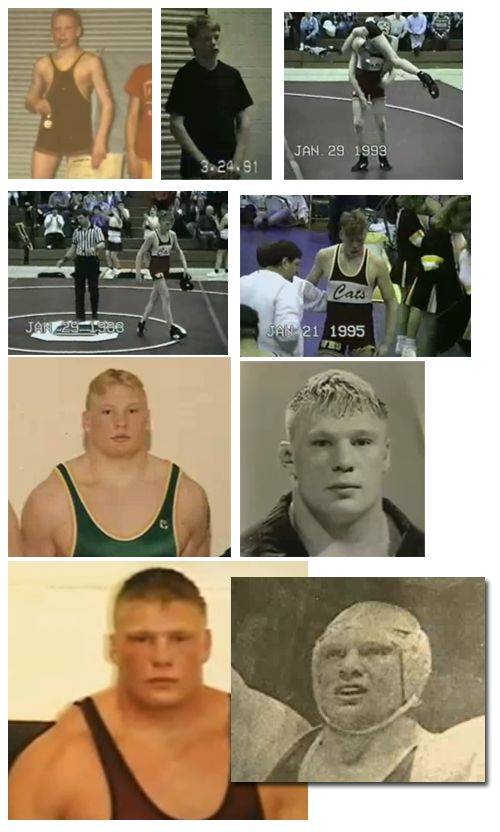 When you look at the behemoth that is Brock Lesnar, it can be hard to imagine how he looked growing up. But as you can see with this photo collage of Brock throughout the years, he was definitely always an intimidating force to be reckoned with.
Lesnar's wrestling prowess was honed when he attended the University of Minnesota. The peak of his college career may have come in 2000 when he was successful in taking home the heavyweight wrestling championship in Division 1.
Over the course of his 4-year collegiate career, Lesnar put together an overall record of 106-5. So perhaps it's no surprise that it was also in 2000 that he was signed to a contract with the WWE who clearly saw huge potential in him. While Lesnar's career has had its fair share of disappointments, including his attempt at a career in the NFL, the company has enough confidence in him to give him a lengthy run with the Universal Championship.
Perhaps only the potential lure of the UFC (as the NFL dream has to be long dead by now) again will be enough to slow down the beast. Though if Lesnar did find himself returning to the UFC, it may only be a matter of time before he started dominating in that sport again. Either way, Lesnar is probably going to end up coming out on top.
(Source: Express, Wiki)
1

Dwayne Johnson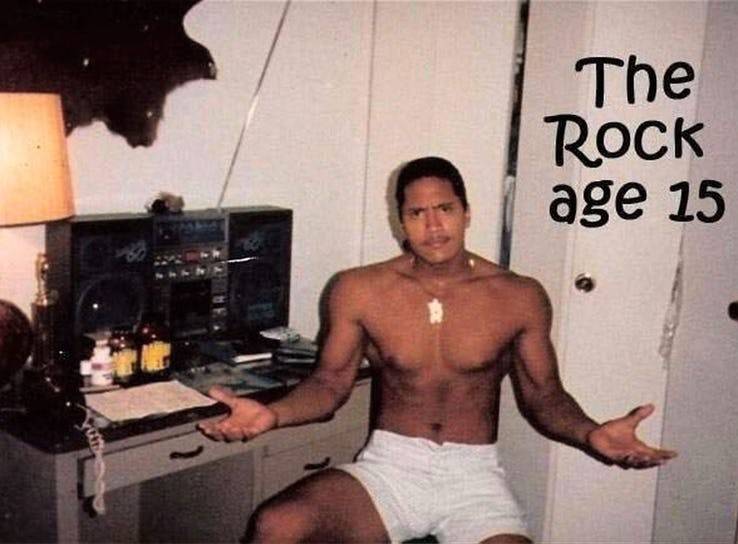 When you think of Dwayne "The Rock" Johnson, your mind may first think of him laying people out with the Rock Bottom and the People's Elbow in the WWE. After all, wrestling was at the very least at one time the biggest passion in Johnson's life. And while Steve Austin was amazing during the Attitude Era, perhaps it's only The Brahma Bull who is able to say that he had a bigger impact on the company.
Johnson is also the greatest example of a WWE superstar transitioning to bigger and better things. As he is arguably the most successful actor in the entire world, with multiple movies on the horizon that are sure to collectively earn him over $1 billion at the box office.
This includes Black Adam and another run in the Jumanji universe. But whether you love Johnson from his time in the ring, or Johnson on the big screen (or both), we are sure you also love getting to see Johnson at the age of 15. Though the expression that the young Johnson has on his face that is representative of someone who wasn't going to back down from a challenge is something that he has kept consistently throughout his career!
(Source: IMDb, Wiki)
Source: Read Full Article