The Women's Revolution in WWE over the past three years has inspired a number of women to step into the ring for the first time and lace up their wrestling boots. Last year's Mae Young Classic was a historic tournament for women's wrestling and allowed WWE to sign a number of women to their brand. These women have been training in the state of the art Performance Centre over the past year and are now beginning to make their mark in the wrestling business. This isn't the only route that these women have taken into the business since there are a few stars in NXT and on the main roster right now who were signed to the company based on their audition tapes, even though they had no experience in the wrestling business at that time.
The fact that many of these women have had much easier paths into the wrestling business is why there are some of the youngest women in the business currently working for WWE. The flip side of this is that there are also some of the oldest now given that many of these women have been part of lengthy stints on the Independent Circuit before they were finally signed to the biggest wrestling promotion in the world.
The following list looks at just eight of the youngest female wrestlers who are currently signed to WWE and seven of the oldest, who are all still able to perform on a regular basis in front of a capacity crowd.
15

Youngest: Peyton Royce – 25 Years Old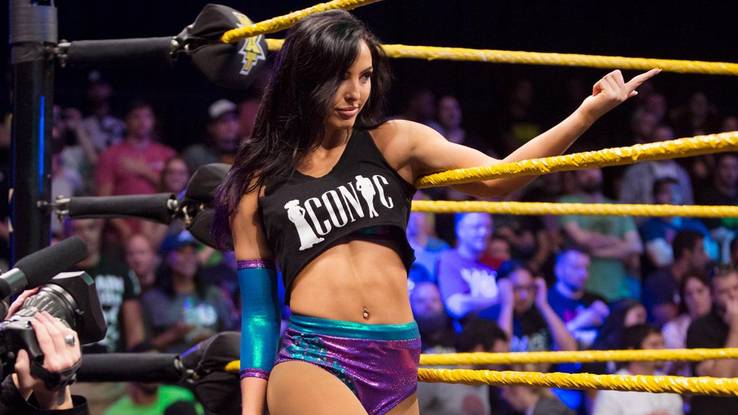 Peyton Royce was part of the Australian female invasion following in the footsteps of Emma when she made her debut in NXT a few years ago. Royce has been working alongside fellow Australian Billie Kay throughout her time in WWE where they have become known as The Iconic Duo.
After a number of unsuccessful attempts to lift the NXT Women's Championship, Royce and Kay were finally promoted to the company's main roster following this year's WrestleMania and now perform on the SmackDown brand where they are now known as The IIconics.
Peyton recently revealed on a Lilian Garcia's podcast Chasing Glory, that Eddie Guerrero was the superstar that inspired her to become a wrestler when she was just 13 years old after her parents introduced her to the wrestling business when she was just 9. She has been wrestling now for almost a decade and signed for WWE back in 2015 following a successful tryout with WWE the year before. Over the past three years, Royce and Kay have changed the face of the women's division in WWE so much that there have been a number of other Australian women able to follow in their footsteps and make their debut on WWE TV recently as well.
14

Oldest: Natalya – 35 Years Old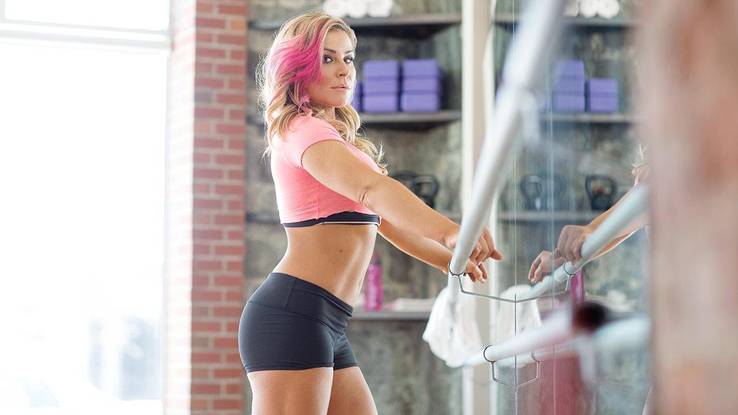 Natalya is arguably one of the best female wrestlers in WWE right now and has been part of the company now for more than a decade. Natalya is the only female graduate from the famous Hart Family Dungeon and is the niece of Bret Hart, something that has helped her get her foot in the door in the biggest wrestling promotion in the world.
Natalya is a former Divas and SmackDown Women's Champion and someone who has become a backbone of the Women's Division throughout the Revolution.
Nattie is currently part of a storyline with WWE newcomer Ronda Rousey, which works so well because it was the former Champion that stepped up to train her when she first made the switch over to the company. WhatCulture even reported a few years ago that Natalya has started training many of the next generation of female wrestlers on NXT now as well as being one of the main stars of Total Divas in recent years. Even though Nattie is considered to be one of the oldest female wrestlers in the company currently, she is also a veteran of the business and someone that many stars in the company and many members of the WWE Universe see as a role model.
13

Youngest: Paige – 25 Years Old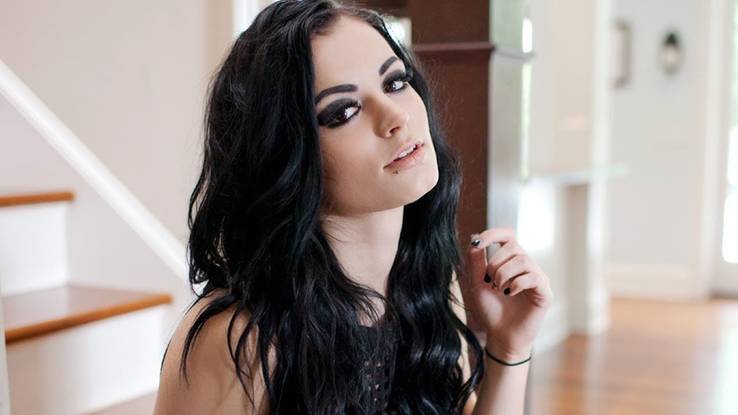 Paige made her wrestling debut when she was just 13 years old and then started touring the world the following year and turned a lot of heads all over Europe with her unique in-ring style. Paige was always destined to make her way to WWE, so when she was signed to the company in 2011 she was then molded into a woman who could have been the future of the business.
Paige became the inaugural NXT Women's Champion when she was just 20 years old before she then became the youngest Divas Champion the following year when she made an impactful debut on the Raw After WrestleMania in 2014 and defeated AJ Lee.
Paige was then pushed to the top of the Women's Division on the main roster and was even added to the cast of Total Divas, but her career started going downhill at the beginning of 2016. The 25-year-old has since been able to get her career back on track, but BBC reported that an injury back in November forced Paige to retire from in-ring competition. The former Champion has now slotted in as the General Manager of SmackDown Live, where she can continue to be at the forefront of the ongoing Women's Revolution.
12

Oldest: Maria Kanellis – 36 Years Old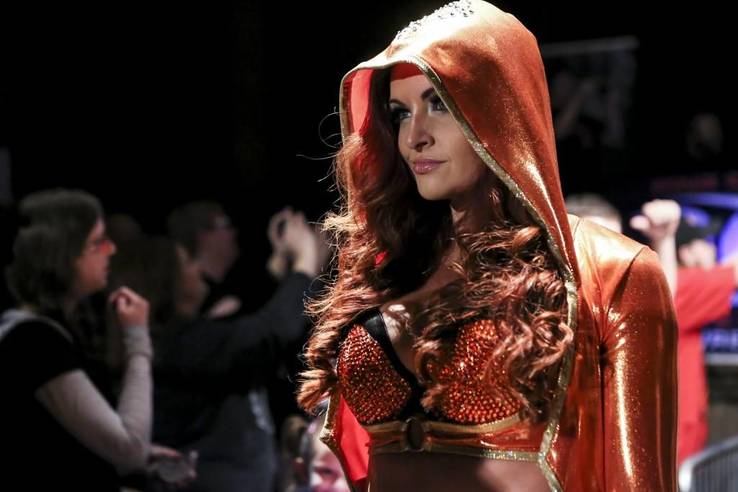 Maria Kanellis began her wrestling career more than 12 years ago when she auditioned for WWE's annual Diva Search. Even though she didn't win the competition she was signed to the company as a backstage interviewer. Maria was given a ditsy character and was often allowed to wrestle in the Women's Division despite lacking obvious training and not having the ability to step into the ring with any of the women who were considered to be the biggest stars on the roster.
It didn't come as much of a surprise when she was released back in 2010, but the star was able to move on to wrestle for a number of other promotions.
Maria was a standout performer in both Ring of Honor and Impact Wrestling alongside her husband Mike Bennett, so much so that the company decided to resign her alongside Bennett back in 2017. Maria is currently on hiatus from the wrestling business after WWE revealed that she had given birth to her daughter Fredricka Moon last month, but her husband Mike Kanellis has been recently moved over to the Monday Night Raw roster as part of the Superstar Shakeup and should be rejoined by his wife in the coming months.
11

Youngest: Sonya Deville – 24 Years Old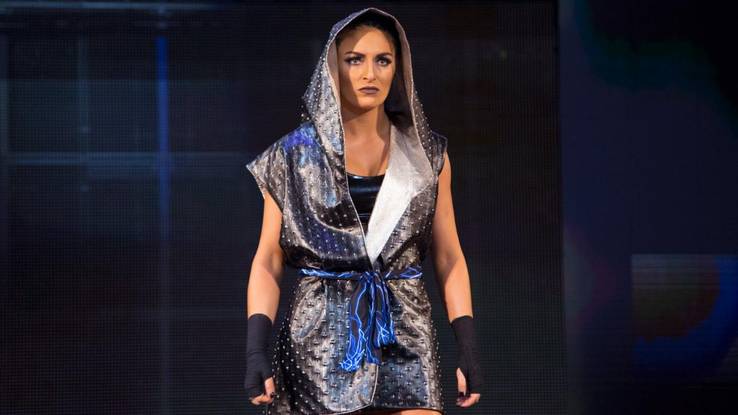 Sonya Deville is another young superstar who had a unique route into the business. Deville has a background in MMA and decided to test her skills as part of the relaunch of Tough Enough back in 2015. Deville wasn't one of the finalists in the competition, but WWE decided to take a gamble and signed her to a developmental contract alongside her best friend Mandy Rose.
Deville stood out throughout her time in NXT and was then brought up to the main roster back in November when she was aligned with Paige and Rose and the trio became known as Absolution.
Paige's career-ending injury meant that Absolution was unable to have the impact they desired on the Raw roster and their recent move to SmackDown Live could be a turning point for all three of their careers. Deville is still only 24 years old, which is incredible considering she already has experience in mixed martial arts and has been part of the wrestling business now for almost three years. WrestlingInc also recently reported that Deville is the first ever lesbian female wrestler and has been able to inspire a number of other women to join the business in recent years.
10

Oldest: Asuka – 36 Years Old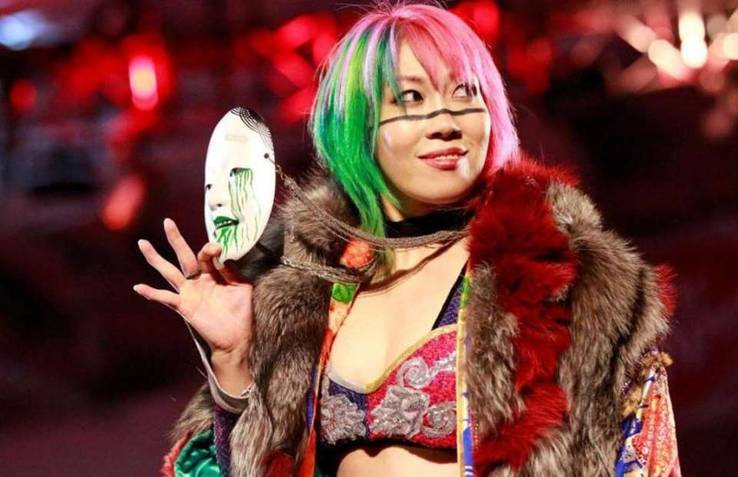 The Empress of Tomorrow has become one of the biggest stars in the company ever since she first signed for WWE back in 2015. Asuka was undefeated throughout her time in NXT and even relinquished the NXT Women's Championship after 510 days according to Pro Wrestling Wikia when she was promoted to the main roster so that she could leave undefeated. Auska's streak only came to an end at WrestleMania last month when she was defeated by Charlotte, who is arguably one of the greatest female wrestlers in the company currently.
Asuka didn't make her wrestling debut until she was 23 years old after deciding to complete her education and pursue a career in graphic design.
Her unique style turned a number of heads when she made her way over to America which was when she finally attracted the attention of WWE. Asuka is one of the oldest female wrestlers in the company, but even though she's only been in WWE for three years, she had a lengthy spell on the Independent Circuit before she made her NXT debut. Asuka was recently moved over to the SmackDown roster as part of the Superstar Shakeup and has opened up a feud with The IIconics.
9

Youngest: Sarah Logan – 24 Years Old
Sarah Logan is a relatively unknown face on the SmackDown Live roster since the former Independent star only made a handful of appearances on the NXT brand before she was promoted to the main roster. Logan is perhaps best known under her "Crazy Mary Dobson" gimmick, something that gained her a lot of attention throughout her early years on the circuit.
When Logan was signed to WWE she was part of the NXT roster for a while and then made part of the Mae Young Classic last year she was eliminated in the first round. Logan was then kept away from WWE TV for a number of months before she made her main roster debut alongside Liv Morgan and Ruby Riott as part of The Riott Squad on SmackDown Live back in November. The trio has since been moved over to Raw and are now set to be pushed into the main picture in the Women's Division.
It's hard to believe that Logan has only been wrestling for seven years after making her professional debut back in 2011, which is why Logan is now one of the youngest female wrestlers in WWE currently and is considered to be one of the women who are the future of the company. Pro Wrestling Sheet recently revealed that Logan and NXT star Raymond Rowe are now engaged, which could set up another power couple in the company in the coming years.
Featured Today
10 Celebs Who Love John Cena (And 10 Who Want Him Out Of The WWE)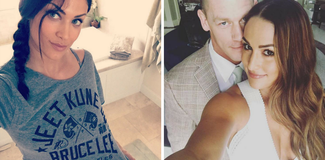 10 WWE Divas We Didn't Know Were Moms (And 5 Who Will Be Soon)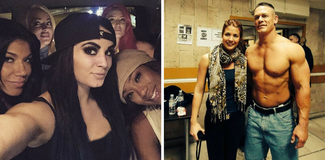 10 Rules WWE Divas Have To Follow (And 10 Only For Male Wrestlers)

8

Oldest: Shayna Baszler – 37 Years Old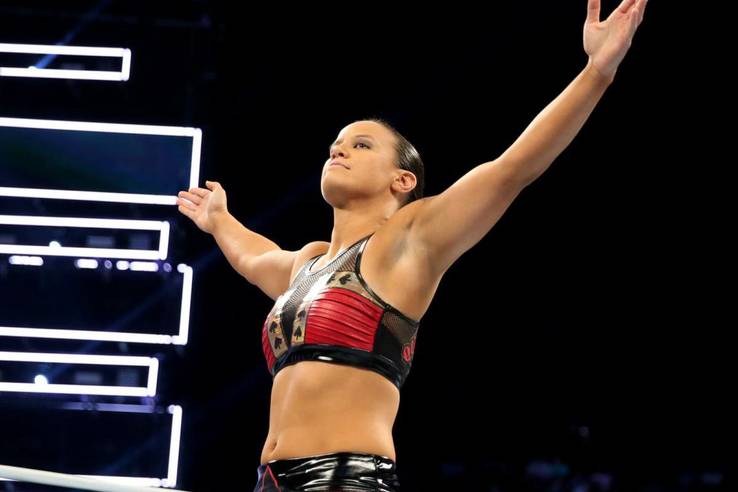 Shayna Baszler is the current NXT Women's Champion and someone who has completely dominated the NXT Women's Division over the past few years since she's been the experiment for UFC stars making the switch over to WWE. Baszler was one of the Four Horsewomen of UFC alongside Ronda Rousey and first made an impact in the Mae Young Classic when she made it all the way to the finals before she was defeated by Kairi Sane.
Baszler has had a lengthy career in the spotlight and only made the switch over to the wrestling business following Ronda's appearance at WrestleMania 31. Baszler has been successful throughout her stint because she is the only woman in the company right now aside from Rousey who is able to use her UFC background to her advantage. It's hard to see any woman being able to defeat Baszler in her current form so the NXT Universe could be set to have another long-reigning Champion at the helm if no female wrestler is able to dethrone the Queen of Spades. Baszler has been able to make such an impact in recent years that there Bleacher Report believes she will outshine Ronda Rousey in the coming years.
7

Youngest: Liv Morgan – 23 Years Old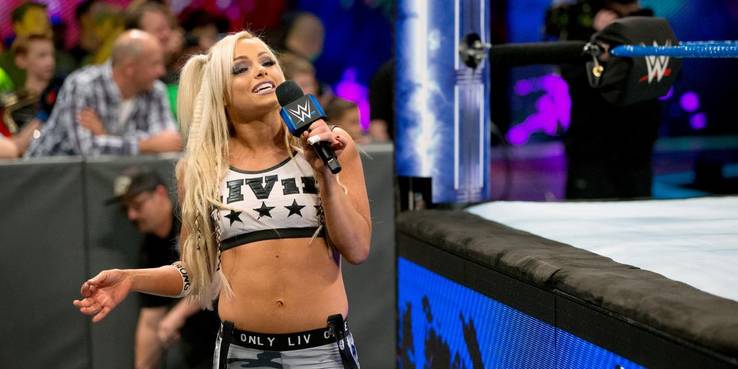 Liv Morgan was working at Hooters a few years ago, where she met former WWE Superstar Enzo Amore. It appears that it was Amore that helped Morgan to land a tryout with WWE and then continued to assist her when she signed a developmental contract, even though she had no prior wrestling experience. Morgan did come to the company with a background in dance and cheerleading, which obviously helped her to adapt to the fitness regime in WWE.
Morgan was one of the youngest stars in the company when she signed back in 2014 and over the past four years, she has been able to work her way through the ranks as a former NXT superstar who is now working on WWE's main roster.
Morgan was moved over to the Raw roster as part of the Superstar Shakeup alongside her Riott Squad teammates Ruby Riott and Liv Morgan despite the fact that many fans believed that she was in hot water after Sportskeeda reported that the blonde star had leaked the entire script for the most recent tapings of NXT online. Morgan hasn't received any punishment for the error since the leak only added to the hype surrounding the tapings of the developmental brand's show following NXT Takeover: New Orleans.
6

Oldest: Mickie James – 38 Years Old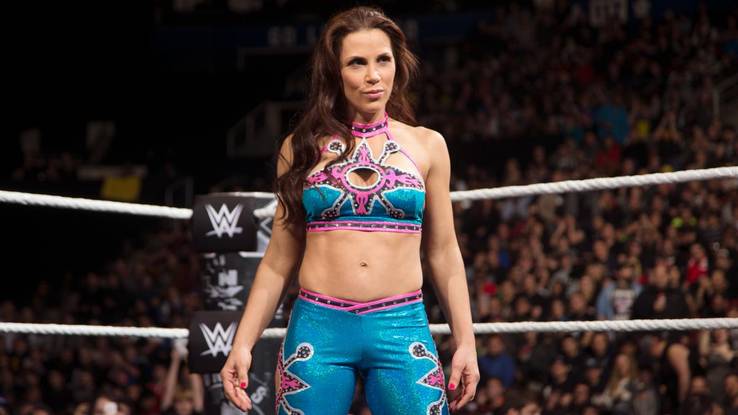 Mickie James is a sure-fire WWE Hall of Famer one day, according to Kurt Angle, who thinks that the former five-time Women's Champion is one of the legends of the business. Mickie debuted in an era that was dominated by Trish Stratus and Lita and is the only member of the current Women's Division who was able to face both Hall of Famers in one on one matches and even Lita in her retirement match back in 2006 where she became Women's Champion for the second time.
Mickie was released from WWE back in 2010 with a lot of backstage heat surrounding her but was able to return to the company afresh last year and reenter the Championship picture. Mickie has a wealth of knowledge and experience when it comes to the wrestling business after making her debut back in 1999 and having stints in Impact Wrestling and OVW before she was officially brought up to WWE's main roster back in 2005. James' age came into the storyline with Alexa Bliss surrounding the Raw Women's Championship last year, since James is an incredible 12 years older than the former Champion, something that definitely doesn't show when the women are in the ring together.
5

Youngest: Steffanie Newell – 23 Years Old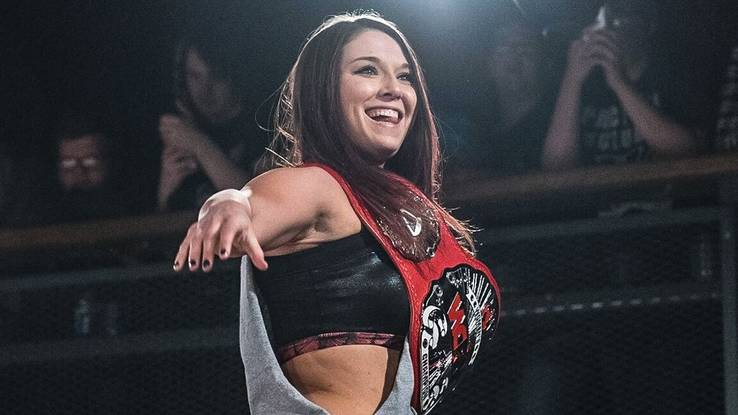 Many members of the WWE Universe will have no idea who Steffanie Newell is because the Welsh wrestler was injured just after she signed for WWE and has spent the past year recovering. Newell finally made her NXT debut at a live event a few weeks ago where she appears to have been placed into a team with Dakota Kai.
The 23-year-old has yet to be brought to NXT TV, but with her teammate currently part of the main Women's Championship picture, it doesn't look as though it will be long before Newell joins her in NXT. The Welsh star made waves in the UK before she was signed to WWE ahead of the Mae Young Classic, but suffered an injury which she called heartbreaking in an interview with WWE.com since it took her out of the tournament and left her on the sidelines for a number of months. Don't be fooled by her young age. Newell has been in matches alongside the likes of Mark Andrews and Pete Dunne throughout her time on the United Kingdom Independent Circuit and her signing for WWE last year was long overdue considering that fact that she had been seen as one of the best female wrestlers in the UK for a long time.
4

Oldest: Tamina – 40 Years Old
Tamina is the daughter of WWE Hall of Famer Jimmy "Superfly" Snuka and is another female wrestler who, much like Natalya, has been able to follow in her parent's famous footsteps. Tamina didn't decide to pursue a career in the wrestling business until 2009 when she received the first Lia Maivia Scholarship to train at the Wild Samoan Training Center.
Tamina then joined WWE the following year and made her debut alongside her cousin's The Usos. The second generation star has been part of the WWE roster for more than eight years now but has not been able to lift a Championship in that time since she has been overlooked by many of the bigger stars in the Women's Division throughout her tenure. Tamina is a mother of two and often brings her daughters on the road with her and has taken a lot of time away from the business because of the passing of her father last year. Tamina isn't part of the storylines on WWE TV right now after WrestlingInc revealed that she had undergone rotator cuff surgery earlier this year, which has taken her out of action for the foreseeable future and her expected return date is currently unknown.
3

Youngest: Aliyah – 23 Years Old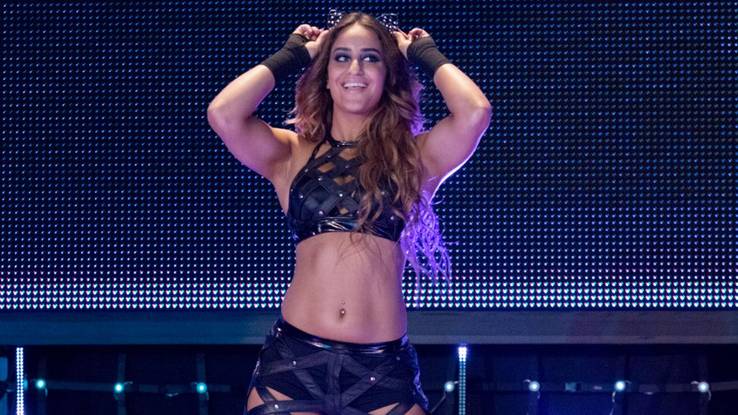 Aliyah made her debut when she was just 19 years old but was only on the Independent Circuit for two years before WWE signed her to a developmental contract back in 2015. The 23-year-old was then part of WWE Network show Breaking Ground where she was seen struggling to find a gimmick that suited her and at that point wanted to be a belly dancer.
Aliyah has since been able to make her debut on NXT and has become one of the women who is considered to be in the Women's Championship picture now that Shayna Baszler has thrown down the gauntlet. Aliyah has only been wrestling for four years and before she was a wrestler she was looking at a career in nursing and even attended a circus training school. Aliyah appeared on the main roster for a one-off match with Carmella back in January, but Bleacher Report noted that this wasn't meant as a call-up to the brand. It was more of a test run for one of WWE's future stars. At just 23 years old, Aliyah has a bright future ahead of her in WWE and given that there are so many inspirational women in the company right now, she has so many stars to learn from.
2

Oldest: Stephanie McMahon – 41 Years Old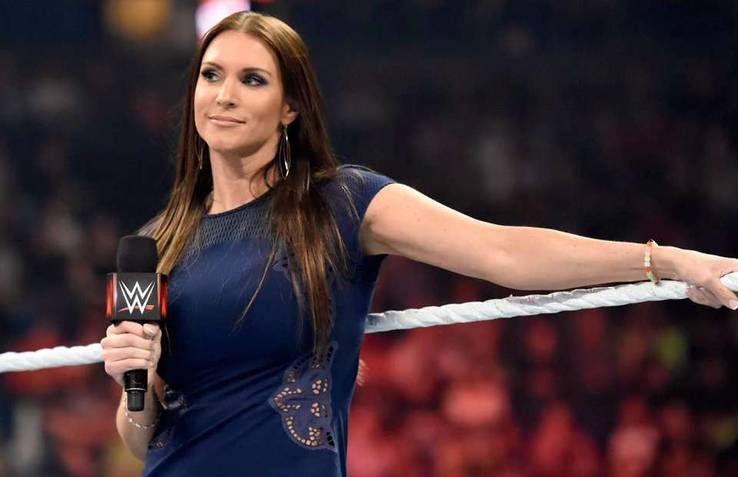 Stephanie McMahon is the daughter of WWE Chairman Vince McMahon and the current Commissioner of Monday Night Raw. The former Women's Champion has been part of the wrestling business her entire life and has grown up in the spotlight so she has seen a number of wrestling legends come and go over the years, while pushing the women forward into the current Revolution.
Many of the women in WWE currently credit Stephanie as being the woman that made the Women's Revolution a reality after spending the past decade being in control of the Women's Division. McMahon is a mother of three and is married to fellow WWE star Triple H, as well as being a minor shareholder of WWE. It is unknown how Stephanie finds the time to maintain control of everything in her own life, but she was also able to return to the ring for her first match in almost four years at WrestleMania when she teamed up with her husband and was defeated by Ronda Rousey and Kurt Angle. Stephanie has been focused on being a role model for her daughters in recent years and helping a number of charitable organizations and Mandatory recently reported that McMahon had pledged her support to another worthy cause called #Shels.
1

Youngest: Taynara Conti – 22 Years Old
Taynara Conti has the unique distinction of being the youngest female wrestler current signed to WWE at the age of 22. Conti has a black belt in Judo and is another highly athletic female wrestler that was signed by the company back in 2016 when she was just 21 years old. She then went on to compete as part of the Mae Young Classic the following year but was eliminated in the first round by Lacey Evans.
Conti made her debut in NXT back in November in a losing effort to Nikki Cross, before she made history at WrestleMania last month when she was included in the first-ever WrestleMania Women's Battle Royal. Conti was eliminated by The Riott Squad but Electric Bento revealed that just by being part of the match she became the first ever Brazilian wrestler to wrestle at the biggest event of the year. Conti hasn't been seen since her appearance at WrestleMania, but she had an impressive outing alongside four other NXT women who all represented a different country as part of the match. Conti proved on the Grandest Stage Of Them All that she definitely has a bright future ahead of her in the wrestling business.
Source: Read Full Article