Carlton veteran Kade Simpson.
One of advantages for AFL footballers who register 300 games is that they get to play across eras.
Carlton's Kade Simpson started out in 2003 alongside Blues premiership heroes Anthony Koutoufides, Andrew McKay and Scott Camporeale. Now he is the elder statesman, mentoring promising youngsters such as Charlie Curnow, Zac Fisher and Paddy Dow.
The 34-year-old defender said being a leader and helping fast-track Carlton's youth was ''an easy job when they're as talented as they are''.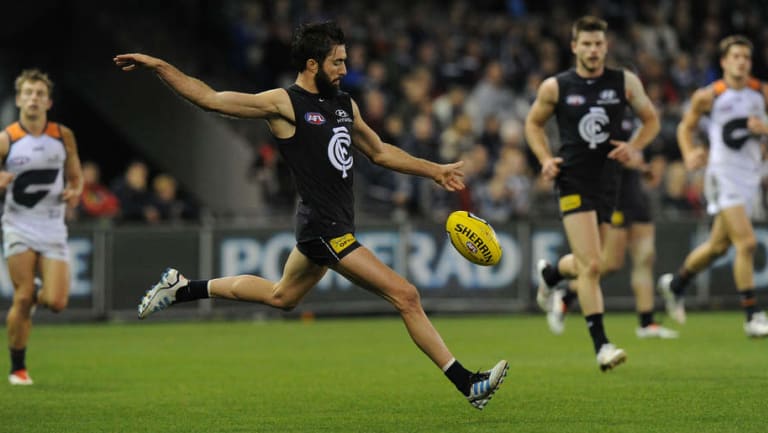 Kade Simpson driving Carlton forward at Etihad Stadium.
Top of class in 2018 is Curnow, whose freakish skill and athleticism has drawn comparisons to Koutoufides. "They're similar in ways,'' Simpson agreed. "I think they had the same haircut, well when Kouta was young as well.
"I got Kouta right at the back end of his career, probably didn't get him at his peak and in his prime, but he was a super leader and super player. Charlie at the moment has got the world at his feet really, he's an exceptional talent but he works really hard as well and I think that's what we're seeing come out now in games, that hard work at his craft.''
Hard-worker: Charlie Curnow.
The promise shown by the Blues' new breed gives Simpson hope that he might yet tick a box that each of Carlton's four other 300-gamers achieved in their era: playing in a premiership.
I almost joined the illustrious group of first goal with my first kick – but I would probably have been the only one to do it in my fourth game.
Between them, John Nicholls, Bruce Doull, Stephen Silvagni and Craig Bradley played in 102 finals, and collected 11 flags.
Simpson's best September memories are two elimination final wins. His era has coincided with arguably Carlton's lowest ebb, with a 37 per cent win record from 299 games. But he is bullish about playing on next year and hasn't given up hope on lifting the premiership cup before he is done.
''It might seem strange to say that when we're sitting bottom of the ladder, but watching what the Bulldogs did [in 2016] and Richmond did [in 2017] and even how even the competition is this year – I don't think anyone expected the Kangaroos to be in the eight and even Collingwood are sitting top four – watching sides like that and how quickly they've turned it around, it does give me hope still.''
Drafted with pick 45 in the 2002 national draft, Simpson came to Princes Park a skinny kid from Emerald who just hoped to play one senior game, and ''never in my wildest dreams'' thought he would rack up 300.
Since he has seen "a huge amount of change, not just here but in the AFL in general. I think the whole game style has changed and because I've been able to adapt pretty I think that's why I'm still here.''
He famously likes to relate how he failed to register a disposal in his first three AFL matches in 2003, prompting then coach Denis Pagan to suggest before his fourth game (midway through 2004) that he should go down to take a kick in and chip it to himself to chalk up his first stat.
Instead he managed to find the ball nine times that day, including kicking a goal with his second kick – ''it was a bit of a horror off the boot''.
"I almost joined the illustrious group of first goal with my first kick – but I would probably have been the only one to do it in my fourth game,'' he chuckles.
On Saturday at the MCG he will join a more illustrious group, becoming the sixth active player – and  84th overall – to join the 300-game club.
His teammates have set themselves to ''win it for Simmo'' but typical of the man himself, Simpson said ''I want to win because the club really needs a win''.
Source: Read Full Article