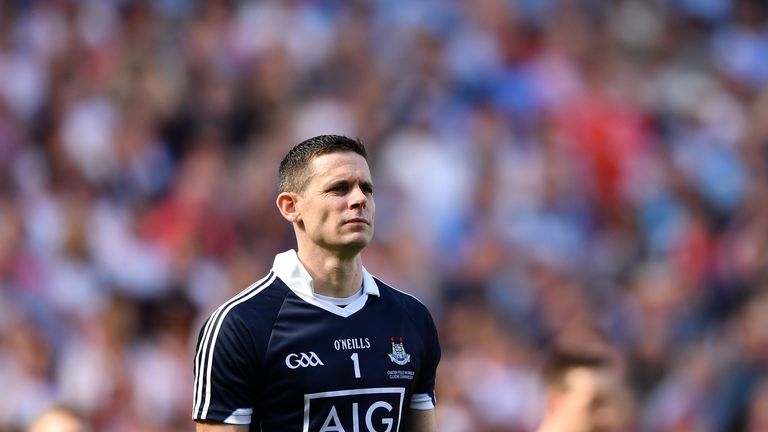 The decision to select Rory Beggan over Stephen Cluxton in the All-Stars has split opinion.
Following the announcement of the 2018 All-Star football team, there has been the usual levels of debate surrounding who was unlucky to miss out on the coveted awards.
Much of the focus has turned to the goalkeeper position, with Beggan of Monaghan getting the nod ahead of Dublin's Cluxton.
The Scotstown shot-stopper had a fine year, conceding just six goals across nine games while also delivering in the scoring department with long-range frees.
Many were of the opinion that the Farney net-minder was full value for the gong.
Across c'ship 2018, Rory Beggan was miles the best goalie. 3 deserved All Stars for Monaghan today! #PwCAllStars
There will be a lot of talk about Cluxton missing out again. He did go off injured v Longford & missed the Leinster Final. Rory Beggan had some moments of sheer brilliance this summer. Deserved winner #Gaa #PwCAllStars
I can't understand people's dismay at Cluxton missing out on an All Star this year. Beggan was, by a good distance, the best keeper in the country this year. #PwCAllStars
Delighted to see Rory Beggan get the nod at goalie – well deserved! https://t.co/EqC20Hrf4i
However, other are fervently making the case for Cluxton, who was instrumental in Dublin's fourth consecutive All-Ireland title. The Parnells star's shot-stopping was virtually flawless throughout the year, with many punters and pundits alike claiming that he is far underappreciated.
The Cluxton non selection isn't the right call, it's simple as that!!
Stephen Cluxton hasn't won an All Star since 2013. Just think about that for a few seconds #AllStar2018 #appreciatecluxton
Since the all stars committee love sticking players in random positions to fit in their favourites. Why not of put beggan at corner forward( he can kick a score) and make way for cluxton in nets. I'm a Meath man and it even annoys me how underappreciated he is. #PwCAllStars #Gaa
Stephen Cluxton missing out on an All Star once again ,in my opinion he was head and shoulders,hands and feet ahead of anything this year in particular..
Just as well Stephen Cluxton is not driven or bothered by individual awards. #allstars ?
Interesting team…. Cluxton(again), Ryan Wylie and Micheal Murphy can feel unlucky. https://t.co/OVTIaLTXYU
To do four in a row and get seven players??? Nothing against Beggan at all he had great season, and forget last few years but Cluxton was best keeper this year. Kerry only other team to do four in a row in all star era and they got 9 that year. I'd have 9/10 Dubs this year pic.twitter.com/GS75GometN
Among the other high profile omissions, fans have called for the inclusion of Ryan Wylie and Shane Walsh.
The Footballer of the Year and Young Footballer of the Year will be named at the awards ceremony on Friday night.
Make sure to keep up with all the latest GAA news and analysis via skysports.com, the Sky Sports mobile app and @SkySportsGAA on Twitter.
The Sky Sports mobile app will keep you up to date with the latest news from Gaelic games – here's how to receive the alerts you want.
Source: Read Full Article