The most appalling facet in Fremantle's shock decision to scrap the western derby best player award is their timing.
Just six days from the biggest derby since inception of AFL clashes between Fremantle and arch enemy West Coast, the Dockers dumped the best-afield medal named in recognition of West Australian playing great Ross Glendinning.
It could have and clearly should have been, revealed weeks back.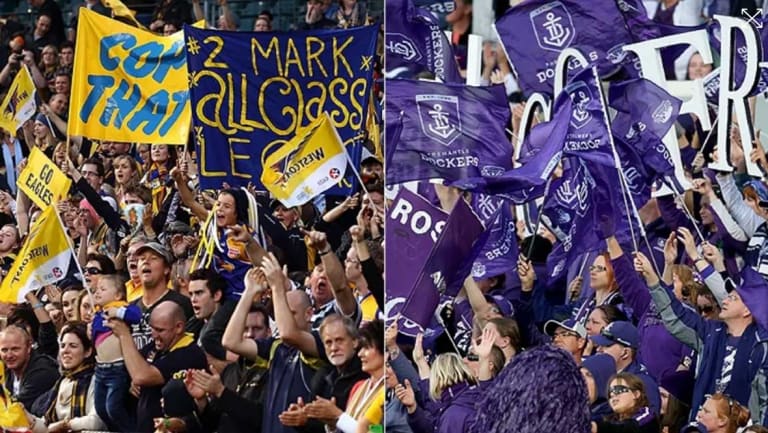 Some of WA footy\'s biggest names have etched their name in Derby folklore by claiming the Ross Glendinning medal.
It probably should have even been disclosed well ahead of such new horizons at Perth's plush new state-of-the-art stadium for Fremantle, West Coast and WA football.
It simply is not acceptable in an attempt to explain and justify Fremantle's action from chief executive Steve Rosich that there is not a sponsor for the award with Carlton and United Breweries no longer holding naming rights to West Aussie derbies.
Rosich had backflipped by mid-afternoon on Tuesday with claims to "rename" the medal to a more appropriate name that reflected service to both of our state's AFL outfits.
That should have been in any original statement and intention for attempt at change.
Ross Glendinning's service to West Coast and Freo
Glendinning, as the inaugural West Coast captain back in 1987 after a distinguished playing career at North Melbourne that included winning the '83 Brownlow medal as well as starting his playing days at East Perth and now a full-time employee in Eagles marketing, is not acceptable to Dockers management.
Glendinning served as a paid chairman of selectors at Fremantle in 2000-01.
His services were terminated at the initiative of incoming Dockers coach Chris Connolly heading into the 2002 season.
Glendinning was paid out for a third season of his Dockers agreement.
CUB had rights from 2001 when a multi-million sponsorship of footy in the west with Fremantle, West Coast and the AFL club license holder WA Football Commission.
Glendinning's name was associated with the original sponsorship deal of around $400,000 a season for the two AFL outfits.
The highly regarded award has become part of folklore despite constant controversies surrounding awarding of 34 derby best player medals since inception.
Glendinning personally over-ruled judges in April of 2003 and handed his medal to Eagles big man Michael Gardiner instead of small forward Ashley Sampi.
In May of 2006 superstar Eagles on-baller Chris Judd was booed and jeered in his acceptance speech winning a third straight medal after a stunning Dockers five-point win and only their sixth victory in the often bitter clashes over a decade at the time.
Fremantle heavyweights have added a new ugly chapter to a highly credible award in the biggest home-and-away fixtures of any footy season in Perth.
West Coast keep with tradition
West Coast chief Trevor Nisbett swiftly announced that Glendinning's name will continue with derby-day in the west with a best-afield awarded to the top Eagles player in derbies, win or lose.
While Eagles management is at it, they should hand out a dozen awards retrospectively.
Or at least 10 of them to their own past playing greats and derby stars.
West Coast won the opening nine and 10 of the first 12 derbies from May in 1995 to the horribly infamous blood bath in July of 2000.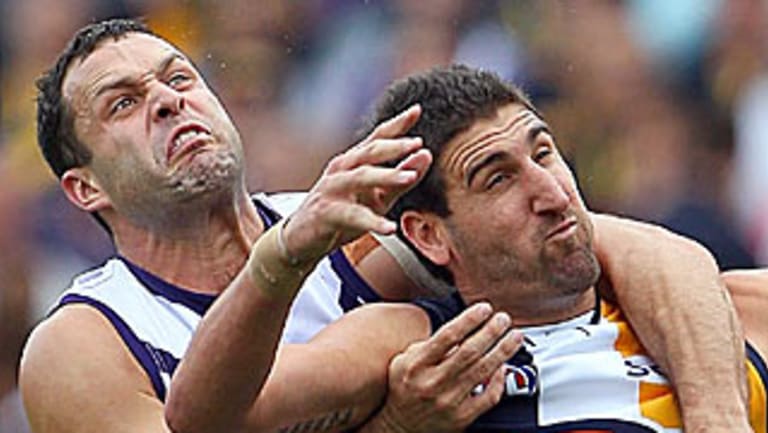 The Western Derby is always hard fought.
Retrospective "Derby Medals" or whatever they will be called into the sordid future of clashes between these raging western front enemies, should got to champion defender Guy McKenna three times as well as ace forward Brett Heady twice.
Heady was a five-goal star in the first two derbies while McKenna sweeping across half-back and dashing into attacking zones stretched his dominance across both engagements a year later and again in '99.
Other West Coast "derby medal" winners recognition should be awarded to midfield supremo Dean Kemp ('97), Drew Banfield ('97), big forward Fraser Gehrig ('98), Chris Lewis ('98) and sharp-shooter Scott Cummings for his 10-goal haul in derby 11 early into 2000 in an Eagles 117-point thumping.
Fremantle's retrospective medals should be handed to prolific ball-winner Adrian Fletcher for his outstanding best-afield in a Dockers first ever victory by a whopping eight goals on July 18 of 1999.
Enigmatic goal-sneak Clive Waterhouse booted seven goals as Fremantle came from behind to win the "Demolition Derby" on July 30 in 2000.
Tradition of a best-on-ground medal in emotion-charged western derbies must be preserved.
Irrespective of what it is called, even as simple as "Derby Medal" winner.
The future of Derby medals
If Fremantle management in conjunction with West Coast and WA football heavyweights head into a contentious endeavour to arrive at a fitting name for the game's top award, there still remains a long list of candidates.
What about one of Fremantle's greatest ever products John Todd, who took West Coast to a first ever finals appearance in his first season as coach in 1988?
Or champion rover Barry Cable, or the game's greatest ever ruckman Graham Farmer, both of whom represent broader backgrounds across WA football heritage. Or there's even Fremantle and State-of-Origin ace Stephen Michael.
Fremantle can even push for a recognition to their greatest ever player Matthew Pavlich to have a naming connection with any top performance from individuals in derbies.
Surely this issue of a "derby best" can be more logically and rationally settled with much better management than the ridiculous nature of dumping Glendinning from the award.
Source: Read Full Article