Cameron Davis believes he can make a weekend charge after continuing his impressive British Open debut at Carnoustie.
The Australian Open champion defied constant drizzle to card a one-over-par 72 to be one over for the championship and right in the mix.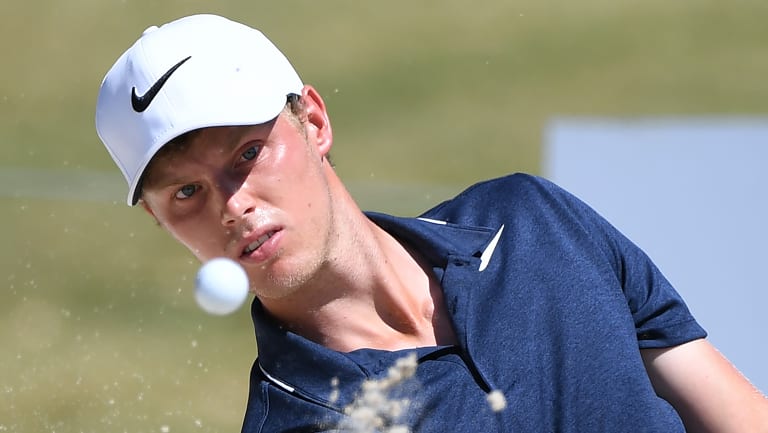 Hot shot: Cameron Davis will be hoping to repeat his charge at the Stonehaven Cup at The Australian last November.
The 23-year-old Sydneysider finished his second round six shots adrift of the lead and could have been much closer if not for three double bogeys in his opening 36 holes.
But having collected seven birdies as well, Davis says "you just never know" – he may still make a run at Claret Jug yet, just as the bold youngster did with a brilliant 63 on the way to snaring the Stonehaven Cup at The Australian last November.
"The leaderboard is so bunched. I know if I have one of those rounds where I stay out of the bunkers, just keep on striking it well off the tee and put it on the green [I can contend]," Davis said.
"They've used up a lot of the really tough pin locations already. I'm not sure if they're going to keep on putting them back in the same spots or not.
"But I've got a feeling a lot of the holes that have been playing difficult will play a lot easier and you just never know out here.
"If you keep the ball out of trouble and you've constantly got 20-footers, the greens break so little, that firm putts just on the edge of the ball is pretty much all you have to do.
"I feel like I'm going to make a few, especially if you keep on having opportunity after opportunity, which is what I'm trying to get myself."
After teeing off in the first group of the day on Friday, Davis picked up birdies on the second and seventh holes to briefly find himself on the Open leaderboard, just three strokes off the pace.
A bogey on eight and then a double on 10, when he copped a horror downward lie, sent him back into black numbers.
"I've made a lot of birdies and just unfortunately I've had too many doubles to be right up the top now.
"I've been close. I feel like the good golf is there. The mistakes just need to go away."
AAP
Source: Read Full Article