Ben Simmons has had a horror game as the Philadelphia 76ers gave up a big lead to surrender game two of the NBA eastern conference semi-finals to the Boston Celtics.
The Celtics won 108-103 in Boston on Thursday night to take a 2-0 lead in the series despite trailing the 76ers by as much as 22 points in the first half.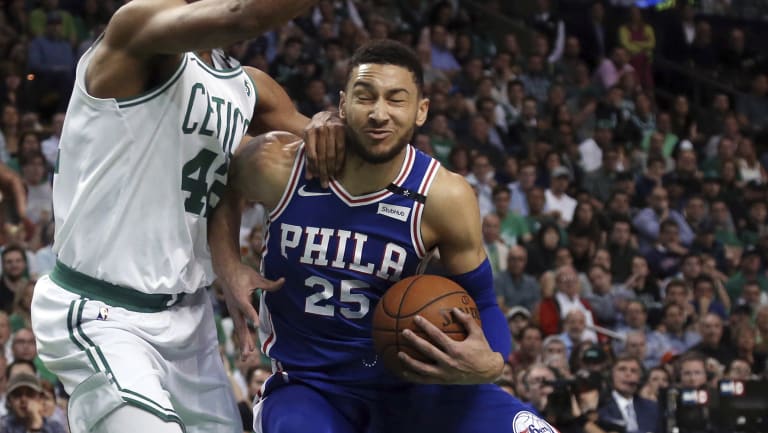 Shut down: Ben Simmons had a night to forget.
Simmons had the worst game of his NBA career with just one point from a free throw, missing all four field goal attempts and collecting five rebounds, seven assists and five turnovers.
Celtics guard Marcus Smart had the defensive job on Simmons, allowing him open shots from distance but halting him from taking the ball to the basket.
The Australian was benched by 76ers coach Brett Brown for 10 minutes during a crucial period stretching from late in the third quarter until there was just five minutes left in the game.
The Celtics were led by Jayson Tatum's 21 points and Smart's 19 points.
Australian centre Aron Baynes was strong with five points and four rebounds, including a three-pointer in the third quarter that gave Boston their first lead of the game.
The 76ers' JJ Redick found his shooting touch and buried five of nine three point attempts for 23 points.
Game three is in Philadelphia on Sunday.
In the other eastern conference semi-final, LeBron James' Cleveland took a 2-0 stranglehold in their series against the Toronto Raptors with a comprehensive 128-110 win.
Toronto's losses have come on their own court, with the Cavaliers in a strong position to wrap the series up with the next two games in Cleveland.
James was phenomenal with 43 points and 14 assists and was backed up Kevin Love's 31 points and 11 rebounds, JR Smith's 15 points and Jeff Green's 14 points.
It was the Cavaliers' eighth consecutive post-season victory over the Raptors.
AAP
Source: Read Full Article