All Blacks head coach Steve Hansen is "really proud" of TJ Perenara for the stand he took in support of sexual diversity.
Perenara, the All Blacks and Hurricanes halfback, was among those to condemn the recent homophobic comments made by Wallabies star Israel Folau. Folau courted huge controversy in social media posts, then a column, by suggesting homosexuals were destined for hell unless they repented their sins.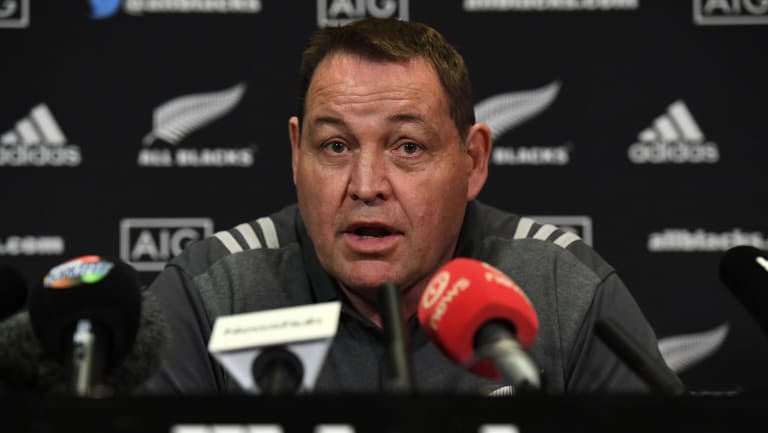 Support: All Blacks coach Steve Hansen commended TJ Perenara's recent social media post regarding diversity.
In a series of Twitter posts, Perenara offered support to anyone struggling with their sexual identity and said he was "100% against" the things suggested by Folau.
Perenara was among the North Island-based All Blacks who assembled in Wellington on Monday, for a "foundation" day, where Hansen wholeheartedly endorsed the the halfback's view.
"In TJ's case I was really proud of him. What he did tweet was on the money," Hansen said.
"You're a good human being, regardless of whether you're a gay person, a straight person. Quite frankly we don't care [within the All Blacks] and I don't care personally myself either.
"But I thought he tweeted well, his words were good. He gave a strong message to those young people in the circumstance where they could be fighting and worrying about their own identities and, again, I said I was proud of him and I stick by that."
Hansen reckoned Monday's get-together was about "95 per cent talking and about 5 per cent doing" and that included discussions about social media.
Perenara's response to Folau's views was commendable in many ways. But they carried weight because they came from an All Black.
Ad Feedback
However, that association with the national team means players such as Perenara are often talking on behalf of a group much bigger than themselves.
"We've always had an awareness of social media," Hansen said.
"The world we live in now is one where people a lot younger than myself, it's the norm for them. There's no way we can stop people using it, and nor do we want to, but we do want people to be respectful and not only have opinions but make those opinions ones that don't cause any harm to other people.
"The All Blacks are about being respectful and it's a privilege to be part of the All Blacks, so you don't want to go spoiling that by coming across in a way that doesn't reflect that."
Stuff.co.nz
Source: Read Full Article