It remains to be seen if Queensland fans boo Daly Cherry-Evans – arguably the game's most polarising player – when he ends his Origin exile at Suncorp Stadium next Wednesday.
And if Manly's $10 million man was not already feeling enough pressure to deliver on the representative return most were convinced would never happen, NSW coach Brad Fittler inadvertently got in on the act.
Misunderstood: Daly Cherry-Evans has finally got his chance back in the Maroon of Queensland.
"Hopefully we make it one of those nights he remembers for a long time,'' Fittler said of Cherry-Evans. "He's a lovely fella. He was good on the weekend. [But] I've seen some games where he hasn't been good."
Cherry-Evans was booed by the Brisbane faithful when he played at Suncorp Stadium in 2015 because of his decision to backflip on the Broncos' little brother, the Gold Coast Titans. The fact he was a Queenslander meant little to the pumped-up locals.
Ending a three-year-long Origin snub, Cherry-Evans should have some idea about the reception he will receive when the players' faces are beamed onto the big screen before kick-off.
Manly teammates and Blues brothers Jake and Tom Trbojevic expected Cherry-Evans to be warmly welcomed by the Maroons fans who have stumped up good money to watch a dead-rubber.
"Surely not," Jake said, when asked about Cherry-Evans being bagged by his own. "It [booing] will be for just us, not him. I think they like him.
"It's frustrating when you know him and there are people out there who bag him. For a lot of his career people have been into him but he handles it extremely well. Since he's become captain he's gone to another level and he's doing a great job.
"We have a lot of respect for him. He's a good mate of mine and it's great to see him rewarded for good form. He's a legend. Everyone loves him. He's such a good bloke. I think he's always handled playing Origin. It's great to see him back there.''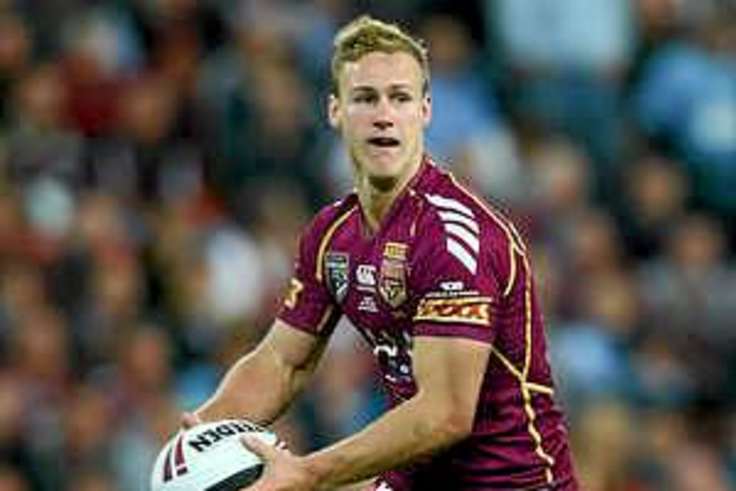 Comeback: Cherry-Evans has bumped Ben Hunt out of the No.7 jersey.
For all of the Manly love, Trbojevic says the Blues will target Cherry-Evans, just as every playmaker each week.
"But he'll handle it," Trbojevic said. "He's very fit and strong and really tough. The one thing is he's extremely fit, and always pushing up on the ball. He also has a lot of pace, which is such a great asset. He's a run threat.
"I know he's wanted to get back in the Queensland team, he has a lot of pride playing for Queensland, and he's done a great job before."
Tom said of Cherry-Evans return: "I'm not a Queensland fan, but it would be pretty wrong if they were to boo him. He's a great footy player and he deserves to be selected in that side, and they should definitely praise him.
Backing: While he hopes to contribute to his team's demise, Jake Trbojevic reckons DCE deserves respect.
"It's been a tough year for Manly as a club and himself, but he doesn't get weighed down by it. He's come out the other side with this selection. He's portrayed in the media a different way to the person he is, so maybe he might be an easy target and someone to blame when we lose, but he's definitely not the reason. Everyone loves him at Manly and we love him as captain."
Queensland coach Kevin Walters, who gave Cherry-Evans the nod and relegated Ben Hunt to the bench, kept a straight face when he said: "I think it is great news for DCE and great news for Queensland.
"He has been knocking on the door for several years now waiting for that elusive opportunity and I thought the time was right now for that opportunity to be presented to him. We've picked him because we want to win game three, and with another eye on the future.
"If DCE can have a good performance on Wednesday week there is no reason why he can't be back here next year. He is a premiership winner. He's played Origin football and Test football. In games one and two we just lacked a bit of leadership in the [halves] and I think he provides certainly all of that."
Source: Read Full Article