Manly had a team dinner last Saturday night, just hours after their apparent show of unity at Belmore, but in an indication that all is not well at the club, only half of the squad showed up.
We told you about a recent dinner where Jackson Hastings and Daly Cherry-Evans broke bread, just days after their celebrated dust-up in Gladstone.
Last Saturday night DCE was at the Manly bistro dinner, but Hastings wasn't. It was a dinner put on for players and their partners, and onlookers told me one of the two tables booked was left vacant.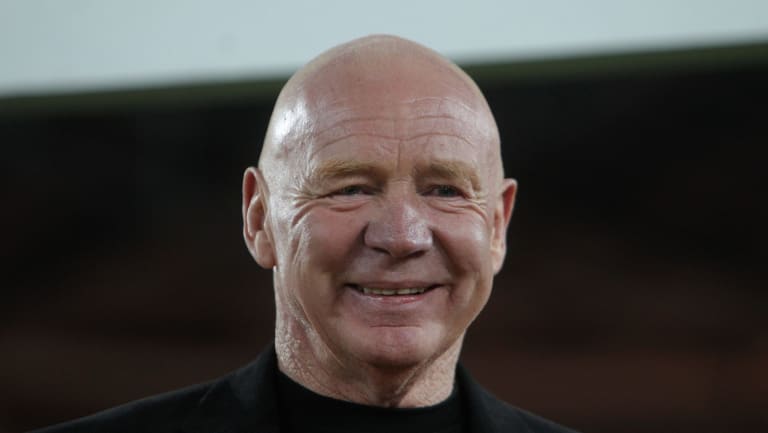 Not happy: Bob Fulton and Trent Barrett are rumoured to have fallen out.
Despite all the spin, there are still cracks in the culture at Brookvale.
And the widespread criticism of Manly's playing roster has had another effect: it has generated rumours that Sea Eagles coach Trent Barrett and club great Bob Fulton have had a falling-out.
This is the Manly squad that Fulton built. Word coming out of Brookvale in recent weeks is that the roster is lopsided; full of players who would struggle to make it at other clubs.
Fulton is angry about that.
I've had countless calls to say there is a divide between the pair. Inthis kind of situation, it's hard to get the truth. It is true Fulton has not enjoyed the recent commentary about the squad. He has had a conversation with Barrett's manager, Wayne Beavis, about the criticism.
Fulton and Beavis go way back and it is unlikely there were raised voices, but Fulton would be wondering why this talk is about. He would have made the point that Barrett helped create this team and Fulton should not be wearing blame for the line-up and its performances.
Barrett's salary cap is tied up in five players: Cherry-Evans, Tom and Jake Trbojevic, Marty Taupau and Dylan Walker. Manly's cap problems have been offset in recent times by other clubs paying portions of the salaries of Curtis Sironen, Akuila Uate, Lloyd Perrett and Hastings. But Barrett is still in a bad spot when it comes to depth of talent.
Barrett is annoyed that he was dragged into the salary-cap scandal at Manly. On Wednesday he met Beavis and his lawyer in the city to discuss the breach notice that he received from the NRL in relation to the salary-cap investigation. He was given a warning for his role in the scandal. Last week we revealed a range of people close to Barrett had advised him to leave the Sea Eagles as his reputation may be damaged by what is unfolding.
A young coach doesn't deserve to be put through what he has gone through, but Barrett is not a quitter. He also has a mortgage to pay and kids to feed. If he had a job to go to, the situation could be very different.
While on Fulton, he is determined to see the NRL's report into Manly's salary-cap rorting, which has effectively banned him from the game. If the 70-year-old wanted to return to the game in an official capacity, he would need to jump through hoops to do so. He was scheduled to see the report a few weeks ago, but was told he could see only the parts that pertain to him. He was not satisfied and it's understood he will see the full report in the next fortnight.
Sick mum more important than Todd's comeback
Todd Carney has made some significant mistakes in his career, but the person who has never left his side is his mum Leanne and now he says it's time to repay her support.
Carney flew in to Sydney on Friday to start a new life. The cornerstone of it is his mum.
''As much as I love rugby league, my family is the most important part of my life,'' he said.
''My mum has been diagnosed with breast cancer and is undergoing intense treatment. She has always been by my side through the best and worst times of my life, and right now Iwant and need to be by her side while she fights this battle. Mum has been my rock in my life since my dad passed away, she means the world to me.''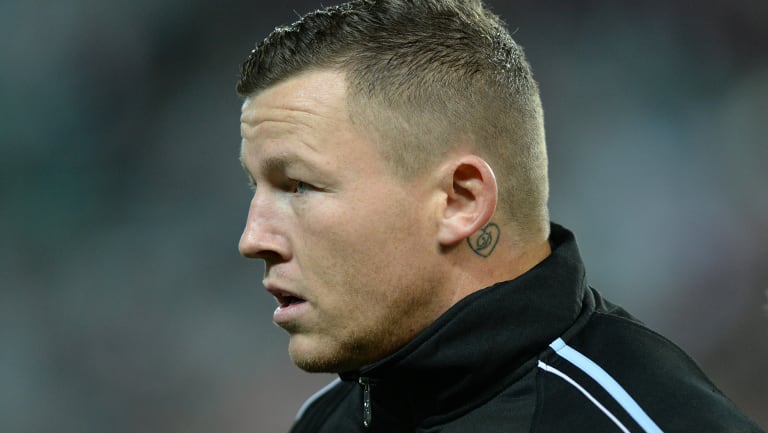 Back in Sydney: Todd Carney.
Carney knows the Cowboys aren't happy he has relocated.
''I want to thank the Northern Pride for everything that they have done for me on and off the field since I have been there,'' he said.
''I also want to thank the North Queensland Cowboys for the faith they showed in me and the belief that they had in me.
''To be honest, I haven't thought about rugby league at all. My focus is on getting down to Goulburn to be with mum and my sisters.
I understand that there is speculation about me playing for NSW Cup sides, but I can confirm that neither myself or my manager have talked to anyone. In saying that, the NRL process of me returning to the NRL is still open and I hope to continue discussions with the key people at the NRL once things with my mum settle down.''

Walker staying
Rumours about Dylan Walker are a regular occurrence and talk that he wants out of Manly has resurfaced. I put it to club boss Lyall Gorman, who said Walker has not made any such noises. The Manly boss also said there were no extras in Walker's deal that had not been covered.
Staying put: Dylan Walker.
''I did his new deal in January for this year and there are no third-party deals in his contract,'' Gorman said.
Old Dogs tale
It would seem that everything old is new at the Bulldogs. Under the leadership of chair Lynne Anderson, daughter of the famed Peter ''Bullfrog'' Moore, the Bulldogs have wasted no time in restoring trust and integrity into their DNA.
The Des Hasler matter had festered in and out of court. Hasler and the Bulldogs reached an out-of-court settlement on Friday following the coach's sudden exit from the club last year. Hasler was sacked in September five months after the club announced it would offer him a two-year contract extension.
Last week, Anderson and chief executive Andrew Hill sought to end the matter on fair and equitable terms. It seemed unjust that the family club had handled the Hasler matter so poorly after the coach took them to two grand finals.
Bulldogs fans and members can breathe a sigh of relief. If this is a sign of things to come, the feared, revered and respected Dogs of old are back.
No news is…
Rugby league journos are doing their best to follow the directive of NRL boss Todd Greenberg to #talkthegameup, but it seems some clubs aren't on the same page.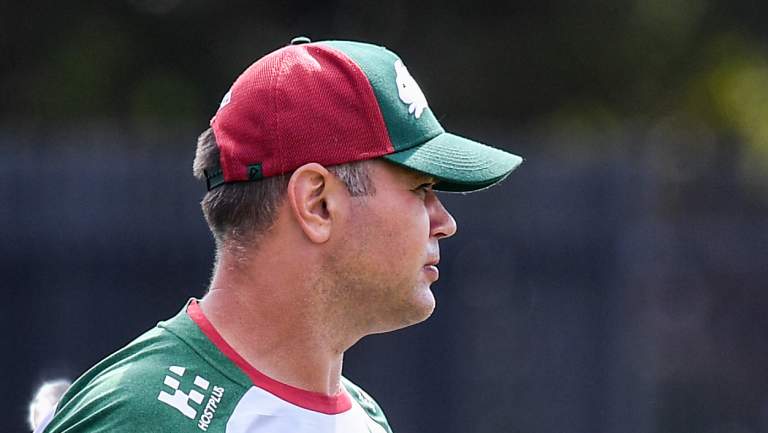 ''I love my footy history,': Anthony Seibold.
With Redfern Oval being returfed, Rabbitohs coach Anthony Seibold took his players across the bridge to train at the iconic North Sydney Oval last week.
''I love my footy history,'' he said. ''North Sydney Oval is a really famous old ground. I just thought it'd be a great opportunity for us … it's good for the guys to be here.''
It's an easy, positive story about modern players and coaches embracing the game's past. Unfortunately, it didn't see the light of day. Nine News asked Souths officials if they could send a camera in to film a few minutes of training. Twice they were told no. Without pictures of players on the hallowed turf the yarn was dead. We did try.
Why is the NRL in a different league?
We like to keep the NRL and its officials on their toes, but NRL chief executive Todd Greenberg must have finished last week shaking his head at the way rugby league is treated compared to its sporting competitors.
Greenberg has come under fire from some media commentators for urging players, coaches, fans, officials and media to talk up the game.
Greenberg had every right to think his rival codes were headed for ruin as a series of scandals unfolded during the week.
In the AFL, chief executive Gillon McLachlan admitted he had no problem with clubs paying money to keep issues quiet.
It followed the revelation that one club reached a confidential settlement with a junior staffer who claimed a club figure sexually harassed her. Given the abuse he copped for allowing Matt Lodge back in the game, Greenberg would probably be forced to stand down if he admitted he was happy harassment claims be kept confidential. But McLachlan's comments hardly raised an eyebrow.
Former AFL premiership-winning coach Mark "Bomber" Thompson then faced court charged with a raft of drug matters, including two counts of trafficking ecstasy and trafficking methylamphetamine.
It was portrayed in the Melbourne media as a tragic story of someone who had failed to bounce back after the ASADA affair at Essendon. You can only imagine the kind of coverage it would receive in Sydney if it was a high-profile NRL coach.
In rugby union, Waratah Nick Phipps was thrown out of a hotel after urinating on a bar. He copped a $4000 fine and it was all over 24 hours later.
Compare that with Mitchell Pearce, who copped a $125,000 fine, an eight-week suspension and months of publicity for his antics in a private home.
In the A-League, two officials from Melbourne Victory ran on to the field and physically manhandled Sydney FC player David Carney during last weekend's semi-final. If that happened in the NRL it would probably attract a life ban. The two A-League officials got four weeks!
But it didn't take long for the long knives of rugby league to come out again. Dally M judge Ruan Sims broke the rules and had to stand down. It was a minor breach, but Sims managed to attract front-page headlines.
The critics laugh off the negative headlines as part of the soap opera of rugby league. But try telling that to Greenberg, who has to try to sell the product to sponsors, supporters and mums who are reluctant to let their children play the game while it is portrayed in such a negative light.
Source: Read Full Article