The Bushrangers are no more. Cricket Victoria have discarded their men's team's nickname of more than two decades in a move to "de-clutter" what they believe is a congested portfolio of monikers.
The state women's team's nickname – the Spirit – has also been shelved, with the sides to be simply known as the Victorian men's cricket team and the Victorian women's cricket team respectively.
The move follows a recent shift from Cricket Australia who ceased formally referring to the national women's team as the "Southern Stars", however Victoria's change is not believed to be the result of a directive from CA, but rather an acknowledgement that Big Bash League clubs the Melbourne Stars and Melbourne Renegades are the promotional future of Victorian cricket. State team nicknames were introduced across the board in the mid 1990s, but times had changed, said CV's cricket operations chief Shaun Graf.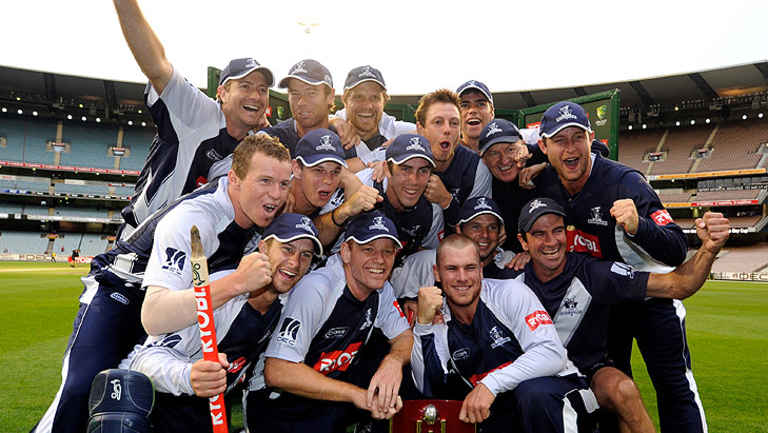 Gun team: The Bushrangers celebrate their Ryobi Cup win over Tasmania at the MCG in 2011.
"We're in a new era where Big Bash, T20 cricket, you've got the two brands," Graf told Fairfax Media on Tuesday.
"There's a lot of clutter and we're trying to make it that it's pretty clear as to our main marketing brands are the two Big Bash teams, and our high performance brands are the Victorian state teams.
"It was more an overall feel from marketing and senior management. Those names came about many years ago."
Graf said both past and present players had been consulted before the decision was made.
"We've had chats with players," he said.
"The Bushrangers brand has been something that's been in place for over 20 years, but we've always been known as the Victorian cricket team, and same with the women's team."
As part of the move, the Victorian Cricket Association logo, already featured on Victoria's Sheffield Shield cap, will become more prominent on team uniforms.
The move was announced as Victoria revealed their state contracts for 2018-19. As flagged by Fairfax Media last week, veterans Fawad Ahmed and Dan Christian have both lost their deals, with Ahmed's spot taken by 17-year-old leg-spinner Tom O'Connell from South Australia.
The 2011 update of the Bushrangers logo.
Graf said the "tough" decision not to hand Fawad a deal came in the belief Jon Holland would likely play most of the season. Sam Grimwade and Will Sutherland have been elevated from rookie deals to full contracts, while 17-year-old batting prodigy Mackenzie Harvey has also been given a full deal.
Injury-prone paceman James Pattinson returns to the CV contract list after missing out on a CA deal following his latest back stress fracture, but Graf was optimistic Pattinson was progressing well and could be back playing early in the domestic summer.
"The doctors have said that some time prior to Christmas they'd be hoping that he'd be bowling and at the right strength to be ready to get back to the first-class area. We're taking it quite conservatively, but he's ahead of his schedule at this point in time."
The 2006 version of the logo.
Graf also said promising young batsman Will Pucovski was travelling well as he continues to refine his technique against the short-ball following a string of concussions.
Zak Evans and Mitch Perry have kept their rookie contracts, with Wes Agar, Jon Merlo, Ed Newman and Patrick Rowe receiving new rookie deals.
John Hastings leaves the squad following his retirement, while James Muirhead, Blake Thomson, Guy Walker, Jackson Koop and Tom O'Donnell have been omitted.
Meg Lanning returns as women's captain after missing last summer through injury, but her sister Anna has lost her place in the squad.
Victorian Men's Cricket Team 2018-19 squad
Scott Boland
Jackson Coleman
Xavier Crone
Travis Dean
Aaron Finch*
Sebastian Gotch
Sam Grimwade
Peter Handscomb (C)*
Sam Harper
Marcus Harris
Mackenzie Harvey
Jon Holland
Glenn Maxwell *
Tom O'Connell
James Pattinson
Will Pucovski
Jake Reed
Matthew Short
Peter Siddle
Will Sutherland
Chris Tremain
Eamonn Vines
Cameron White
Wes Agar (Rookie contract)
Zak Evans (Rookie contract)
Jonathan Merlo (Rookie contract)
Edward Newman (Rookie contract)
Mitch Perry (Rookie contract)
Patrick Rowe (Rookie contract)
Victorian Women's Cricket Team 2018-19 squad
Kristen Beams (Vice-Captain)
Makinley Blows
Elly Donald
Nicole Faltum
Emma Inglis
Alana King
Meg Lanning (C)*
Sophie Molineux*
Courtney Neale
Rhiann O'Donnell
Chloe Rafferty
Molly Strano
Annabel Sutherland
Amy Vine
Tayla Vlaeminck
Georgia Wareham
*denotes Cricket Australia contract
Source: Read Full Article