The wrestling world is filled with rumored innuendoes. That's what keeps the fan interest alive. Old school fans stay up to date with the product by simply visiting dirt-sheet websites. Fans obsess about what goes on behind the scenes even more so than the actual on-screen product. The real-life element is what fans really love and when it spills onto the on-screen product, it just makes for better television and a greater audience.
A recent random rumor to make the headlines is John Cena already moving on from Nikki Bella and apparently seeing a certain Women's Champion. The story is completely unusual and likely totally false. However, it isn't the first time a random wrestling couple make the headlines for an apparent relationship. In this article, we take a look at the current crop of talent and discuss strange relationship innuendoes that were made by WWE fans in the past. In some instances, you can argue that something was there, however in other cases, it's just fans trying to stir the pot. In one instance, a well respected WWE personality actually took to social media to voice her displeasure about the innuendoes being made by the fans.
Enjoy the article folks and always, be sure to share it with a friend. Without further ado, here are 15 unusual rumored relationships that might have taken place. Again, take this for what's it's worth, and that's just sheer speculation.
15

John Cena & Carmella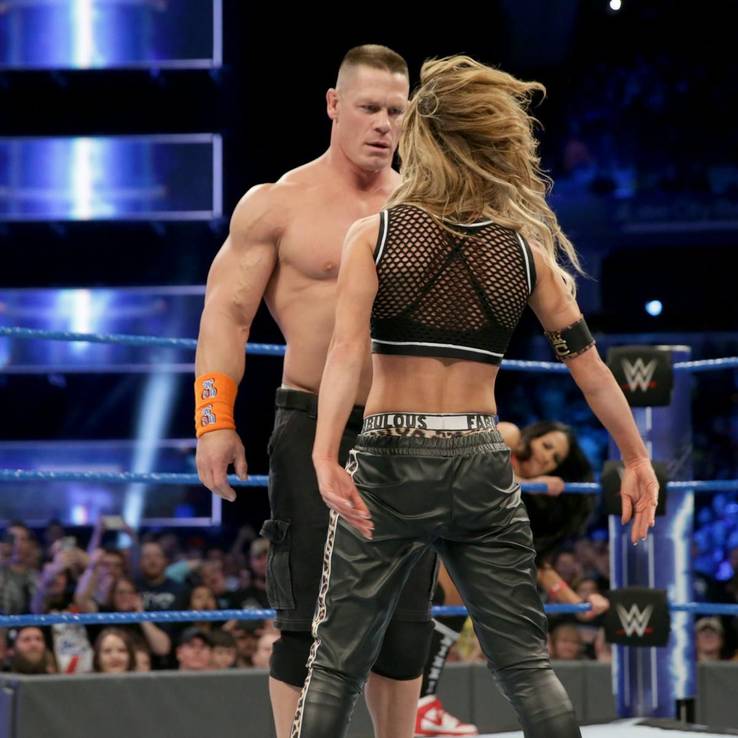 May 5th was the supposed wedding day for the two. Instead of celebrating and talking about the couple's big day, we're instead discussing a rumor suggesting that John is on the hunt and apparently seeing a certain WWE Superstar. Yeah, wrestling can be weird but this story is likely to be untrue. Nonetheless, the speculation of the story is truly fascinating and one fans want to hear about – you'll see a similar theme with other bizarre entries on this list. Brad Shepard of BodySlam.net was the one to give this story wings. According to the source,
Cena was spotted at a Tampa bar, the same place that a certain Women's Champion resides in.
Other tabloids linked Cena to a Total Divas star and by process of elimination, Carmella was the only one that made logical sense given the fact that she's now single since breaking up with Big Cass. Some even went as far as to linking Carmella's recent success with her new relationship… It's likely just a silly rumor (like the rest of this list). Cena hardly appears on SmackDown Live so forming a relationship just doesn't make any sense. It's also being said by the likes of People magazine that John and Nikki are still in communication daily and likely to get back together.
14

Renne Young & Corey Graves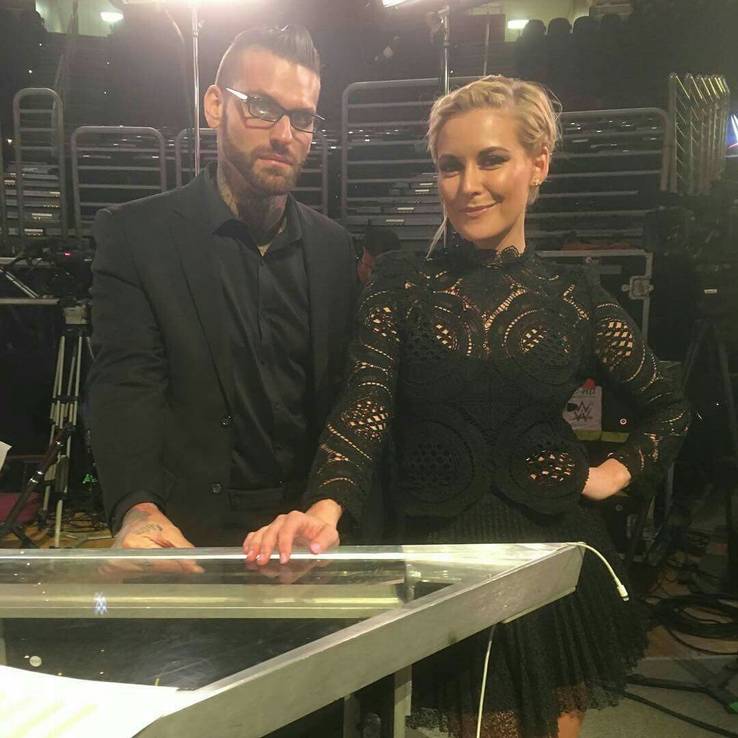 The WWE fans can be a silly bunch at times, misinterpreting a friendship for a romance. Back in 2015, Young posted a photo alongside Corey Graves on her birthday. Of course, the comments section was littered with innuendoes that the two were an item behind the scenes. With Corey being a happy family man with kids and a wife and Young dating Dean at the time, the WWE announcer was none too pleased with the allegations. She took to social media and deleted the previous post and sent out this infuriated message to the fans;
"So I deleted my last post, due to an insane amount of wild comments, so here's all I have to say.
'I really wish people could focus on more important things in their own lives rather than stay up way past your bedtimes on a school night and try and tear down other people. It's exhausting and it's stupid and it's so sad.'
'I understand that most of these comments come from teenagers that compare high school stories to real life, but grow up. And if you are an adult, you should be ashamed of yourselves for behaving like a maniac because you "think you know who these people are."'
'You make social media a horrible time, and turn into a forum for a roast. TV is not real life. Period."'
13

Nia Jax & Braun Strowman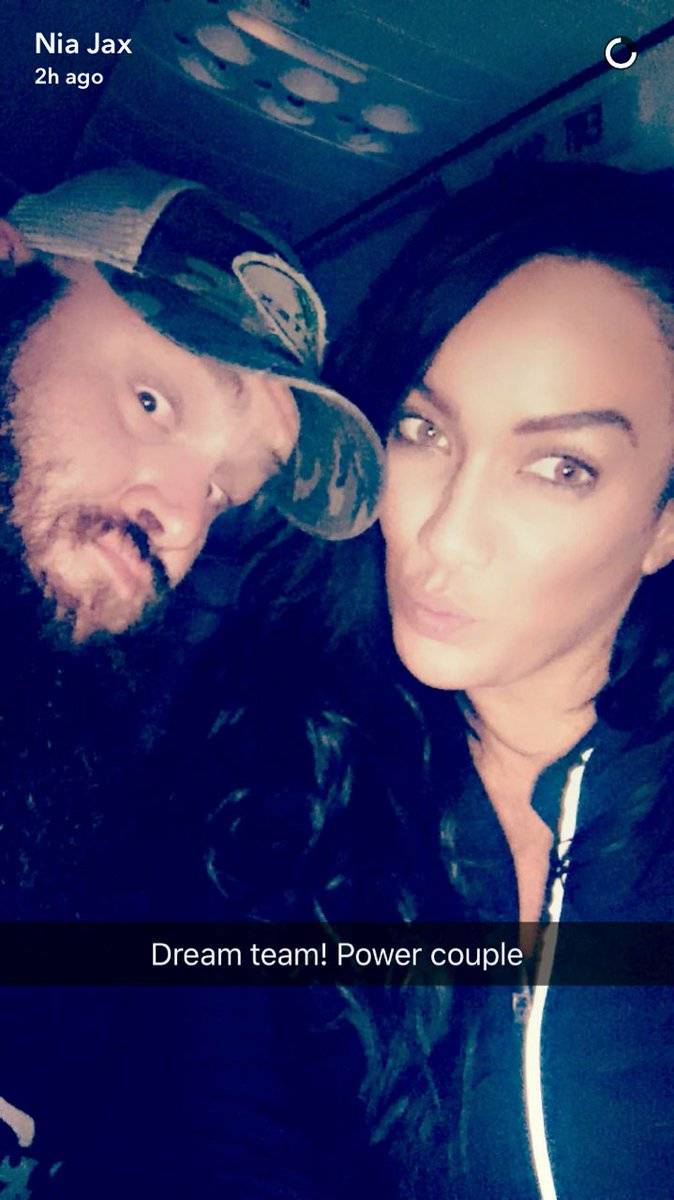 This was another silly allegation by the WWE Universe. Jax posted a photo of the two to her Snapchat account, late at night, leading fans to believe that they were in fact an item on the down-low. Now such a relationship isn't as far-fetched as Renee and Corey, who are both married. Instead, given what we know, both Nia and Braun are both single these days coming out of relationships. In fact, Strowman even confirmed the fact that he had a Tinder account in an effort to find some love. Just imagine swiping and coming across Braun's Tinder picture. Most fans would hope Nia would approve if she did come across the profile but again, this seems like another made up rumor with absolutely no truth to it.
Staying single might be what's best for business at this point. Both continue to enjoy phenomenal runs with the company. Nia and Braun are at the peak of their respective careers with Nia recently winning the WWE Women's Title and Strowman, continuing to be unstoppable as a sure Universal Champion down the road. Enjoying so much success in the ring, perhaps a relationship isn't the best idea for either of the two at this point.
12

The Bellas & Matt Hardy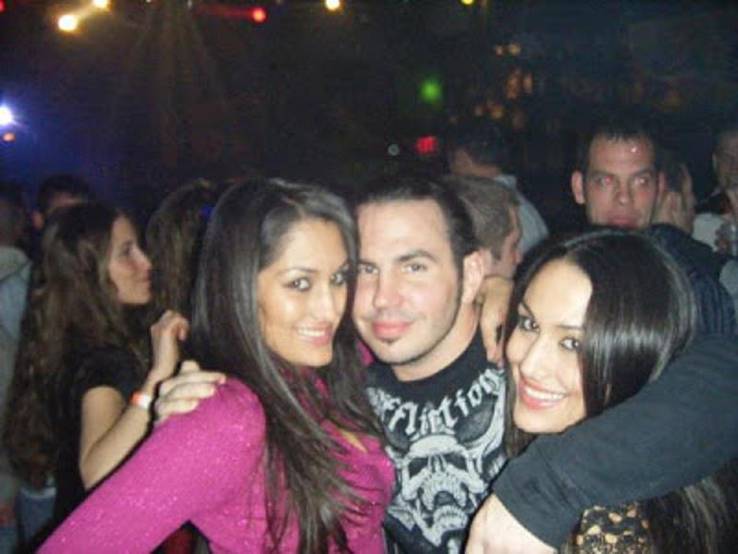 Some wrestlers like their women to come from the wrestling business and that was surely the case with Matt Hardy, who dated a bunch of Divas. Lita, Ashley Massaro and Reby Sky are just some of the wrestlers he's dated. Some curiosity grew online due to numerous party pictures featuring Matt and both Bella twins.
It led to speculation that something was going on, especially given Matt's love for a female WWE star.
The timeline of this rumored romance likely took place right around 2008 when the Bellas got their call up to the main roster. Hardy loved to party and so did the Bellas, who were known to be quite the party animals after shows. Eventually, Matt left the company in 2010 and wouldn't return until WrestleMania 33, making a shocking appearance. As for the Bellas, they would turn into household names as of 2014, growing their popularity thanks to Total Divas.
Again, it's likely just a rumor. All three are in different places nowadays. Brie is happily married with a beautiful daughter while Matt has two children of his own with Reby Sky. As for Nikki, well we all know about her troubling situation these days – though we aren't sold just yet on this breakup being permanent.
11

Bayley & Finn Balor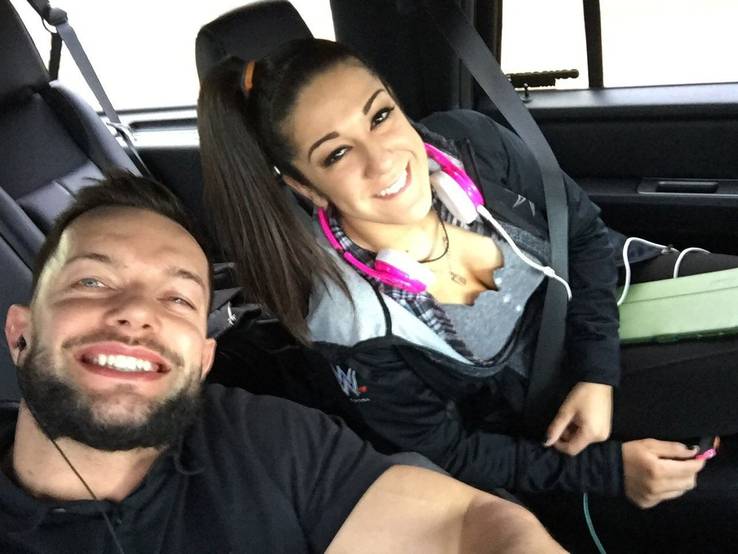 This one might have been a rib to the fans more so than anything else. During their time in NXT, the two shared several moments together behind the scenes and posted them to Instagram. Finn even posted a photo backstage at an NXT Columbus event claiming Bayley was meeting the family and posting a picture of himself, The Hugger and his parents. If these two did start to date, boy, oh boy would it ever cause a firestorm online among the WWE Universe. It's a real-life couple almost every fan wants to see.
Of course, the two grew close during their time with NXT. They helped the brand thrive becoming the faces of their respective divisions.
Sadly, both haven't caught the same amount of steam just yet on the main roster, though we're hopeful that a massive push might be coming at some point.
As for this rumor being true, it's another bizarre one that was more than likely a rib. The speculation ended once it was revealed that Bayley was in fact in a real relationship with an independent wrestler, Aaron Solow. As for Finn, he's kept quiet with his personal life though information leaked that he's in fact dating WWE personality Cathy Kelley. We got confirmation on the relationship at the recent Hall of Fame ceremony.
10

James Ellsworth & Carmella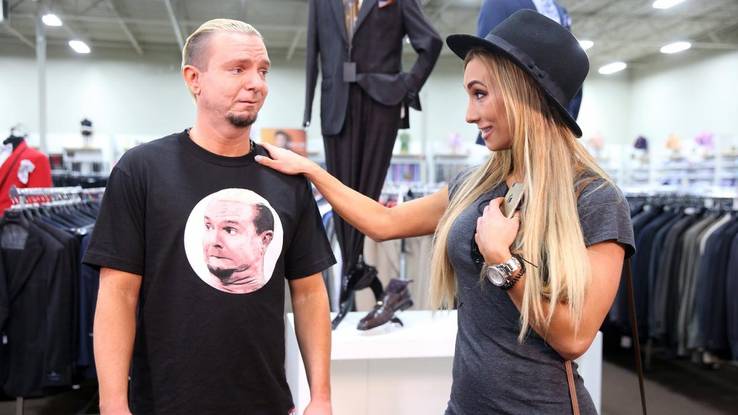 The timing of the Carmella- Big Cass breakup led fans to believe that something was going on behind the scenes between Carmella and James Ellsworth. The speculation was ludicrous but given their closeness on-screen, the association was made by WWE fans. Of course, Ellsworth's happily married and a proud father, so yeah, there's likely zero truth to these claims but again, it's fun to speculate.
Following his release, James spoke about how close he and Carmella really were and still are – reopening the discussion that the two had a fling. He even said that the two text daily. Here's what he had to say pertaining to Carmella's feeling about his release and their ongoing friendship;
"She called me right away, literally. Maybe a minute-and-a-half after I got off the phone with [Mark] Carrano, I'm sitting in the basement of my house, I haven't even told [anybody anything]." Ellsworth continued, "I'm sitting there and I'm, like, balling, and I'm like, 'what the hell?' The phone rings and it's her. I'm like, 'she must know. Crap.' And she was like, 'James, oh my God, I can't believe this. I'm so sorry. I hope you're okay?', like, just being the sweet girl that she is and I was like, 'I'll be alright.' I was like, 'I was okay before WWE. I'll be okay after it.' I said, 'it hurts. It stings. But it's life. Life's not fair sometimes and I get that.' And she stayed on the phone with me until I was ready to get off [the phone call]. That's how very cool of a person she is. And we text almost every day."
9

Liv Morgan & Tyler Bate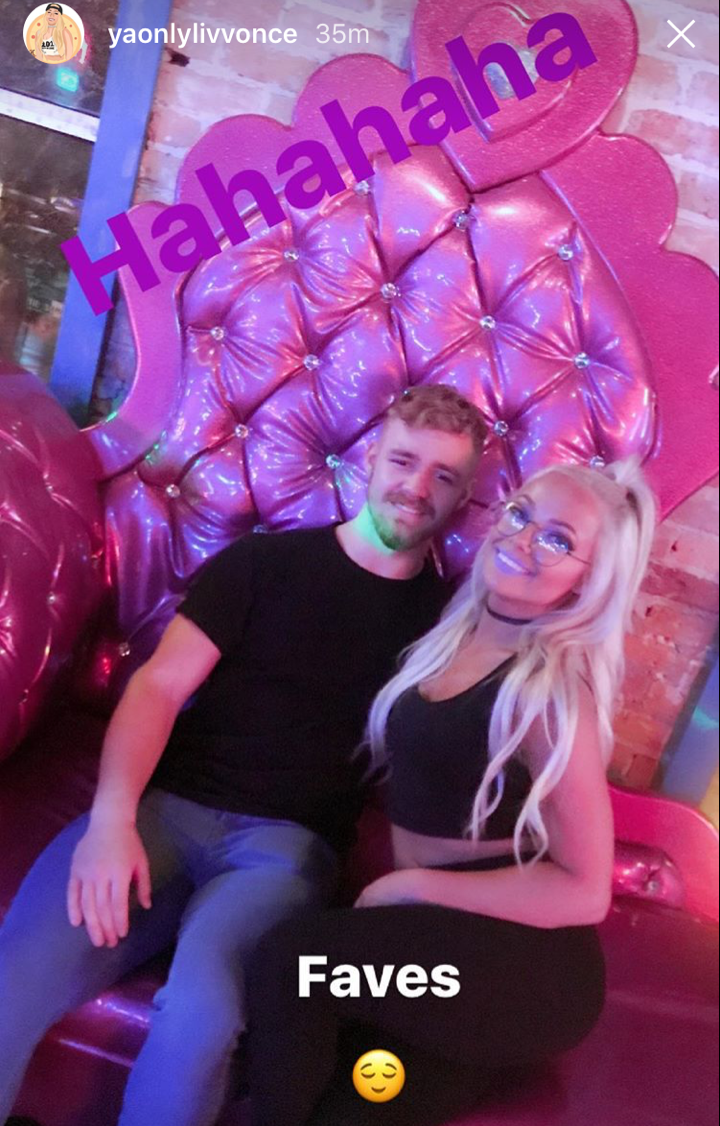 As opposed to the other unusual relationships on this list, this one in particular made a lot of sense. Both are young stars with huge futures. Bate is still only 21 while Liv already cracked the main roster at the age of 23. Following her bitter breakup to Enzo Amore, Liv began posting photos alongside Bate and the pics showed the two being a little too close to one another. It's unclear if they were just really flirty or if this was a rib to Enzo in order to get his blood boiling just a little bit.
Nonetheless, the two continued to exchange photos on Twitter, leading lots of fans to believe they were an item behind the scenes.
During WrestleMania week, Morgan completely denied such speculation which was quite puzzling. Perhaps she used Tyler as a rebound following her breakup to Enzo? Okay, now we're just doing some silly speculating but seriously, while at the New Orleans airport, Morgan made it be known via Riott's Instagram Live story that she was single and ready to mingle. Her tone also sounded completely serious but again, we're only speculating on the matter. This relationship is one of the biggest question marks among the current roster.
Featured Today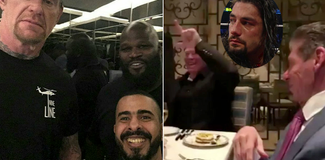 15 Recent Photos Vince McMahon Will Never Show WWE Fans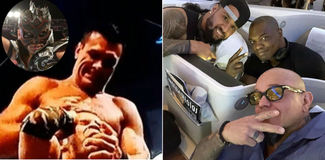 8 Revealing Photos Of Wrestlers Unmasked (And 7 Without The Paint)

25 Big-Name Retired Athletes Who Now Work Normal Jobs

8

Charlotte and Alberto Del Rio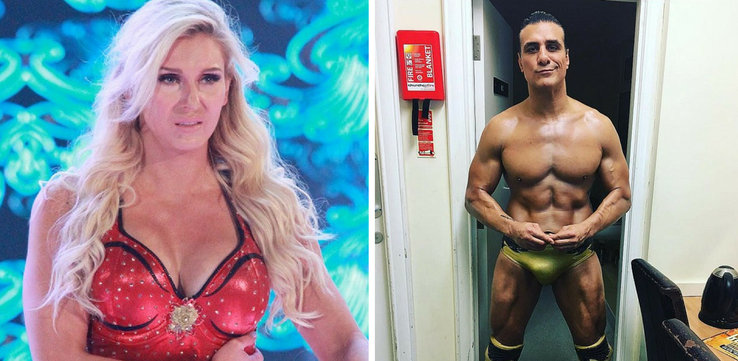 This bizarre relationship caught some serious steam online and was later turned into a love triangle featuring Alberto, Charlotte and of course, Paige. According to this rumored story, Del Rio and Charlotte had a brief fling just prior to Paige entering the mix. What's even more troubling is the fact that it's being speculated that the timeline of this relationship took place while Alberto was still with his wife. Yikes!
Del Rio ultimately got a divorce to his wife of four years, Angela Velkei. It led to a terrible rebound relationship with Paige. The coupling of the two led both to enter a downward spiral; thankfully, Alberto's now single (from what we know).
As for the odd one out in this relationship, Charlotte is another wrestler who appears to be single these days and can you blame her? At the age of 32, Charlotte might be walking in her father's footsteps in another way; she already has two divorces, that's halfway to her father's mark. Charlotte got her first divorce back in 2011 to Riki Johnson after less than a year of marriage. The second separation came with indie wrestler Bram. Again, this marriage was short-lived lasting a mere two years. The two divorced in late October of 2015.
7

Dolph Ziggler & Dana Brooke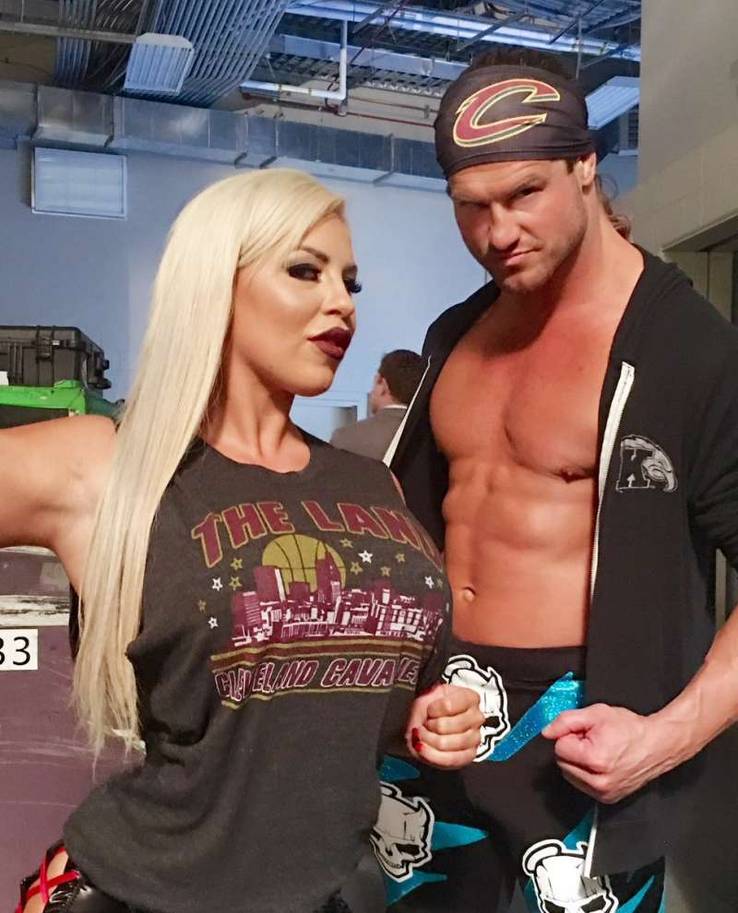 These two were rumored to be an item a few years back. Knowing Dolph's track record, it wasn't the first time he was linked to an unusual relationship. Rumors also indicate that he hooked up with Sunny in the past, the former WWE Diva even confirmed the story claiming she kept evidence of the ordeal (who does that?). The story certainly didn't help Ziggler's romance profile one bit.
This bizarre relationship might be true or maybe fans got it mixed up and these two were nothing but just really close friends.
They had lots of backstage photos together, even some pics featuring members of Dolph's family. Nonetheless, it can be one of those situations that we got way too caught up in the friendship, leading to the belief that the two were an item.
Sadly, Dana's love life took a turn for the worst back in the summer of 2017. Her confirmed romance was with a bodybuilder by the name of Dallas McCarver. He was a well known name in the fitness industry and a promising rising star. Sadly, at just 26 he passed away due to a congestive heart failure. Rightfully so, Dana hasn't been linked to anyone since the tragic passing.
6

Big E & Kaitlyn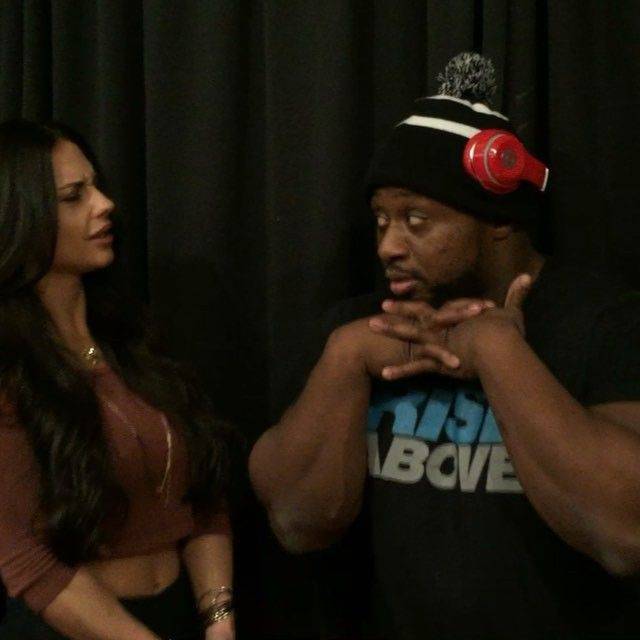 Kaitlyn was a rising star during the Divas era. She enjoyed massive success with the WWE though like many of the female talents we've seen in the past, she decided to end her career early and put her talents elsewhere. She left the WWE in 2014 and proceeded to tie the knot with PJ Braun. Together, the two dipped into the world of fitness, starting their own clothing brand, Celestial Bodiez, along with opening up a smoothie bar in the Boca Raton, Florida area.
In September of 2017, it was announced that the couple had separated. Ironically, just weeks later, Big E made a return in the life of Kaitlyn, posting a weird shirtless selfie video to her IG account. The video sparked the speculation that they were once again an item but this might just be a case of two wrestlers just being really close to one another. They've maintained a strong friendship throughout the years.
Still only 31, it seems like Kaitlyn's now making a return to the wrestling industry. She switched up her interests since the divorce reverting back to her old passions. She's wrestling for lower-tier shows on the indie scene and given her company connections, maybe we'll be seeing her soon once again in a WWE ring.
5

Bray Wyatt & JoJo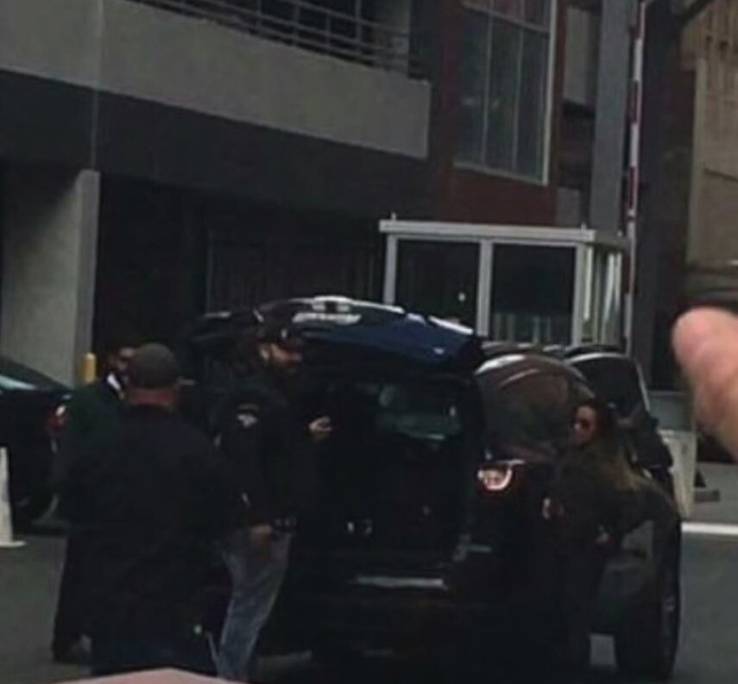 Thanks to court documents, this relationship wasn't just rumored but an actual fact. Many would assume it was just a brief fling but what if we told you that the two might still be an item to this day? After filing for divorce, Bray's ex-Samantha continued to fire shots at her ex-husband claiming he wasn't paying for child support and instead, spoiling a certain someone. Documents show Wyatt spending more than $500 on jewelry that wasn't for his ex… Now, we're only speculating but that probably was for JoJo. He also spent nearly $200 on some revealing swimwear; again, that was likely for a certain someone.
Both Bray and JoJo haven't said a word about the relationship. Offerman even deactivated her Instagram comments section due to the harassment by WWE fans linking the two together. According to recent speculation, not only is this a fling but it appears as though the two are still an item, attending shows together. A photo showed the two arriving at a WWE event in the same car. We won't know if they're official or not anytime soon, especially with these ongoing heated court battles between Bray and his ex-wife. At the very least, although his personal life seems to be in a tailspin, he's enjoying some in-ring success.
4

Nia Jax & Byron Saxton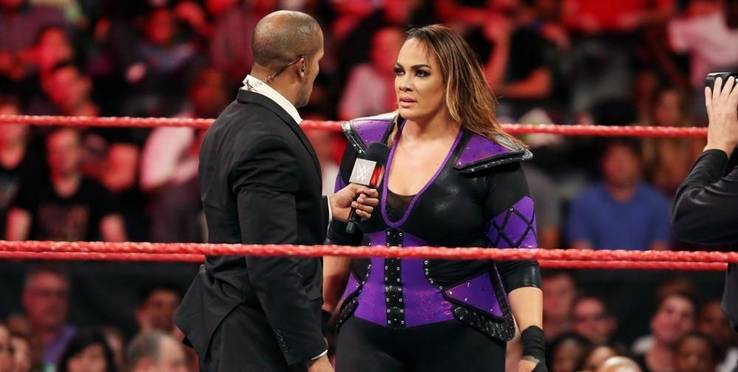 This was a hilarious moment that took place on WWE Ride Along; it sparked discussion that these two were in fact an item. Jax put Saxton on speaker phone while in the car with commentators Corey Graves and Tom Phillips. The conversation shocked the commentators as Byron was relentless with his flirting, even telling Nia he wanted her to meet his parents. It was truly surprising to see that side of Saxton; both commentators laughed uncontrollably during Saxton's flirtatious comments. It led to some serious speculation of the two being an item, however we haven't heard anything since.
Jax was linked to a wrestler in the past. Back in the summer of 2016, it was believed that Nia was dating NXT prospect Josh Woods. Though, during an episode of Total Divas that was confirmed to be done with due to the fact that Nia was on a date. Things initially went well for Nia, and this is what she had to say about her date;
"I'm pretty much on cloud nine right now. It was a great night. The party, the fashion show and connecting with Jonathan."
All that positivity went south when Nia found out that the guy she was talking to was in the adult business… Again, this seems like a scripted storyline but hey, you never know. Jax concluded by saying she would never date again.
3

Paige & Xavier Woods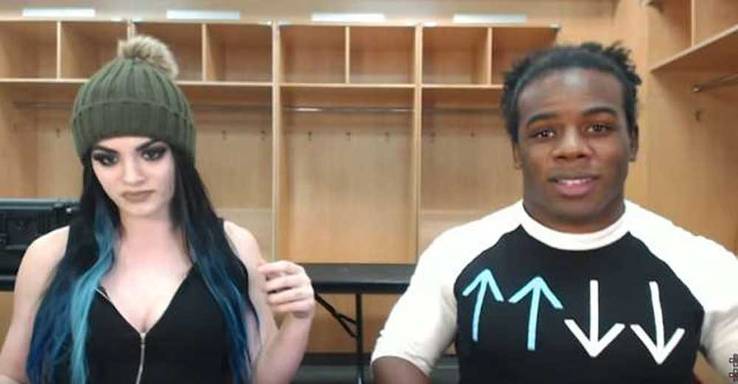 It's crazy to see the ups and the downs that Paige has gone through in the last couple of years. She hit rock bottom when getting suspended by the WWE. As if that wasn't bad enough, Paige saw her personal life get exposed with some intimate photos of the talent being released. Brad Maddox was featured in the videos, though another surprising familiar face was also caught in the leak, and was the face of Xavier Woods. Now, it's not clear if the two had an actual relationship or if it was just a fling type of romance. Nonetheless, it was surprising to see these two together.
Paige opened up about the situation and she even spoke about Xavier and his part in the leak. Here's what she had to say;
"Woods is a really nice guy, he's actually my friend. I also feel bad for him. I was degrading myself as a woman and I'd never want another woman to do. It's an experience I learned from — especially now. Don't do that to someone you think you love. I would just tell everybody, men and women, you do not want that stuff out there about you. You have to think about your family. My ex's kids were at school and they got crap for it. I had to live with that."
2

Maryse & Jack Swagger
It's hard to picture Maryse with anyone but The Miz, however photos from her past days in developmental link the former Divas Champion to a relationship with Jack Swagger. The two have several party pics together and appear to be a little too close to one another.
Neither of the two have ever spoken about the matter, and it's believed to be speculation more so than anything else.
Both would find love eventually. Maryse married The Miz in 2014 and the couple recently had their first child, a baby daughter named Monroe Sky Mizanin. The couple also moved to the LA area and are now residing in Austin, Texas, recently purchasing a home that looks like a castle. Yes, the WWE has made the couple filthy rich.
As for Swagger, he didn't do too bad for himself. He married a stunning model by the name of Catalina White. The couple tied the knot in 2010 and have two children together, both a boy and a girl. He's enjoying his post-WWE life alongside his wife as she's currently serving as his Valet out on the independent circuit. Hey, maybe if he ever returns to the WWE we can see a mixed tag match featuring the foursome?
1

Triple H & Christy Hemme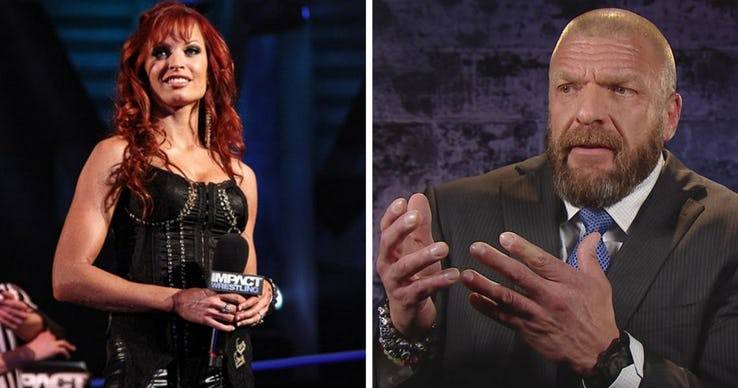 One of the oddest rumors you'll ever hear about, Wade Keller of Pro Wrestling Torch gave this story legs. Here's what he had to say about the matter;
"The word on Christy Hemme's sudden release is that on a recent tour she acted inappropriately toward Triple H, and word got back to Stephanie McMahon. There are a variety of stories going around, none of which directly implicate Hunter for doing anything physical. Apparently, though, Stephanie wasn't pleased that Christy seemed excited about traveling with Hunter and Dave Batista on the trip."
Now those comments didn't seem to fit in with Christy's release statement, however she would later send out a more revealing message that let some of us believe the allegations might have been true;
"My departure from WWE was on my own terms because I stuck to my guns on my morals and values as a human being. I knew in my gut that it would be the end, but I also knew that carrying guilt for knowingly doing something against what I believed wasn't worth getting ahead. Leaving broke my heart … but doing the right thing is something I will always be proud of."
She also stuck to her guns claiming one incident hurt her WWE career. It was truly odd to see her get repackaged and sent down after so much popularity. Can this bizarre relationship rumor really be true?
References: pwpix.net, mandatory.com
Source: Read Full Article